I buy nuts in bulk so on any given day it is likely that my pantry houses pounds of cashews, pecans, almonds, hazelnuts, pistachios, walnuts and more. I typically buy them raw but sometimes will grab roasted unsalted versions. Buying them in bulk is so much more affordable and since we eat a lot of them in my house, they don't go to waste.
Earlier this week, my sweet tooth got to me a bit and I wanted something different. Typically chocolate is the easy fix but I wasn't in the mood for chocolate, shocking, I know. I looked through the pantry and saw nuts, nuts and more nuts. I think the answer was very clear. I was gonna have to make something with nuts, something sweet of course.
I had never tried my hand at candied nuts on the stove-top, but I figured it couldn't be that tough. All I would need is a skillet and something to sweeten things up and that's about it. Most recipes for candied nuts call for refined sugar and water to make a liquid in the skillet. Since maple syrup is already liquefied, I figured that was the perfect solve for that one.
I am always delighted when a recipe comes out better than anticipated on the first try. This is not the case nearly enough and trial and error happens a lot more than I like to admit. And that can get very messy, let me tell you.
I will warn you, this recipe is highly addicting. It is pretty easy to halve the recipe if you don't want that much sitting around the house. A little sweet, a touch of salty and a bit spicy makes these Stove-top Maple Candied Nuts the perfect treat for me!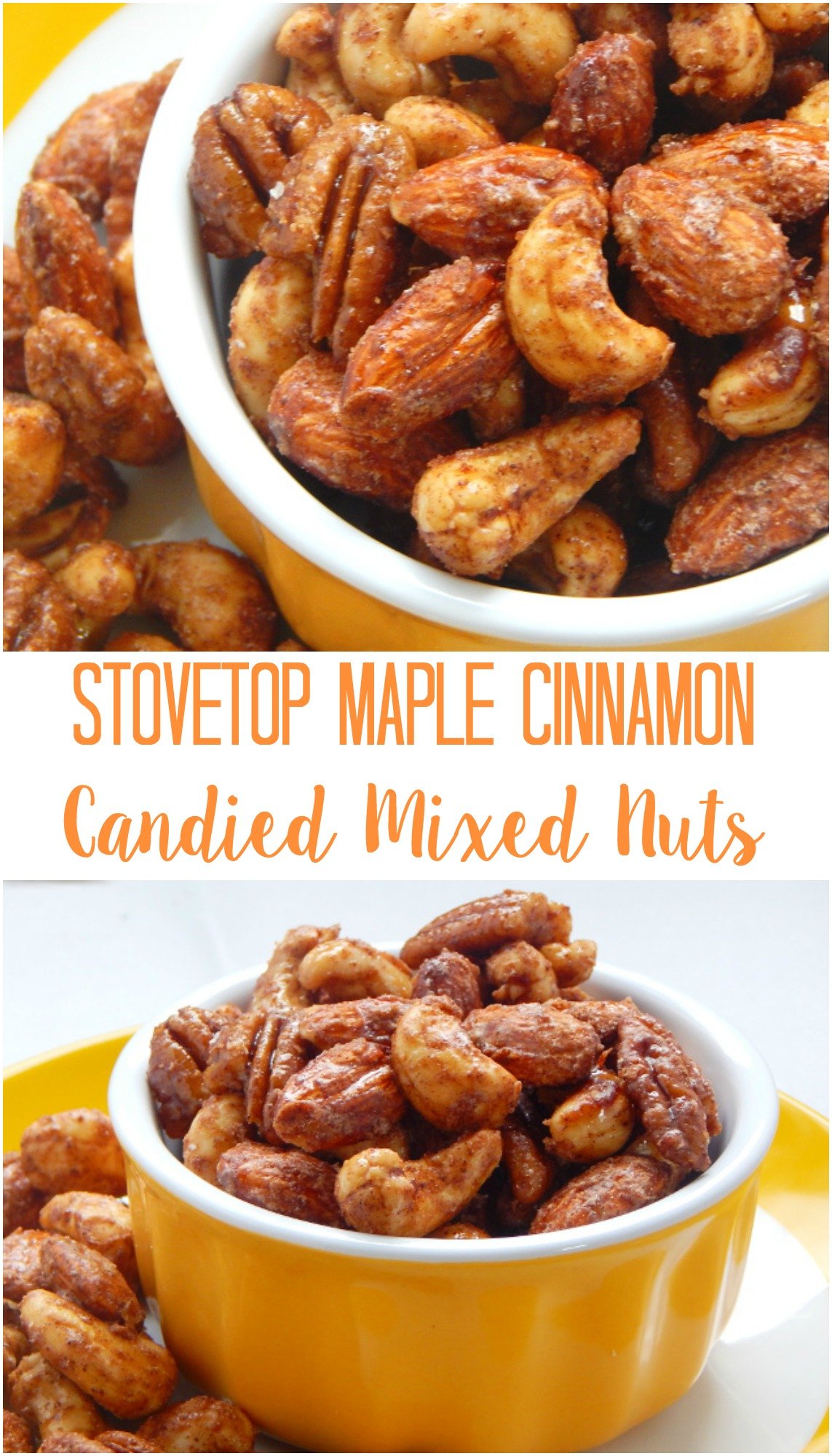 Ingredients
4

cups

raw mixed nuts

I used cashews, pecans and almonds

1/2

c

pure maple syrup

2

tsp

vanilla extract

1 1/2

T

cinnamon

1/8

tsp

sea salt
Instructions
In a skillet, heat maple syrup just above medium heat for 1-2 minutes.

Add in vanilla and sea salt and stir.

Add the nuts and stir constantly to coat.

Once nuts are coated, add cinnamon and again stir to coat nuts.

Continue to stir the nuts as the maple begins to boil until all of maple seams to have been absorbed and there is no more liquid in the skillet.

Remove from stove and pour mixed nuts evenly over parchment paper to cool.

Once cooled, break apart and enjoy!

Store in an airtight container.