No ice cream maker required for this Homemade Butter Pecan Ice Cream! This No-Churn ice cream recipe is full of crunchy and buttery pecans with a hint of maple and is a perfect summer treat. So simple to whip up and tastes better than the ice cream shop!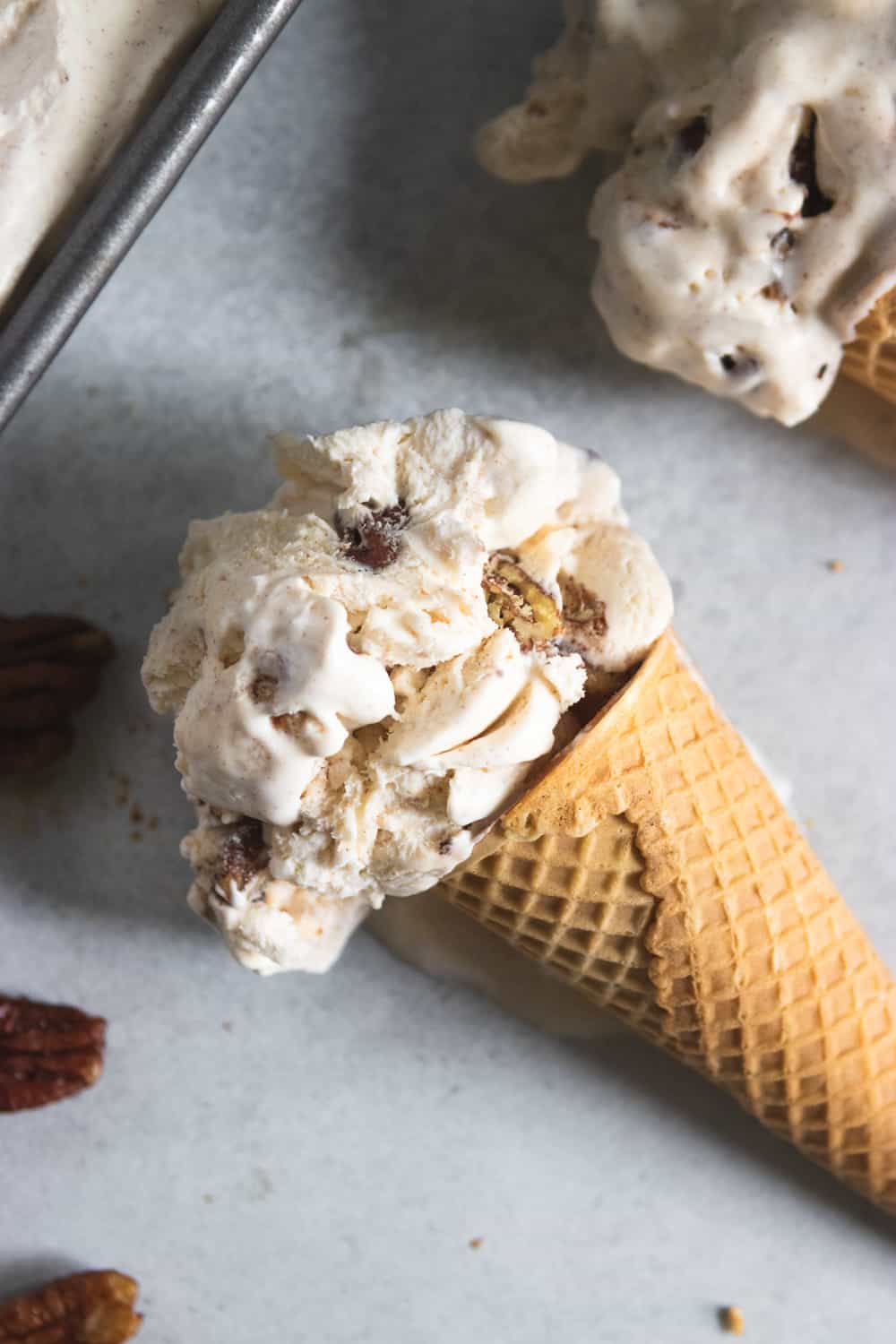 lce cream is my very very very favorite dessert. Hands down, nothing beats it. And it makes so many other desserts even better so by default it wins everything. What is pie without ice cream? Cake without a big scoop? And who wants a warm gooey brownie without the slowly melting treat. No one. Or at least not me.
When we were in Florida a couple weeks ago, a good ice cream shop was on our To Do list in a big way. We didn't have any the first few days and my sister and I started to have the itch in a big way. And nothing was gonna suffice. We needed ICE CREAM.
One afternoon we dip pop into a little gelato place and Sam scarfed down some strawberry gelato--his new favorite flavor. And then another night after dinner we popped into the cutest little ice cream shop of my dreams. They had so many amazing choices but for me I can always easily narrow it down to anything that has caramel, praline or anything along the lines of butter pecan.
Just my luck they had a flavor that was Butter Pecan and Praline--holy moly! Now THAT is what I am talking about. I was so perfect and I have basically been dreaming a bout it since.
This Butter Pecan Ice Cream was actually developed, photographed and gearing up to be in your hands well before we went on vacation, but you would think it came about as a product of the trip to the beach.
Nope. I just love Butter Pecan so so so much. And ice cream. Oh and definitely No Churn ice creams. I actually have an ice cream maker but still love to make these so much.
Ok, so what is "No Churn" Ice Cream?
Well, it's basically ice cream you can make homemade without needing an ice cream maker or machine. I have a couple recipes on the blog that do require an ice cream maker but a lot of readers have said they don't have one. I had to find another way to bring delicious homemade ice cream recipes to you all without the use of an actual ice cream maker.
After some research, I found out that if you have heavy cream and condensed milk, you can ultimately make any ice cream you can dream up. And I mean ANY ICE CREAM.
The first flavor I ever tried was this Lemon Basil No Churn Ice Cream. For a more refreshing ice cream flavor, this was my jam. Love the freshness that lemon brings to the ice cream and the basil gave it a great little twist.
The cool part about that lemon ice cream was actually beyond just being delicious. I was very proud of that recipe because it was a piece of my own journey with intuitive eating and letting go of food rules--I used to think certain foods were "good" and others were "bad." Sugar was almost like a curse word to me.
But not anymore. I enjoy the sweet treats that I love, especially these delicious homemade ice creams that are full of satisfaction and pure enjoyment!
Live your life and eat the foods that you truly love!
Butter Pecan Ice Cream is a food I love so much.
I don't know if I love this Homemade Butter Pecan Ice Cream more because of the flavor or if it's one of those foods that is deeply rooted in memory. Every time I see Butter Pecan Ice Cream, I think of my grandma. I remember seeing it in her freezer often, sitting down to a big scoop and enjoying the time playing cards or chit chatting. Whatever we may be up to.
For some reason, when I was little I thought Butter Pecan ice cream was so fancy. I mean, ice cream without chocolate chips or crushed up cookies?!
Now that we are all older and it's mainly the great grand kids running around the house, you are more likely to find popsicles in her freezer, but I won't ever not think of her when I eat Butter Pecan.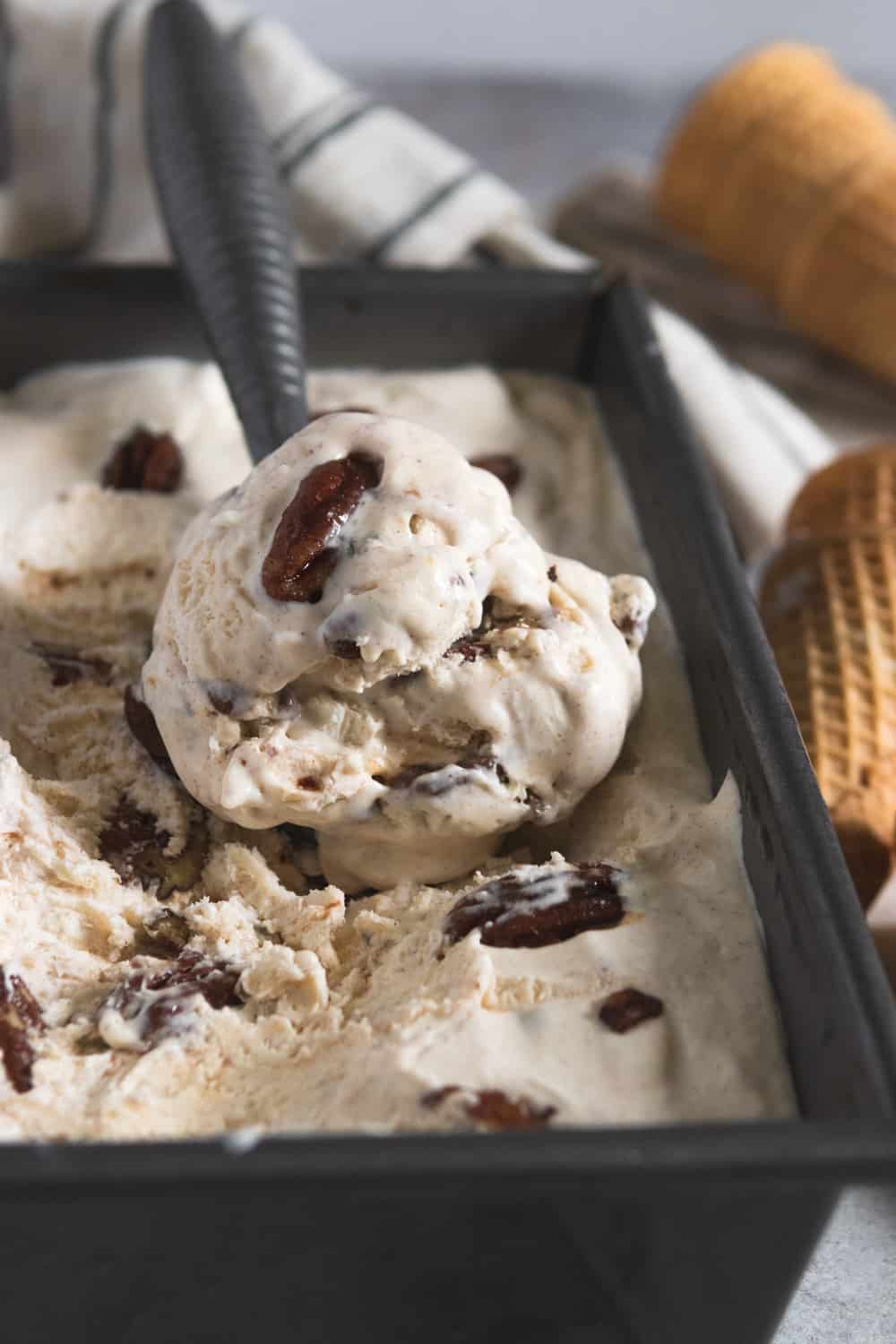 And while you most certainly can buy a pint of ice cream at any grocery and so may other places, there is just nothing like making it at home. And technically you can't get this Homemade Butter Pecan Ice Cream anywhere else. This isn't the kind of stuff you get at the store. This you have to make all on your own.
And with such little effort and all the benefit--that's ice cream anyone can get behind! So let's chat a bit more about this Homemade Butter Pecan Ice Cream--no ice cream maker required!
What you need to make this Homemade Butter Pecan Ice Cream:
Heavy Whipping cream
Condensed Milk
Vanilla
Pecans
Butter
Maple Syrup: I love the flavor of maple which is why I chose this. You can use brown sugar here if you prefer!
Sea Salt
Cinnamon (optional): I love tossing a touch of cinnamon in with the pecans sometimes when I make this. I guess I may have to call this recipe Maple Cinnamon Butter Pecan No Churn Ice Cream but that doesn't seem to roll off the tongue quite as well.
Pro-Tips and Notes for Making this Homemade Butter Pecan Ice Cream:
When toasting the pecans, keep an eye on them. Don't walk away and forget about them like I have before. They burn easily if unattended. Promise.
You can roast your pecans as well--always a great option to make things a bit easier. I find you can multitask better here. All you do is toss the melted butter, maple, pecans and sea salt together. Then roast at 350°F for about 8-10 minutes. Allow to cool before folding in to the ice cream.
When serving this ice cream, always let it sit out to thaw for about 10 minutes. This will make scooping a lot better.
Make sure to whip the whipping cream until it forms stiff peaks. This will ensure the best thickness to your ice cream.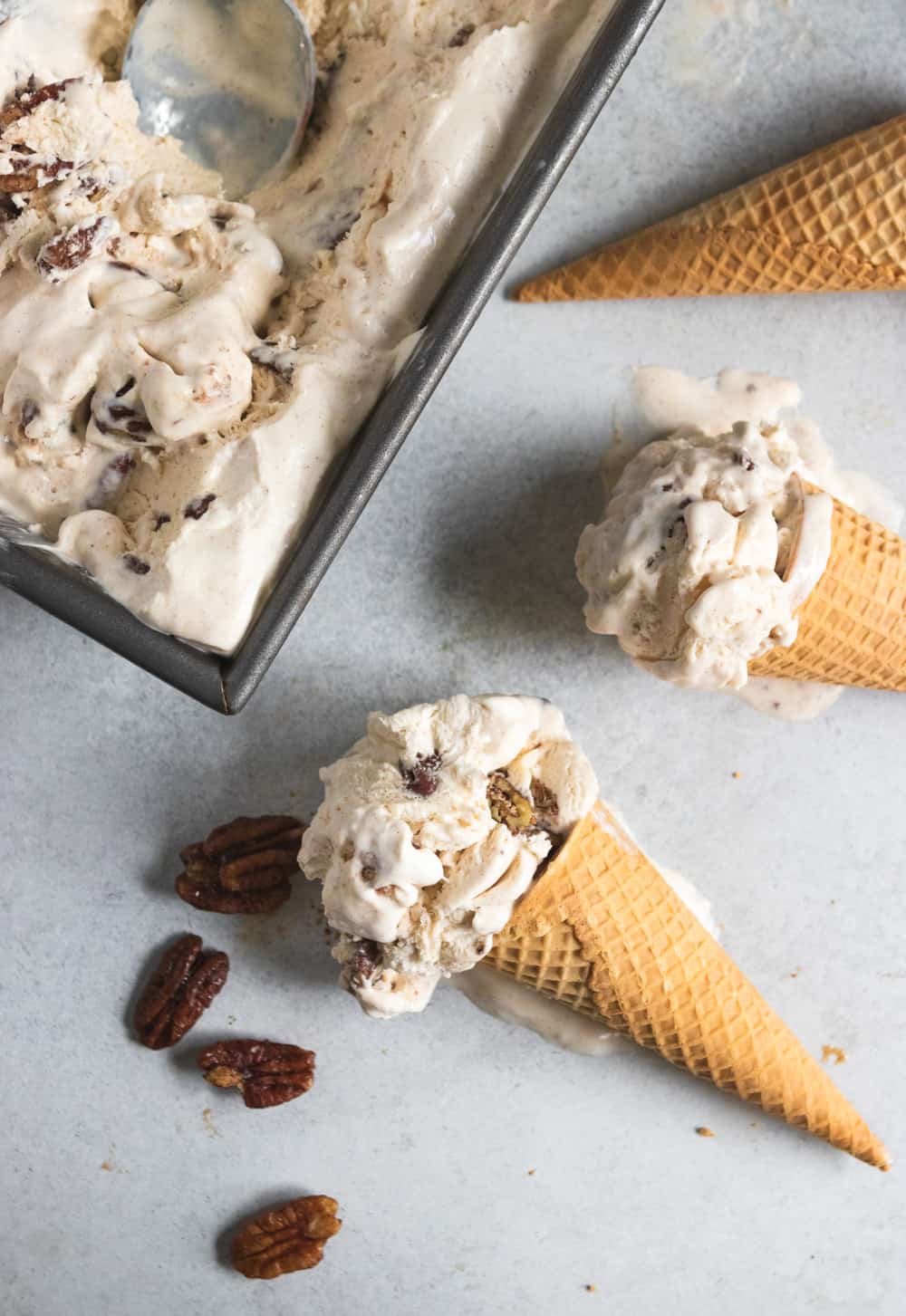 Try these other frozen treats:
DID YOU MAKE ONE OF MY RECIPES? LEAVE A COMMENT AND LET ME KNOW! I ALSO LOVE TO SEE YOUR LEMONS + ZEST RECIPES ON SOCIAL MEDIA–TAG ME @LEMONSANDZEST ON INSTAGRAM OR FACEBOOK!
Homemade Butter Pecan Ice Cream - No Churn
No ice cream maker required for this Homemade Butter Pecan Ice Cream! This No-Churn ice cream recipe is full of crunchy and buttery pecans with a hint of maple and is a perfect summer treat. So simple to whip up and tastes better than the ice cream shop!

Print
Pin
Rate
Ingredients
2

c

heavy whipping cream

1

14 oz. can condensed milk

1 ½

tsp

vanilla

1 ¼

c

pecan halves or pieces

2

T

butter

2

T

maple syrup (or brown sugar)

1

tsp

cinnamon (optional)

Pinch of sea salt
Instructions
In a skillet, combine butter, maple and pecans (and cinnamon if preferred) over medium heat and toast for about 4-5 minutes, stirring frequently. Transfer to a parchment lined baking sheet and allow to cool.

In a medium mixing bowl, combine condensed milk, salt and vanilla.  Set aside.

Using a standing or hand mixer, mix the whipping cream on high until strong stiff peaks begin to form. This will take several minutes. Gently combine the whipped cream mixture with the condensed milk mixture until fully incorporated.

Fold in pecans, reserving ¼ cup for the top.

Pour into a freezer safe container and add the rest of the pecans. Freeze fore at least 4 hours and thaw for 10 minutes before serving. Enjoy!
Notes
This makes about 6 cups of ice cream so it is about 12 ½ cup servings. But I find we don't stick to the actual serving size for ice cream ever--ha! It is a bit richer than regular ice cream so I always feel like a little goes a long way!
Nutrition
Calories:
393
kcal
|
Carbohydrates:
27
g
|
Protein:
5
g
|
Fat:
30
g
|
Saturated Fat:
15
g
|
Cholesterol:
85
mg
|
Sodium:
89
mg
|
Potassium:
233
mg
|
Fiber:
1
g
|
Sugar:
25
g
|
Vitamin A:
881
IU
|
Vitamin C:
1
mg
|
Calcium:
155
mg
|
Iron:
1
mg