This post may contain affiliate links.
This post is sponsored by the National Peanut Board. I received compensation, but all opinions and content are my own.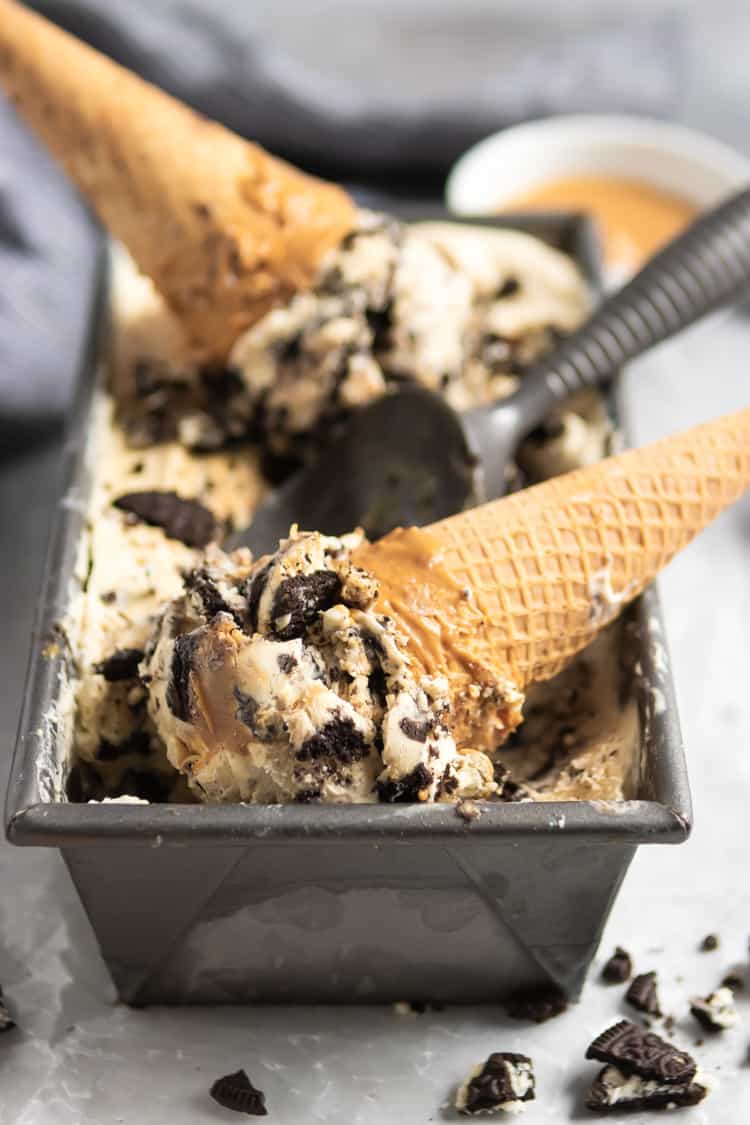 Peanut Butter is everything to me.
You know when people ask you that question about what you would take with you to a deserted island? Usually the parameters are you can only take three things. I am not even joking, peanut butter would be one of my three. SERIOUSLY.
If you have been around here for a bit, you know that peanut butter is my very very very favorite food on the planet. At one point I joked that I should rename the blog to "peanut butter + oatmeal" because most of my recipes included at least one of the two.
You can imagine then how absolutely thrilled I am to partner up with the National Peanut Board to bring you several recipes that feature none other than: PEANUT BUTTER!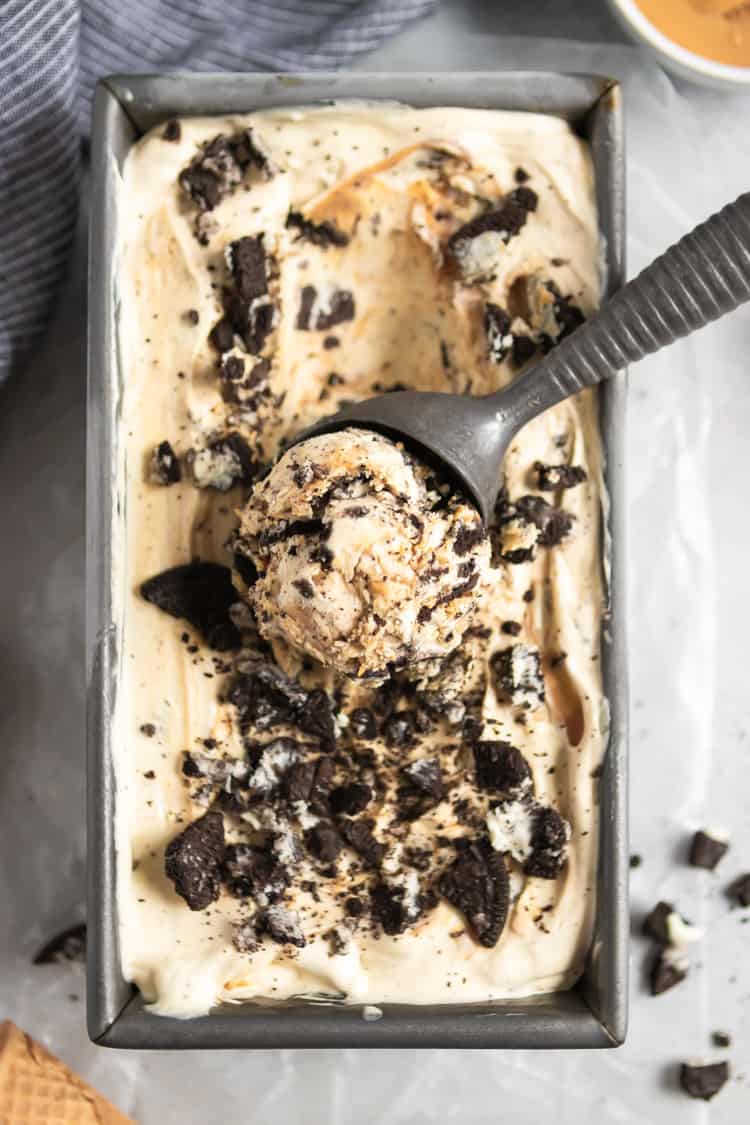 Peanut Butter introduction
It was so important to me to introduce Sam to peanut butter early on. We started feeding it to him around 6 months. To say the least, he is very happy to eat peanut butter in any way possible. PB & J? You bet. Peanut butter toast and bananas? Yep! He loves it in his yogurt and also on his waffles and pancakes. If there is peanut butter, Sam is a happy boy.
Clearly, this child takes after his mama with his good taste in food! Isn't the best to be able to share your favorite foods with someone special? I sure think so.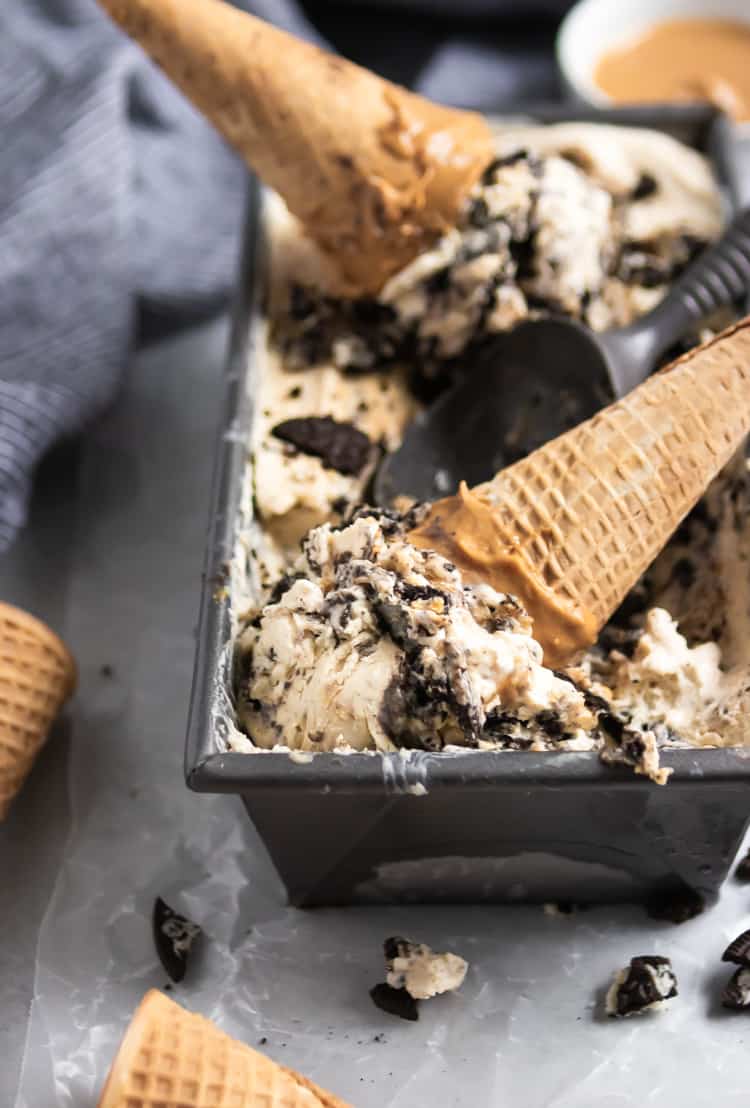 There are so many reasons to love peanut butter--it's an absolute staple in our home. If I don't have at least three jars in the pantry, then I consider myself extremely low.
The main reasons I love peanut butter?
It's versatile.
It's fuel.
It's DELISH!
I remember growing up when it was "low fat" EVERYTHING. People swore off things that included any fat at all. And we are talking good, wholesome foods. Foods that are meant to fuel us and keep us going. Thank goodness we have moved past that phase--all the pb for me indeed.
And that is the thing--the fat is what we need from our peanut butter. Along with protein and fiber, peanut butter packs it all in. Indeed, it has it ALL.
SO what about this peanut butter ice cream?
I know, I know, get on with it already. You want to know all about this incredible peanut butter and cookie filled ice cream I am teasing you with.
I wanted to make sure to kick off this partnership with one of those holy cow, eye popping, drool worthy recipes that you will want to run out and get what you need TODAY to make this. In my opinion, this recipe fits the bill 100% and the best part is that it is so incredibly easy to make.
No Ice Cream Maker Required!
That's right, you read that correct. You do not need an ice cream machine to make this rich, creamy, peanut butter and cookie filled dessert. I would NEVER lie to you, I promise. All you need is a handful of ingredients, a mixer and a freezer. If you have those then you are all set!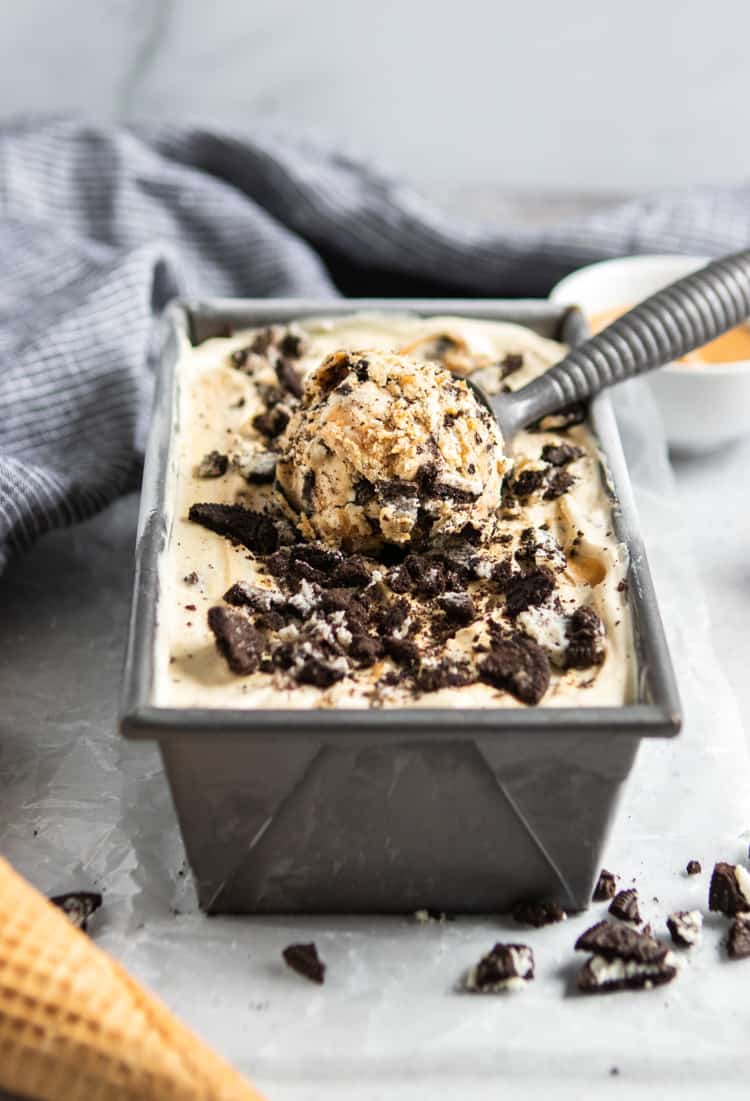 What is No Churn Ice Cream?
No Churn ice cream has quickly become one of my favorite summer ice cream treats to make and I even have an ice cream machine. All you need is heavy whipping cream and evaporated milk to whip up your own homemade ice cream. Who would have thought?
From there, you select any flavors or add ins to make your ice cream truly one of a kind and then freeze. That's it. No churn requires only items found in most kitchens and that is why it's such an amazing treat.
What you will Need to make this No Churn Peanut Butter Cookies and Cream Ice Cream:
Heavy Whipping Cream
Condensed Milk
Vanilla extract
Oreos or chocolate sandwich cookies
Sea salt
How do I make this No Churn Peanut Butter Cookies 'N Cream Ice Cream?
I would say this no churn ice cream is easy as pie to make, but it is actually easier. You simply beat the whipping cream until stiff peaks start to form. From there, you combine the evaporated milk, peanut butter and vanilla. Slowly combine the two, add in crushed chocolate cookies and an extra swirl of peanut butter. That's. It.
Sound like something you can handle? Oh, I know it is! The hardest part will be waiting for the ice cream to freeze!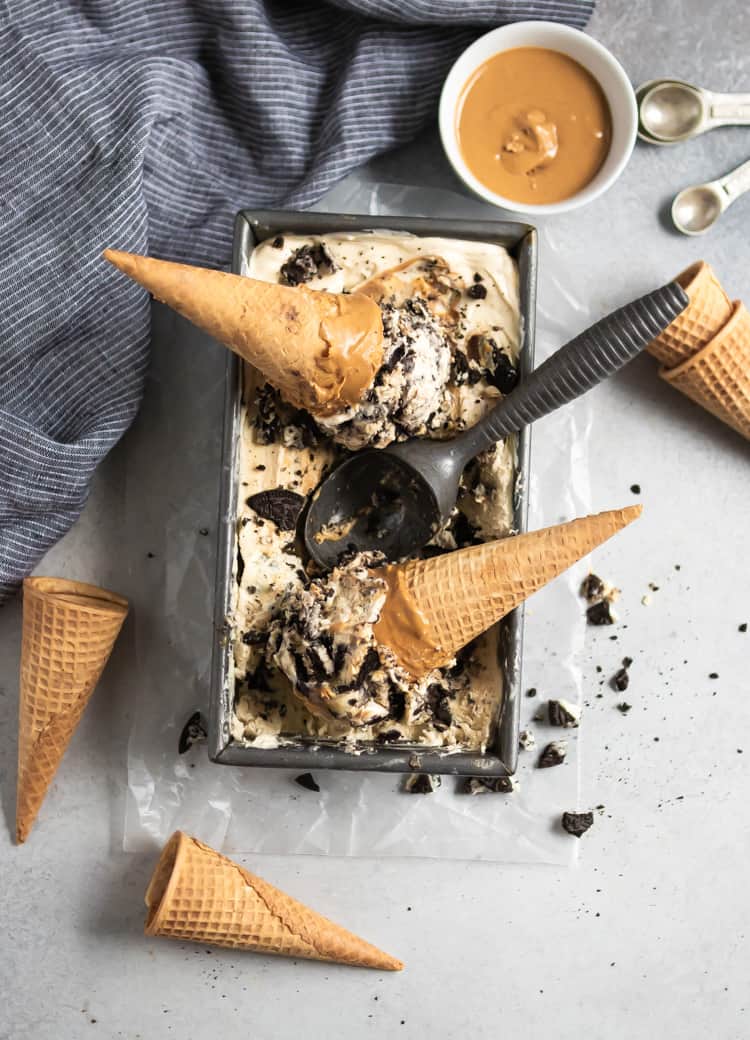 How to serve this No Churn Ice Cream:
Straight from the container. Like not even into a bowl before it hits your mouth. Just don't let anyone see if you double dip! Bowls work fine too.
On a cone dipped in more peanut butter: for these photos, I took sugar cones and dipped them in peanut butter, spread it around to even it out. I popped it in the freezer for about 5 minutes or so and they were all set. You could also roll the peanut butter in cookies.
Ice cream sandwich anyone?? Would eating this ice cream between two more cookies be over the top? Well, then, over the top is what I am.
Make a simple ice cream pie! Grab a pre-made chocolate graham crust, spoon the ice cream into the crust after whipping it together, and freeze. Garnish with some whipped cream and extra peanut butter drizzle.
All ice creams want to be a part of a Sundae--this one included. Don't forget that cherry on top!
So now it's your turn! Tell me, aside from this amazing peanut butter recipe, what is your favorite way to enjoy peanut butter? Let me know in the comments below and spread the peanut butter love using the hashtag #HowDoYouPB
Check out these other ice cream recipes:
Homemade Maple Pecan Ice Cream
Dairy Free Peanut Butter Swirl Chocolate Dipped Ice Cream Bars
Instructions
In a medium mixing bowl, combine ½ cup peanut butter, condensed milk and sea salt. Set aside

Using a standing or hand mixer, mix the whipping cream and vanilla on high until strong stiff peaks begin to form. This will take several minutes. Gently combine the whipped cream mixture with the peanut butter and condensed milk mixture until fully incorporated.

Fold in crushed cookies and then transfer the ice cream mixture into a freezer safe container ( I always use a bread tin.) Swirl in the extra ¼ c peanut butter and place in freezer for 4-6 hours.