No ice cream maker? No problem! No churn ice cream is so easy to make and this no churn lemon basil ice cream is a combo you will be so amazed by–the lemon and basil really compliment each other in this creamy treat!
---
I love recipes that show my own personal growth through my journey of intuitive eating; life without food rules.
A few years ago, this recipe would have never happened. Here's how it would have gone:
Yummm, no churn ice cream sounds so good, it looks extra creamy. But how do I make it? (Look up a recipe to see what ingredients are needed.) Hmmm, looks like the base is heavy whipping cream, ok, I could sub maybe coconut milk for a healthier option, got that. But sweetened condensed milk, what could I sub for that? I mean, that stuff is just straight sugar, right? Maybe there is a way to make a healthier version–or maybe someone has a vegan version out there I could make, that will at least make it somewhat healthy.
From there I would go on a hunt to take said no churn ice cream into some "acceptable" recipe based on my wild food rules. Once I felt comfortable with the ingredients found, I would try to make my own version. I would take a taste, hmmm, it's not terrible, maybe just a bit more maple syrup (because God forbid I use sugar). I would add more maple and then a bit more. The consistency would not be quite as I had hoped and eventually, after trying to trick myself into thinking it was okay, I would realize I wasn't the least bit satisfied and that the recipe was a flop.
Fast forward to today.
Yummm, I keep seeing these no churn ice cream recipes that look so incredibly rich and creamy. I really think that could be a great recipe for the blog especially since so few people have ice cream makers but want to make their own. Let's see what I need: whipping cream and condensed milk. Got it. Hmm, what flavor?….Then I go make and taste and fall in love with no churn ice cream and decide it's the only thing I am ever making again when it comes to ice cream.
Notice a difference in those two antidotes?? I sure do.
It took a lot of work to get to this point, but it so amazing to be in a place when I can think, what am I craving? and then respond with the actual food. It's not a very natural thing in our society these days. We are becoming hard wired to have a craving, and then try to suppress that craving–if you saw the terrible Flat Tummy ads featured in Time Square, you know what I am talking about.
We are pushed to find alternative foods for the ones we actually want–hence the ABUNDANCE of crazy low calorie protein ice creams on the market right now. We are taught food is good and food is bad–its everywhere in the media.
This ice cream recipe is a product of my own ability to shut out all of that noise, and my hope for you is that you can as well. I hope that if you are craving this dreamy, creamy goodness, then you can sit down, relax and enjoy it–every last melty drop!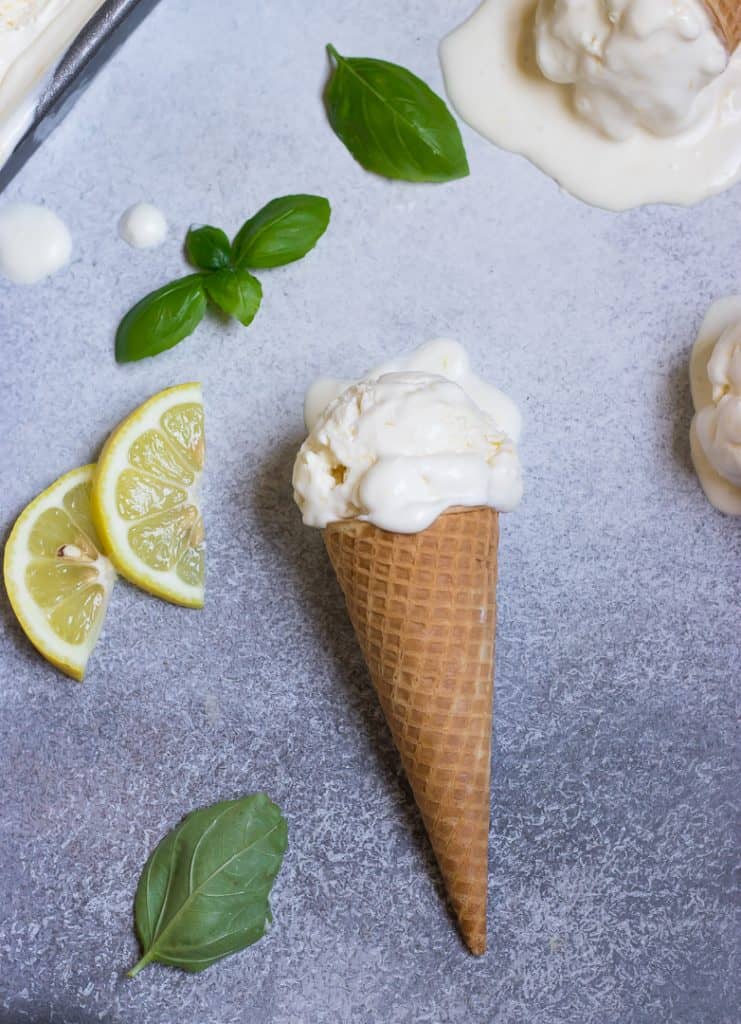 So let's talk about this recipe. First, you only need a handful of ingredients and you DO NOT need an ice cream maker! While I have an ice cream maker, I always find it counterproductive to share ice cream maker recipes here because so few people have them. But most households have a mixer so these recipes are all the more accessible.
I actually took an Instagram poll to decide between lemon basil and lemon ricotta–lemon basil was winning but then I realized I needed to inform everyone that the lemon basil added an extra step and suddenly the votes for lemon basil dwindled. But my basil plant kept staring at me, so I went with the lemon basil–but a ricotta flavor is still in the works so if you voted lemon ricotta, have no fear!
The trick is allowing the lemon and basil to steep in the cream for a bit and then letting the cream cool. It brings about a rich flavor that is almost hard to describe but the lemon and basil literally are magical together. If you have never tried this in a sweet recipe, now is your chance to have one heck of a party for your taste buds.
As for the no churn ice cream, it is so simple you will be bummed you hadn't thought of this earlier. Whip the whipping cream and then fold in everything else. Freeze and you are done. Hardest part? Waiting til it freezes–trust me on that one, But I promise it is so worth the wait!
No Churn Lemon Basil Ice Cream
No ice cream maker? No problem! No churn ice cream is so easy to make and this no churn lemon basil ice cream is a combo you will be so amazed by–the lemon and basil really compliment each other in this creamy treat!
Print
Pin
Rate
Total Time:
8
hours
15
minutes
Ingredients
2

c

heavy whipping cream

1

14 oz.

can sweetened condensed milk

2

lemons (zest only)

12-15

fresh basil leaves

1

tsp

vanilla extract

pinch of sea salt, optional
Instructions
Over medium heat, combine basil leaves, zest of one lemon and cream in a small sauce pan. Stir several times and allow to heat for about 8-10 minutes. Remove from heat and cover. Chill in refrigerator until cold again. (About 2 hours)


Once cream is chilled, remove basil leaves and toss out. In a medium bowl, beat cream until it makes stiff peaks when you remove the mixer. Set aside.


In another bowl, whisk together condensed milk, vanilla and salt if desired. Slowly fold in the whipped cream into the condensed milk and very gently allow the two to combine.


Fold in half of the other lemon's zest and transfer to a freezer safe container. Sprinkle the rest of the zest on top and freeze for about 4-6 hours.


Before serving, allow ice cream to sit out for about 10 minutes before spooning out, especially if it's been in the freezer for much longer than 6 hours. Enjoy!