This post may contain affiliate links.
OThis post contains affiliate links, meaning, at no additional cost to you, if you click through an affiliate link and make a purchase, I may make a commission.
Hello and welcome to the fresh, new lemons + zest!
I am so excited to share this new adventure with you all so I hope you are ready for the ride. Tonight I will introduce to you what lemon + zest is and what I will be doing here (note: it's not a whole lot different than what we have been doing this past year, but it's way different from where we started.)
Thanks in advance for your patience in case there are any glitches or anything that may occur as a result of the switch over. Hoping to make this transition as smooth as possible!
Last week I talked a lot about why I needed to shed the word "whole" from the blog name. So much has shifted for me in so many ways--health and wellness to life in general. But what would I replace it with? What could I name the blog that would make sense and still feel powerful to me.
I kept mulling over the journey of Be Whole. Be You. and realized that this shift to part ways from it also started right when we adopted Sam. It was then that I was complete, whole, put back together. He has made my life worth living in a way I never imagined. The journey of Be Whole. Be You. was the road to Sam, the bumps, the tears, the ups and downs, the wins and losses. The journey of Be Whole. Be You. was the last piece of letting go of the years of food rules, disordered eating, dieting, etc. and learning to eat intuitively and listen to and love my body--even on the days it didn't feel the best. All of these things are my new way thanks to this path, and so now it is time to part ways and start fresh.
And so begins lemons + zest.
What is lemons + zest?
It took a LONG time to land on a name that would still embody what I have done here at Be Whole. Be You. the past 3 years. I needed to portray food blog and my life's story/struggles/bumps in one name. Tough task, let me tell you. I tried several names and nothing seemed to fit or the domains were already taken. I tried some fun plays on words but nothing seemed right. And then at one point I started playing with the word 'lemon.' Lemons have a number of symbolic meanings--they can represent disappointment, bitterness and even fidelity--many differnet meanings in differnet cultures throughout history. The fact that they are sour and yet bring so much flavor to so many recipes says a lot as well. In a way, lemons represent life--it can be sour, but it can also be bright and refreshing, it can be complex. And so lemons stuck.
I started to think a bit more about the concept of when life gives you lemons. While some make lemonade, you still need sugar and water to make it. But what about zest? All you need are the lemons. So in a way, when life gives you lemons and you make the zest, you, and only you all on your own are taking the situation and making the best. And so it was lemons + zest. And of course it helps that 'zest' means to bring enthusiasm and energy.
So, while the name lemons + zest is telling of a food blog with this common citrus fruit, it is also about life, and when life gives me lemons, and it will and it has, then I will make the best--by making my zest.
Done and DONE.
Long story short: lemons + zest is a place where I will share food and stories--stories of my life, my thoughts and my own ups and downs along the way.
What will you find here as compared to Be Whole. Be You.?
You will find more similarities than differences. There will be little pieces of my life woven into posts that will also include a recipe. So still food for thought and food for the body. The biggest difference will be the food.
Be Whole. Be You. started out as a 'clean eating' food blog. There were no refined sugars, no refined flours, no 'processed' foods. There were good foods and bad foods and it was all in the name of good health.
That is no more. lemons + zest is my healthy, my new healthy. It is my no diets, no calorie counting, no bad foods, no good foods, all foods fit and nothing is off limits. Recipes will contain any and all foods that make them delicious without the fear of too much this or too much that. lemons + zest is not about, "What should I be eating?"; it is "What do I want to be eating?"
The only rule is that there are no rules. And that is all. I understand that there are allergies, so will also try to suggest modifications for those who may need it. This place is balance and I hope that you will feel right at home.
Welcome. I hope you enjoy it all--the food, the stories, the freedom.
I have so much more to come as we shift over so I don't want to overwhelm you in this first post. I want to thank you and share an a amazing recipe to kick things off!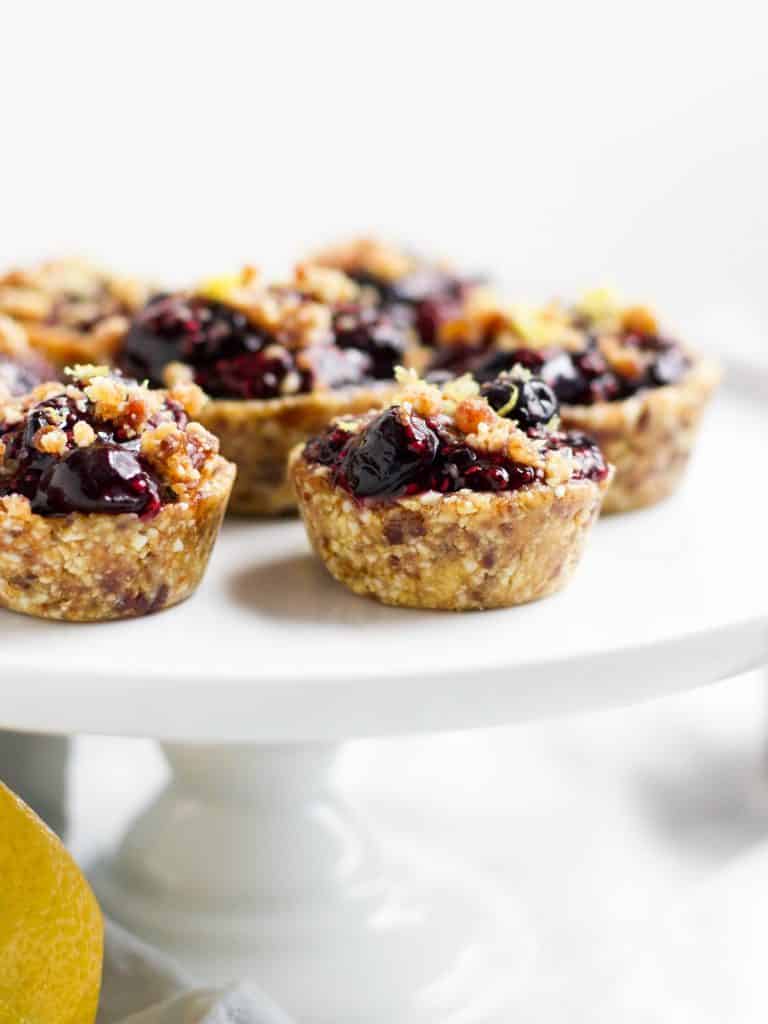 No bake (because you know me, right?) and lemony seems fitting to start off today.
These mini tarts are something that surely won't last at your house if it's anything like mine. I had my toughest critics on these for taste testing and they were GONE before I got seconds. The bonus was using the blueberry jam that was leftover in oats and on PB & J the next couple of days. Homemade jam that takes only minutes to make is the best!
The dough could be rolled up into little balls for energy bites as well so this is quite a versatile recipe. Refreshing and simple, that's the way I love it! These babies whip up so quickly in the food processor, so not a whole lot of time needs to be spent on them either!
One helpful hint is to place a strip of parchment in each mini muffin to allow for easy transition out of the tray. It made it a breeze and I didn't ruin a single mini tart which is a huge feat for me. You can really press into the crust as deep as you'd like without putting a hole in the bottom. I prefer a moderate amount of jam in the center and didn't press too deeply but still felt the crust to jam ratio was just fine. And the fresh lemon zest on top is so simple but adds to the presentation and flavor. When in doubt, go with the zest!!!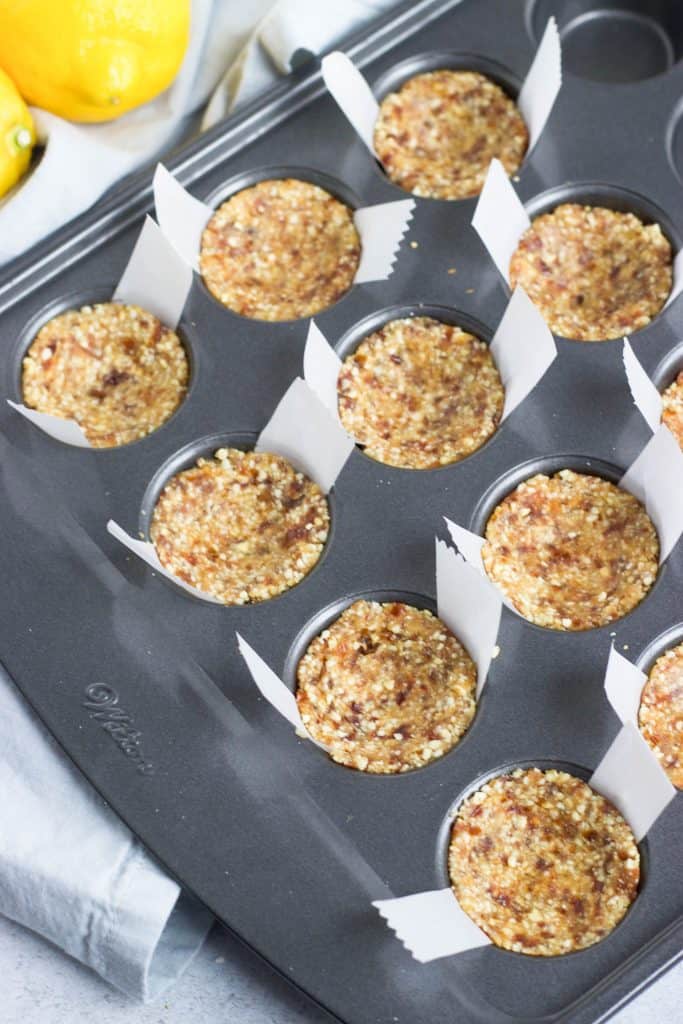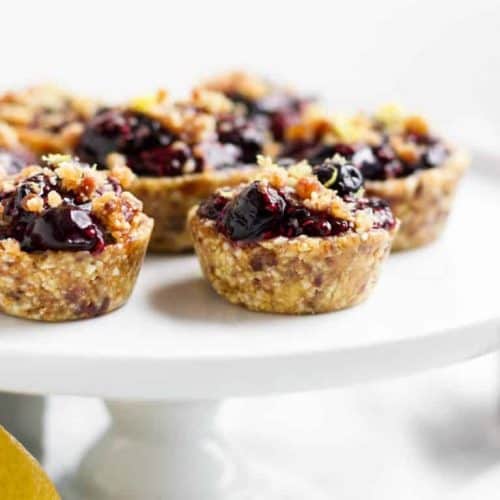 Ingredients
For base/crust
1 ½

c

raw cashews

8-10

medjool dates

pitted

1

tsp

coconut oil

not melted

Zest of 1 lemon

Dash of sea salt

1

tsp

vanilla extract
For Blueberry Jam
1

c

fresh or frozen blueberries

thawed

1 ½

T

chia seeds

2

tsp

lemon juice

1

T

maple syrup

honey or sweetener of choice

Juice of ½ lemon
Instructions
In a food processor, pulse blueberries several times until they start to puree. I like chunks of fruit in mine, so I don't make it too smooth. Transfer to a bowl and add all other jam ingredients and stir well.

Chill overnight or at least several hours.

For crust/base, process cashews in a food processor until fine and grain like. Add all other ingredients and process until a dough begins to form.

Reserve about 2 tablespoons of mixture.

Press dough into mini muffin cups lined with a small piece of parchment as shown in above photo. Press ½ inch into the center to make room for jam.

Scoop jam into each cup and top with fresh lemon zest and a sprinkle of reserved dough mixture.

Chill for about 15 minutes before serving.

Store in an airtight container in the refrigerator.