Melt in your mouth, sweet pecan goodness–these Cream Cheese Snowball Cookies are a fun twist to a traditional favorite. Some call them Russian Tea Cookies, some call them Italian Wedding Cookies, but we call them delicious and easy snowball cookies!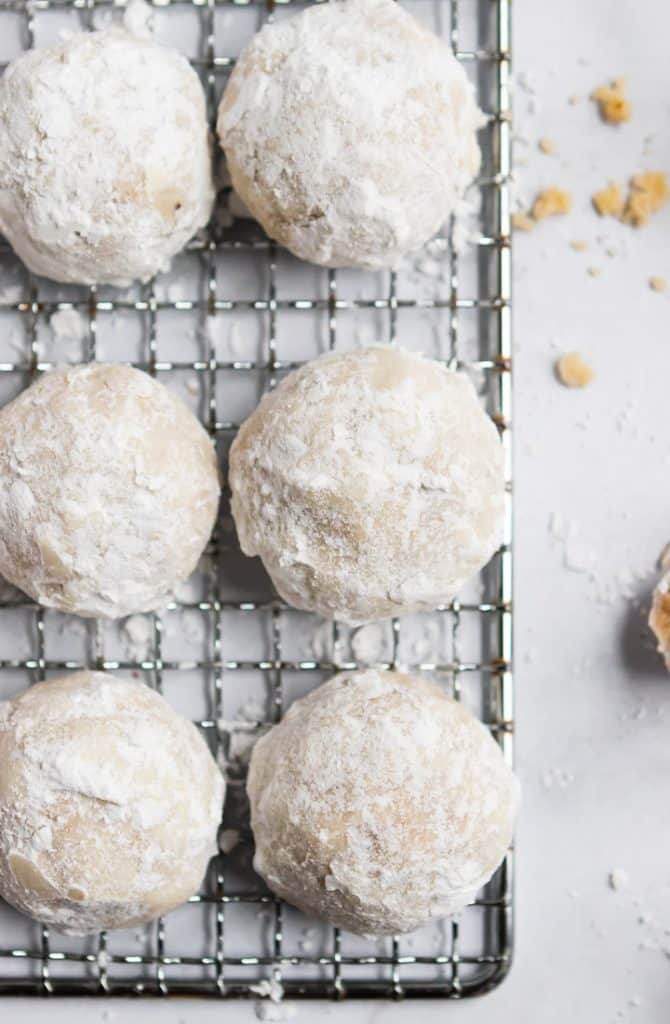 I don't care what you call these cookies–we can all agree that these pecan filled, powdered sugar covered cookies are one of the best melt in your mouth treats of the holiday season. (Iced sugar cookies rank up there as well, but nothing else for me!)
Cream Cheese Snowball Cookies: Not Your Average Snowball
Everything is better with cream cheese, am I right? (Oh, I am right.) So when I was working on my list of holiday cookies, I happened to have some leftover cream cheese from another recipe.
I couldn't let that cream cheese go to waste–that wouldn't be right.
So I took a chance and tossed into this snowball cookie recipe, and after the first batch, I knew I was on to something. A few batches later, and we have the best snowball cookies that have ever melted in my mouth!
What exactly makes a snowball cookie?
From what I have gathered, the cookies are called so many things: Mexican Wedding Cakes, Russian Tea Cookies, Italian Wedding Cookies, etc. But while the name may change from person to person, the ingredients tend to stay very similar:
flour
butter
powdered sugar
chopped pecans or nuts
vanilla
You may see some almond extract in some, but overall, these ingredients seem to stay the same.
And maybe, just maybe, adding cream cheese to a simple snowball cookie recipe is just even more icing on the already amazing cake!
How do I make the best Snowball Cookies?
I remember reading somewhere a while back that if you roll your snowball cookies in powdered sugar before you bake them and then again after baking, you create an unreal cookie.
I wasn't sure that this was something I believed. However, when I tasted the cookies that had powdered sugar before hand, they got a TRIPLE wow versus just a WOW.
The powdered sugar becomes moist and almost melted. It creates a nice coat around the cookies ands add some extra WOW in every bite. (Ha, who are we kidding, no one bites these cookies, these are the cookies you just pop in your mouth in full!)
Why do you use powdered sugar instead of regular sugar in snowball cookies?
Using powdered sugar keeps the cookies from spreading out. When it comes to a snowball cookie, you want them to be round, not flat. And you definitely don't want them to spread at all.
While they won't spread, they will form into a nice rounded top with a flat bottom.
I tried a batch using regular sugar just for thrills I guess and while they were still tasty, I definitely was team powdered sugar in the end. Somewhere I read that the regular sugar may help keep them more moist but I still found the powdered sugar version to be perfectly moist.
I am sure the closer and closer we get to this recipe, the less and less you are thinking about anything but these easy snowball cookies, but while you are waiting for them to bake, make sure to check out this list of some amazing easy Christmas Cookies as well.
You can never ever have too many Christmas Cookies, right?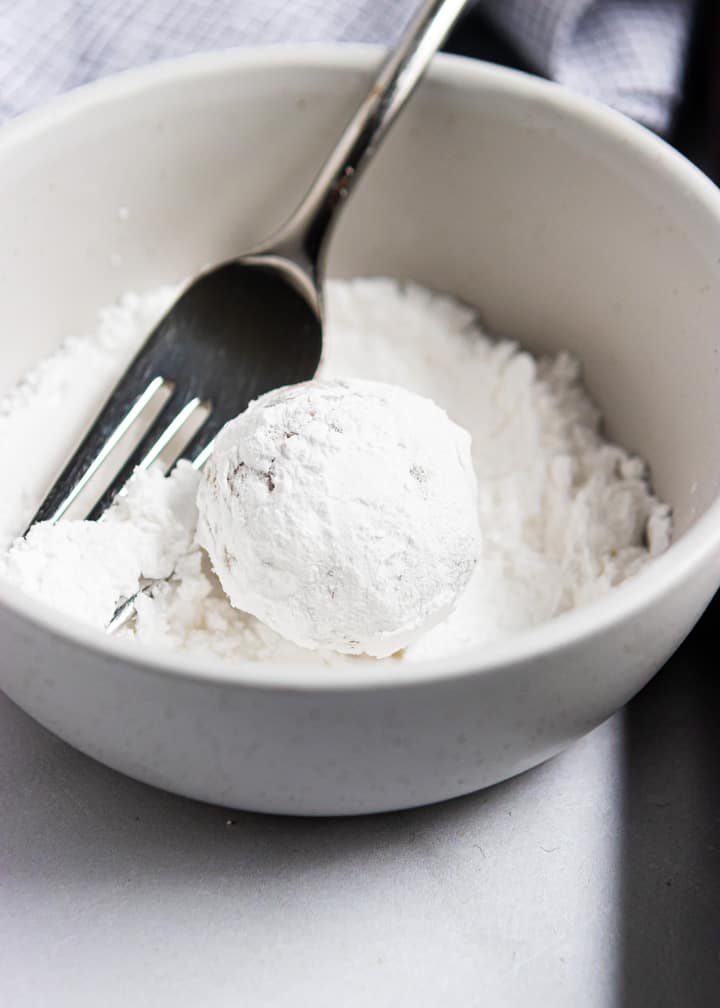 Some things to note when making these Cream Cheese Snowball Cookies:
I made my snowball cookies with pecans. I am a firm believer that pecans are the most delicious nut out there. However, they are not cheap. You could use almonds or walnuts, or a combination of any of these three nuts instead.
I bake these at 325°F for a touch longer versus higher heat. This allows them to cook nice and even without drying out too fast.
If you want to REALLY up the flavor of these cream cheese snowball cookies, then toast your pecans. It's an added step, one I did not include into the actual recipe. But lightly toasting the pecans, stove top or in the oven, brings out a rich nutty flavor that nothing compares to.
The hardest part about cookies of all kinds: you don't want to over bake these and you don't want to under bake them. With snowball cookies, you REALLY don't want to over bake them. Since there aren't any eggs, under baking isn't the worst thing. But too much makes for a dried out cookie. Keep a close eye on these and know they will bake a touch more before you move them off the pan.
I highly recommend chilling these cookies for at least 20-30 minutes if at all possible. I would really suggest an hour at minimum. Since you don't want these cream cheese snowball cookies to spread, chilling will allow the fats to solidify more and thus keep them all the more from spreading. I tried chilled and un-chilled and found the chilled held their shape better. The taste was still incredible so you still have that!
CHECK OUT THESE OTHER COOKIES AND BAKED GOODS:
DID YOU MAKE ONE OF MY RECIPES? LEAVE A COMMENT AND LET ME KNOW! I ALSO LOVE TO SEE YOUR LEMONS + ZEST RECIPES ON SOCIAL MEDIA–TAG ME @LEMONSANDZEST ON INSTAGRAM OR FACEBOOK!
Cream Cheese Snowball Cookies
Some call them Italian Wedding Cookies, some call them Russian Tea Cookies–no matter what you call them, they are melt in your mouth delicious. These Cream Cheese Snowball Cookies bring a whole new tang to your favorite Christmas Cookie!
Print
Pin
Rate
Servings:
32
cookies (approximately)
Ingredients
4

oz

cream cheese, softened

1/2

c

butter, softened

1 1/2

c

flour

1/2

c

powdered sugar, plus 2 T, separated

1 1/3

c

pecan pieces

1

tsp

vanilla

1/2

tsp

sea salt
Instructions
In a food processor, pulse pecans and 2 T powdered sugar until fine and grainy. (This will sweeten the pecans slightly).

In a medium bowl, using a standing or hand mixer, cream together cream cheese, powdered sugar (1/2 cup), and butter until smooth and creamy. Add in vanilla and mix until incorporated.

Slowly add in flour and salt and beat until fully incorporated. Add in pecans and mix together on low speed. (Ideally you would chill dough for at least 20-30 minutes. For best results, you can roll the cookies and then chill. Will take less time to chill too!)

Roll into balls and roll into powdered sugar and line 2 inches apart on parchment lined baking sheet. Bake for 14-17 minutes or until the edges just start to become lightly golden. Cool for several minutes and before fully cool, roll into powdered sugar once (or twice, if you are really in the game) and set on a rack.

Store in an airtight container!
Nutrition
Calories:
113
kcal
|
Carbohydrates:
11
g
|
Protein:
1
g
|
Fat:
7
g
|
Saturated Fat:
3
g
|
Cholesterol:
12
mg
|
Sodium:
73
mg
|
Potassium:
30
mg
|
Fiber:
1
g
|
Sugar:
6
g
|
Vitamin A:
139
IU
|
Vitamin C:
1
mg
|
Calcium:
8
mg
|
Iron:
1
mg