Looking for the easiest no bake Christmas cookie this holiday? These Ritz cracker cookies are just that! Rich Nutella sandwiched between two Ritz crackers and dipped in a smooth peppermint white chocolate--doesn't get easier!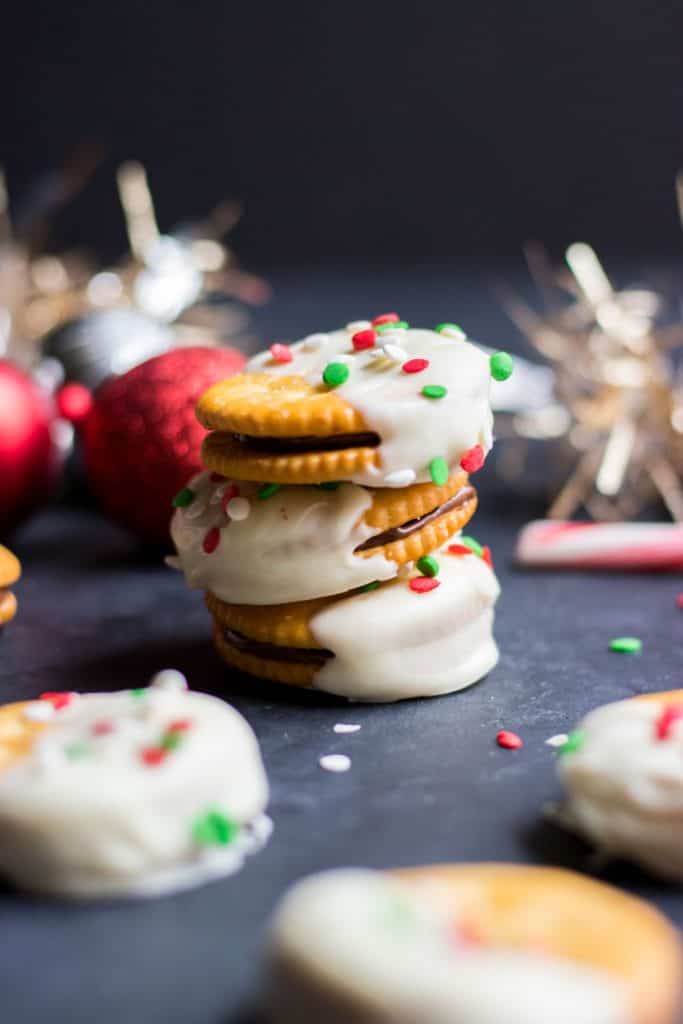 Some recipes are much easier to name than others. This one took a lot of work and in the end, I landed on the name that was a mouthful. You win some you lose some--but no matter what these are called, you win every time.
Nutella Ritz Cracker Cookies: The holiday treat you need.
These Nutella Ritz Cracker Cookies needed a really complex name but they are the exact opposite of that. I saw a box of Ritz Crackers dipped on chocolate on sale at the grocery and I thought there certainly had to be a better way to make a Ritz cracker cookie recipe.
My aunt makes the toffee cracker goodness every year as part of her holiday treat platter so another simple Christmas recipe involving crackers is always welcome in my book!
Do you have to be an expert at anything to make these "cookies"?
That's a hard NO. There are no prerequisites to make these--well maybe hunger could be considered one.
Here's the reality. I like to bake. Baking very rarely likes me in the recipe development department. While I do have a baked good recipe coming soon, the amount of time and energy that it takes (and sticks of butter) to get it just right is obscene.
And then the amount of time I spend holding my breath every time someone tells me they are making a baked good recipe from my blog that occurs is another thing. Let's just say, I am working on it.
But until then, I am still gonna bring you those perfect last minute, need a treat in no time kind of recipes that will help you along the way this holiday. Sound like a plan?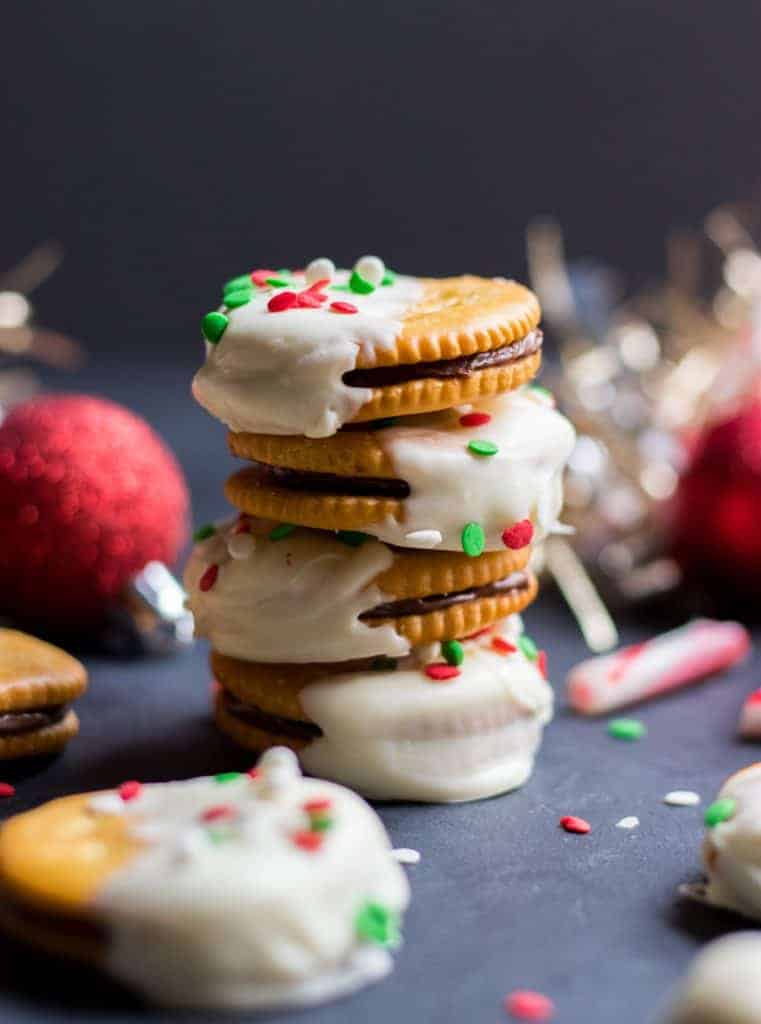 Tips for making this Ritz Cracker Cookie recipe:
While you can microwave to melt the white chocolate, I honestly have way better results using the double boiler method. When I use the microwave, I find the chocolate is never quite as smooth and I am really good at over doing it and ending up with scalded chocolate.
While I highly recommend you stick with the Nutella in this recipe, I am sure another nut butter would work--the chocolate in the Nutella is just a perfect compliment to the peppermint mixed in with the white chocolate. If you try something else, let me know!
There is a lot of flexibility in this recipe. There is no set amount of Nutella you have to put on your crackers-- 1 teaspoon-ish, or whatever makes you happy really. As for sprinkles? Jazz them up however you like--add crushed candy canes as well.
These can very easily be adjusted to any season or holiday. Change the color of sprinkles and perhaps leave out the peppermint and these are instantly a year round treat!
These Nutella Ritz Cookies make great gifts.
Anthony wasn't so sure what I was doing when I was putting this Ritz cracker cookie recipe together in the beginning, but the number of them that went missing as the days passed let me know he was very happy with the turn out.
Perfect for a fun cookie exchange, toss them in a festive box for a host/hostess gift, or have a fun snow day with the kids putting these together. They are winners no matter what!
Also, a fun little thing happened-- my friend Tawnie at Kroll's Korner was on the exact same page with her Ritz Cracker White Chocolate Christmas Cookies it's almost scary. We literally both posted our recipes on the exact same day. So now you have to check hers out as well!!!
This is only the beginning of holiday season so get ready for plenty more! Check out other Christmas Recipes here!
TRY THESE OTHER HOLIDAY TREATS:
DID YOU MAKE ONE OF MY RECIPES? LEAVE A COMMENT AND LET ME KNOW! I ALSO LOVE TO SEE YOUR LEMONS + ZEST RECIPES ON SOCIAL MEDIA–TAG ME @LEMONSANDZEST ON INSTAGRAM OR FACEBOOK!
Nutella Stuffed Peppermint White Chocolate Ritz Cracker Cookie Recipe
Looking for the easiest no bake Christmas cookie this holiday? These Ritz cracker cookies are just that! Rich Nutella sandwiched between two Ritz crackers and dipped in a smooth peppermint white chocolate--doesn't get easier!
Print
Pin
Rate
Instructions
Spread about 1-2 teaspoon Nutella onto the flat side of a Ritz cracker. Sandwich this cracker with another and place on a parchment lined pan or plate. Repeat for the rest of the crackers and place in the freezer for about 10-15 minutes or so.

While freezing, using a double boiler method (or microwave method if preferred), melt white chocolate until smooth, stirring frequently.

Once melted, stir in ¼ teaspoon peppermint extract.

Dip each Nutella sandwich half way into white chocolate and allow extra to drip off. You can use a spoon to help spread evenly as well. Place on parchment and sprinkle with holiday sprinkles or candy cane pieces.

Repeat with the remaining sandwiched and allow white chocolate to cool and harden. You can place in the refrigerator to speed this up as well.