This post may contain affiliate links.
Only 4 ingredients in these simple, rich and delicious Amaretto Truffles. An easy recipe to whip up with the flavor of Amaretto that is a perfect holiday dessert for the adult crowd to enjoy!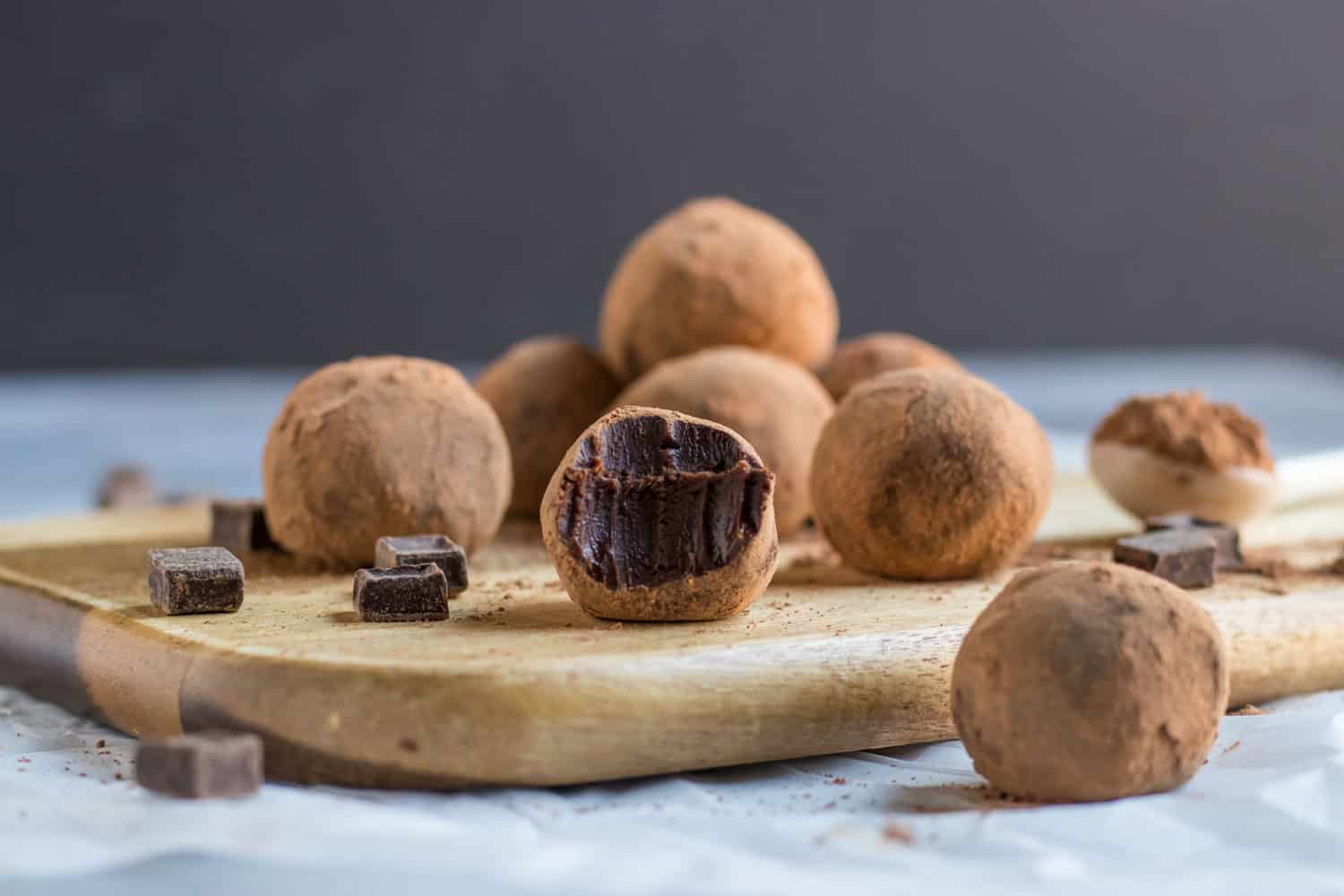 Christmas is almost here!
Now that it is crunch time, that is the exact thing we don't have enough of at all--hours, minutes, where are they all going?! And it also seems that this is the time we stress ourselves and everyone around us the most. Please, please PLEASE don't let that be the case!
I thought I would take some time today to drop an ounce or so, (not too much since there's not enough time to read it!) of food for thought for you to digest. Just something to be aware of, something to think about.
Today, you may be reading this and thinking there is nothing more you would like to do than curl up under the blankets and hide until Christmas is over.
If that is you, read on. If that is not you, read on as well.
For me, the holiday season has been difficult over the past several years. This will be our 3rd Christmas without our sweet Josie and second without our little Eli.
The thing about the holiday season for me, is that it brings up all of the milestones and thoughts of what we should be celebrating, and what our Christmas should look like.
And then the reality sets in that what it should be is nothing near what reality is. My stomach aches as I look at family photos with Santa, trips to the Festival of Lights, and holiday baking with little ones all over social media.
I think of all the firsts our family has yet to have together. I think of how my little 3 year old's face that would light up at the sight of what's under the tree and breakfast together as a family and the sounds of our two little ones as they play in the living room with all of the new trinkets Santa left behind.
But the house is quiet. Four years have past and still we wait. And we hope. And we pray.
What I am not saying is for you to feel sorry for me. I am not asking for pity. What I am saying is to remember that the things you may take for granted during this holiday season may be the one thing another person would die for. For those who moan about trips to see the in laws, there are others who would give anything to have a special someone to bring home to their family.
One person's agony is another person's one wish
And for those with an overbearing parent, there are others wishing to have just one more moment with a parent who has passed. And as in our own situation, while there are those who complain about their kids, whether about having to deal with them during the break and not being able to wait until school is back in session or even little tantrums, there are others who would sell their soul to have just that.
So be sensitive, be aware, sometimes the things we don't always appreciate are the things that would make another person's year.
So before you snap at that relative, before you wish you could just stay home and away from everyone, just remember, there are those who would give anything to be in your shoes--or stockings I guess I should say 😉
---
And now on to these Amaretto Truffles
Every year on Christmas, my father in law pulls out a bottle of Disaronno.
We sip on it while we open gifts with a bit of orange juice. It's one of my favorite treats of the year and one I look forward to each Christmas.
So in preparation for this weekend, I thought adding a bit of the liqueur to a treat would be a fun surprise to bring over to them. These 4 Ingredient Amaretto Truffles have that melt in your mouth texture with a nice twist thanks to the Disaronno.
They are so simple to make and literally you only need 4 ingredients and not much time at all to make them. That's a bonus!
While you do need to wait for these to set for a few hours, you still won't end up spending any more than 15-20 minutes in all on these rich fudgy treats. Who could ask for more!
Ingredients you will need to make these 4 Ingredient Amaretto Truffles:
heavy whipping cream/full fat coconut milk: I have made these amaretto truffles with and without dairy. Both are perfectly delicious. Please use whichever option works better for your needs!
dark chocolate chips: I used dark chocolate, but milk chocolate could work as well. Again, use the option you love the most. If you are keeping these truffles dairy free, make sure your chocolate is free of it as well.
amaretto liqueur: like I said earlier, we are big Disaronno fans. That's the kind I use. Every time.
cocoa powder: the cocoa powder is just for dusting. The cocoa dust makes these a lot more manageable and less sticky. But then you also have a bit of cocoa dust on your fingers.
These amaretto truffles are also as easy as 1, 2, 3. Not a lot of effort go into enjoying them.
Here's all you've gotta do:
heat up the cream or milk
pour over chocolate and stir together with amaretto to combine.
chill and then roll into balls and coat with cocoa.
THAT'S IT!!! So simple, and the best homemade little candies you can dream of!
TRY THESE OTHER HOLIDAY GOODIES AND TREATS:
DID YOU MAKE ONE OF MY RECIPES? LEAVE A COMMENT AND LET ME KNOW! I ALSO LOVE TO SEE YOUR LEMONS + ZEST RECIPES ON SOCIAL MEDIA–TAG ME @LEMONSANDZEST ON INSTAGRAM OR FACEBOOK!
4 Ingredient Amaretto Truffles
Only 4 ingredients in these simple, rich and delicious Amaretto Truffles. An easy recipe to whip up with the flavor of Amaretto that is a perfect holiday dessert for the adult crowd to enjoy!
Print
Pin
Rate
Ingredients
1 ½

c

dark chocolate chips

(dairy free/allergy friendly if needed)

⅔

c

heavy whipping cream (or full fat coconut milk for dairy free)

3

T

amaretto liqueur

⅓

c

cacao powder
Instructions
Place chocolate chips in a medium bowl.

Over medium heat, add cream or coconut milk to sauce pan and stir frequently until hot and starts a very light bubbling.

Pour milk over chocolate and stir until smooth and creamy.

Add amaretto and stir until blended and creamy.

Chill for about 4 hours.

After chilling, use a cookie scoop to spoon out enough to make one inch balls. (These will get sticky. Start a ball and then roll it lightly to dust in cocoa powder. This will help keep your hands from being a chocolate mess)

Roll truffles in cacao powder. You can also roll them in sprinkles or chopped nuts!

Chill until ready to serve.