This post may contain affiliate links.
If you asked me what my favorite tool in the kitchen is, my crock pot would hands down be in the top three. I could kiss whoever created the slow cooker--they are a genius in my opinion. There is nothing like coming home after a long day and knowing that dinner is essentially ready when you get there.
Most nights, dinner at my house isn't until almost 8:00. My husband is working on his MBA and my work schedule is all over the place. Therefore, my crock pot is my best friend. Since I am not typically home until at least 7:30 or 8, I have no desire to spend another 30-45 minutes in the kitchen making dinner. So we eat lots of soups, chilis, tacos, stir-fry inspired meals and so many more that come straight from the slow cooker.
Some days I simply throw a bunch of veggies and the sauce from this sauce from my Orange Almond Stir-Fry into the crock pot and then we toss it over rice later on in the evening. I put chicken, tomatoes, onions, peppers and come spices all in the morning, and we have tacos, taco salads or burrito bowls at night. Knowing it's all taken care of when I get home allows for more time to relax when we are both just beat.
In the winter, I make some sort of chili almost every week. Most of the time, I toss what I have in the fridge and pantry in the crock pot with a ton of chili powder and cumin. My Slow Cooker Sweet Potato Chili is still my all time favorite chili of all and so sweet potatoes tend to make an appearance most weeks in our chili. But it was time to switch things up recently. And after seeing a recipe on Facebook for an amazing lentil soup, I remembered I had a big bag of green lentils in the pantry that hadn't been touched in a while. And the rest is history as they say.
Red and green peppers, onion, lentils, beans tomatoes, and spices. That's pretty much all you need. The most work you will do for this recipe is dice up the peppers and onion. I am sure if you were feeling really lazy, pre-chopped, frozen onion and peppers could be used. And no one will judge! If you wanted to add a meat, you could, you would just want to add more tomato sauce and possibly more broth. Anthony ate this happily without meat so that was all the answer I needed if it was hearty enough. He is my biggest critic so if it works for him I am certain it will work for anyone!
So don't spend so much time in the kitchen at night. Get up a few minutes early, I mean like 15 or so and get this chili in the crock pot. You will be so happy when you get to the end of your day and have a home cooked healthy meal ready and waiting! Leftovers freeze well so store extras for later! Enjoy and stay warm!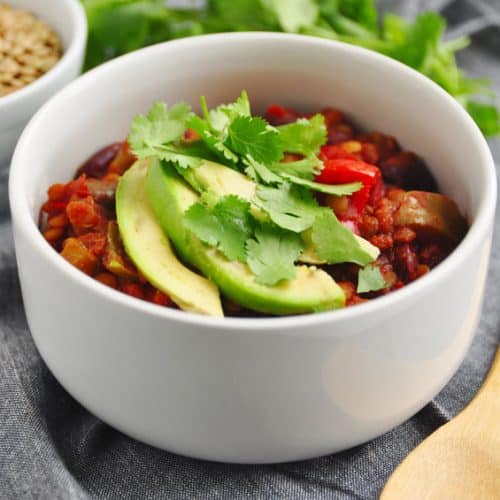 Ingredients
½

c

onion

diced

1

red pepper

diced

1

green pepper diced

1 ¼

c

dry green lentils

rinsed

1

can or 2 cups kidney beans

precooked and rinsed

1

can or 2 cups diced tomatoes

1

can tomato sauce

½ - ¾

c

vegetable broth

2

T

tomato paste

1

T

chili powder

1

T

cumin

1

tsp

paprika

½

tsp

oregano

2 - 3

garlic cloves

minced

⅛ - ¼

tsp

crushed red pepper

sea salt and pepper to taste
Instructions
Add all ingredients except for the tomato paste into slow cooker.

Cover and set to high heat for 4-6 hours or until lentils are tender or on high heat for about 6-8 hours.

About 15-30 minutes before serving, add in the tomato paste. This will thicken the chili. If it becomes too thick, add more broth to balance.

Serve with your favorite chili toppings!
Notes
You could use precooked lentils to make this recipe much quicker! You would only have to cook for about 2-4 hours.