This Simple Turkey Chili is made stovetop and in just 30 minutes! Full of peppers, beans, spices and one unique ingredient to really bring out the richness of flavor. An easy recipe to prepare for cozy cold night dinners!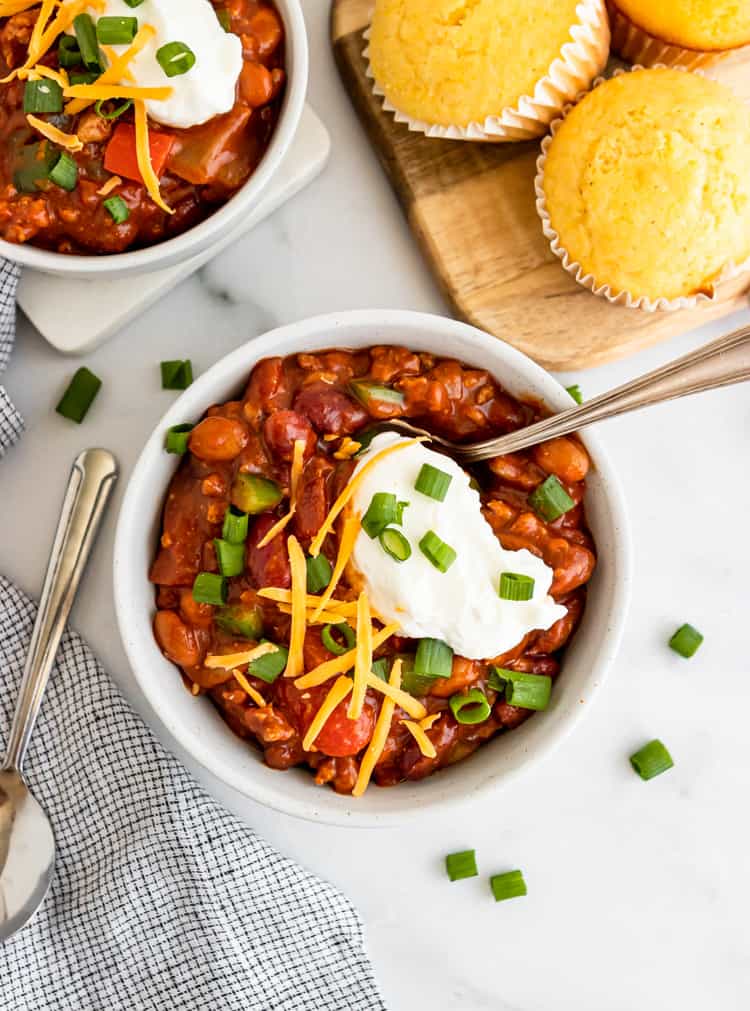 Thank goodness for chili weather!
Lord have mercy! We are finally about to have a break from the summer heat–and I am sure there is some winter frost right behind it with our luck.
Perfect time to break out all of the chili, soup, grilled cheese and cozy food recipes!
No doubt you are gonna want this Simple Turkey Chili in your recipe arsenal. Quick, simple and allll the flavor. If you are one for a nice thick and chunky chili, this is gonna be your fave!
Since I am from Cincinnati, I have all the Cincinnati chili at my finger tips. There is a Skyline Chili pretty much on every corner here. But in case you are wondering where I am going, THIS IS NOT A CINCINNATI CHILI RECIPE!
However, this Turkey Chili does have a special unique ingredient that you may find surprising. And it's rooted in my home city's chili recipes!
What is it? Cocoa Powder!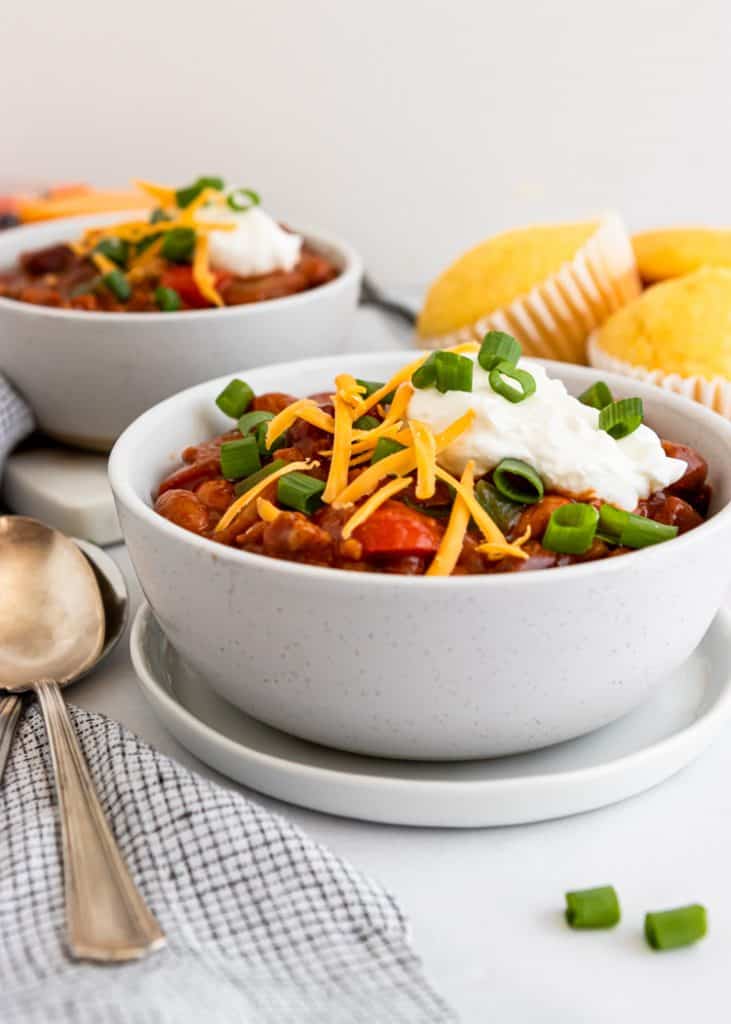 That's right, there is cocoa powder in this Turkey Chili!
Because everything tastes better with chocolate, right?
Yes, that is 100% accurate. Even savory recipes like chili are so much better with chocolate. Unsweetened cocoa in this case. The cocoa adds a level of flavor and richness like you have never tasted. I promise it's one of those, "Don't knock it til you try it" sort of things.
There are a few things that I believe in when it comes to chili:
It should be THICK. Don't give me a broth filled chili–that's called soup! If I wanted soup, I would have asked for it. No, chili needs to be super thick–use tomato sauce, tomato paste and all that goodness to keep it from being a bean and meat soup!
It should be chunky. Chunky is different than thick, I promise. I am talking big chunks of vegetables, meat, beans–it's gotta be hearty of full of it all.
It should have a unique blend of spices. Every chili has it's own unique flavor and all thanks to the blend of spices. And that's why there are still a billion different chilis out there yet to be created. Because no two have quite the same spice.
This Simple Turkey Chili has all of the above requirements so it's gonna be a go for me!
Oh wait, I forgot one thing–toppings! Chili is all about the toppings too! I have never eaten chili without throwing all the cheese and crackers on top, but there are a lot of other fun ways to enjoy it.
I love these other options:
cornbread–crumble it up on top. yummmm.
avocado–try guacamole if you are feeling really spunky!
sour cream or Greek Yogurt
jalapeños
crushed up tortilla chips
hot sauce
cilantro
What are some of your favorites??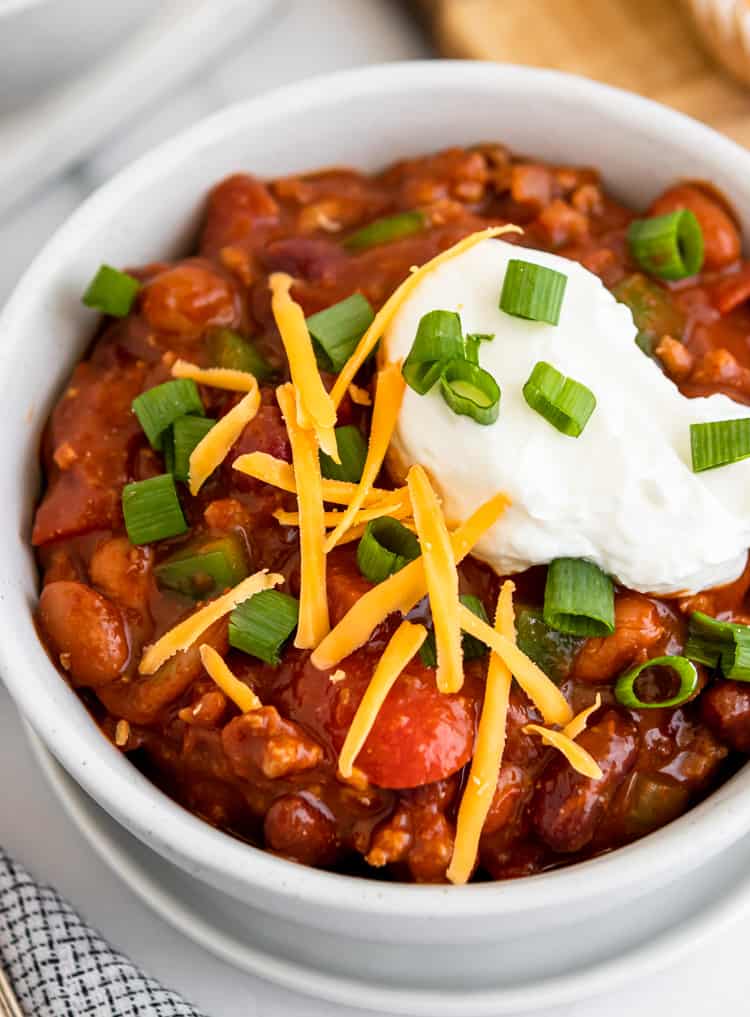 What you need to make this Simple Turkey Chili:
ground turkey: I always use an 85% lean turkey. I don't think the super lean ground turkey is as flavorful.
bell peppers: I use one red and one green. I am certain that any combo is just fine!
onion: I used a yellow onion even though I typically prefer red onions in my chili. The husband is not a fan of red onions so I catered this one to his liking!
diced tomatoes: this is a recipe labeled simple, so I stuck with canned tomatoes.
tomato sauce: again, simple recipe means canned tomato sauce.
kidney beans: dark kidney beans for me, but if you like light, by all means, enjoy them!
pinto beans: more beans always for me!
cocoa powder: this is the special ingredient in this recipe. Make sure it is unsweetened or you may not be very pleased. If you are worried you won't like it, start small and add more. I promise the chili is not going to taste like straight up chocolate!
salt/pepper
spices

chili powder
cumin
paprika
oregano
garlic powder
crushed red pepper
Tips and Notes for making this Simple Turkey Chili:
I use one pot and one pot only when making this chili. That is the beauty of it. Turkey doesn't make a lot of excess grease so you really don't even need to drain it. Just get out a big pot and you are all set.
I know this is technically a turkey chili, but by all means, it will still taste great with another ground meat such as beef, bison or even chicken. Cater the recipe to what you have in the house and need to use up!
Chili is always, always always ALWAYS better on the second day in my opinion. So if you are making this for a party, feel free to meal prep the day before and then warm up or toss it in the crock pot to stay warm for guests.
If you are a big meal prepper, you can chop all the veggies ahead of time for an even easier chili making experience!
After cooking this and any chili really, I put it into individual freezer safe containers so that I can grab single servings on the go or at night when I am too exhausted to cook after the little one is in bed. On any given day I typically have 5-10 containers of chili waiting in the freezer during fall and winter!
Check out these other simple soup and chili recipes:
DID YOU MAKE ONE OF MY RECIPES? LEAVE A COMMENT AND LET ME KNOW! I ALSO LOVE TO SEE YOUR LEMONS + ZEST RECIPES ON SOCIAL MEDIA–TAG ME @LEMONSANDZEST ON INSTAGRAM OR FACEBOOK!
Ingredients
1

lb

ground turkey

1

red bell pepper

diced

1

green pepper

diced

Onion

diced

2

cans tomatoes (14.5 oz.)

2

cans tomato sauce (15 oz.)

2

cans kidney beans (15.25 oz.)

1

can pinto beans (15.25 oz.)

3

T

chili powder

1

T

cumin

2

tsp

garlic powder

1/2

tsp

oregano

1

tsp

paprika

3 – 4

tsp

cocoa

1/2

tsp

pepper

1

tsp

sea salt

Crushed red pepper to taste

olive oil
Instructions
Heat a large pot to medium high. When hot, add 1 T olive oil. Add in peppers and onion and cook for several minutes or until the onions start to become translucent. Push veggies to the side of the pot. Add another drizzle of olive oil and add in ground turkey. Cook the turkey until browned. (about 5-7 minutes give or take)

When turkey is cooked, turn heat to medium low. Add in tomatoes (drain extra liquid before adding), tomato sauce, and beans (drained and rinsed) and stir to combine. Add in spices and stir. Cover and allow to cook for about 10 minutes stirring several times throughout.

Turn to simmer until ready to serve!

Enjoy with your favorite toppings and freeze or refrigerate leftovers.
Nutrition
Calories:
440
kcal
|
Carbohydrates:
69
g
|
Protein:
40
g
|
Fat:
4
g
|
Saturated Fat:
1
g
|
Cholesterol:
42
mg
|
Sodium:
1568
mg
|
Potassium:
2172
mg
|
Fiber:
22
g
|
Sugar:
16
g
|
Vitamin A:
3155
IU
|
Vitamin C:
69
mg
|
Calcium:
162
mg
|
Iron:
11
mg