You can never go wrong with a classic and simple, healthy guacamole recipe. Fresh avocados, cilantro, veggies, spices and a squeeze of lime juice. This guac is top notch even if it is so basic!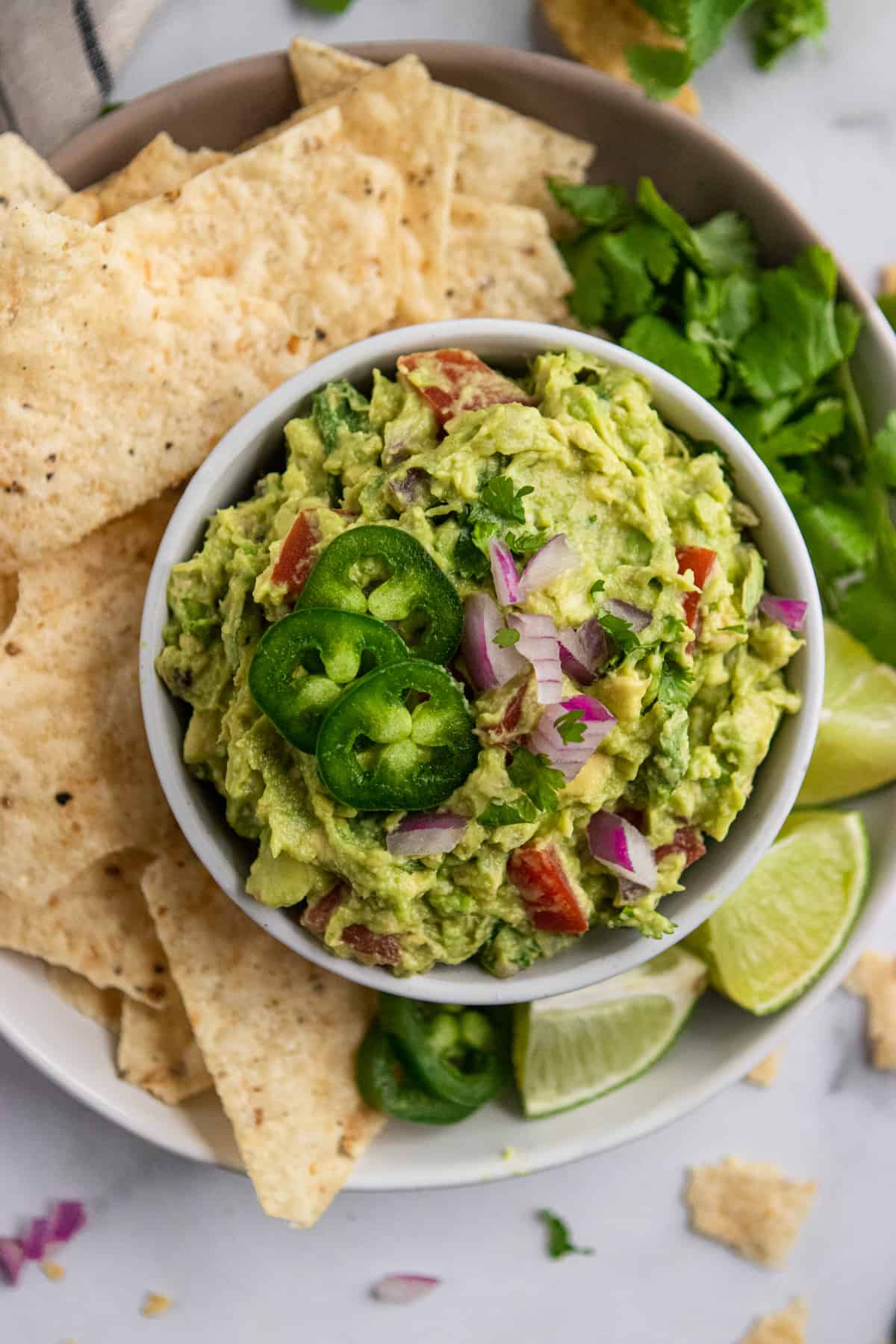 This recipe was originally posted in February 2015 and updated in February 2020. Photos and text were updated, recipe is the same!
I can still VERY vividly remember reading in a "health" magazine years ago all about how awful guacamole was. They noted it was loaded with calories and fat.
In another snippet in a separate magazine, someone wrote that Jessica Simpson was munching on chips and guac--noting that she SHOULD have swapped the guac for salsa to save calories.
The message over and over was that guacamole was not healthy.
But newsflash, Guacamole is healthy my friend.
The main reason I named this guac recipe a "Healthy Guacamole Recipe" was to play on its redundancy. Guacamole is purely made of fruits and veggies and spices. How could it be such an awful food as the magazines told me?!!
Guacamole is healthy. And it is a great thing to eat. And it is delicious--and it is so delicious that even if you told me it was not healthy, I would still eat it. Ok?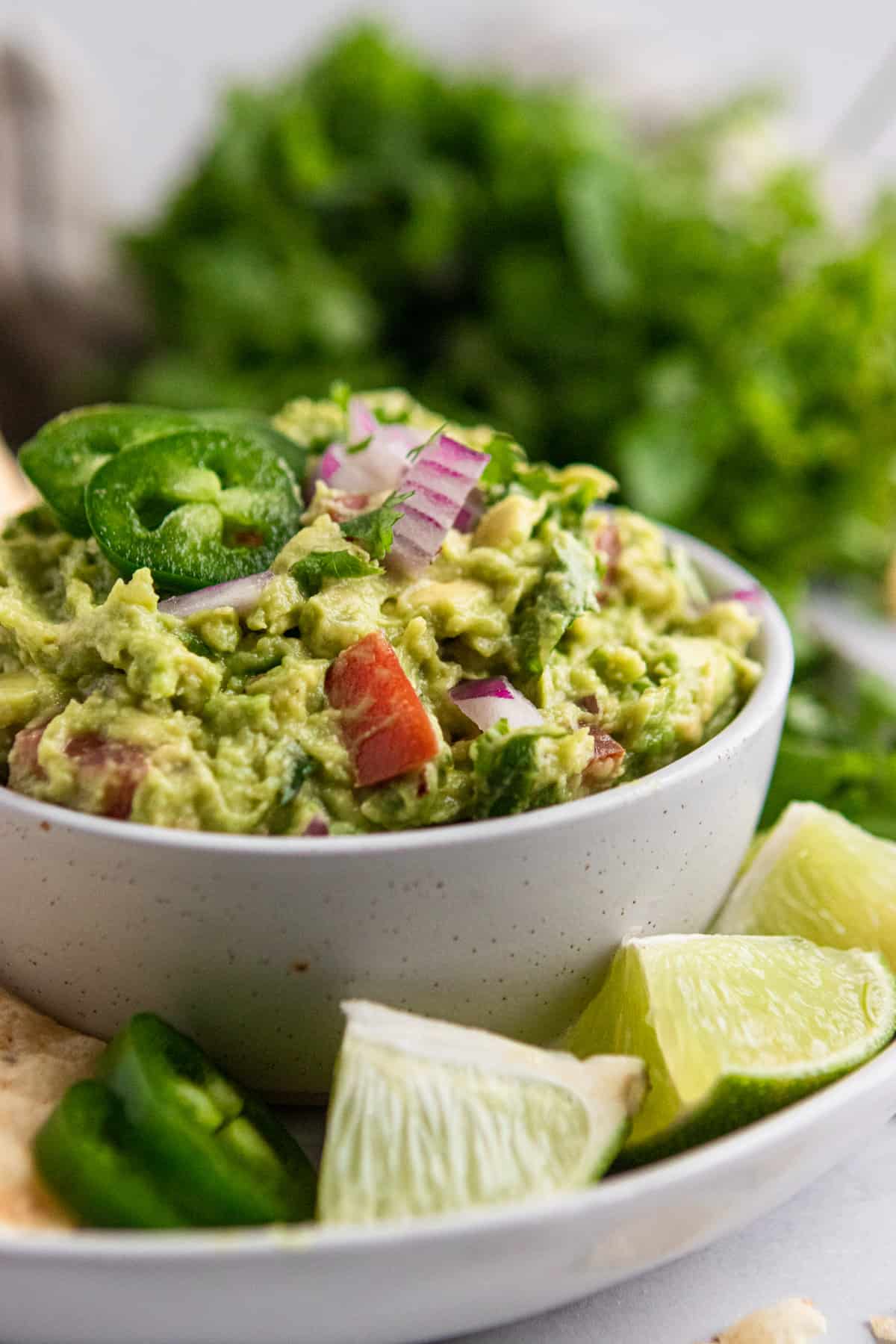 So I give to you, my favorite, simple and healthy guacamole recipe. And if you are making any form of guac at home, more than likely, yours is just as nutritious and delicious.
Enjoy! Every. Last. Bite.
You won't need much to make this guac recipe. Just a handful of ingredients.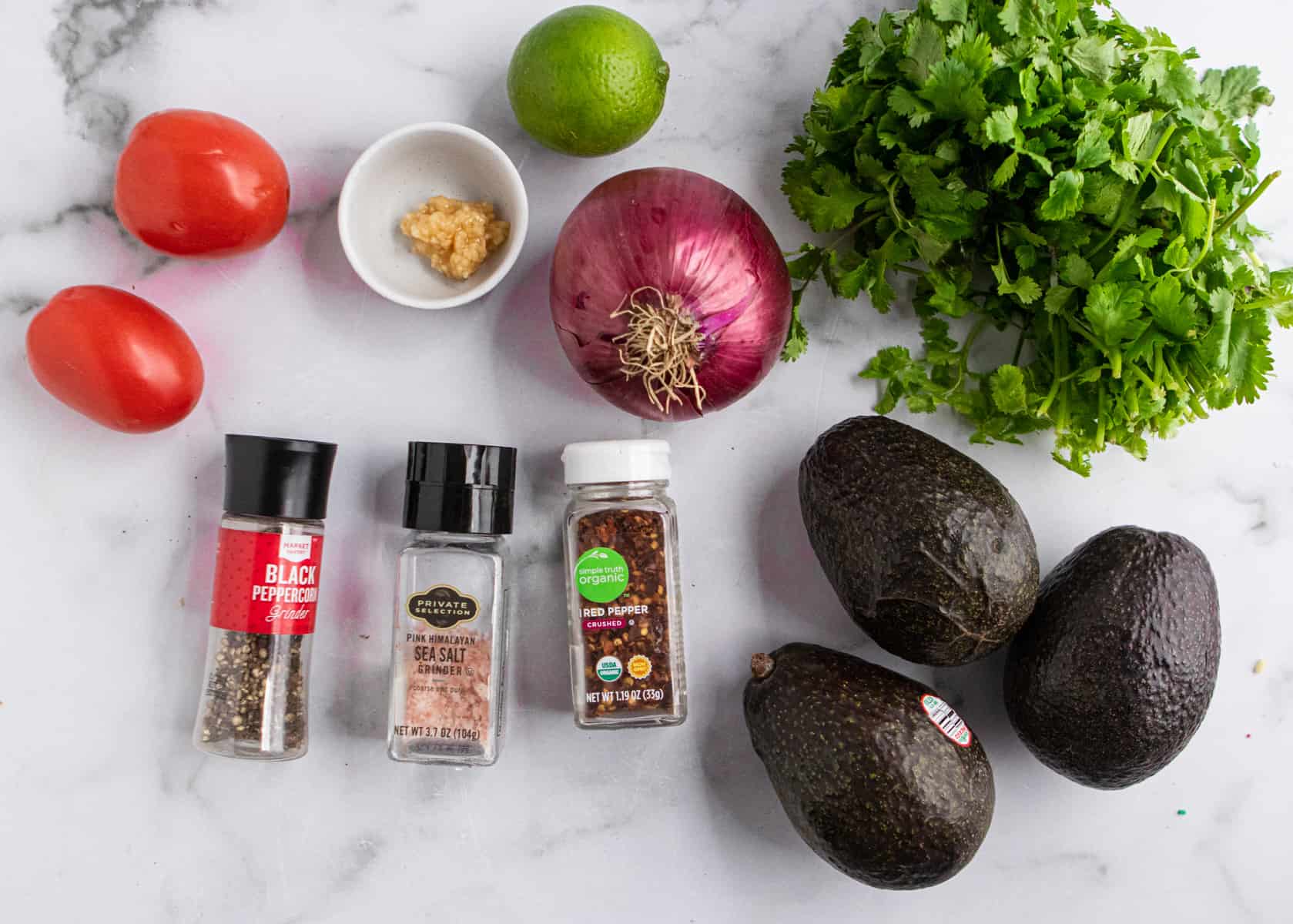 What you will need to make this guacamole recipe:
avocados: nice and ripe. They should be soft and easy to squeeze. This is how you can tell if an avocado is ripe.
tomatoes: I love Roma tomatoes. You could use another kind if you prefer.
onion: I use red onion, it is my favorite for guacamole. My husband hates red onion and yet devours this dip with no complaints.
cilantro: I state ½ cup in the recipe. I am a cilantro LOVER. I sometimes toss in twice that.
garlic: one or two cloves, you decide!
crushed red pepper: start out small on the red pepper and add to taste.
lime juice: I have been in a crunch and realized I did not have limes when making guacamole. I don't think it is the same without it, but you could opt for lemon juice in a pinch.
salt and pepper: I add about ½ teaspoon pepper to mine and then salt as desired.
other optional add ins: jalapeño, a dash of cumin, lemon juice (some also add a touch to help keep it from browning.)
Want to know a great trick to keep guacamole from browning too quickly?
This is the way I keep my guacamole for an extra day. I place it in the bowl I plan to store it in. Then I take a piece of plastic wrap and cover the surface of the guacamole entirely and press it gently onto the guac. As in, make sure it is touching the entirety of the actual guacamole. Then I add the lid or another piece of plastic for extra freshness.
If I do this overnight, I have a very slight layer of greenish brown to scrape off but the rest is bright and green!
Enjoy!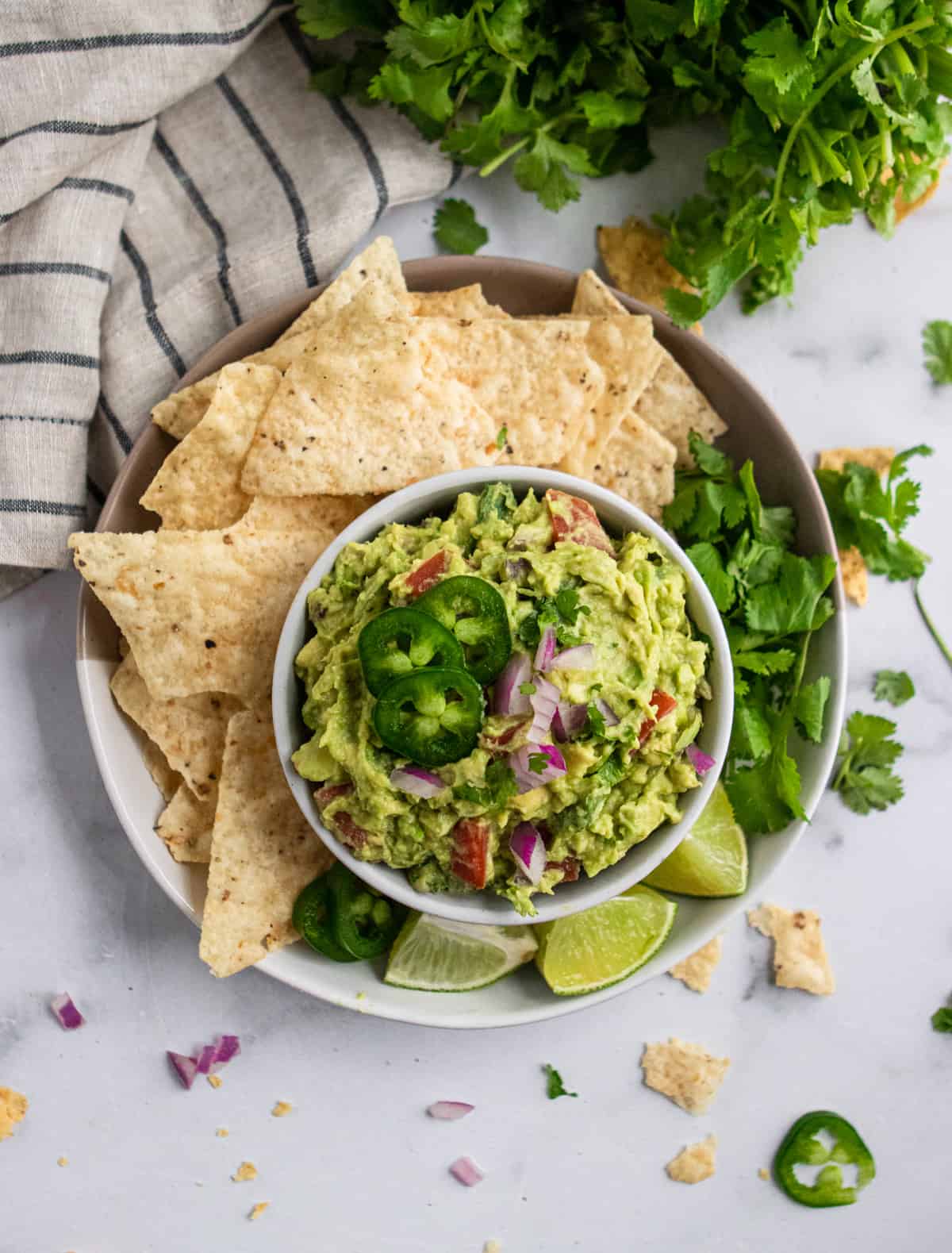 Love avocados as much as I do? Check these recipes out:
DID YOU MAKE ONE OF MY RECIPES? LEAVE A COMMENT AND LET ME KNOW! I ALSO LOVE TO SEE YOUR LEMONS + ZEST RECIPES ON SOCIAL MEDIA–TAG ME @LEMONSANDZEST ON INSTAGRAM OR FACEBOOK!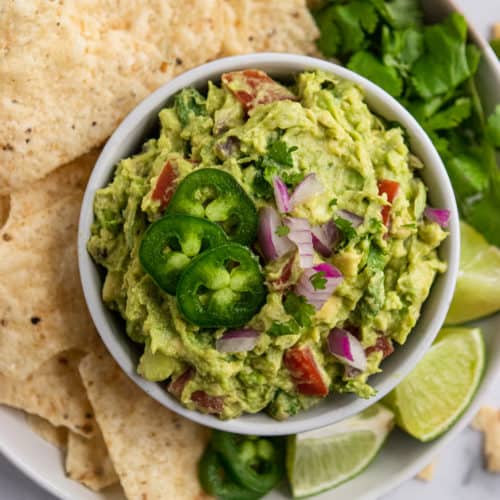 Healthy Guacamole Recipe
You can never go wrong with a classic and simple, healthy guacamole recipe. Fresh avocados, cilantro, veggies, spices and a squeeze of lime juice. This guac is top notch even if it is so basic!
Print
Pin
Rate
Ingredients
3

ripe avocados

should be soft to touch

1

large or two small Roma tomatoes

diced

⅓

cup

red onion

finely chopped

½

cup

chopped cilantro, packed

1

garlic clove

minced

½

teaspoon

crushed red pepper

more or less depending on how spicy you like it

Juice of ½ a lime

Sea Salt and cracked pepper to taste
Instructions
Remove pits and scoop out insides of avocado into a small bowl. Gently mash.

Add all other ingredients and stir well to combine. Add more seasoning to taste if necessary.

Cover and refrigerate for at least 30 minutes before serving. Enjoy!
Notes
Note: I am a big fan of cilantro and really add quite a bit. Start out a bit lighter than the ½ cup if you are a bit unsure at first. I even add a bit more at times.