Enjoy a simple, delicious summer salad with this Watermelon Avocado Salad with Feta. Fresh and juicy watermelon, avocado, lots of freshly chopped cilantro and crumbles of feta make this easy salad recipe so delicious and refreshing.
Hello again from the sunny coast! As I mentioned, I am away for the week, so here is one more recipe to tide you over until I am back! 😉
Watermelon is the definition of summer to me
Nothing says summer like a big juicy slice of watermelon. So refreshing!
About 4 years ago, I was on a yoga retreat. One night, we had bite sized pieces of watermelon with a dash of sea salt and cilantro. It was the first time I ever had the combination and I was in LOVE. From that day, I have loved putting together unlikely food combinations to see the result.
Watermelon and cilantro continues to be my favorite and with this Watermelon Avocado Salad, I added another favorite food of mine for an even more amazing dish: avocado!
Watermelon and Avocado: a great combo
This salad actually started out as a Watermelon Caprese Salad (don't worry, that is still in the works), but when I pulled out the "fresh" mozzarella I had in the fridge, it was not so fresh at all. So I improvised and switched the mozzarella to avocado and the basil to cilantro and the rest as they say is history!
I have tossed in arugula or served this salad over arugula and it adds another level to the salad as well, but as is will also be perfect! Enjoy this summer salad and try to beat the heat!
Today's Toddler Hand Model Is...
Recently, I was updating the photos for this Watermelon Avocado Salad. In doing so, I attempted to do what no food blogger should ever do... I decided to try to squeeze in a recipe shoot while my 20 month old son was still awake. You may call me brave, but I call myself plain crazy for that one!
Love my Sam dearly, but keeping his cute little fingers out of everything is not something he is known for. I thought I could get this one in though and decided it was worth a try.
The result? Well, the entire bowl of watermelon did not end up all over the floor, so that is one big win. But his sticky little fingers ended up grabbing and tossing half of an avocado before I could catch him. He shook the table a few times, but I guess that was just to help add some character to the scene. He begged for a few snacks, emptied all of the kitchen cabinets, tried to climb a few chairs--the list goes on but don't let me bore you.
He did, however, manage to be the cutest little hand model, and totally by chance. I didn't even realize his hand was in these photos until I was scrambling to make sure he hadn't dented the avocado he threw. I had work both of these into the post no doubt!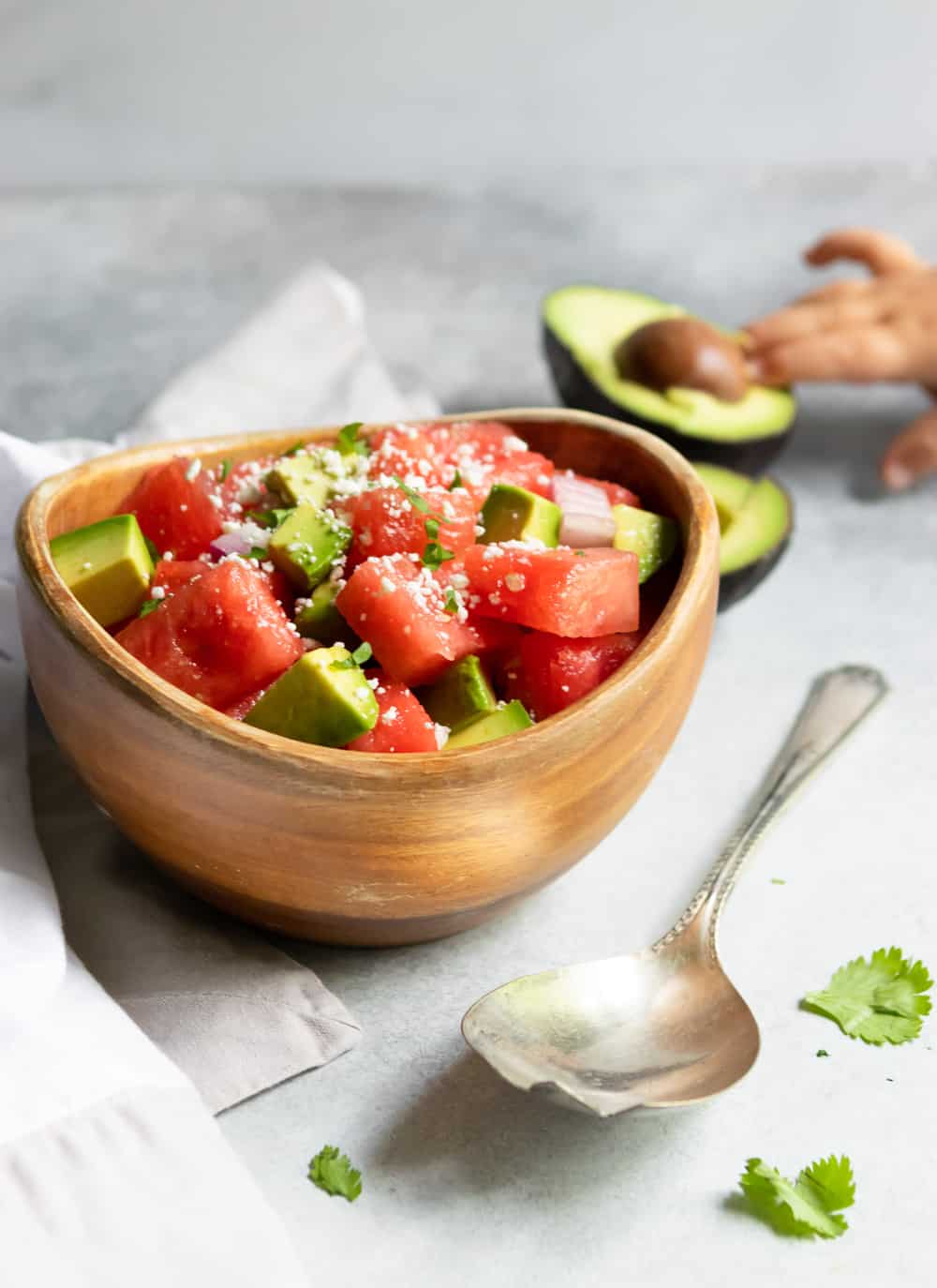 Needless to say, there is a reason I keep my photo shoots to nap time. This Watermelon Avocado Salad was lucky to make it out alive that day.
Did I mention I hate cutting up watermelon?
If you are lucky like me, then you have a father in law who comes over to watch your child and asks, "Hey, do you want me to cut up this watermelon while you are gone?" And on that day you decide that every time Grandpa comes over needs to be a watermelon day.
Sadly, not everyone has my father in law, so you may want this amazing guide to cubing a watermelon. Or maybe you don't avoid cutting watermelons like me and are already a pro. Either way, the guide is there, take it or leave it!
Ok, so let's get down to the nitty gritty of this Watermelon Avocado Salad Recipe, shall we?
What you need to make this Watermelon Avocado Salad with Feta:
Watermelon: Since watermelon can vary so much in size and weight, I went with about 5 cups cubed watermelon versus measuring by the ½ or ¼ watermelon, etc. You don't have to be 100% exact on the measurement as you can always add a touch more oil, feta, etc. to get it all balanced out.
Avocado: Nice and ripe, but not mushy. You want it to cube up really nice.
Feta: You are definitely going to want to add some on top as well when you serve this Watermelon Avocado Salad.
Red Onion: My husband doesn't like red onion much, so sometimes I skip it if he is eating the salad and we enjoy it that way as well.
Cilantro: You can never ever ever have too much cilantro in my opinion. EVER.
Olive Oil
Balsamic Vinegar: If you don't have any, a red wine vinegar will work as well.
Lemon Juice: This will help keep the avocado from turning brown before you eat it as well!
Sea Salt/Cracked Pepper: To taste!
OTHER SUMMER RECIPES THAT I LOVE:
DID YOU MAKE ONE OF MY RECIPES? LEAVE A COMMENT AND LET ME KNOW! I ALSO LOVE TO SEE YOUR LEMONS + ZEST RECIPES ON SOCIAL MEDIA–TAG ME @LEMONSANDZEST ON INSTAGRAM OR FACEBOOK!
Ingredients
5

c

cubed watermelon

2

ripe avocados

½

c

feta

¼

c

red onion

diced

½

c

cilantro

chopped

2

T

extra virgin olive oil

1

T

balsamic vinegar

Juice of 1 lemon

Sea salt and cracked pepper to taste

Optional add in: arugula
Instructions
Remove skin from avocado and cut into bite sized pieces.

In a medium bowl, combine watermelon, cilantro, red onion, feta and avocado and gently mix together.

Whisk together vinegar, olive oil, lemon juice and salt and pepper.

Pour dressing over salad and stir to coat. Top with more feta if desired.

Chill for 20-30 minutes.

Enjoy on a hot summer day. Serve over a bed of arugula if desired or mix it right into the salad!