This post may contain affiliate links.
Pumpkin goes well beyond pie and lattes--add it to your chili in this Pumpkin Quinoa Chili! So simple and packed with veggies, beans and just the right amount of spice. This pumpkin chili recipe is full of protein and a perfect cozy meal for fall!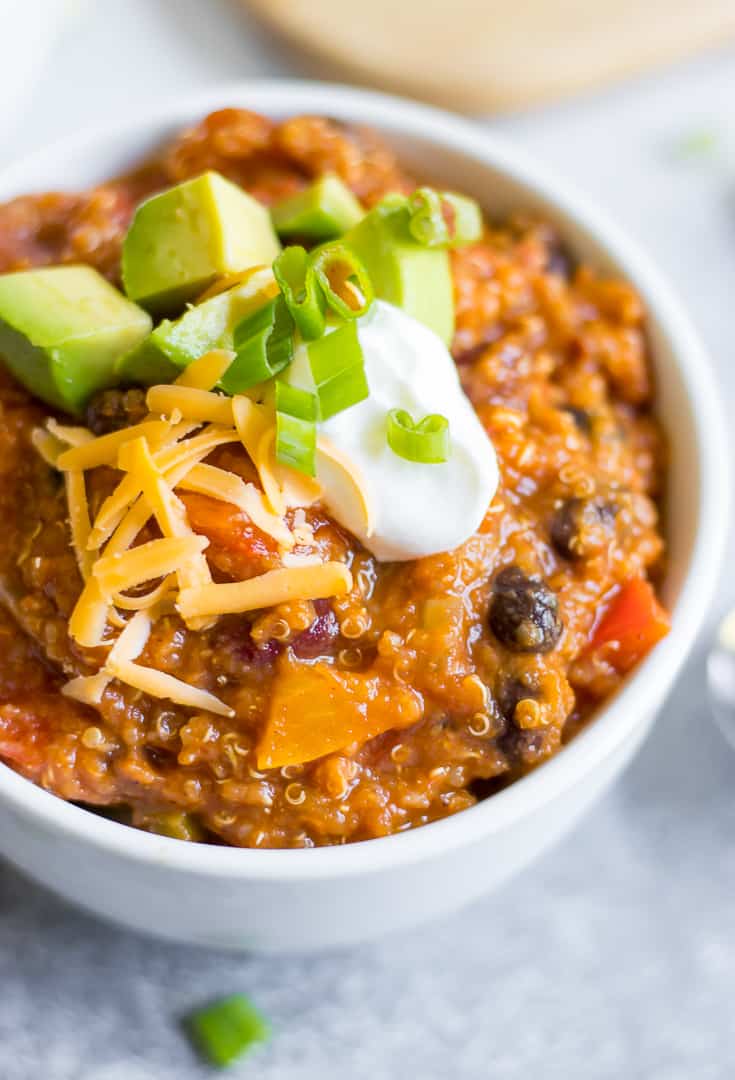 We all have visions of where we will be in a year, 5 years, and beyond. In our youth, we have it all planned out to the white picket fence and dream of the day when it will be reality. And then one day, that day is here, and it's nothing like you expected. First, when you envisioned yourself 5 or 10 years older, perhaps you thought you would look and even feel so much older than you are when you make it to that point.
When you are 20 and you think of yourself at 30, it seems so far away, and what you see looks so "old" compared to right now. And then you get there, and you realize, heck, this isn't old at all. What was my 20 year old self thinking? She obviously didn't know a thing!
Today I turn 34.
Do I feel like what I thought I would at 34? Nope, not a bit. I thought I would be tired and that it would show on my face with lines sneaking from all directions. (Thanks to sunscreen, I don't see much of that at all! My little PSA for the day!) Am I where I thought I would be at 34? Again, nope. Not at all.
And part of that is beautiful while part of it is painful, and today, as I start another circle around the sun, I am reminded of everything that has brought me to this point, today, right where I am. The good, the bad, it has all come together to create what is now.
Where I am and where I thought I would be are so polar opposite I sometimes don't even recognize it. What I once thought was what I would do for the rest of my life seems so far away and yet that time just several years ago aged me more than anything ever will. I was teaching kids with such tough lives that I loved so much under such pressure and such rigor that I was no longer physically, even mentally thriving.
But I stayed. The kids needed me, they depended on me. If I left them, who would take care of them? But one can only take so many years of reading from a script and being forced to withhold what the kids need most to thrive before it takes a heavy toll. One can only drill and test and test and drill for so long.
And so I left.
I had no idea where I was going to go or where the road would take me, but I did what I had to do to take care of myself in the end and for that I am grateful. It was scary, no doubt. I was that teacher, the one who was there all hours of the night and on the weekends and throughout the summer. I was the one who thought and worried about my kids 24/7--I was going to retire doing this. This was my calling, my vocation. But I left it all behind.
Today, I look at where I am, and the classroom feels like a lifetime ago, and maybe it actually was. But here I am. Happy to get up everyday, loving what I do and that I get to create and share and so much more. How lucky am I.
Where I am and Where I wish I could Be
Today is also a reminder of where I thought I would be and yet I am still not there yet. I am a mother, yes. But at this point in my life I thought for sure I would be holding my babies here on earth. I thought I would be rocking little ones to sleep and splashing at bath time. I saw myself curled up on the couch with two little ones reading by the fireplace. Runny noses, no sleep, lucky to get a shower... I saw it all. But it is still so far from where I am. It's where I want to be.
Ten years ago I thought my 'today' self would know it all. She would have it all figured out and know the answers. She would know what she wanted to be when she grew up and she would be doing it now. And now that I am here today, I realize that another 10 years may not even be enough to get to that point.
The truth is, where I am now, is exactly where I need to be. The happiness, the heartache, the laughter and the tears, all of it has come together to make me in this moment. And as I sit and reflect upon the past year and what I have gained and what I have lost, I realize that I am so much stronger than I was 365 days ago.
I may even have gained a bit of wisdom along the way. So from where I sit right now, I know that this next journey around the sun will have its ups and downs, but right now it is pure possibility. And from where I am, it's not looking so bad at all!
---
Pumpkin Chili is Indeed My Birthday Food!
I was born on a super cold night so I thought I would share a cozy recipe on my birthday.
Nothing warms the body like a good bowl of chili and this new pumpkin chili recipe will do just that! It is so simple and quite honestly, you could probably toss it all in the crock pot for the day and have dinner ready at night as well. I am going to try that next time.
I made it in no time on the stove top and was very happy to eat leftovers for several days after. Also, I sent some home with my mom over the weekend and got a very excited phone call about how amazing it was. She said she was skeptic at the word pumpkin, but gave it about ten thumbs up. Mom's seal of approval? It doesn't get better than that!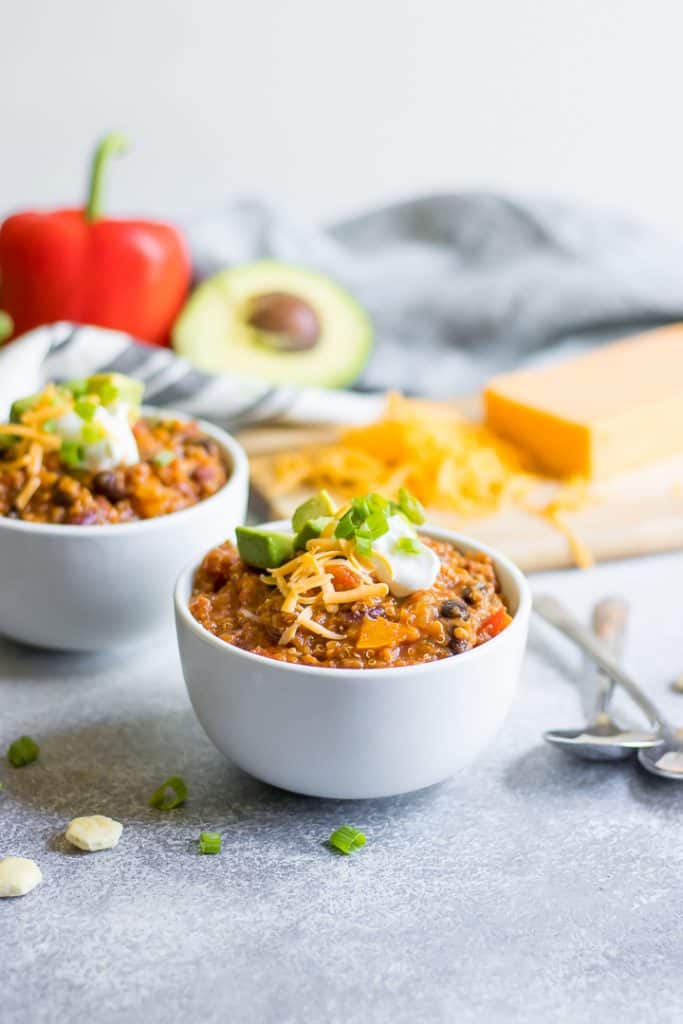 Quinoa, black beans, and kidney beans pack this recipe with lots of protein as well as fiber. If you are looking for a way to add quinoa to your diet but keep shying away, start here.
You can add meat if you like and you can easily adjust the spice level as well. The chili will freeze well for leftovers down the road! I pack it into single serving dishes and freeze them so I can grab them on the go. Garnish this pumpkin chili with cilantro, cheese, sour cream or Greek Yogurt or even avocado. The choice is yours!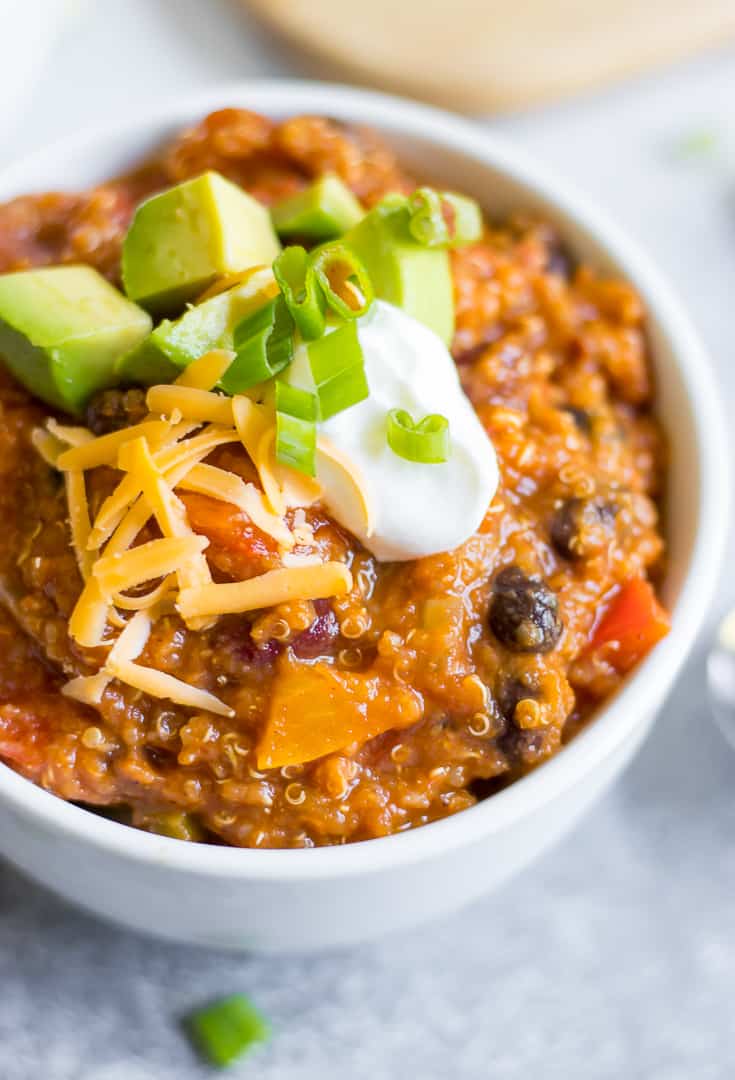 Check out these other soup and chili recipes you will love!
DID YOU MAKE ONE OF MY RECIPES? LEAVE A COMMENT AND LET ME KNOW! I ALSO LOVE TO SEE YOUR LEMONS + ZEST RECIPES ON SOCIAL MEDIA–TAG ME @LEMONSANDZEST ON INSTAGRAM OR FACEBOOK!
Ingredients
2-3

cups

vegetable broth or stock

depending on desired thickness

1

can or 2 cups pumpkin puree

¾

cup

quinoa

uncooked

½

red onion

diced

1

red pepper

diced

1

can or 2 cups black beans

rinsed

1

can or 2 cups kidney beans

rinsed

3-4

garlic cloves

minced

2

cans

BPA free diced tomatoes

1

zucchini

chopped

⅓

cup

tomato paste

1

green chile

diced (or can)

1 ½

T

chili powder

1

T

cumin

1

T

olive oil

Dash of cinnamon

Dash of crushed pepper

optional

Sea salt and crushed pepper to taste
Instructions
In a large pot, heat olive oil over medium-high.

Add onion and pepper and cook until onions become translucent.

Add all other ingredients and stir to combine.

Bring to a soft boil stirring occasionally.

Lower to medium low heat and stir occasionally for about 15-20 minutes, until quinoa is fully cooked.

Lower to low heat and allow to simmer for another 5-10 minutes.

Garnish with your favorite toppings and enjoy!
Notes
I added a little extra pumpkin, about ⅓-1/2 cup to make this a bit thicker in the end. You could also add more tomato paste.
I did not drain the cans of tomatoes.
If you prefer more spice, use a jalapeño instead of a chile pepper.
Nutrition
Calories:
221
kcal
|
Carbohydrates:
35
g
|
Protein:
7
g
|
Fat:
7
g
|
Saturated Fat:
1
g
|
Sodium:
741
mg
|
Potassium:
706
mg
|
Fiber:
6
g
|
Sugar:
7
g
|
Vitamin A:
2560
IU
|
Vitamin C:
55
mg
|
Calcium:
62
mg
|
Iron:
4
mg