Simple, delicious and packed with veggies, beef and creamy potato soup. A buttery flaky crust to pull this beef pot pie together. This cozy comfort food for dinner is so easy to make and is sure to the spot every time!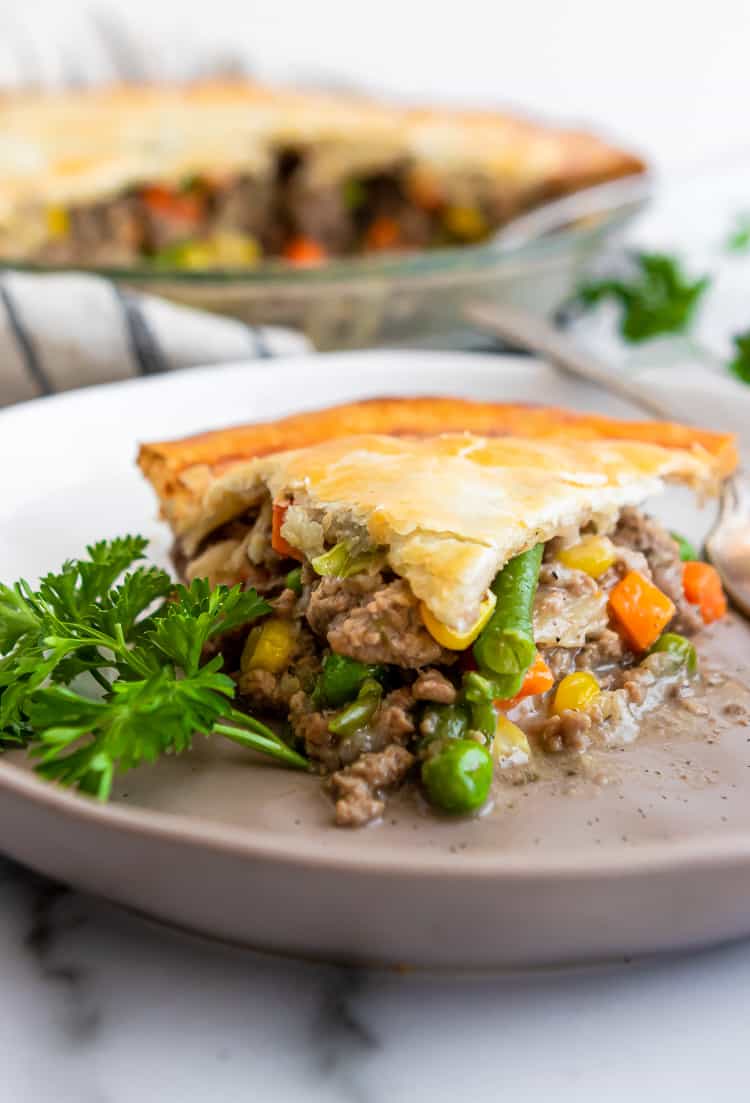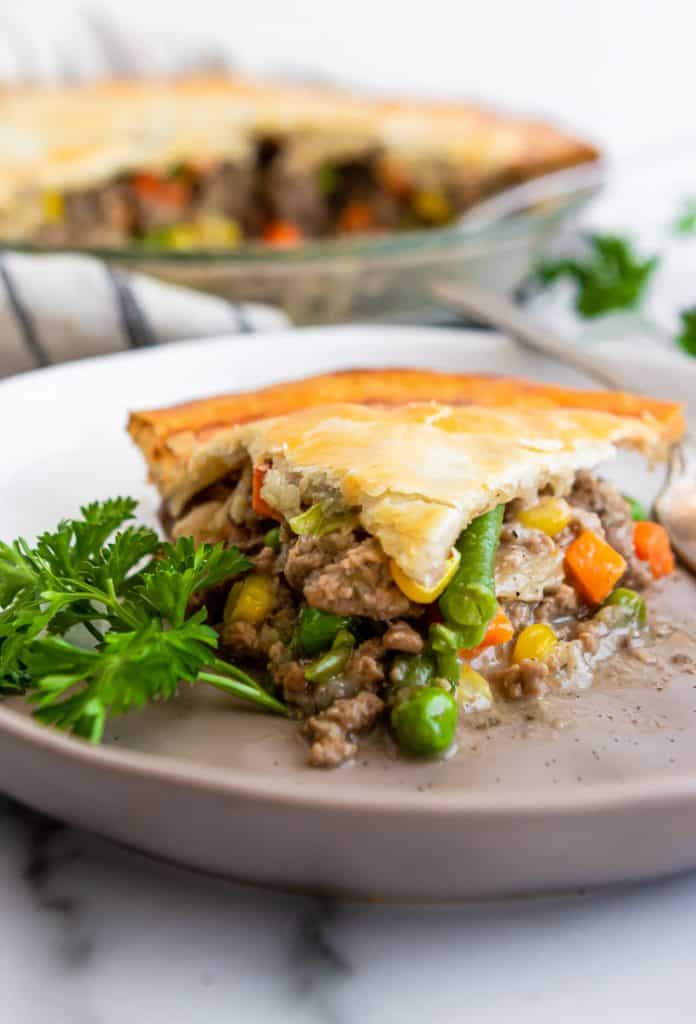 Beef Pot Pie. It's What's For Dinner.
I have cut out every food under the sun at one point in my life in the name of good health. But it was when I finally cut out the need to cut out anything from my diet that I became the most healthy–body and mind.
And my mind thanks me very much for this.
There are soooo many diets out there to follow it's hard to keep up. This one tells you not to eat A, B, and C while the other tells you to eat all of these things. How does one decide which is right?
Well, if you decide that your one diet rule is that there are zero rules, life becomes a lot less complicated.
It most certainly did for me.
To Pea or Not To Pea
My mom's chicken pot pie was one of my FAVORITE cozy dishes. When I came home and found out it was on the list for dinner that night, I was always a happy camper.
I also made the pot pie on my own once I was in my apartment and all grown up. Even made it when I was dating Anthony.
But after we were dating for a bit and he felt a bit more comfortable saying how he really felt about things…. (yea, you know where this is going, don't you?)… He told me he was not a fan.
What? Why! How could anyone not love comfort food at its finest of any kind??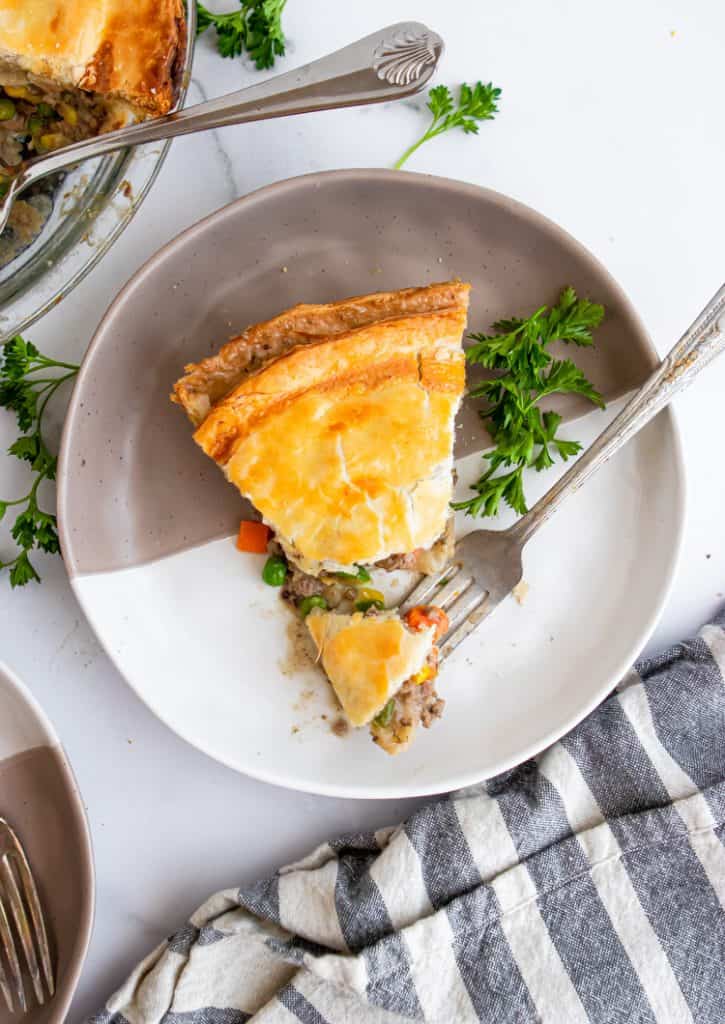 The peas. He didn't like the peas. There were too many of them.
I just so happen to LOVE LOVE LOVE peas. And I could not see myself ever making the pot pie without them at all. So I just stopped making the chicken pot pie almost entirely. Not right away, of course, I still made it several times to which he complained. And then I stopped making it.
Well it turns out that if you give him some time, and you switch up the meat in the recipe, he will eat it! That's right. Give him some time, and he will eat the pot pie–peas and all.
Why I love this Beef Pot Pie Recipe
So aside from how delicious this meal is, there are a few other reasons to LOVE this recipe. But above all, certainly the cozy, comforting flavor is the best part. Or I wouldn't be telling you to make it!
It is easy to meal prep. If you are big on getting things done ahead of time, this beef pot pie recipe is one you will love. Several ways to prep and make your life so much easier.

If you are a Sunday meal prepper, just cook the beef on Sunday and the day you make the recipe will be a matter of mixing the ingredients and assembling.
If you like to prep a meal for the family, you can assemble the pie early in the day and then it is ready to pop in the oven in the evening. This is my favorite way to do it. All the dirty work is done early on.

It is a DELISH way to add in the veggies. I used to think I was so holy and good when I ate my spinach with a drizzle of olive oil. Ha. Well guess what?? Veggies are actually really good when you add things like cream or cheese or you pack them into pie crust. You don't have to force yourself to eat veggies in a way you don't enjoy. Ok??
It's easy to make. Bingo. You know I wouldn't bring you a recipe if it wasn't super simple. And thanks to frozen veggies and pre-made pie crust, this beef pot pie recipe is seriously a snap.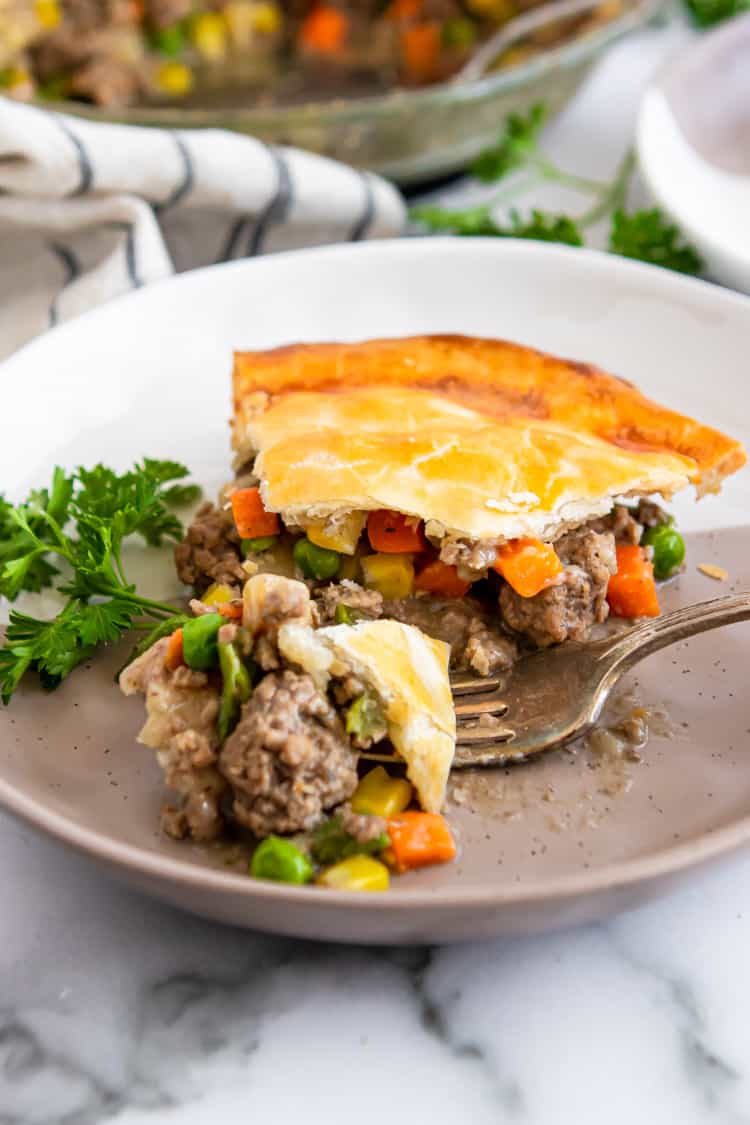 So get your shopping list ready!
Here is all that you will need to make this Pot Pie all yours:
ground beef: I typically opt for sirloin. Use your favorite, whatever is on sale, or whatever you have on hand! You could also use another ground meat if you don't have any beef. Turkey or ground chicken would be great as well!
refrigerated pie crust: biggest time saver is to just buy one pre-made. but if you have a great recipe and the time, make it! I am soooo the shortcut girl.
frozen mixed veggies: all you have to do is let them thaw or defrost them and you are set.
cream of potato soup: I truly believe this was what made my mom's so good. Most pot pies seemed to use cream of chicken soup as a base, but hers used potato. It's a game changer in my opinion. Make sure it is the condensed soup.
egg: get that crust golden and flaky with an egg wash!
garlic
thyme: I used dry but I am sure freshly chopped thyme would be great.
Not a bad grocery list if I do say so. You may even have a lot of these items already on hand. Bonus!
How to make this Recipe:
Easy does it, friends. If it takes too much work or time, you all know I am NOT making it. So here is all you have to do:
Brown and drain the beef.
Mix together the beef, soups, veggies, garlic, and thyme.
Press the bottom layer of the crust in a pie dish, fill with beef and veggie filling.
Top with remaining crust layer and pinch crust layers together. Brush top with egg.
Bake!
That's about it. I know you can handle this!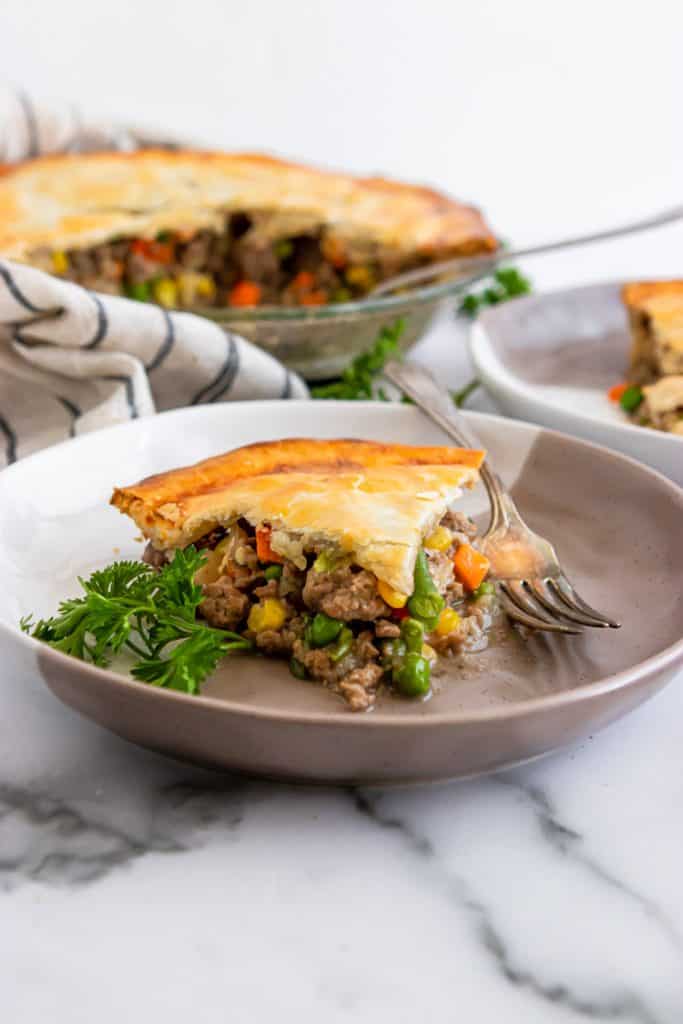 A few things to note when making this Beef Pot Pie:
I am no expert in pie crusts, so any time I work with one, I swear I feel like I am a deer in head lights. Even when I think I am crimping the two layers together, I still never seem to pinch them tight enough. Thanks to youtube, I no longer have to have a pie come out looking like the top and bottom layer are not connected. Check this video out!
The first time I made this, I did add a bit of milk to the recipe to thin out the condensed soup. I found it to be too thin in the end and did away with it. It will seem very thick before you put it in the oven, but the soup does thin out a bit when cooking.
The egg wash is not 100% necessary so if you need to avoid eggs, know that you can skip it.
Pie edges will cook quicker than the rest of the pie. You can cover the edges with foil if you like the crust edges to be lighter. I like mine extra brown so this does not bother me!
Try these other delicious dinner recipes:
DID YOU MAKE ONE OF MY RECIPES? LEAVE A COMMENT AND LET ME KNOW! I ALSO LOVE TO SEE YOUR LEMONS + ZEST RECIPES ON SOCIAL MEDIA–TAG ME @LEMONSANDZEST ON INSTAGRAM OR FACEBOOK!
Beef Pot Pie
Simple, delicious and packed with veggies, beef and creamy potato soup. Cozy comfort food for dinner that hits the spot every time!
Print
Pin
Rate
Ingredients
1

15 oz. pie crust package (2, 9" pie crusts

1

lb.

ground beef

2

cans

Cream of Potato Condensed Soup (10.5 oz.)

1

12 oz.

package frozen mixed vegetables

1 1/2

tsp

garlic powder

1

tsp

thyme

1/2 – 1

tsp

cracked pepper

sea salt to taste

1

egg

1

tsp

water

olive oil
Instructions
Heat a skillet to medium-high heat. Add a drizzle of olive oil and allow to heat up until glistening. Add ground beef and cook until browned, stirring occasionally.

If vegetables are not thawed, do so at this time, defrosting in the microwave.

Once beef is cooked, drain excess oil. Stir in a medium bowl along with soups, veggies, thyme, garlic, pepper and desired amount of salt.

Press one pie crust into the bottom of a pie pan. Pour beef and vegetable mixture into crust and spread evenly. Top with second pie crust. Crimp and press the edges together to seal the pie. (see video above in post for visual.)

Whisk the egg and water together and brush the top of the pie crust lightly. Make several slits in the top of the crust to vent.

Bake for about 30-40 minutes or until pie crust is golden brown.

Cool for several minutes before serving.
Nutrition
Calories:
434
kcal
|
Carbohydrates:
32
g
|
Protein:
19
g
|
Fat:
25
g
|
Saturated Fat:
9
g
|
Cholesterol:
86
mg
|
Sodium:
821
mg
|
Potassium:
490
mg
|
Fiber:
4
g
|
Sugar:
2
g
|
Vitamin A:
3189
IU
|
Vitamin C:
7
mg
|
Calcium:
55
mg
|
Iron:
3
mg