This post may contain affiliate links.
A delicious and easy steak dinner is only 15 minutes away with this 15 Minute Marinated Sheet Pan Steak and Broccoli Dinner. Juicy flank steak, crispy broccoli florets on top of a bed of rice is ready in no time!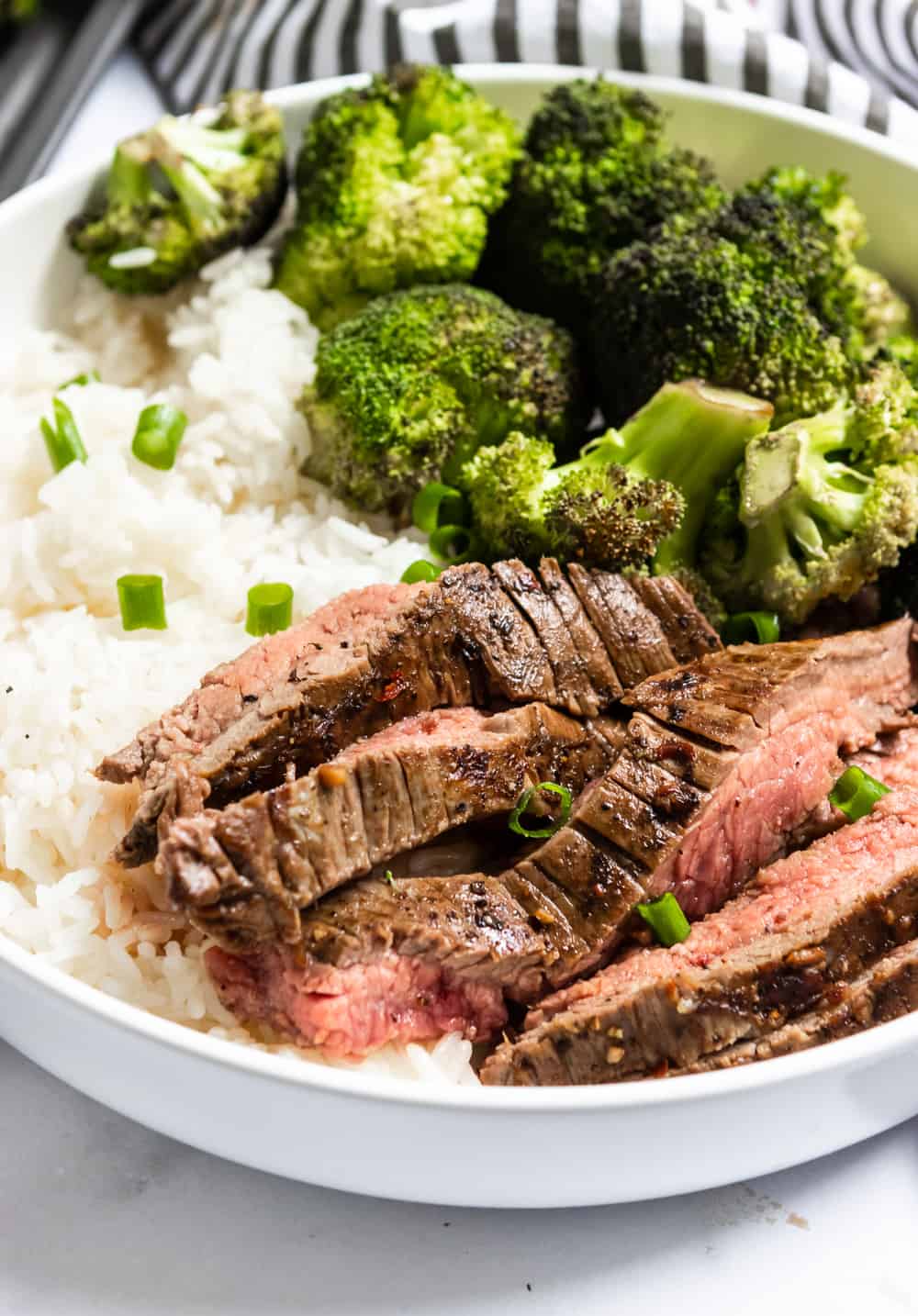 15 Minutes?? I promise you read that right.
So often the "30 minute dinners" are what we see and yet most of the time I think, "30 minutes??? I don't have time for that!" To be fair, I typically have the time, but not the energy. I want something ready fast, and I mean FAST.
But I don't want to put in much effort beyond tossing it all on a pan. I also don't want a microwave meal. Oh, and while I love my grill, preheating it can take time too. Sigh--my list goes on and on sometimes so I will spare you.
And if you love super quick steak dinners, don't forget to try these Air Fryer Steak Bites with Lemon Garlic Butter or Mediterranean Steak Bites. Dinner in just 10 minutes!
Dinner in 15 minutes??
Is it too much to ask to have a delicious home cooked meal that also is ready in almost no time?? Nope, it's not. And this 15 Minute Marinated Sheet Pan Steak and Broccoli Dinner is proof that it's never too much to ask.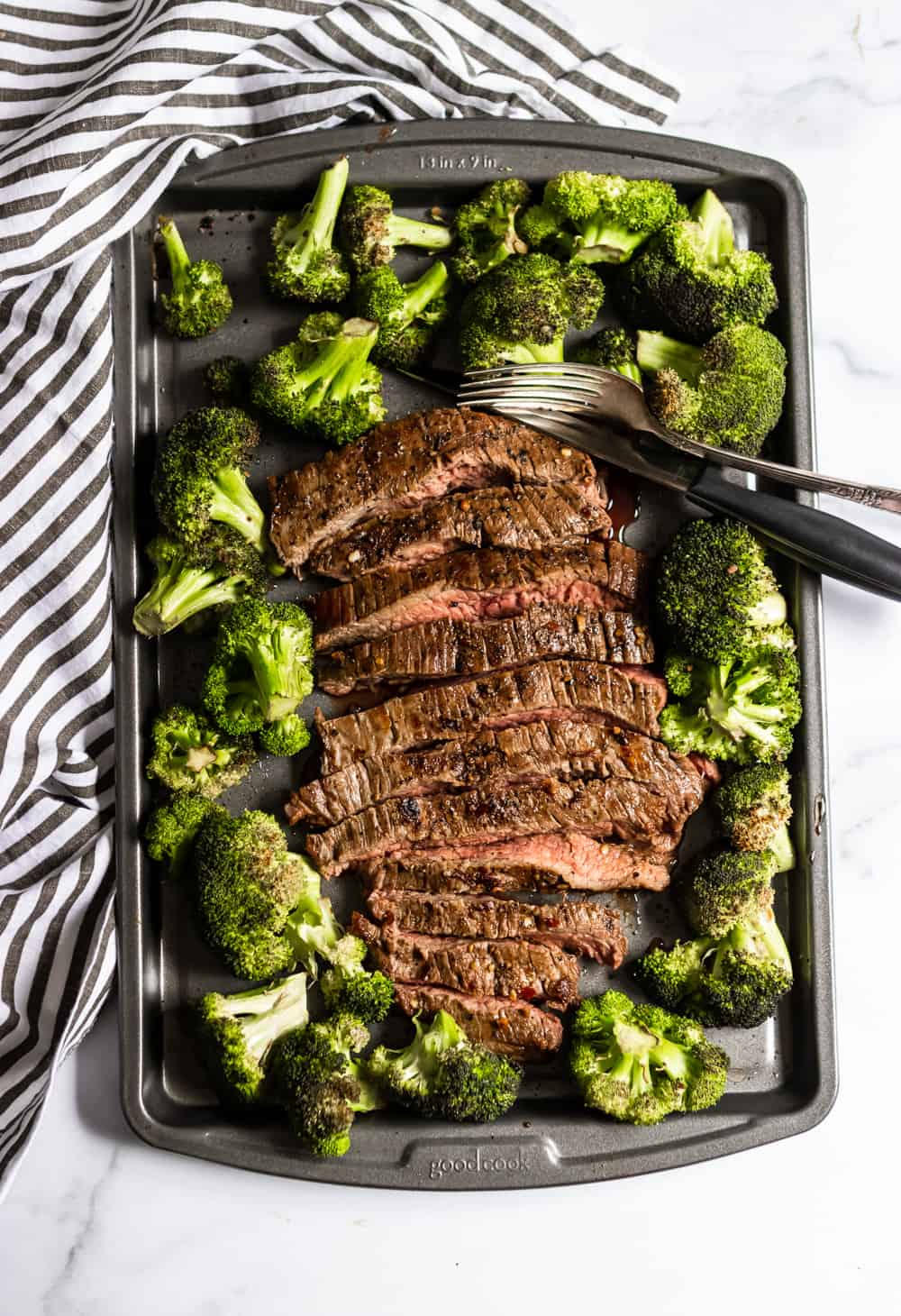 So here is why this Sheet Pan Steak and Broccoli dinner recipe works. Under the broiler, steak and broccoli cook up nice and fast. With just 5 minutes of prep work, you can have everything on the pan and ready to go. Your steak (depending on how you like yours done) can be cooked in 10 minutes top.
Then you just have to heat up some minute rice and dinner is SERVED! Easy as pie, my friends, but waaaaay easier.
If you are feeling inspired, you can even marinate the steak ahead of time during the day but it surely is not necessary.
The current most popular recipe on the blog right now is another steak recipe and another sheet pan recipe as well. Parmesan Crusted Steak and Potato Sheet Pan Dinner--huge winner in my book, it's like a dream. Buuuuu--ut, it takes a bit more time to make so that's why I opted to make another.
The parmesan crusted steak is when I have some more time. This steak and broccoli dinner is when I want the steak but without any of the extra time or effort. (Sometimes I feel like I need to rename the blog to "lazy + zest" because that's really me in the kitchen!)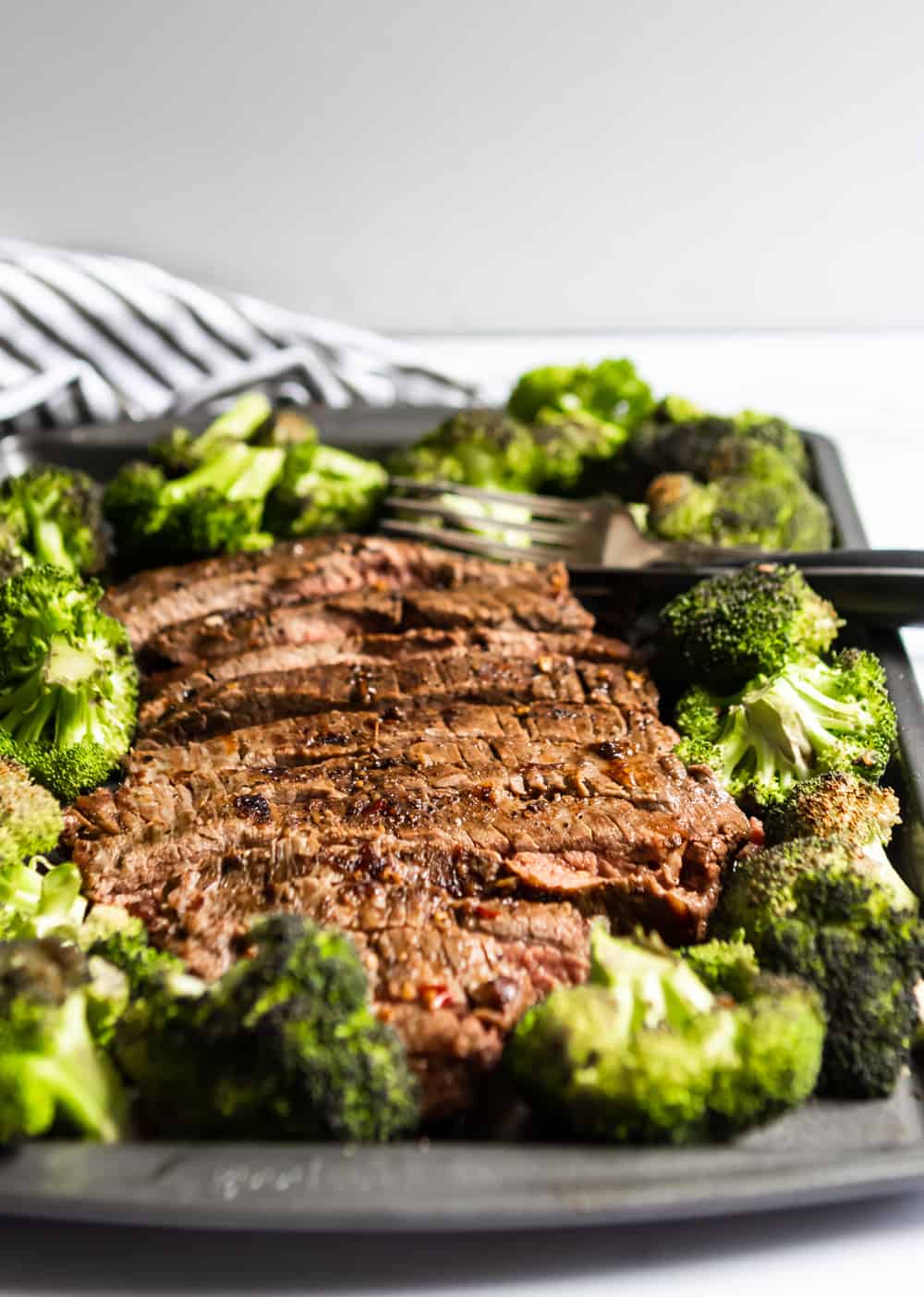 What is the best cut of steak to use for this Sheet Pan Steak and Broccoli Dinner?
I have found that my favorite cut of steak to broil is the Flank Steak. It's not a super thick cut which helps keep cooking time down. Most other cuts, I prefer on the grill.
We don't eat a lot of steak in our house and mainly because it is so pricy. Flank steak tends to be a more affordable cut so that's what I am typically cooking with. For this recipe, I used a Flank Steak that was about an inch and a half thick. It cooked nicely and in sync with my broccoli. Bonus!
Tips for Cutting out even more time when making this Sheet Pan Steak Dinner:
Prep things like rice early in the week in bulk. I try to sometimes cook up some sort of grain for the week on Sundays. Does it always happen? Nope. But when I do, I am happy I took the time to do so.
Minute rice--worth the convenience.  There are a lot of options out there these days for rice that is ready to serve in under two minutes. I happily grab these little pouches from time to time and pop them in the microwave. They are ready in no time. I am really only making this for the hubby and myself but if we had a big family, that wouldn't be quite as cost effective.
Pre-cut veggies. I turn my nose up at pre-cut broccoli sometimes because I don't want to pay the extra. But there are times when pre-cut veggies are the difference between a home cooked meal and a bowl of cereal.
You also don't have to serve this with rice. Maybe you already have a perfect side that is ready to go. Opt for that and add a few more minutes of relaxation to your evening!
What you need to make this steak and broccoli sheet pan dinner:
flank steak
broccoli florets
garlic
Worchestishire sauce: (does anyone actually know how to say this word??)
olive oil
balsamic vinegar
crushed red pepper
salt and pepper
The marinade is quick and simple with ingredients most of us will likely have around. I dip the steak in the marinade and get it on both sides. After I place the steak on the pan, I quickly toss the broccoli in the leftover marinade. You don't want the broccoli to soak in it or it doesn't come out as nice an d crispy.
Notes and Pro-Tips for making this Sheet Pan Steak and Broccoli:
The only tricky thing I find with flank steak is that if you cook it a touch too long it's just not the same. When broiling, this steak cooks FAST. Keep an eye on it to make sure it comes out to your liking. You can pull it out and test it as well.
Cuts of the steak will be different thicknesses. This will be the biggest variance from the time needed to cook. My steak was a bit under two inches. Medium to medium rare is suggested for flank steak, but everyone likes their steak the way they like their steak. Cook it to your liking always!
If you find the steak is not done to your liking at the end of the time, it's best to remove the broccoli and place the steak back into the oven. Otherwise, the broccoli will more than likely burn.
For less mess, line your baking sheet with foil and spray it with oil. Clean up will be a breeze!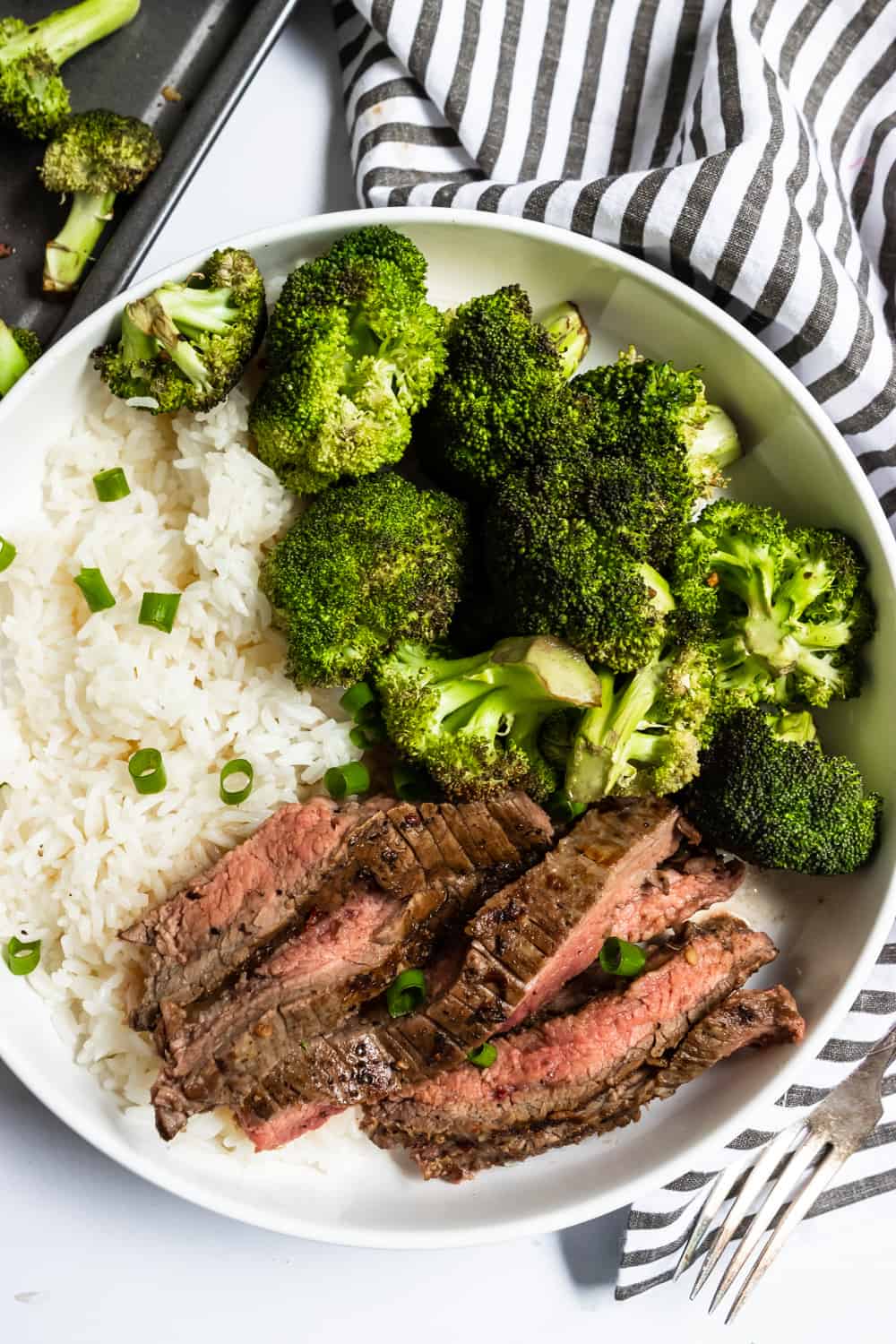 Check out these other simple dinner recipes:
DID YOU MAKE ONE OF MY RECIPES? LEAVE A COMMENT AND LET ME KNOW! I ALSO LOVE TO SEE YOUR LEMONS + ZEST RECIPES ON SOCIAL MEDIA–TAG ME @LEMONSANDZEST ON INSTAGRAM OR FACEBOOK!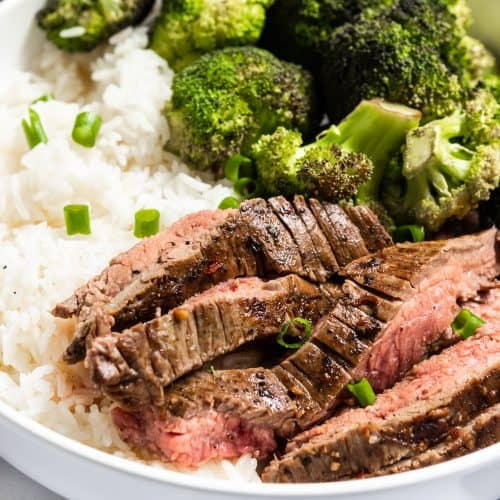 Instructions
Turn oven to Broil on high.

In a medium bowl, whisk together marinade ingredients: vinegar, olive oil, Worcestershire sauce, garlic, pepper, red pepper and salt. Dip flank steak and allow it to absorb the marinade on both sides. Place steak int he center of a baking sheet.(Another option: Transfer to a large ziplock bag if desired and place steak in to allow to coat.)

Toss the broccoli in remaining marinade and place evenly around the steak. ( I also like to sprinkle a little bit of garlic powder on my broccoli but this is not necessary.)

Broil for about 5 minutes, remove the pan and flip the steak. Broil for approximately 5 more minutes or until cooked to your desired level. Remove for the oven and allow to rest for about 5 minutes before cutting. Slice steaks against the grain of the meat and enjoy with your broccoli and rice or desired side dish!