Winner, winner, simple chicken dinner! These Sweet and Smoky Sheet Pan Chicken Fajitas are simple to make and full of flavor and spice. A touch of honey and smoked paprika combine for an out of this world flavor!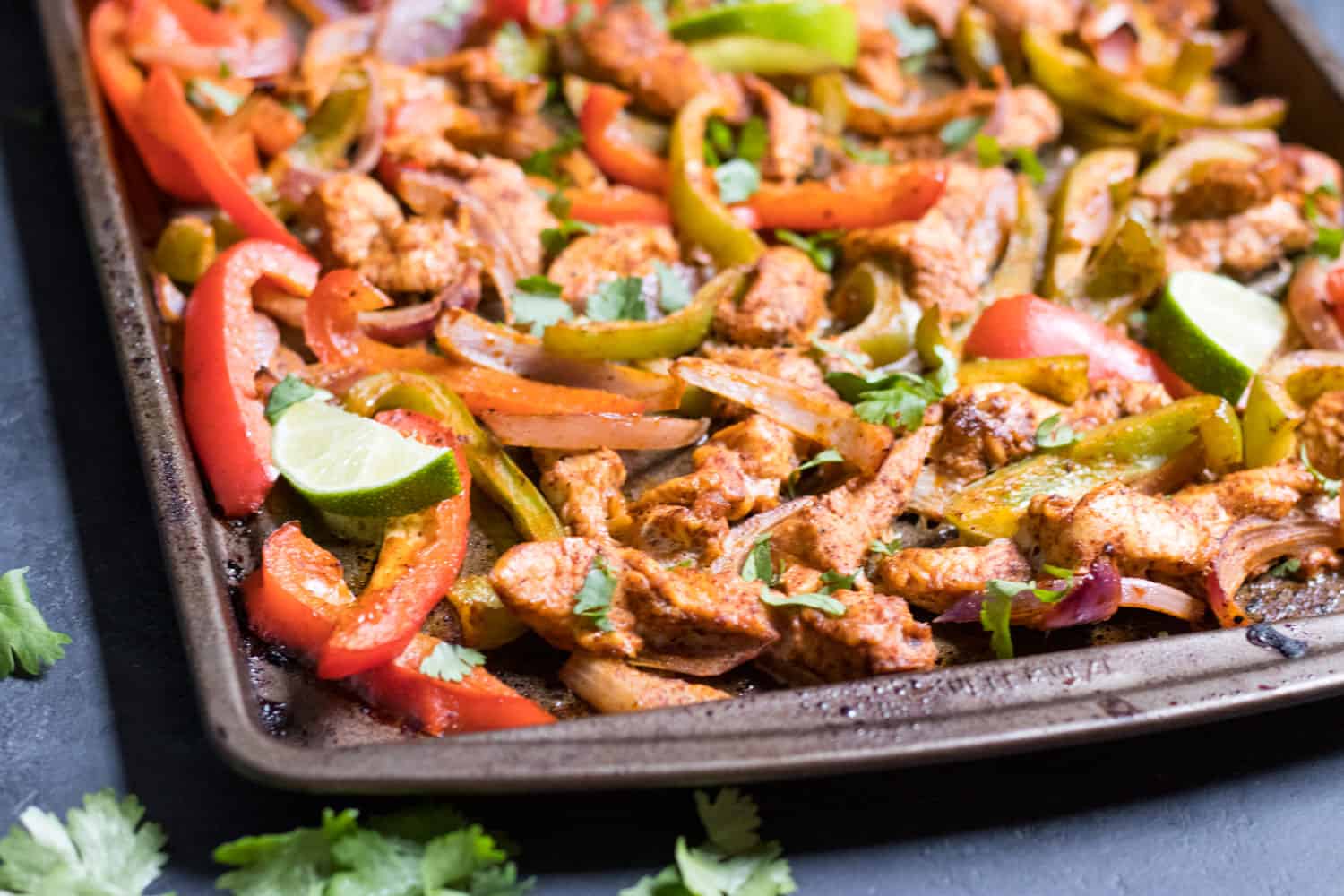 T minus 4 days until 2019. Christmas seems to come and go in the blink of an eye and we are left to clean up all the chaos–but the best kind of chaos. Last year Sam just cooed as he laid on a blanket and this year he ran circles around us tearing up everything in his way. Best. Christmas. Ever.
The only thing about the week following Christmas is that I feel there is very little routine and normalcy. Anthony always takes the last two weeks of the year off so we are already thrown off. I feel like one of us is always sick at some point over the break as well–I have taken the lead on the whole being sick these days it seems. I typically take pride in how healthy I stay through cold and flu season but apparently having a toddler in the house is wrecking my immune system this year. Oh well, it's worth it!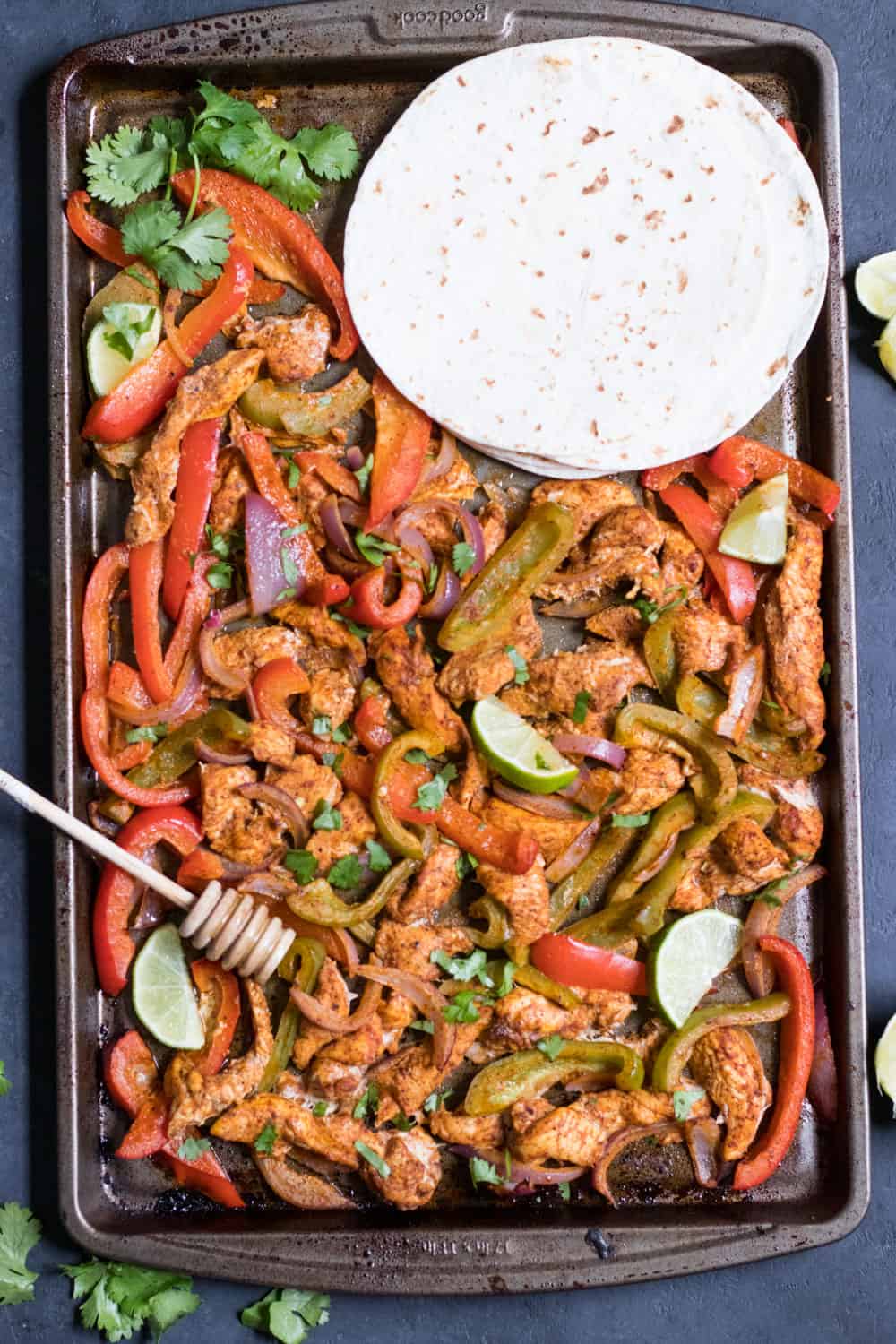 Soooooooo, as I was saying, zero routine.
And the routine around dinner goes straight out the window first. In the past week, other than Christmas, we have had frozen pizza, eggs and toast, canned soup, or anything else we can scrape up from the fridge. But that gets old. So that is going to change.
Are you one for New Year's Resolutions?
I am not. I don't really buy into them. The main reason is that I feel so many of them have to do with diets or weight loss and I spent enough of my life torturing myself with all of that. Another reason is that I don't feel that just because it is a new year that I need to reinvent myself.
I DO however, like to reflect on the past year as it winds down, and try to make small shifts in my goal and focuses. Maybe they are New Year's Resolutions, but I just don't call them that. And I don't do anything in relation to changing my body in the new year which seems top focus for SO MANY.
I will share some of my reflections in an upcoming post, but today, I am here to tell you that, and I have mentioned before, my focus in the upcoming year as far as the blog and recipes go is SIMPLE DINNERS.
Quick, easy, but not so boring dinner recipes are coming your way, friends!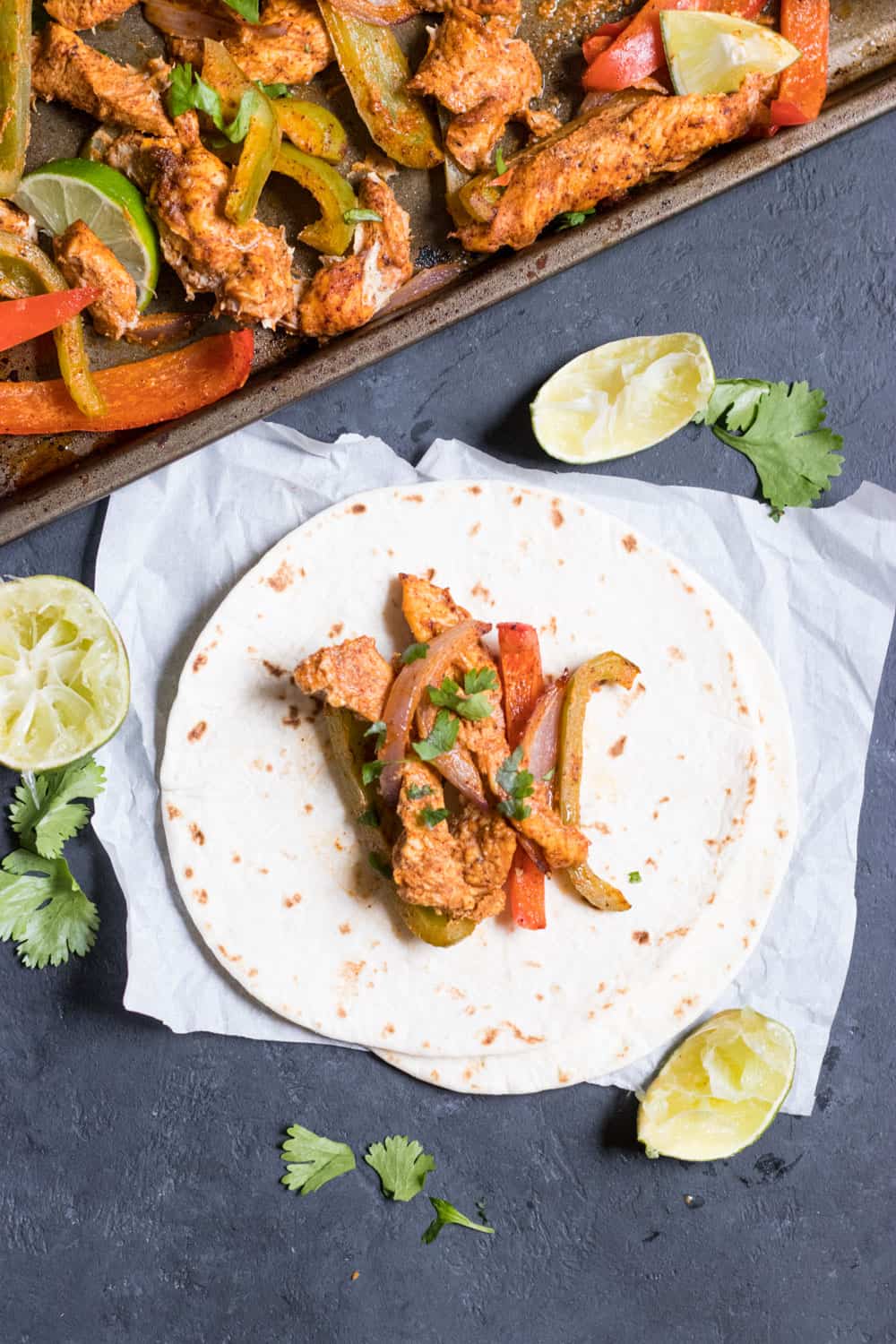 Sheet Pan dinners like this sheet pan chicken fajitas recipe may very well be the best of the best when it comes to simple dinners. First off, you are essentially talking about one dish–ONE DISH when it comes to the cooking. Think of all the time you save by having so little mess to clean up in the end.
Second, they are dinners that do not require you to hang out by the stove the entire time you are cooking. With a toddler, that is key. I cannot cook at the stove and chase after Sam at the same time. I promise, it cannot be done. Tossing everything into the oven and then playing with cars and legos and everything in between as dinner is cooking is brilliant, and really a life saver.
So grab your sheet pan and let's get started on this first recipe: Sweet and Smoky Sheet Pan Chicken Fajitas!
A couple common questions answered for you:
How do you cut chicken for Sheet Pan Chicken Fajitas?
I used my kitchen scissors. I definitely feel they work best. Then I cut the chicken breast into long thin strips about 4-5 inches long. Try to make the pieces about the same size so they all cook evenly. Making them long and thin makes for easier fajita building!
What goes well with these sheet pan chicken fajitas?
The answer may be what doesn't go well with them! Ha! For starters: toppings! Shredded cheese, cilantro, sour cream or plain Greek yogurt, sliced avocado, tomatoes, a squeeze of lime. What else friends??
Chips and dip is always a great side dish option for fajitas. This Spicy Mango Guacamole is one of our favorites. Or a 3 Bean Cowboy Caviar if you would like!
Black beans and rice, cilantro lime rice–rice of any kind really!
I really prefer regular rice, but this Creamy Avocado Cauliflower Rice is a great option as well!
What you need to know about these Sheet Pan Chicken Fajitas:
The sweet comes from honey and the smoky comes from Smoked Paprika. Smoked Paprika is my new favorite spice. I grabbed some to add to bring something new to my same old chili recipe this season and it has since been part of everything else I can put it in. If you are unsure if it's a flavor you will love, start with just a pinch and then add some more to taste preference.
Meal Prep: these sheet pan chicken fajitas are GREAT to make ahead and then pop in the oven when you are ready to make dinner. Slice up the chicken and veggies and then toss everything into a plastic bag with spices, lime juice and oil and let it sit all day for even better flavor and more juiciness!
Versatility: The great thing about this kind of recipe is that it is far from a one size fits all kind of dinner. Serve it over rice, in fajitas, over a salad, etc. Switch up the fixin's that you toss on top every time for a bit of newness each and every time you make it. The kids are sure to be happy with the ability to make something fun every time–the adults too!
Leftovers are always a win for these as well. IF you have any, that is! But they can be used the next day in other recipes as well!
Looking for more simple dinner recipes?? Look no further! Check these out!
Also, more delicious sheet pan dinners are here!
DID YOU MAKE ONE OF MY RECIPES? LEAVE A COMMENT AND LET ME KNOW! I ALSO LOVE TO SEE YOUR LEMONS + ZEST RECIPES ON SOCIAL MEDIA–TAG ME @LEMONSANDZEST ON INSTAGRAM OR FACEBOOK!
Ingredients
1.5

lb

chicken breast

2

bell peppers, any color

1

onion

3

T

olive oil

Juice of 1 lime

1

T

honey

1/2-1

tsp

smoked paprika

2

tsp

chili powder

1

tsp

cumin

1

tsp

garlic

1/4

tsp

cayenne pepper

1/2

tsp

pepper

Sea salt
Instructions
Cut chicken into thin strips. Slice onion and peppers into thin strips as well. Place chicken into a bowl or straight onto sheet pan (for less dishes)

In a small bowl, whisk together olive oil, honey, lime juice and spices.

Pour liquid mixture over chicken and stir to coat evenly. Add peppers and onions and continue to mix so that they are coated as well. Spread evenly over sheet pan.

Bake for about 15 minutes or until chicken is 165°F internal temperature. In the last several minutes, place fajitas wrapped in foil in the oven to heat as well. Remove from oven and absorb any excess liquid on the pan with a paper towel.

Serve with your favorite fajita toppings and enjoy!