This Peanut Mango Chicken Stir Fry is a simple dinner that is far from the same old. This mango infused sauce along with big chunks of mango will make everyone at the dinner table happy!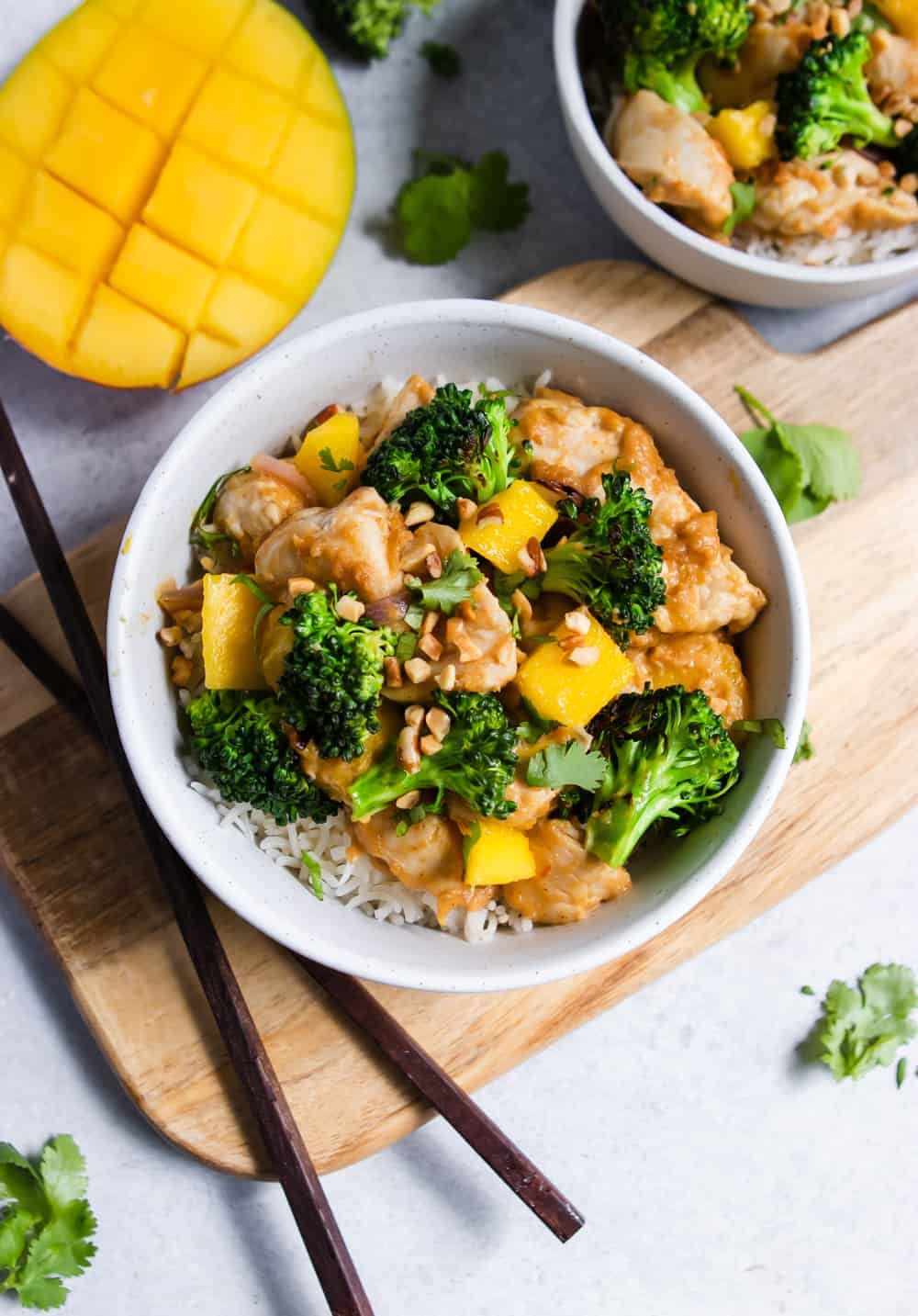 Today I read the absolute perfect post from a blog that I follow, Hummusapiean. Alexis, the author of the blog has had a recent transition from control and clean eating to the concept of intuitive eating. Something I read in the post really resonated with me. Alexis wrote:
I spend tons of time harping on the importance of self care with my clients because unlike the gazillion dollar diet industry that's rooted in self-control, the non-diet mentality is rooted in self compassion. You can't build a good relationship with food without working on your relationship with yourself.
This is exactly what the missing piece of the puzzle was for me. Self care. So much of my relationship with food was due to my lack of self compassion. And I was in exactly that same frame of mind around self control. Days were good or bad only dependent upon how I ate, or that I worked out or anything else that was connected to the like.
Tonight, as I sat on the couch enjoying an ice cream cone (salted caramel swirl, mmmmm), I realized that it was a newfound freedom that was occurring. I was eating ice cream, happily, and enjoying it–AND on a day I had not worked out.
Wow. Talk about some major growth.
There was a time when this would never have happened, or I would have been eating the ice cream all the while putting together the list of things I would be doing the next day to "make up" for such an act.
What. Why. Face to palm emoji inserted RIGHT HERE.
Yes, so much of my life before this big shift was about self control. It was about making the right decisions and it was NEVER about self care and by no means self compassion. But over the past few weeks, thanks to some much needed advice, I took on the ritual of self care. I say ritual, because it is something that I started to do daily, and for at least 10 minutes. And it was harder than I thought it would be in the beginning, but now it is so healing, and I anticipate it each day.
I started taking a relaxing bath each night before bed. For some reason, I haven't really been much of a bath taker since we moved into our house several years ago. But I needed to figure something out to do for ten minutes a day to take care of me, and a bath seemed to be a good idea.
I bought a comfortable bath pillow, some lavender bath salt and a few other things to make this time all the more relaxing and special. The first night, I poured the bath and got in. I found myself sort of looking around and thinking, ok, what now. But I realized it was because I wasn't used to really giving myself the time to just unwind.
I probably only stayed in for the 10 minutes that night, but the second night, I stayed in a few minutes more. And then around the 5th night, I skipped the bath and noticed the big difference in my ability to unwind that night and wasn't quite as relaxed in bed. And I noticed that I actually missed this small time away.
So from then on, I didn't skip a night. And I am sitting here typing, pretty late, but just before I get ready to draw the bath. And I am excited to get ready to just let go.
The diet culture we live in today is truly embedded in self control and pushes to 'help' you have better overall will power around food. All the cleanses, pre-packaged, calorie lacking foods are meant to help keep you from 'losing control.' But the body craves real food.
And when the body is listened to, and it is given what it wants, without the guilt, then it will be nourished and loved. And that is where the shift will happen. That is when you won't need the self control, because you will have all the self compassion that you need!
______________________________________________________________________
Let's do a mango tango tonight, shall we?
Let's talk about mangoes, friends. They are my new favorite fruit. I love them. Whether fresh, frozen, in a smoothie, as a sorbet, you name it, I LOVE them. So this new Peanut Mango Chicken Stir Fry is my latest love story to this perfect, juicy refreshing fruit.
Not only did I add cubed mangoes into the stir-fry, I also added pureed mango into the sauce. WOW is all I have to say.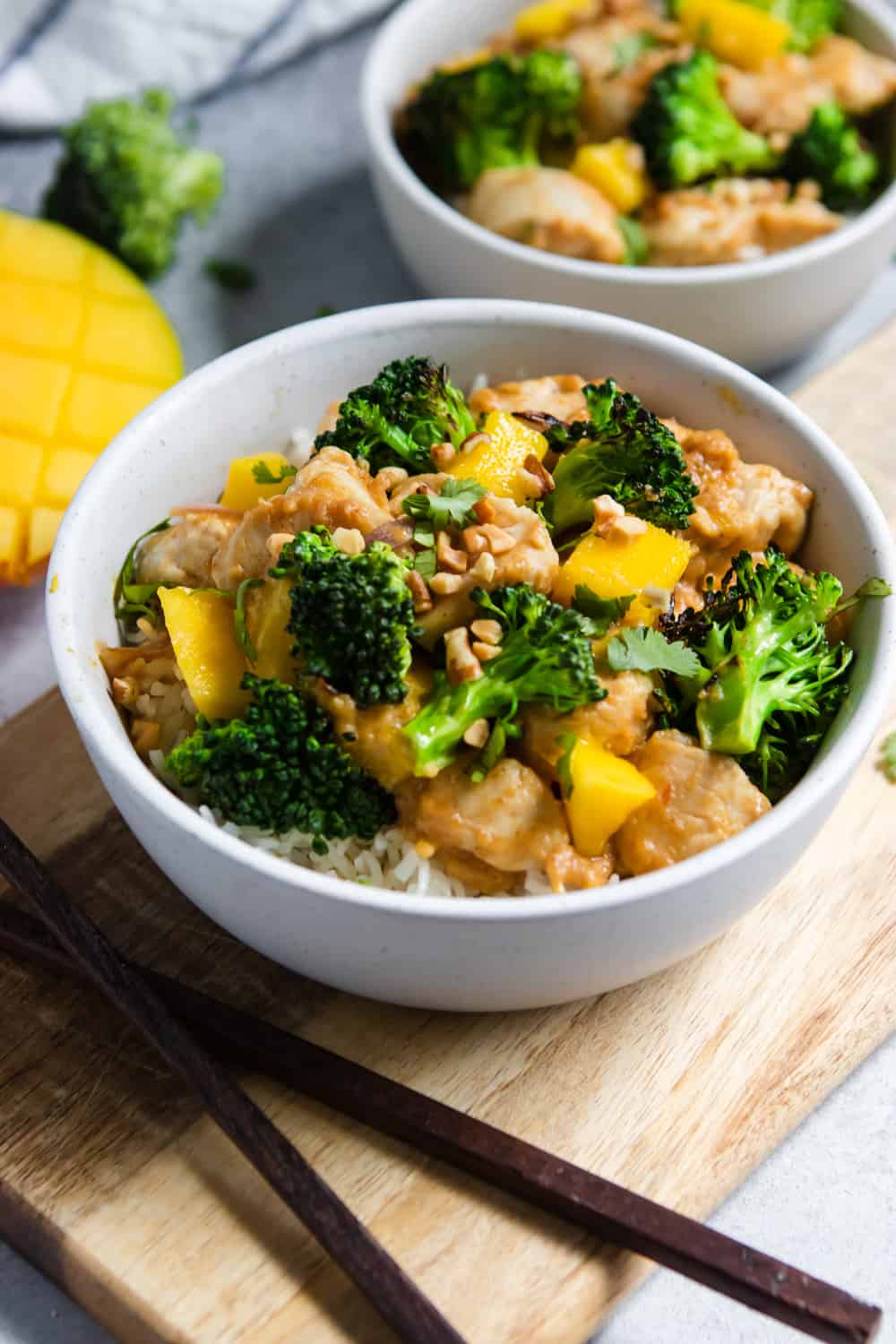 It takes me back to the times in restaurants when I would turn my nose up to the times my mom would order an entree that had fruit cooked over a chicken breast or salmon. I thought, how weird. But the combos I like the best are things just like that now. I guess I am turning into my mom, but don't tell her!
This Peanut Mango Chicken Stir Fry is your new easy dinner!
If you are looking for a simple weeknight meal, this Mango Chicken Stir Fry is where it's at. Toss in fresh or frozen broccoli, and the same for the mango. I used red onion, but I have also used green onions for this recipe and enjoyed that as well. I like to save some of the sauce in the fridge and also toss it into salads and other recipes as well.
Feel free to add your favorite protein. For a vegan version, toss tofu or just add extra veggies into the mix. This should work to fit most dietary needs with just a slight adjustment or two!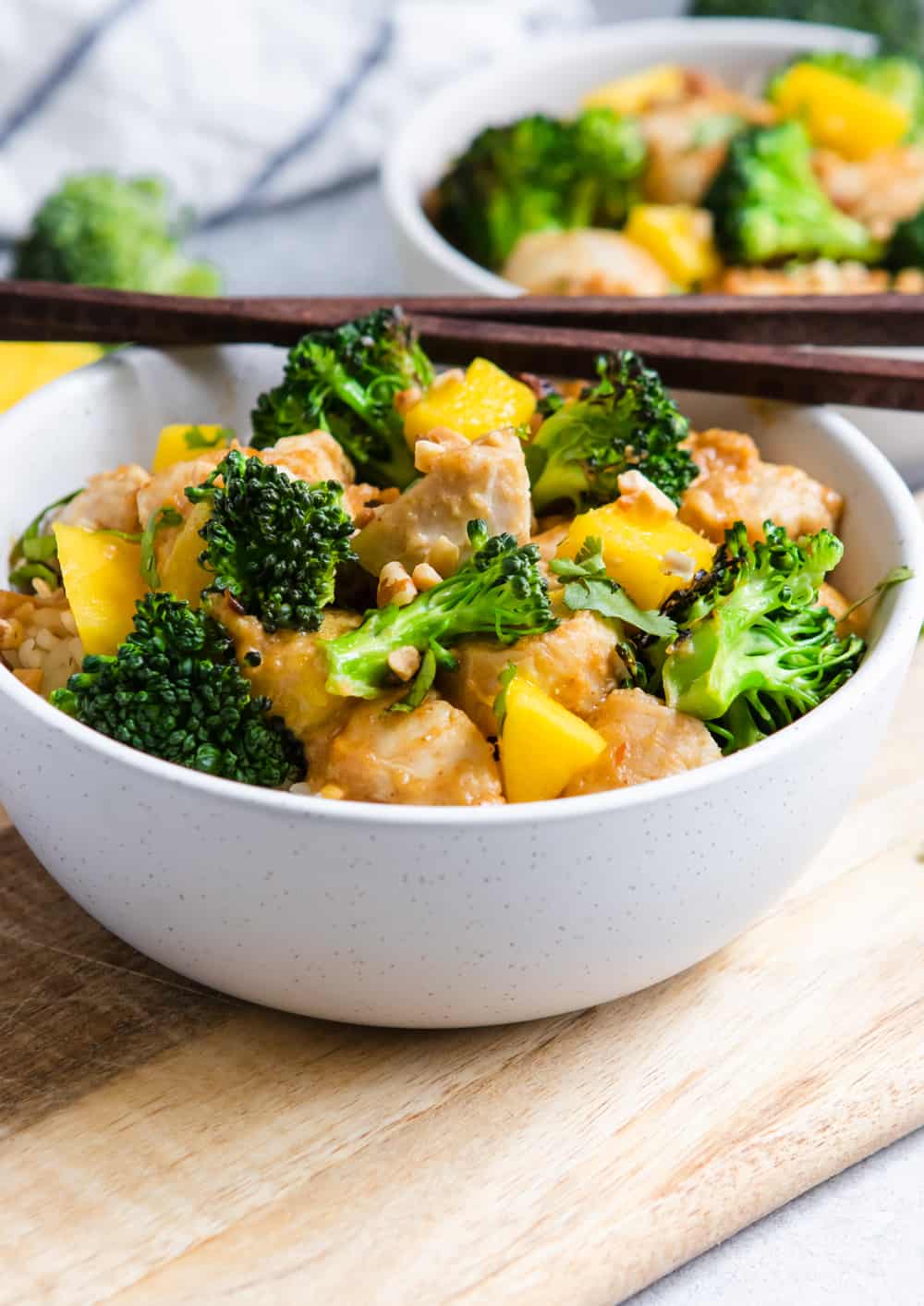 Pro-Tips and Notes for this Peanut Mango Chicken Stir Fry:
Two words: Minute Rice. This is the best way to cut down on time for this dinner. I know it is not the most cost effective, but it is there for you when you really need it. Another way to do so is if you prep your rice early in the week and then have it ready when you are.
Same thing for the mango and broccoli–frozen is always an option. Cuts down on chopping time for sure.
I make this peanut sauce for more than just this recipe. It is so good on a cabbage slaw with some extra cilantro and great just over veggies.
A little bit of orange zest in the Mango Chicken Stir Fry sauce is also delicious. It's one of my favorite variations!
Love this Mango Chicken Stir Fry? Check out some of my other FAVORITE simple dinner recipes!!
DID YOU MAKE ONE OF MY RECIPES? LEAVE A COMMENT AND LET ME KNOW! I ALSO LOVE TO SEE YOUR LEMONS + ZEST RECIPES ON SOCIAL MEDIA–TAG ME @LEMONSANDZEST ON INSTAGRAM OR FACEBOOK!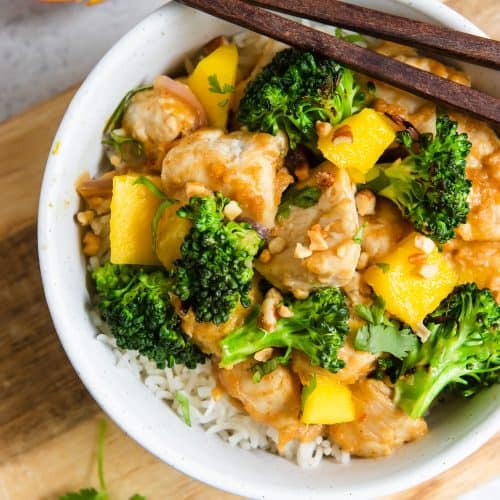 Ingredients
For Stir-Fry
1 1/2

lb.

chicken breast tenderloins (breast will work as well)

cut into bitesized pieces (or desired protein)

4

c

broccoli florets

2

c

cubed mango

1/2

small red onion

julienned

crushed peanuts and fresh cilantro for serving
For Sauce
2/3

c

peanut butter

natural, creamy

1/2

ripe mango

1/4

c

soy sauce/tamari

tamari for gluten free

1 - 2

garlic clove

minced

1/4 - 1/2

tsp

crushed red pepper

1

T

maple syrup or honey

1/3 - 1/2

c

water

depending on desired thickness

1

tsp

rice vinegar
Instructions
In a blender, combine 1/2 mango for the sauce and 1-2 tablespoon water. Blend on high until smooth. Add all other ingredients for the sauce and into the blender and blend until smooth, adding water slowly to get desired thickness. I like mine pretty thick.

Heat 1 tablespoon desired cooking oil over medium-high heat in skillet.

Add in chicken and cook, stirring frequently until cooked through and there is no pink.

Remove chicken from skillet and set aside for later.

Add more oil if needed, and add onion. Cook until translucent.

Add in broccoli and cook until tender.

Add chicken and mango into the skillet. Cook until mango starts to very lightly brown.

Turn heat to low and add desired amount of sauce to the chicken and veggies and stir to coat well.

Allow to simmer for about 5 minutes.

Pour over your favorite rice and garnish with chopped peanuts and fresh cilantro.

Refrigerate leftovers.
Notes
I also like to add a diced red pepper to this recipe sometimes.