This Simple Beef and Shells skillet is a perfect ground beef pasta recipe the whole family will love! Ready in under 30 minutes, this easy cheesy pasta dinner is packed with spinach, tomatoes and just the right amount of Italian Seasoning. Who wants seconds?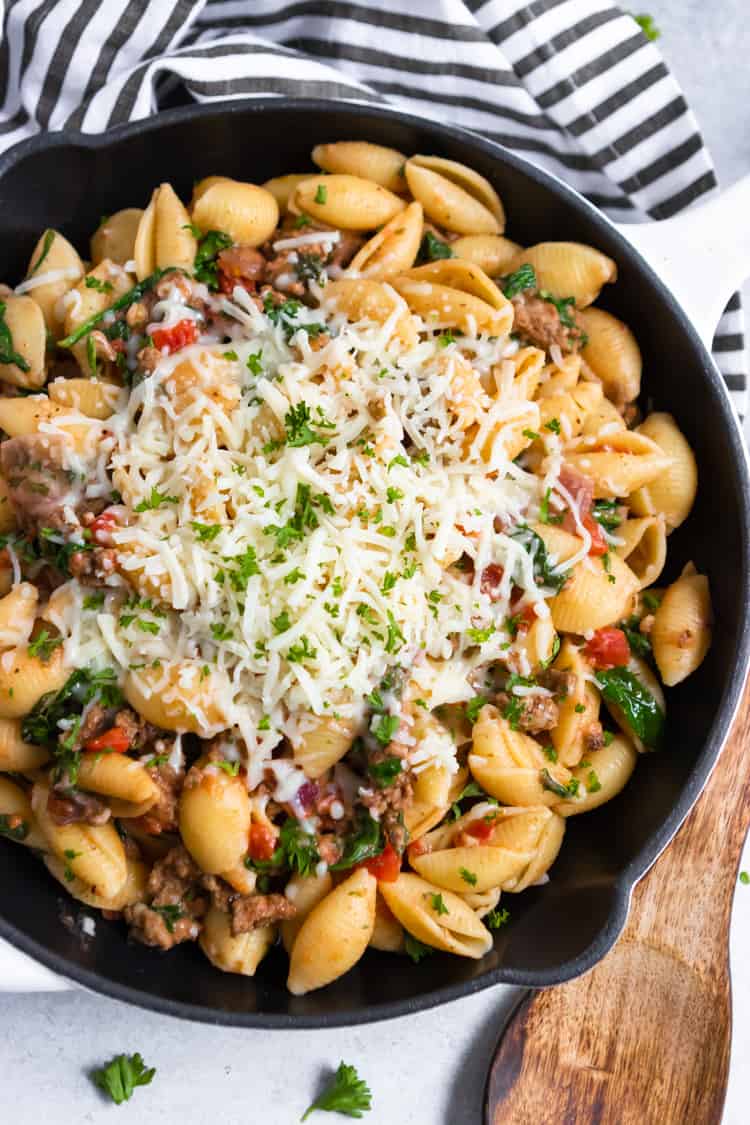 If a dinner recipe can't be ready in 30 minutes or less, then I want no part in it whatsoever.
Who's got time, or the energy for that–unless of course it's something in the slow cooker. I want my dinners quick and I want them easy. And I don't want the same three or four recipes on repeat. Is that too much to ask?
Oh and there is one more thing, I want them to be put on the table with ZERO arguments. Like, I place the plates in front of the family and they look at me with a twinkle in their eyes and a big smile. Then they say "Thanks, Ma," and dive in.
One more thing, if it's not too much to ask: leftovers. I want recipes that give me some leftovers. But the husband doesn't eat leftovers, Lorie, is that what you are thinking? I know, I know, he really doesn't and I have slowly given up on parts of that dream.
Buuu-uut, guess who ate leftovers of this ground beef pasta? Yep, you guessed it, my lovely husband. And he did it HAPPILY, might I add. In the 11 years we have been together, that has NEVER EVER EVER happened. So this recipe is now going down as most epic dinner in my book. If I can crank two nights out of one dinner, my week is made.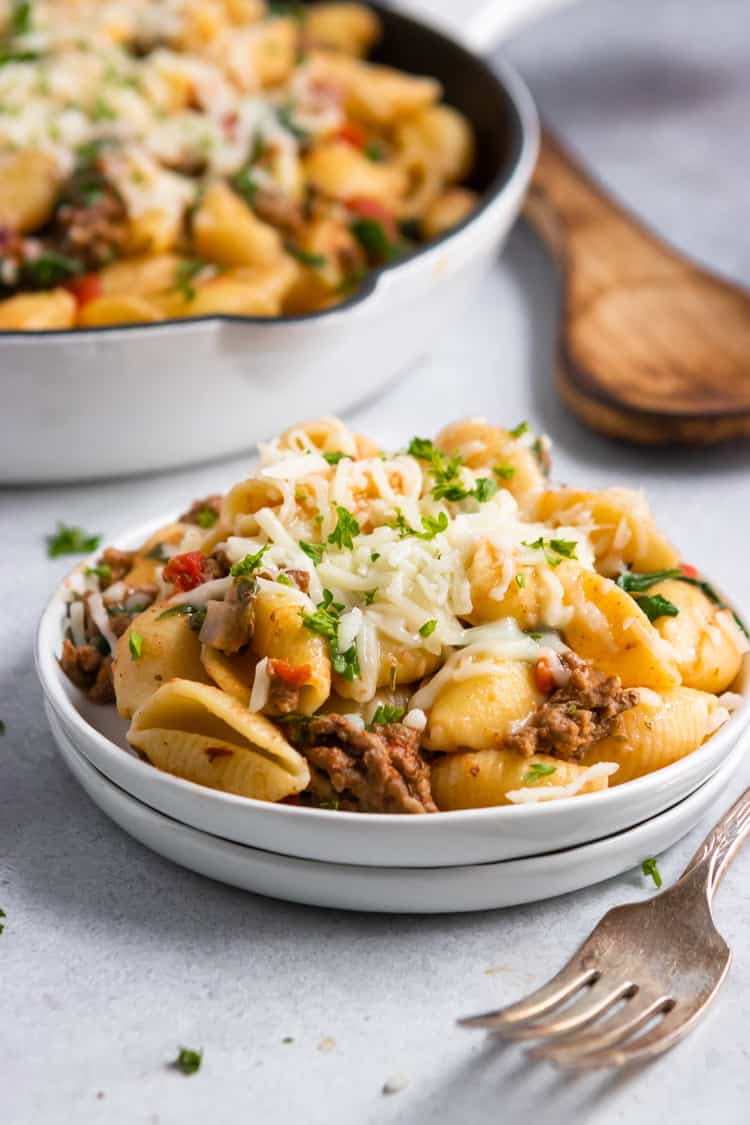 Get dinner on the table in no time with this ground beef pasta dinner
Like I said, simple is KING for me. I don't have time to jump through hoops to get dinner ready for everyone. This skillet dinner is my go-to for something different, delicious, and loved by everyone at the dinner table.
Sam loves meatballs and all things pasta and cheese. Essentially this is the meal of his dreams, aside from the spinach–he isn't really into it. Can I blame him? Nope.
But being able to sit down and have him eating exactly what mommy and daddy are digging into is AWESOME.
I think he would be happier if I made this with ground turkey, which brings me to my next point…
Do I have to use ground beef in this Beef and Shells Skillet recipe?
Technically no. But I guess if you use turkey, you will want to call it a Turkey and Shells Skillet dinner, right? I don't do a lot of beef in our house for two reasons: One, beef is pricier than turkey. And two, I like skipping the draining part when it comes to cooking. One less thing to do is what am all about in the kitchen.
You can honestly use ground turkey or even ground chicken to replace the beef in this grouch beef pasta. You could even use a meatless ground meat substitute. There are a lot of options for ways to modify this delish dinner to meet anyone's needs or taste.
Do I have to use shells in this Beef and Shells recipe?
Another technicality, I would say. Want it to be ground beef and rotini? Do it. Ground beef and penne? Make it! Ground beef and Mac? I think that should work as well. All in all, use your favorite pasta–cook it according to the package and you should still have a delicious ground beef pasta dinner!
What you will need to make this simple ground beef pasta recipe:
Ground Beef: that obvious? Ha! I use a pound but you can go heavier if you really want to bulk up this pasta dish. I know my husband would not have minded more meat in his.
Pasta: I used what are called "salad shells," so perfect bite sized shells. Like I mentioned earlier, as long as you cook your pasta according to the package, you should be able to use several other options such as rotini, penne and more.
Spinach: I used fresh baby spinach and chopped it. If you are planning to use frozen, make sure it is thawed and remove any excess water.
Onion: Totally optional–Anthony is not a huge fan so I typically go light on them.
Diced Tomatoes: Save the time, use canned. I always love time saving ingredients. Canned tomatoes are it.
Pasta Water: SAVE THAT WATER!
Parmesan: Grated works best but if it is shredded you will be ok as well. The shredded doesn't seem to melt as well into the recipe, as in you can still see it throughout the pasta.
Italian Seasoning: I use an Italian seasoning that does NOT include garlic. If your seasoning does have garlic, lessen the amount of garlic powder you add to the recipe and then adjust to taste.
Garlic: I always add more than what anyone says–who else? I used garlic powder for this dinner recipe–no fuss, quick and easy.
Red Pepper: Add a little kick!
Olive oil: Use it to sauté your meat and then again to toss the pasta in.
Pro-Tips/Notes for making this ground beef pasta recipe:
Meal prepping tip: make your pasta ahead of time over the weekend. All you will have to do is stir it in when the rest has cooked up. That is one less thing you will need to worry about when making dinner.
As mentioned before, feel free to use another ground meat! Turkey, chicken, a meat free substitute.
Reserved pasta water–this is the secret behind so many pasta recipes. That starchy water does its magic on this pasta recipe and is a great ingredient to use when making pasta dishes.
Check out some of my other FAVORITE simple dinner recipes!!
DID YOU MAKE ONE OF MY RECIPES? LEAVE A COMMENT AND LET ME KNOW! I ALSO LOVE TO SEE YOUR LEMONS + ZEST RECIPES ON SOCIAL MEDIA–TAG ME @LEMONSANDZEST ON INSTAGRAM OR FACEBOOK!
Print Recipe
Simple Beef and Shells Skillet
This Simple Beef and Shells skillet is a perfect ground beef pasta recipe the whole family will love! Ready in under 30 minutes, this easy cheesy pasta dinner is packed with spinach, tomatoes and just the right amount of Italian Seasoning. Who wants seconds?
Ingredients
16

oz

box of pasta shells

1

lb

ground beef

2-3

c

chopped spinach

1/2

onion, diced

1

14.5 oz.

can diced tomatoes

1/2

c

Parmesan

2

tsp

Italian seasoning

1

tsp

garlic powder

1/4 – 1/2

tsp

crushed red pepper

2

T

olive oil

1/2

tsp

cracked pepper

1/4

tsp

salt

3/4

c

reserved pasta water
Instructions
Cook pasta according to pasta directions. When draining, reserve about 3/4 cup of the past water for later. Toss pasta with about 1 tablespoon olive oil and set aside.

While pasta is cooking, in a large skillet, heat one tablespoon olive oil over medium-high heat. When glistening, add onion and cook 1-2 minutes. Add in ground beef and brown, stirring regularly. (about 7-9 minutes) Drain any excess oil.

When beef is cooked, turn heat to low and add in spinach and cook until wilted. Add in tomatoes, Italian seasoning, garlic, salt, pepper, red pepper and stir well to combine.

Finally add in pasta, reserved pasta water and parmesan and toss until parmesan is melted. Allow to simmer for several minutes and then serve!

Add freshly shredded mozzarella and chopped parsley when serving if desired.
Nutrition
Calories:
556
kcal
|
Carbohydrates:
59
g
|
Protein:
26
g
|
Fat:
23
g
|
Saturated Fat:
8
g
|
Cholesterol:
59
mg
|
Sodium:
299
mg
|
Potassium:
463
mg
|
Fiber:
3
g
|
Sugar:
3
g
|
Vitamin A:
1087
IU
|
Vitamin C:
3
mg
|
Calcium:
150
mg
|
Iron:
3
mg