A simple stove top steak dinner that whips up in no time! This Mediterranean Steak Bites recipe is juicy and delicious, and perfectly balanced with a tangy yogurt sauce.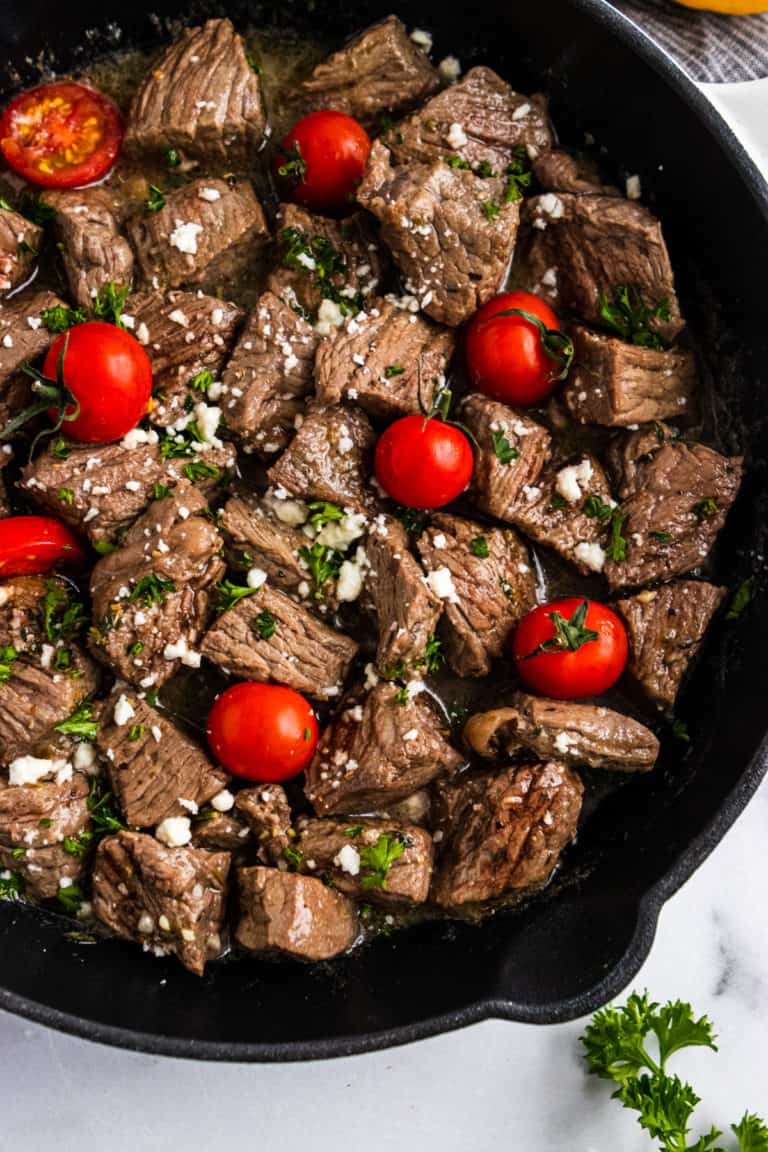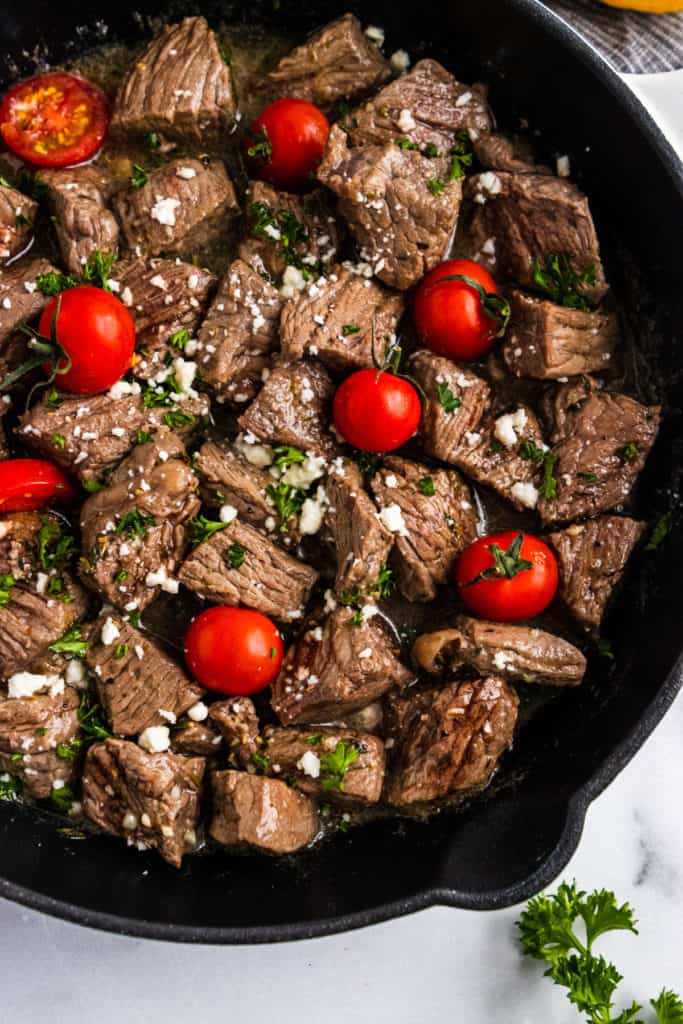 Mediterranean Steak Bites for dinner!
While I really prefer my steak on the grill, that's not always the easiest thing since the weather isn't always on our side. We definitely fire up the grill year round, but there are most certainly times we say, ok, it's way too cold for that.
And these Mediterranean Steak Bites are for times just like that–nights when you really want some juicy steak, but the grilling is not looking like it's going to happen.
When it comes to all things Mediterranean flavors, some form of sauce–tzatziki, yogurt sauce or even hummus should always be included. These sauces are the perfect compliment to these dishes and this holds true for these steak bites!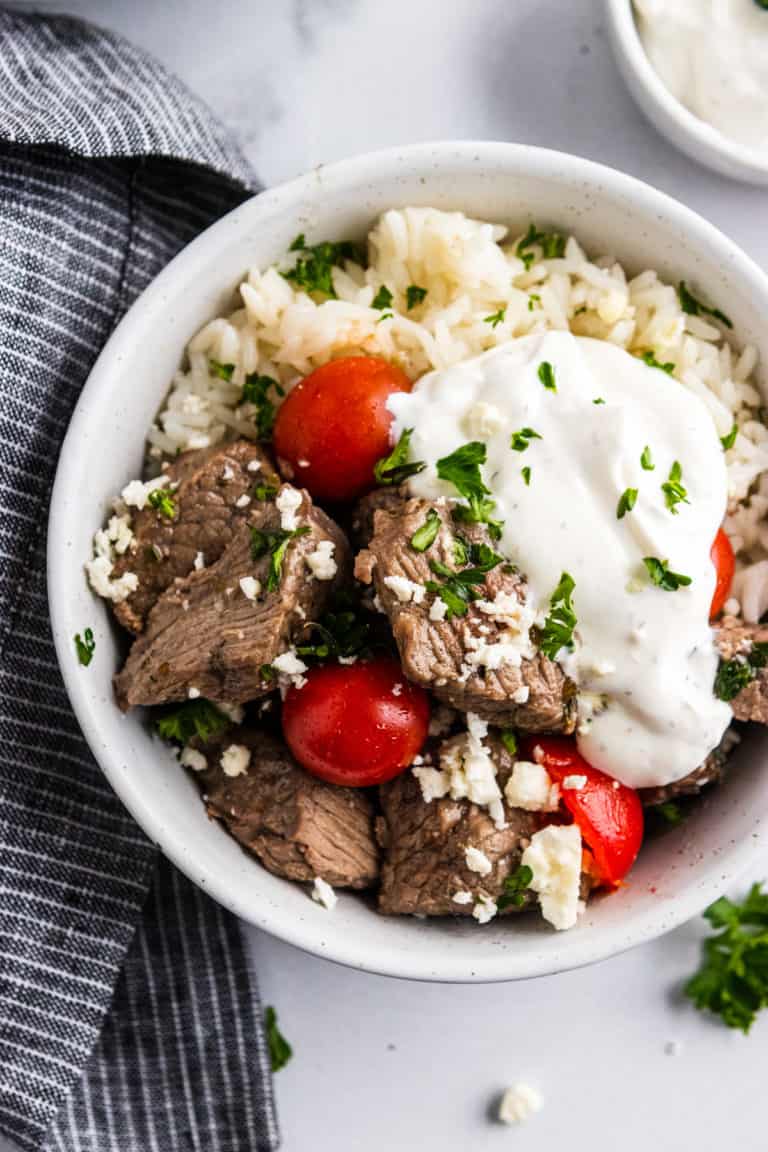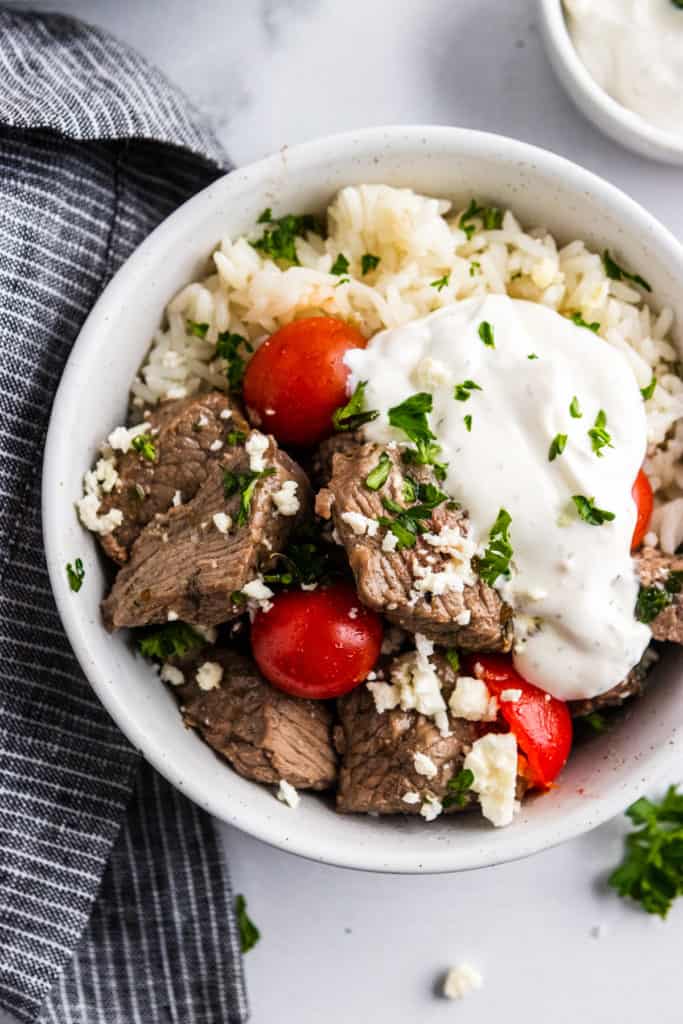 What are steak bites?
They are exactly what it sounds like. Just little bite sized pieces of steak. They are smaller than stew cuts and bigger than you would find beef that is cut for stir fries. I like mine to about 1 1/2 inches approximately.
When it comes to cooking steak bites, they are best when all of the pieces are cut close to exactly the same size, they don't cook too fast, and are marinated for as long as possible.
Steak bites are a super simple way to whip up delicious steaks stove top. Definitely worth a try!
What is the best cut of steak to fry stove top?
So, I used sirloin for my steak bites. They were nice and tender and I got some great cuts for a nice price. Is sirloin the best option? Not necessarily. You could most certainly use a better cut of steak for even better steak bites.
Ribeye or New York Strips would be great as well for this Mediterranean Steak Bites Recipe. They will be more tender for sure, and more pricy than a sirloin. Choose what works best for you!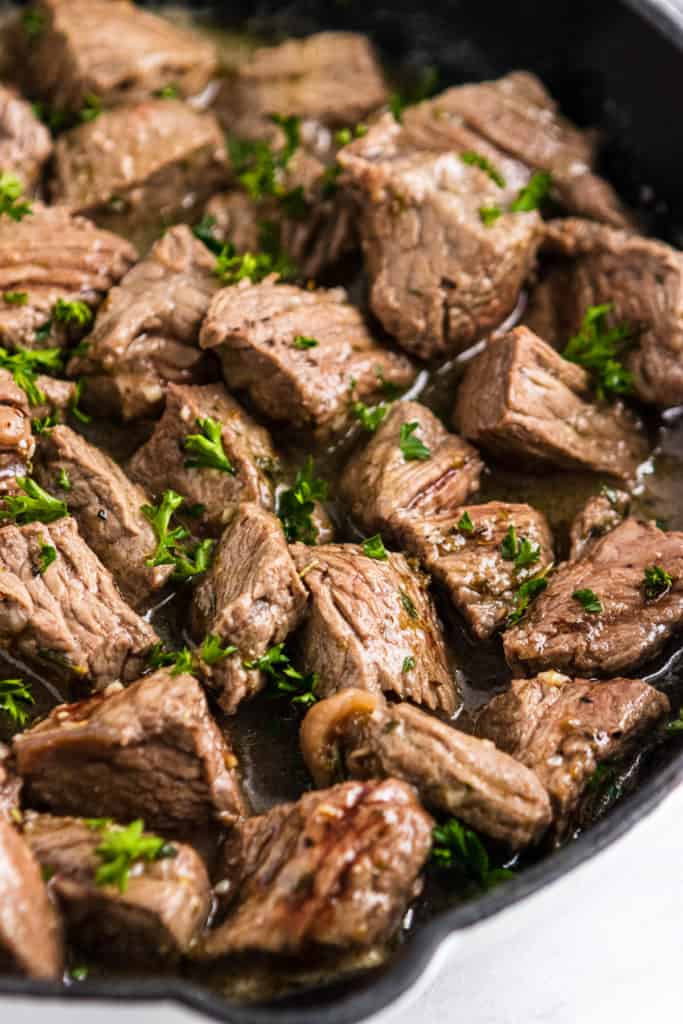 The best part about this recipe? So many ways to enjoy them!
over rice
in a pita
on a salad
straight up
on toothpicks as an easy app
on top of a chilled pasta salad
How else?! Give me your favorites!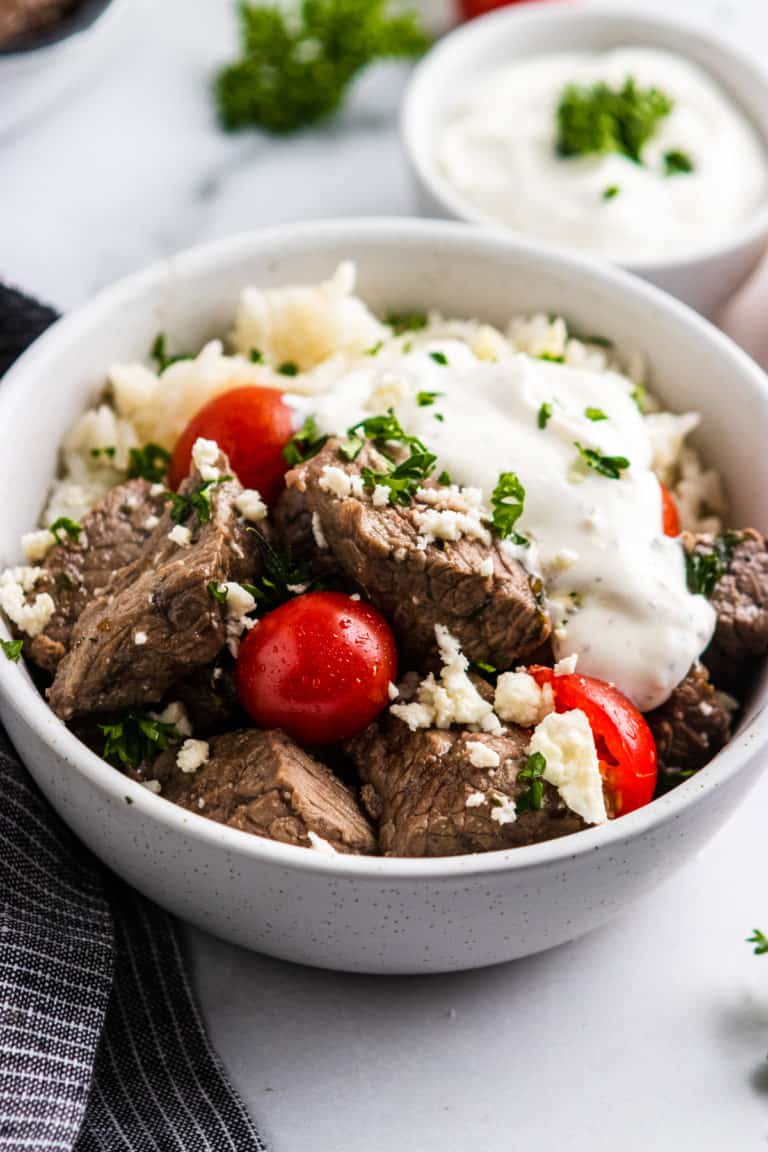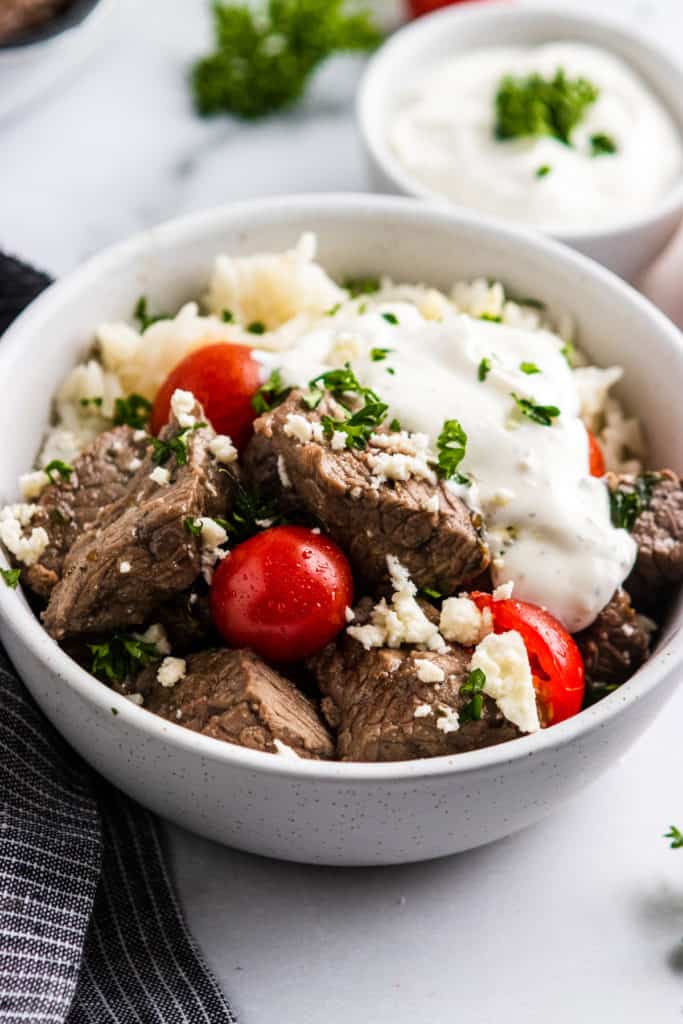 What you will need to make these Steak Bites:
steak: about 1 1/2 pounds. Like I mentioned, I used sirloin that I found on sale. You can use a more tender cut if desired.
olive oil
garlic: I am guilty of always using more than I actually am told to. If that is you, I get it. And we can be great friends.
oregano: fresh oregano is harder to find usually where I shop. I always have lots of dried oregano in the house. It's my favorite seasoning in Italian recipes as well as any and all meats. If you can find fresh oregano, go for it!
thyme: fresh thyme–one of my faves. If you can find it fresh versus dried, I highly suggest it. If not, dry will work.
rosemary: same with this herb. Rosemary is so great when it's fresh.
lemon juice: lemon juice is where a lot of mediterranean dishes get that fresh tang. Don't skip it!
salt and pepper
feta: top your steak after the steak is cooked, when serving.
tomatoes: I toss in some tomatoes right at the end and allow them to cook slightly.
For the yogurt sauce:
greek yogurt
olive oil
lemon juice
garlic
dill
peper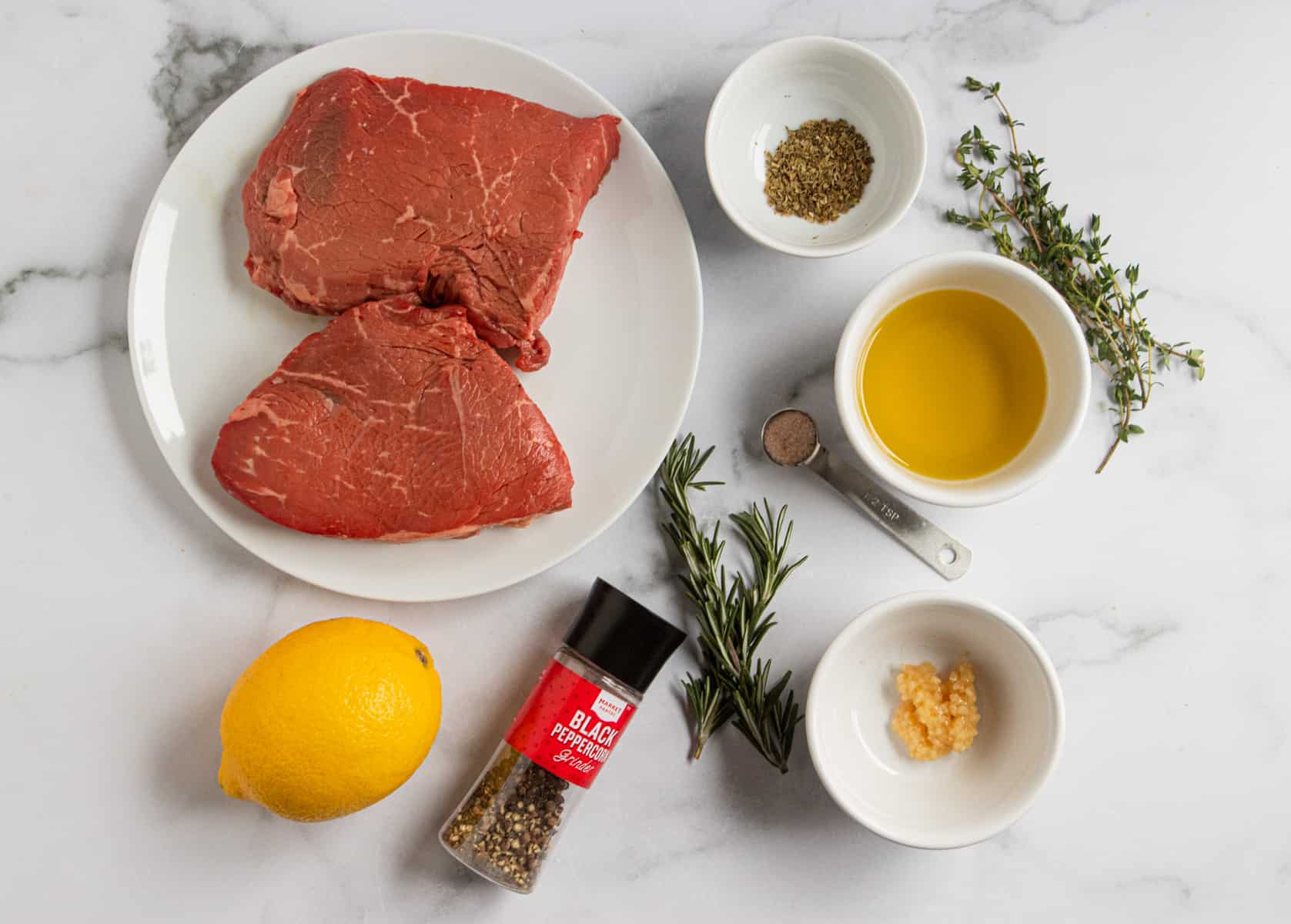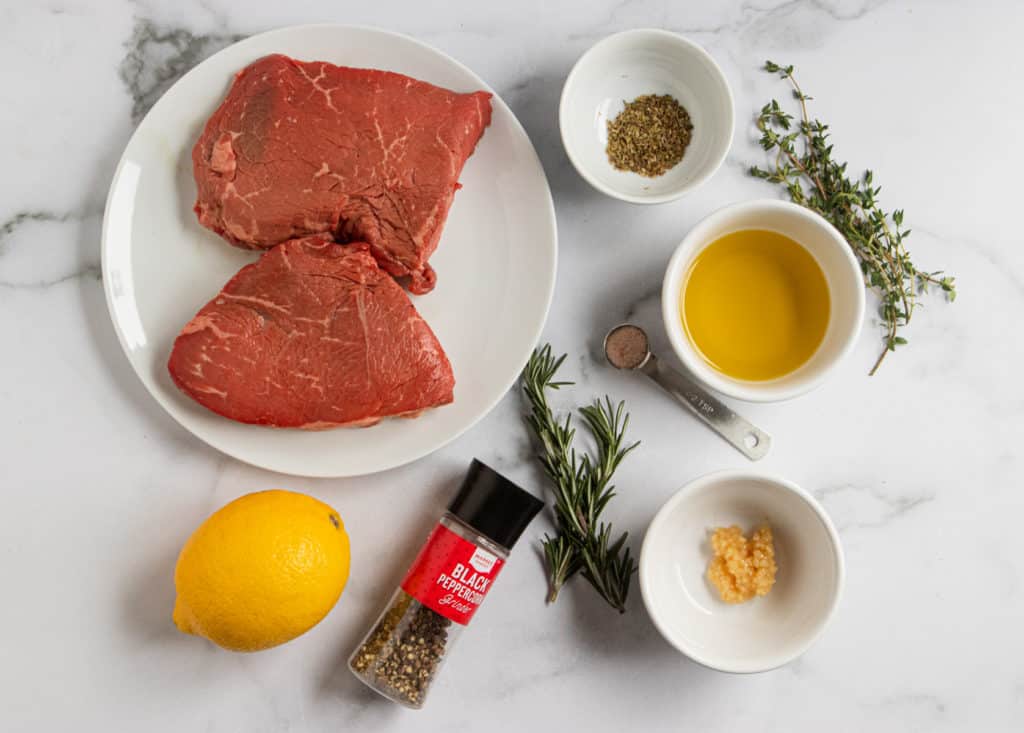 Tips for making this Mediterranean Steak Bites Recipe:
Marinate for as long as you can for even more flavor. If you can only marinate for 10 minutes for so, they will still be delicious, but with any meat recipe, the more time flavor can soak in, the better.
Do not overcook your steak bites. These cook pretty quickly so you will want to stay near the stove at all times. They will cook a bit more after you remove the skillet from the stove so pull them off just before you think they are ready.
As I mentioned, there are so many ways to serve these steak bites. My favorite is over rice and with a dollop of yogurt sauce.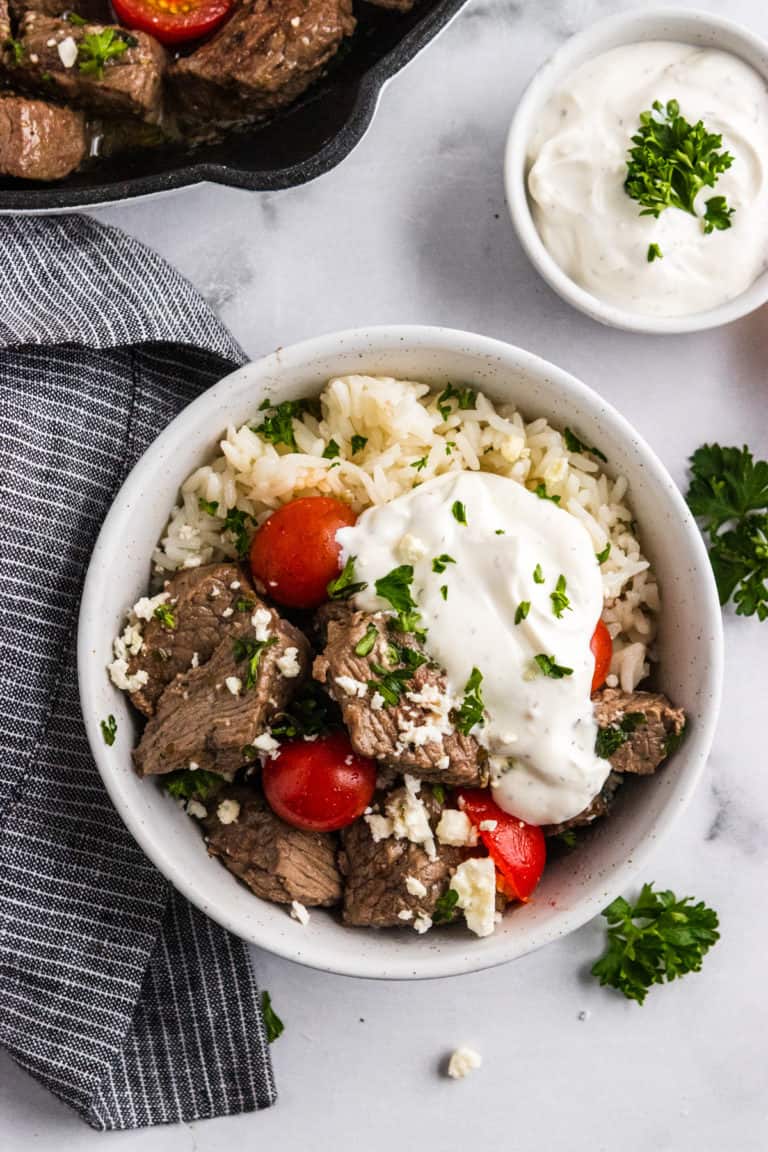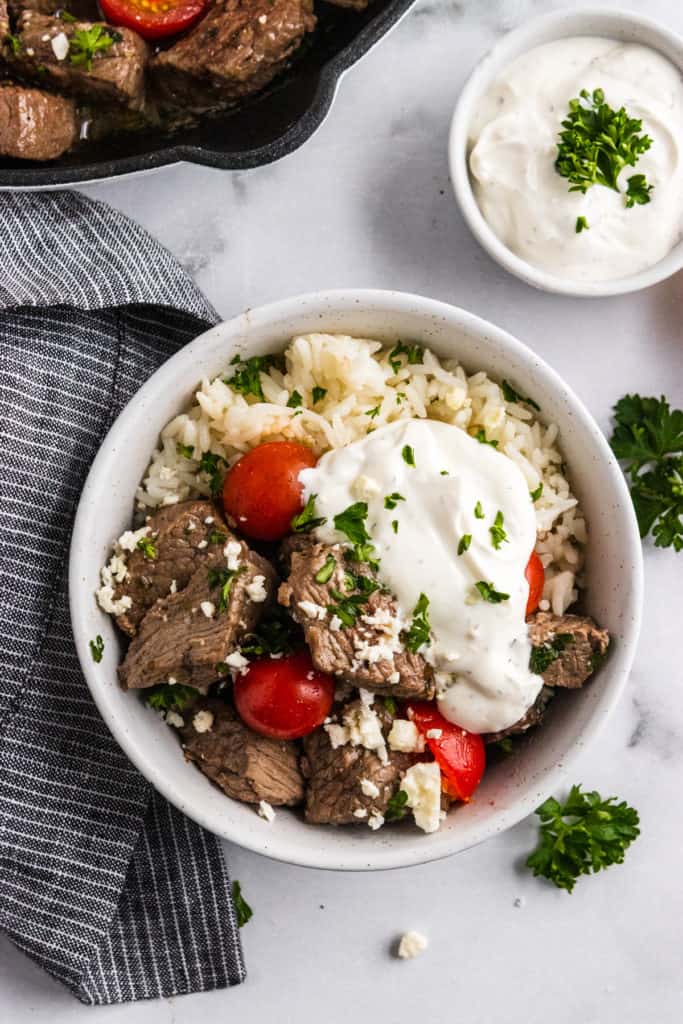 Check out these other beef recipes:
DID YOU MAKE ONE OF MY RECIPES? LEAVE A COMMENT AND LET ME KNOW! I ALSO LOVE TO SEE YOUR LEMONS + ZEST RECIPES ON SOCIAL MEDIA–TAG ME @LEMONSANDZEST ON INSTAGRAM OR FACEBOOK!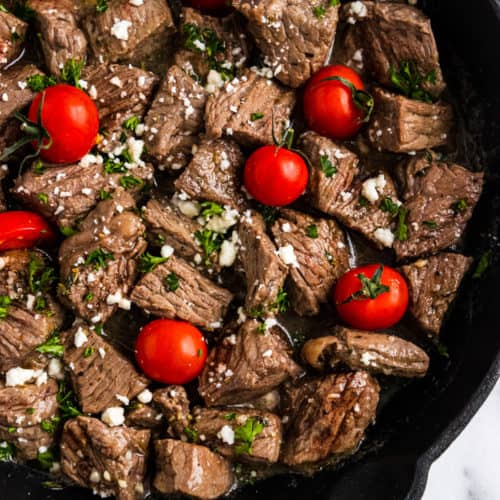 Mediterranean Steak Bites Recipe with Simple Yogurt Sauce
A simple stove top steak dinner that whips up in no time! This Mediterranean Steak Bites recipe is juicy and delicious, and perfectly balanced with a tangy yogurt sauce.
Print
Pin
Rate
Servings:
4
(approximately 3-4)
Ingredients
For Steak Bites:
1.5

lb

steak, cut into bite sized pieces

approx. 1 1/2 in. cubes

2-3

T

olive oil

1/2

T

fresh thyme, finely chopped (3/4 tsp for dried thyme)

1

tsp

fresh rosemary, chopped (1/2 tsp dried)

1

tsp

oregano (dried)

2

garlic cloves, minced

2

tsp

lemon juice

1/2

tsp

sea salt

1/2

tsp

freshly cracked pepper

1/3

c

feta cheese

1

c

grape tomatoes, halved
For the Yogurt Sauce:
1/2

c

plain Greek Yogurt

1-2

garlic cloves, minced

1

tsp

lemon juice

2

tsp

olive oil

1

T

chopped dill (or 1-2 tsp dried)

salt, to taste
Instructions
For the Steak Bites:
In a medium bowl or a large ziplok bag, combine olive oil, garlic, oregano, thyme, rosemary, lemon juice, salt and pepper and shake or whisk to combine well. Add in raw steak bites and allow to coat each piece. Marinate for at least 30 minutes if possible and can be marinated several hours and up to overnight.

Heat a cast iron or nonstick skillet over medium high heat. Add steak and any extra olive oil from mixture into the skillet. Allow steak to cook 2-3 minutes per side, flipping once, trying to touch or flip minimally. If you like a steak that's more done, you can leave the steak on for an extra minute or so. Remove skillet from oven and toss halved tomatoes in allowing to heat slightly. Sprinkle with feta before serving.
For Yogurt Sauce:
Combine all ingredients in a small bowl and stir well. Chill until ready to serve. Salt to taste.

Spoon over steak or use it as a dip and enjoy!
Nutrition
Calories:
370
kcal
|
Carbohydrates:
4
g
|
Protein:
42
g
|
Fat:
20
g
|
Saturated Fat:
6
g
|
Cholesterol:
116
mg
|
Sodium:
539
mg
|
Potassium:
705
mg
|
Fiber:
1
g
|
Sugar:
2
g
|
Vitamin A:
405
IU
|
Vitamin C:
9
mg
|
Calcium:
155
mg
|
Iron:
3
mg