This post may contain affiliate links.
Mornings that start with peanut butter are always the best. These Peanut Butter Cheesecake Overnight Oats are a perfect ready to go breakfast that you will look forward to waking up to. 5 minutes to prep and ready when you wake up!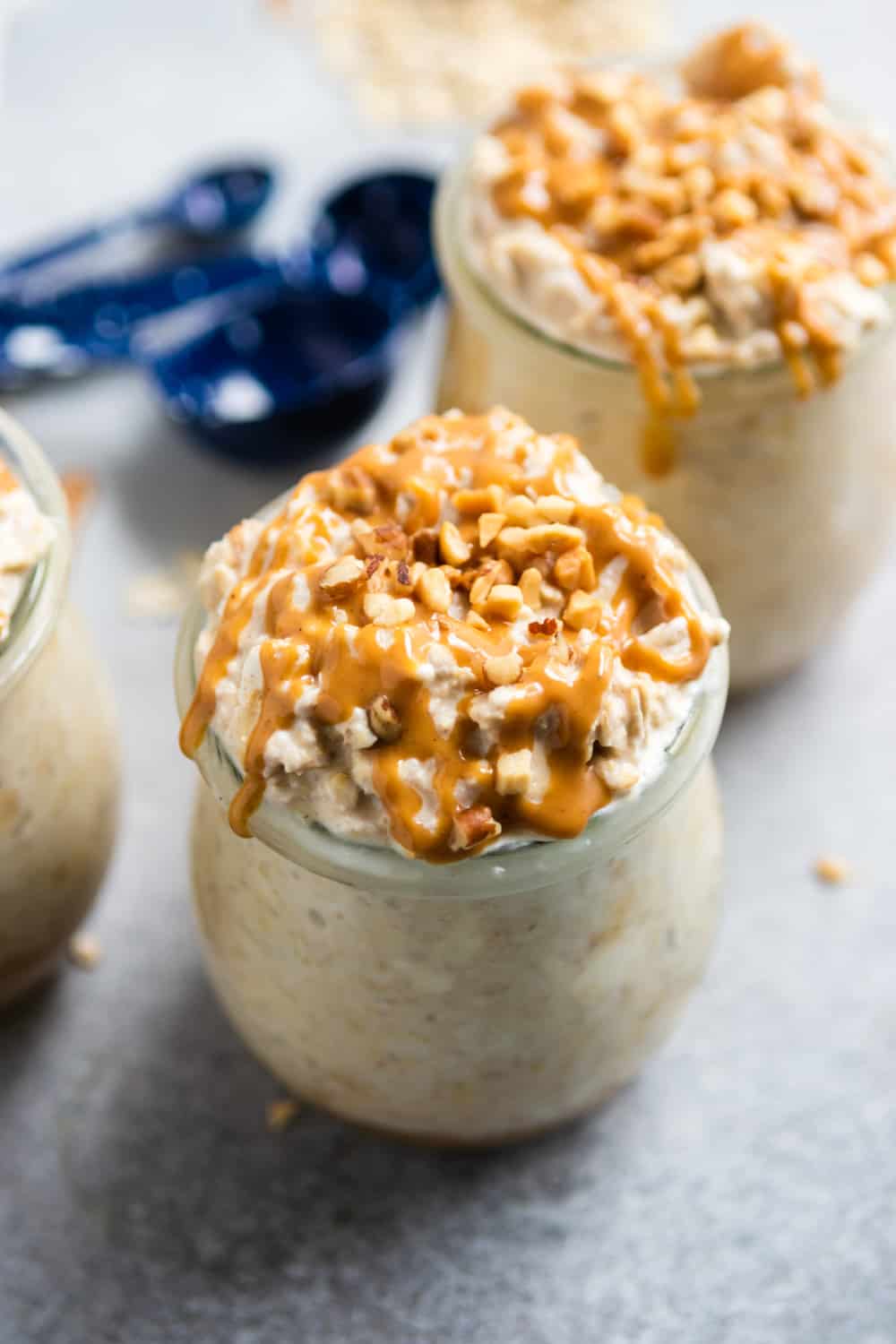 No fuss breakfasts are the way to go.
You might be wondering, Honey, overnight oats are the best back to school recipes, so why are we kicking off summer with these Peanut Butter Cheesecake Overnight Oats?
My response? Overnight oats are even BETTER in the summer. Summer mornings are perfect for no-fuss, ready to eat breakfasts. To be fair, what season isn't perfect for ready-made breakfasts? You tell me, because I don't know of one.
Imagine this, the kids are awake and begging for breakfast. You still need more time to sleep/exercise/shower/drink coffee/etc. They are begging and begging and won't stop.
Then you remember, you have several jars of delicious peanut butter cheesecake overnight oats in the fridge. Brilliant! Breakfast is already prepared--tell the kiddos to grab a jar and a spoon, and dig in.
You didn't even have to get out of bed to do that. (Well, let's be honest, you probably weren't in bed, were you? That was just a joke adding the sleep part earlier! Ha.)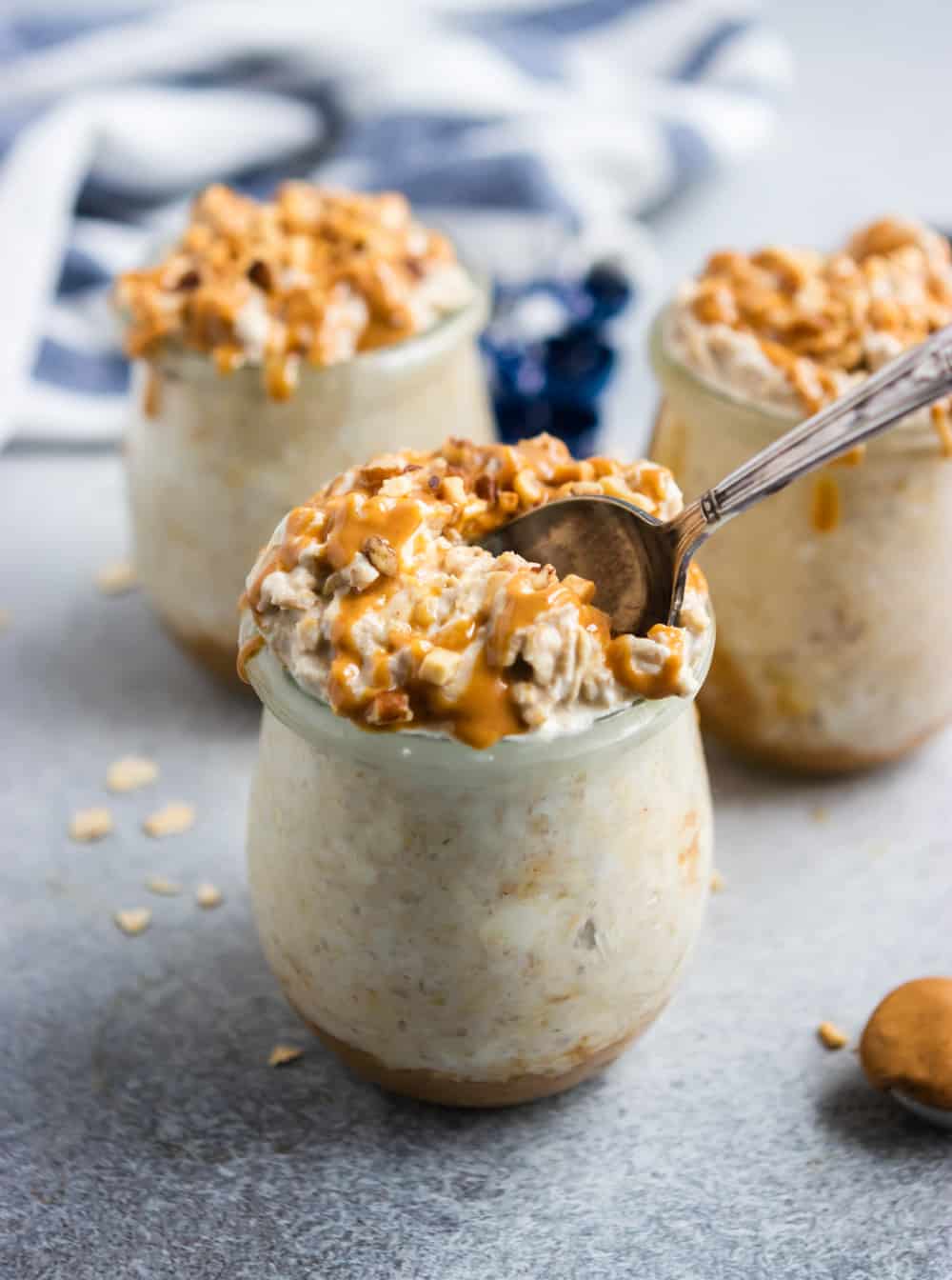 Perfect when you need breakfast on the go!
Then there are the mornings this summer when everyone has to be at a different camp or practice back to back to back. Breakfast? Who has time for that!
Oh wait--you do.
You have a stash of perfectly prepped overnight oats waiting in the fridge. Creamy, rich and full of hearty oats and plenty of peanut butter. No drive-thru necessary this morning.
Notice how your summer mornings just keep getting better and better? And is it a coincidence that your amazing morning includes peanut butter? It is not. Every day that starts with peanut butter is a great day. I know this to be 100% true.
Why I love this recipe so much
If you haven't jumped on the overnight oatmeal bandwagon yet, let me tell you, it is TIME.
My overnight oats recipes in general are the most popular on the blog and the reasons why are pretty obvious. They are:
Easy to make.
Versatile.
Delicious.
On the go!
If you are a meal prepper and like to have recipes ready to go for the week, overnight oats are a great option. Simply prep several jars at a time and have breakfast waiting for you in the morning. Whether it's a rushed morning or one that is nice and slow, having these oats ready for you is so helpful!
As for these Peanut Butter Cheesecake Overnight Oats? Not only are they delicious, but they also add the power of peanut butter. We are talking fiber, protein and the extra fuel you need to start your day.
Oh, and if you want a major pro tip--use the end of the peanut butter jar to make these in. Yes, your peanut butter jar becomes your overnight oats container. Genius, right!? You could also make these Peanut Butter and Jelly oats or Chocolate Peanut Butter Overnight Oats if you wanna do a week of peanut butter oatmeal goodness!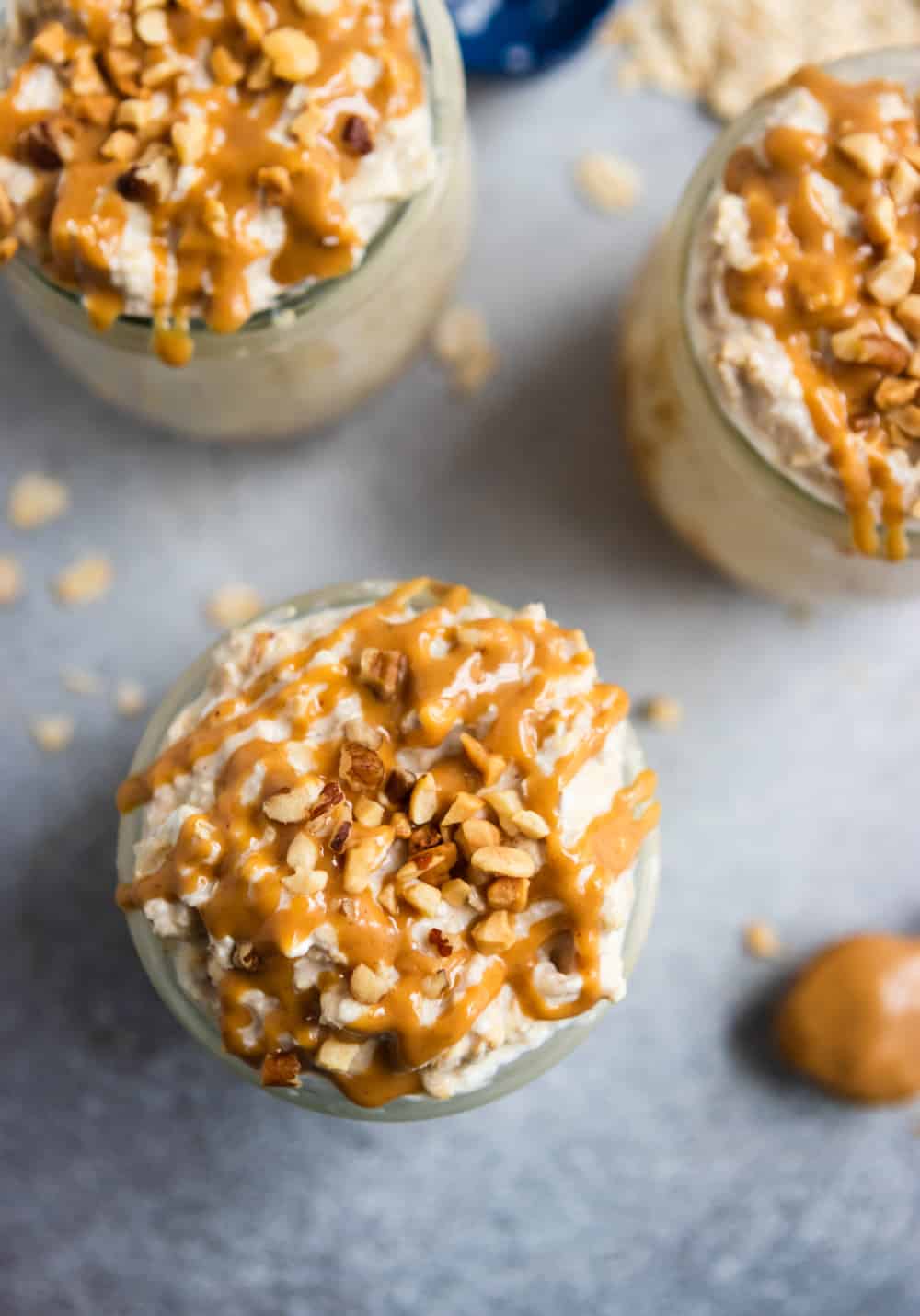 What you need to make this recipe:
Rolled Oats: regular or gluten free can be used. I know some people enjoy steel cut oats when making overnight oats, but I find them to be way too chewy even after soaking overnight or several days for that matter.
Peanut Butter: I prefer natural creamy--the kind you have to stir, but seriously there are no rules when it comes to the peanut butter in this recipe as long as you have it!
Cream Cheese: A few options on this. I like to use whipped cream cheese because there is no softening required. It stirs in nicely. However, you can use regular cream cheese from a block, just be sure to soften it. Also, there are quite a few dairy-free cream cheeses out there these days. You can make the recipe dairy-free if desired by using a dairy-free cream cheese along with a dairy-free milk.
Milk: Dairy-free or regular, whatever is your favorite. I love using whole milk but also enjoy it with dairy free milk as well. Both are delicious in these peanut butter overnight oats for sure!
Vanilla: Just a touch makes a world of a difference!
Maple Syrup:This is my preferred overnight oats sweetener. You could opt for honey or another liquid sweetener if you prefer.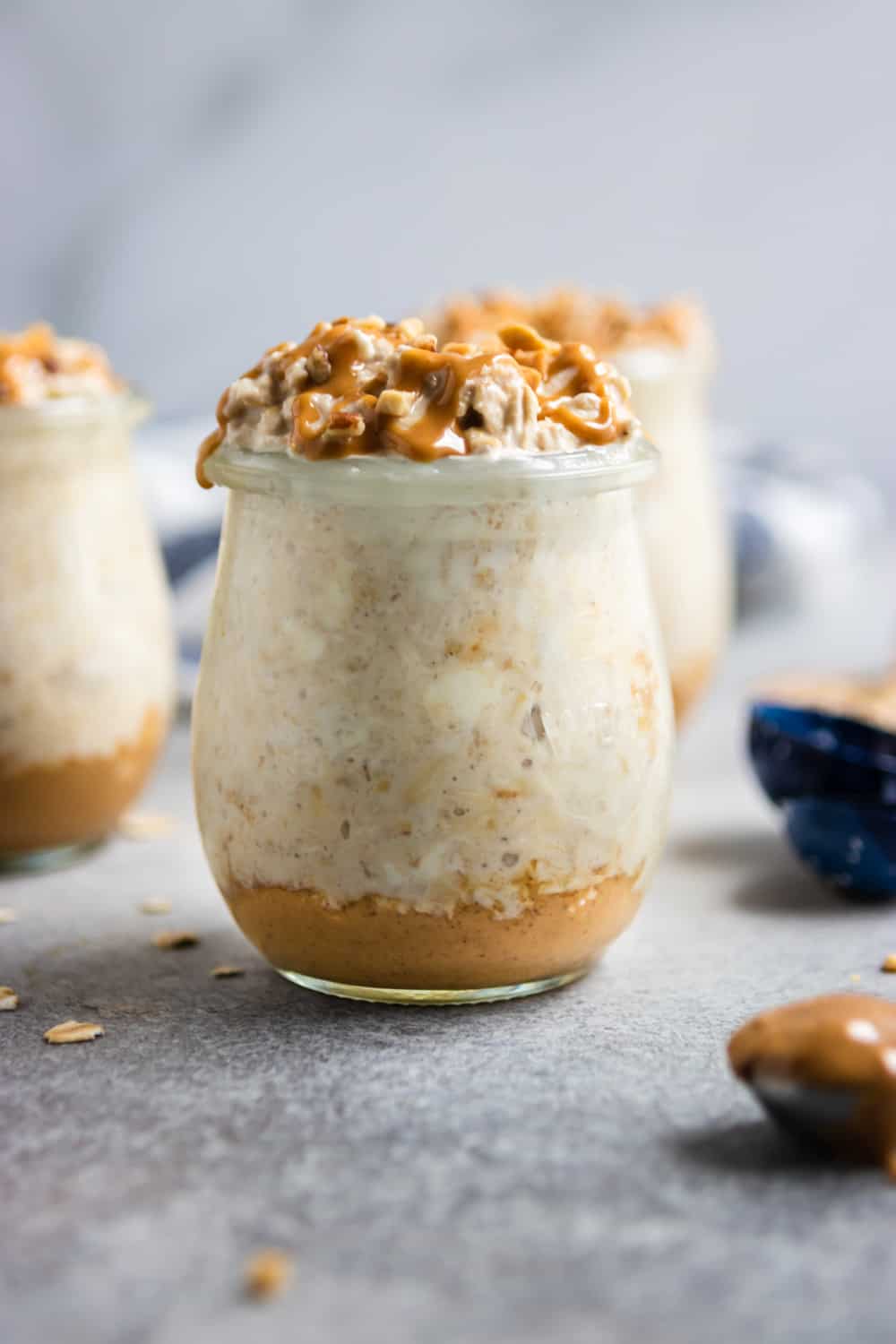 Whip everything together, cover and chill. Breakfast will be ready in the morning!
Check out these other simple make ahead breakfast recipes:
DID YOU MAKE ONE OF MY RECIPES? LEAVE A COMMENT AND LET ME KNOW! I ALSO LOVE TO SEE YOUR LEMONS + ZEST RECIPES ON SOCIAL MEDIA–TAG ME @LEMONSANDZEST ON INSTAGRAM OR FACEBOOK!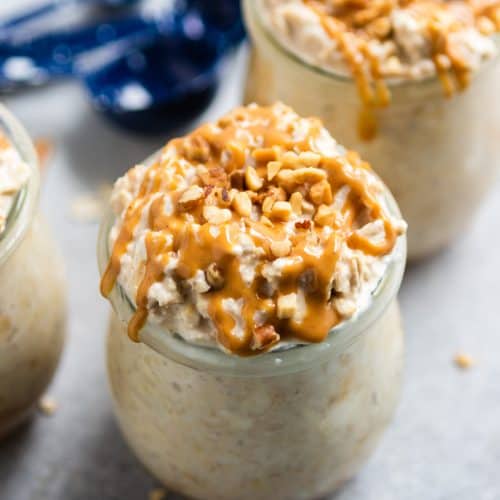 Peanut Butter Cheesecake Overnight Oats
Mornings that start with peanut butter are always the best. These Peanut Butter Cheesecake Overnight Oats are a perfect ready to go breakfast that you will look forward to waking up to. Whether it's a slow morning or one you have to jam a hundred things into, this simple, make ahead oatmeal will be perfect all summer long!
Print
Pin
Rate
Instructions
In a small bowl, combine peanut butter, cream cheese and 1 teaspoon maple syrup. Stir to combine.

Add all other ingredients into a small bowl or jar and stir well to combine. Swirl in peanut butter cream cheese mixture. Cover and refrigerate for at least 4 hours. Warm before serving if desired. Add an extra drizzle of peanut butter if desired before serving.
Notes
You can also add some of the peanut butter cream cheese mixture at the bottom of your bowl or jar if desired, although not necessary to enjoy these!
Nutrition
Calories:
415
kcal
|
Carbohydrates:
47
g
|
Protein:
14
g
|
Fat:
20
g
|
Saturated Fat:
7
g
|
Cholesterol:
28
mg
|
Sodium:
176
mg
|
Potassium:
411
mg
|
Fiber:
5
g
|
Sugar:
17
g
|
Vitamin A:
392
IU
|
Calcium:
188
mg
|
Iron:
2
mg