Fight inflammation in the most delicious with this easy anti-inflammatory blueberry smoothie recipe. Perfect for breakfast or an afternoon snack full of berries, spinach and more!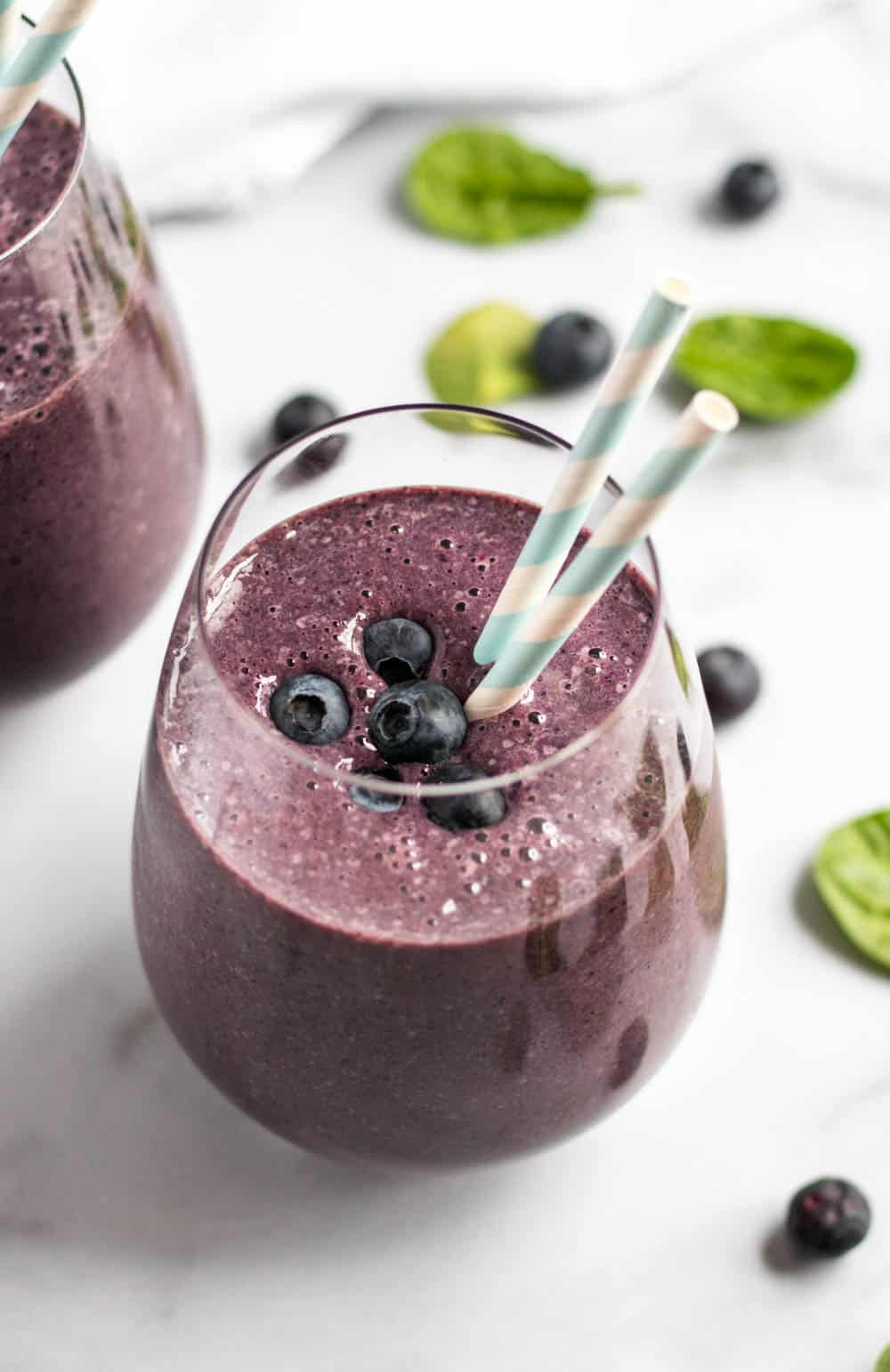 This post may contain affiliate links, meaning, at no additional cost to you, if you click through an affiliate link and make a purchase, I may make a commission.
Anti-Inflammatory Blueberry Smoothie: All in the Name
I really tried hard to think of more of a catchy name for this smoothie.
There was the Blazing Blueberry Smoothie, the Blue Heat Smoothie, and several others not worth mentioning. When it came down to it though, this smoothie adds a ton of inflammation fighting foods and spices so the key word is Anti-inflammatory. In all honesty, it's not the most catchy, however, these days it is quite the buzz word in all things related to health and nutrition.
So what is all of the buzz about eating foods with anti-inflammatory powers?
Inflammation is like salt. A pinch is a good thing, but get a tad too much and it ruins everything.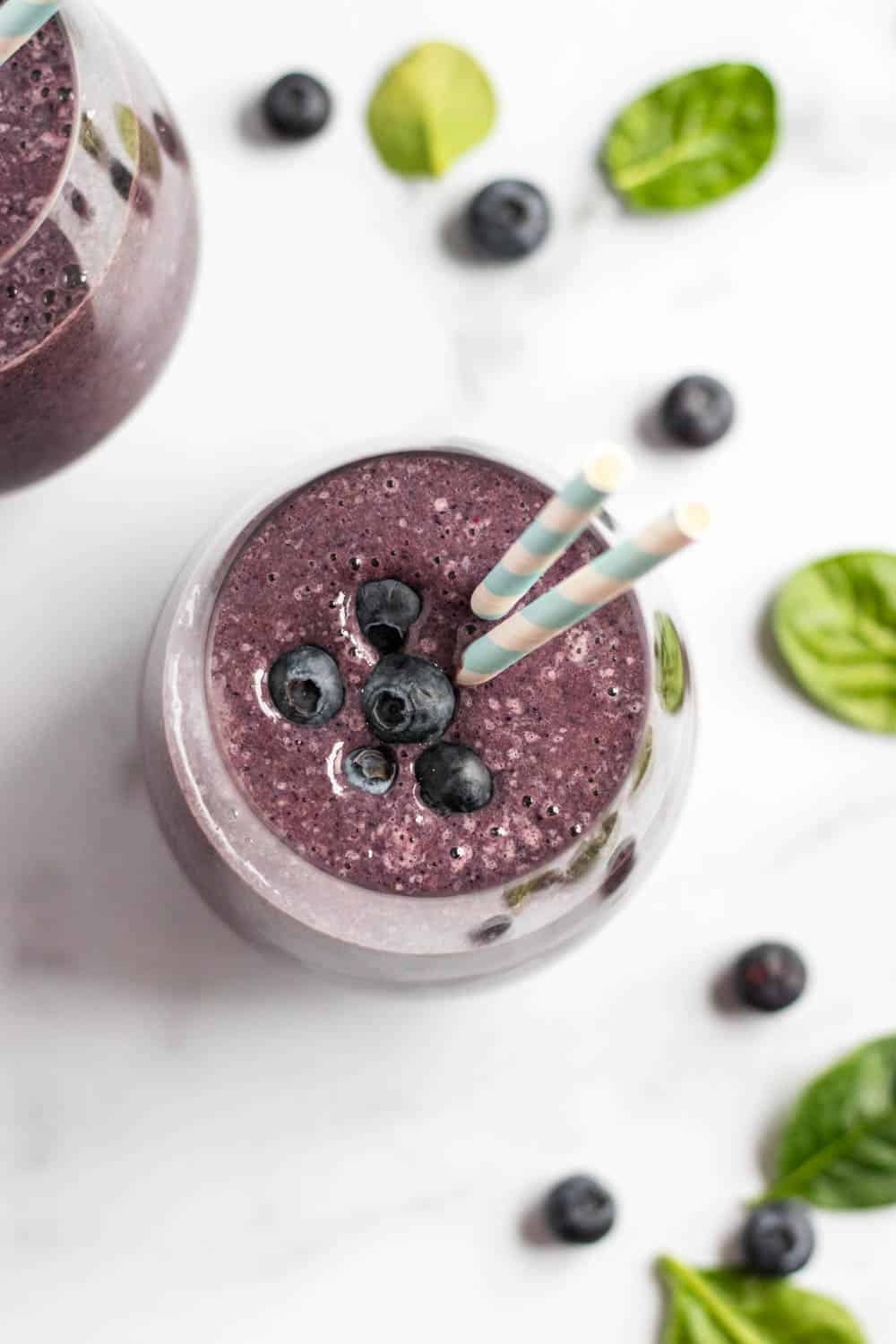 There are actually a lot of foods that are considered anti-inflammatory.
Anti-Inflammatory Foods:
1. Wild Caught Salmon. Omega-3 fatty acids fight inflammation and these fish are a great source.
2. Whole Grains. We have heard time and time again to cut out the white, refined flour so this is just one more reason to do it!
3. Dark, leafy greens. I have been adding these to my husband's smoothies lately and he has finally stopped complaining. The list of benefits from eating your greens is so long so this just is icing on the cake, right?
4. Nuts. Almonds, walnuts, pecans, cashews and more. Again, the omega-3 fatty acids are loaded in all kinds of nuts.
5. Spices: ginger, turmeric, cinnamon, cayenne pepper and more.
6. Berries. These fruits are loaded with anti-oxidants as well so load up on your berries!
7. Garlic. Sure it's potent to the breath, but it is an anti-inflammation powerhouse!
8. Olive Oil. Many studies on the Mediterranean diet that is rich in extra virgin olive oil show the benefits when it comes to combatting inflammation.
9. Avocados. Yes! I can't live without these so just another reason to eat them daily!
10. Beans. These are a great protein source and high in fiber as well!
Your body is equipped with the tools it needs to fight inflammation but when I feel like I am getting sick or things feel off, I like to add a little boost!
---
More on this Anti-Inflammatory Blueberry Smoothie
I guess you can see why it was pretty tough to come up with anything catchy for this smoothie, but don't let the name fool you, it is delicious and full of flavor and character. I have been on a cayenne kick lately when it comes to my smoothies so this Anti-Inflammatory Blueberry Smoothie is just the right balance of sweet and spicy.
Blueberries, leafy greens, almond butter, cinnamon, cayenne and even the Maca powder (optional) offer anti-inflammatory qualities so you are ready for anything with this one! If you are not one for heat, lighten up on the cayenne at first but I wouldn't skip it completely, it just adds a bit of flair to the whole smoothie.
Toss everything in the blender and things will really get fired up! So go eat up and fight some inflammation!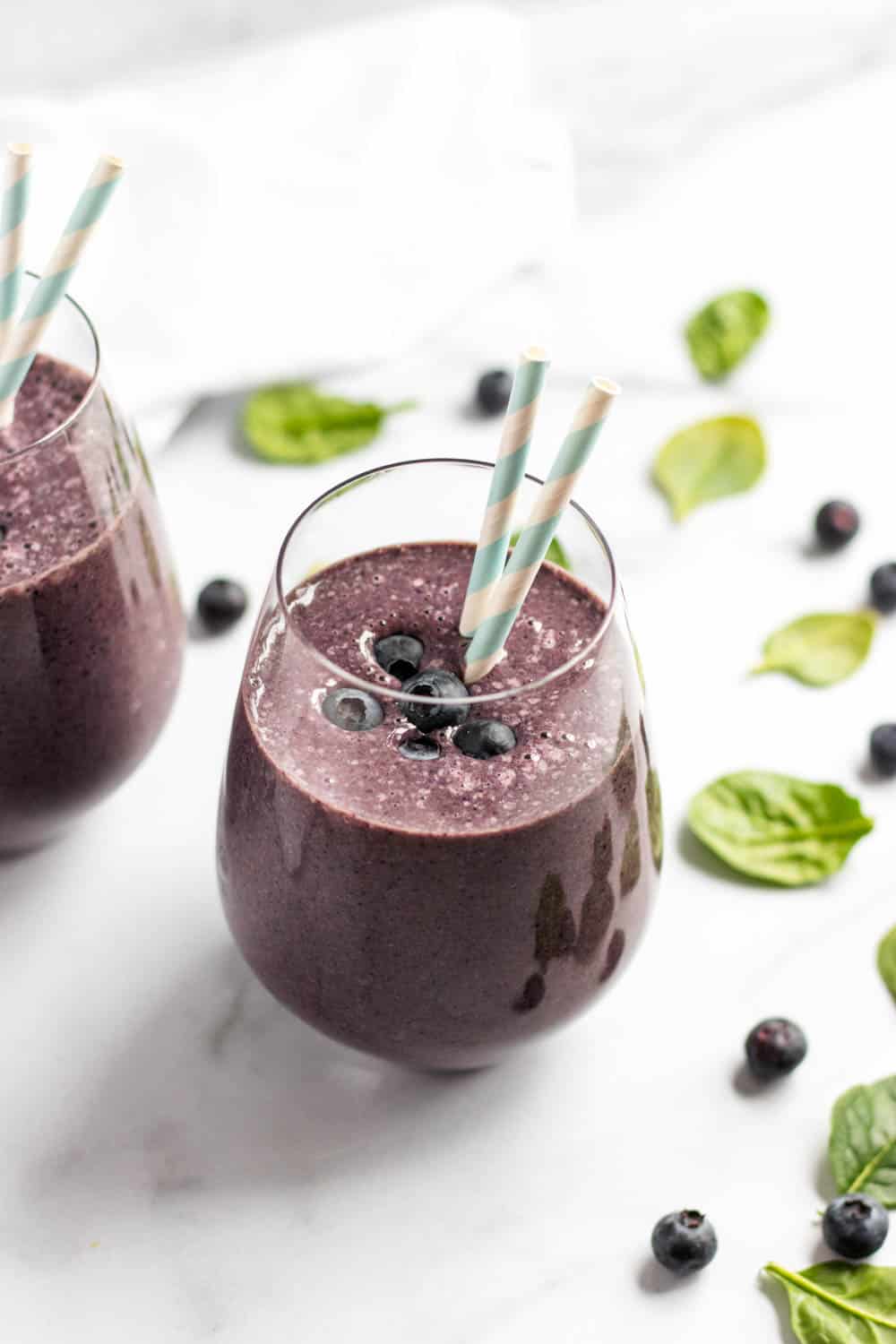 What you will need to make this Anti-Inflammatory Smoothie:
Frozen Banana: I am a firm believer that all smoothies need a frozen banana or some sort of frozen base to make them thick, creamy and cold. Bananas are always always in our freezer because you never know when you will crave a smoothie!
Blueberries: I prefer frozen but fresh are great as well. I find them to have a touch more sweetness and that's what I love!
Spinach or leafy greens: Spinach is my go to--I have never been much for kale. If kale is more your thing , then go for it!
Almond Butter: I love adding a nut butter to most of my smoothies. Gives them a bit of bulk in my opinion.
Almond Milk: More almonds are always a great thing in my opinion. You can certainly use your preferred milk for this blueberry smoothie.
Cinnamon: Adds a touch of sweet spice.
Cayenne: Cayenne makes this smoothie in my opinion. It doesn't add any flavor but a sensation of heat right along with the sweet. Don't miss out on this! But if you really really can't do the cayenne, maybe try to add some turmeric instead. Turmeric is another great spice to add into your diet!
Maca Powder: This is totally optional.
Check out more delicious smoothie recipes here!
DID YOU MAKE ONE OF MY RECIPES? LEAVE A COMMENT AND LET ME KNOW! I ALSO LOVE TO SEE YOUR LEMONS + ZEST RECIPES ON SOCIAL MEDIA–TAG ME @LEMONSANDZEST ON INSTAGRAM OR FACEBOOK!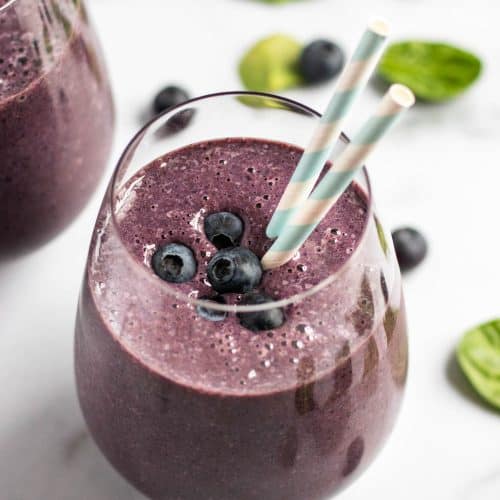 Anti-Inflammatory Blueberry Smoothie
Fight inflammation in the most delicious with this easy anti-inflammatory blueberry smoothie recipe. Perfect for breakfast or an afternoon snack full of berries, spinach and more!
Print
Pin
Rate
Instructions
Combine all ingredients in a high powered blender and blend until smooth. Serve immediately.
Nutrition
Calories:
340
kcal
|
Carbohydrates:
55
g
|
Protein:
9
g
|
Fat:
13
g
|
Saturated Fat:
1
g
|
Sodium:
376
mg
|
Potassium:
991
mg
|
Fiber:
11
g
|
Sugar:
30
g
|
Vitamin A:
6063
IU
|
Vitamin C:
41
mg
|
Calcium:
415
mg
|
Iron:
3
mg