This post may contain affiliate links.
Are no bake brownies even a thing?? Well, yes! These No Bake Brownies have the flavor of your favorite chocolate coffee drink and are all whipped up in no time! Fudgy and delicious!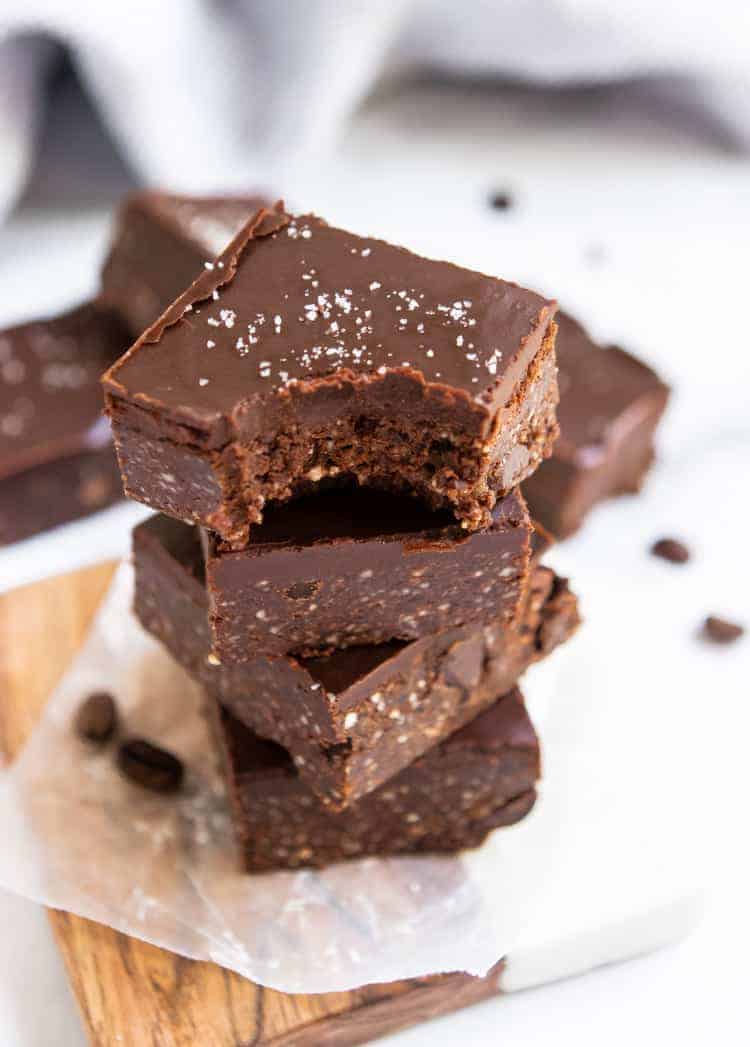 No Bake Brownies? Why yes, indeed.
If you asked me to list a few of my favorite things, coffee and chocolate would be right up top. And when you combine the two? Yea, that's just perfection.
Surprisingly, I drink mainly decaf coffee. Crazy, right? Well, caffeine used to be one of my major addictions. I was one of those people who could barely function if I did not have my cup of caffeine infused java when I woke up.
I hated the feeling of having this control me each and every day. I was working at a coffee shop a while back and that just made things worse so I decided it was time to kick the addiction.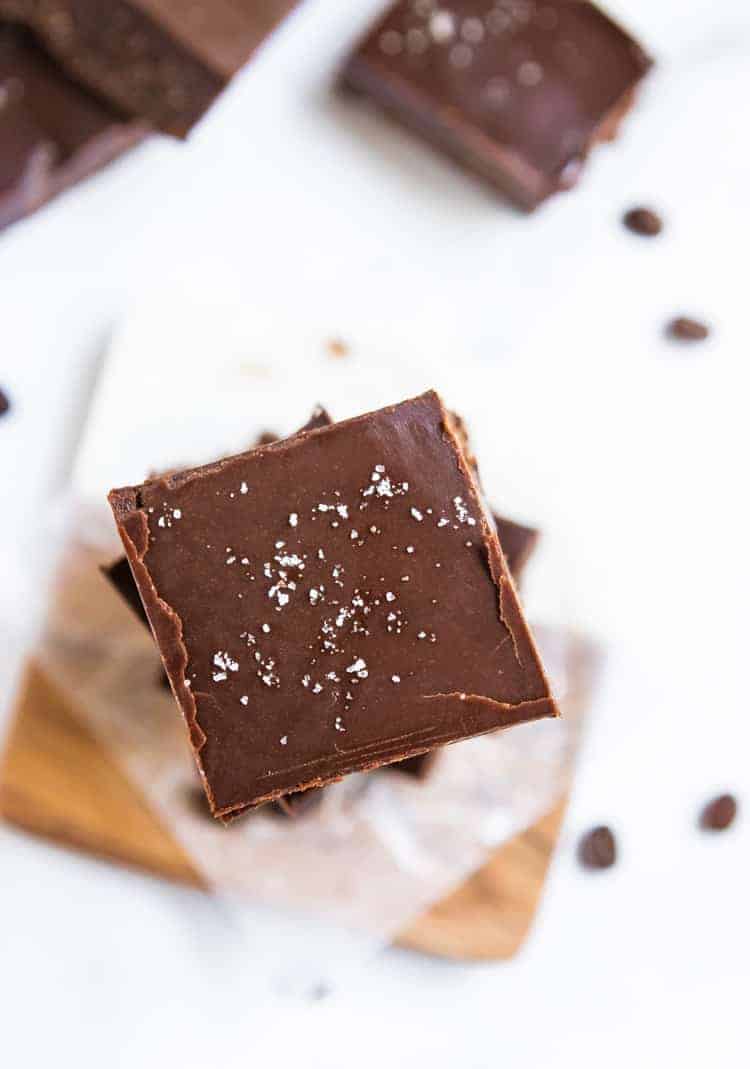 The problem, however, was that I also loved coffee.
The smell, the flavor, everything about it I loved. So I just couldn't quit coffee. Instead, I very very VERY slowly started to wean myself off of caffeine.
I started out making my coffee with ¼ decaf and ¾ regular, and then ⅓ decaf ⅔ regular and so on until I finally was drinking 100% decaf. This may have taken a while, but the impact was huge.
Sure there is still a bit of caffeine in decaf coffee but I am no longer controlled by it.
I still enjoy my daily cup of coffee. It is like a warm morning hug.
I also feel like a daily dose of chocolate is a must!
How much do you love your food processor?
I have done just about every experiment I think I can with my food processor and this recipe may be it's top achievement. I have never been the greatest with recipes that require baking.(It's something I am working on, promise.)
I have created a few successful baked goods, but more failures than successes for sure. My Avocado Fudge Brownies were an anticipated success as well as my FAVE Kahlua Cream Cheese Brownies.
But then the day came that I realized a no bake brownie was a possibility. I mean, still a bit different, but unbelievably rich and fudgy!
Not everyone has 45 minutes to an hour to bake a batch of brownies. But what if you could have a pretty similar treat in only a few minutes? That changes everything, doesn't it?
These No Bake Brownies are the answer.
They are not the exact texture of your typical brownie but they are rich and fudgy and certainly satisfying. You will not be disappointed.
The only bad thing about these for me is that I really have to limit myself or I will be buzzzzzed all day--and night more than likely. Espresso powder is one thing I have not found in decaf, although I could probably finely ground up decaf espresso instead. Then I can enjoy several of these!
Notes and Pro-Tips for making these No Bake Brownies:
I have used both pecans and cashews for this brownie recipe. I prefer the pecans because they are a softer nut and release a bit of oil quickly which makes the brownies a bit fudgy. The pecans also don't seem to show up in the dough as light specs so they give more of an appreasnce of a brownie. And pecans just happen to be my very fave. I am sure you could use a combo of the two. Almonds or walnuts should work as well but I just haven't tried them.
When I say press the dough into the pan, I mean PRESS. Like put all of your wait and force into it! You will get a much better brownie.
Technically you could skip the frosting and these would be more like an energy bar. You do you.
You could also skip this icing and opt for a rich Chocolate Buttercream frosting which if you ask me sounds PERFECT.
For best texture, let these sit out of the fridge for about 10 minutes before eating. It will allow the icing to soften a bit.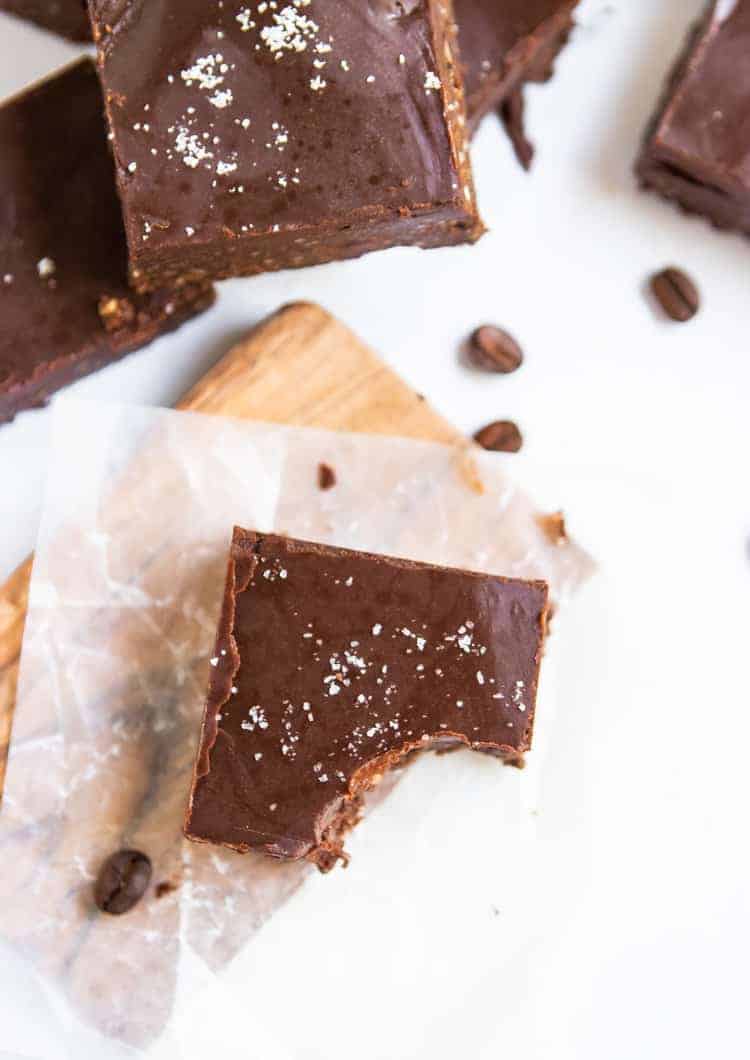 Check out these other No Bake recipes!
DID YOU MAKE ONE OF MY RECIPES? LEAVE A COMMENT AND LET ME KNOW! I ALSO LOVE TO SEE YOUR LEMONS + ZEST RECIPES ON SOCIAL MEDIA–TAG ME @LEMONSANDZEST ON INSTAGRAM OR FACEBOOK!
No Bake Fudgy Mocha Brownies
Are no bake brownies even a thing?? Well, yes! These No Bake Brownies have the flavor of your favorite chocolate coffee drink and are all whipped up in no time! Fudgy and delicious!
Print
Pin
Rate
Ingredients
2 ½

cup

raw pecans

or cashews

1

c

medjool dates

pitted

⅓

cup

cocoa powder

½

cup

dark chocolate chips

1

tsp

Vanilla extract

2

tsp

espresso powder

Dash of sea salt

optional

1-2

T

milk of choice
Fudge Icing
⅓

c

coconut oil

(use refined if you don't want the coconut flavor)

⅓

c

cocoa powder (heaping)

2

T

maple or agave

1

tsp

vanilla

dash of sea salt
Instructions
In a food processor, process pecans until fine and grainy. Pecans tend to release oil a bit faster than other nuts so they may get oily as well at this point.

Add in all other ingredients (except the milk) and process until a ball of dough starts to form. If the dough seems dry, add in milk one tablespoon at a time.

Press the dough FIRMLY into a parchment lined pan. (a 6x8 pan would probably work best because it will fill the entire pan but if you don't have one just press into one corner and there may be leftover space. You can make these thicker by using a smaller pan.

Whisk together all ingredients for the icing together until smooth. Spread icing over the brownies until covered and return to the refrigerator. Chill for another 10-15 minutes ( if you can wait that long!) Enjoy.