This post may contain affiliate links.
Simple, no bake brownie bites--or energy bites if you prefer--mint chocolate flavored and packed with dark chocolate chips. These whip up in no time and are made with cashews, medjool dates, peppermint extract and a few other simple ingredients. Great for snacking and more!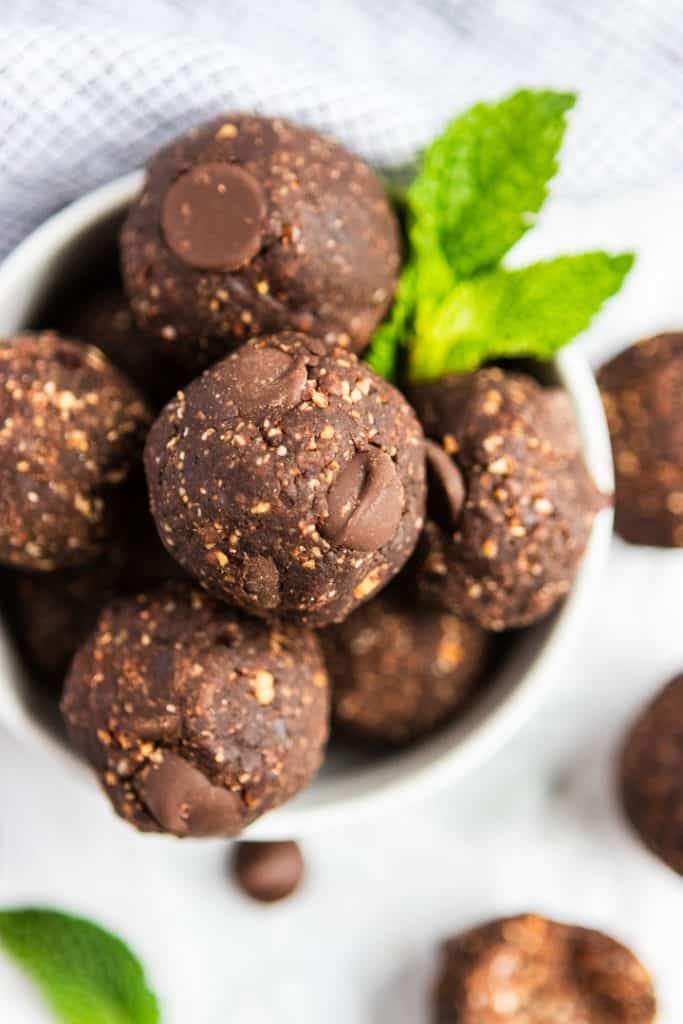 I believe it was just last week that I was saying I wasn't done with pumpkin season just yet, however I have officially entered the realm of all things chocolate and mint. How soon we forget!
No Bake Brownie Bites--Mint Chocolatey Goodness
When the words "no bake" are attached to anything, I am in. The simplicity, the small level of expertise needed, the stress of over or under baking is nonexistent, and time, time is something that is not required as compared to baking. So it's all a win if you ask me!
These Peppermint Chip No Bake Brownie Bites have all the flavor of the holidays! But that doesn't mean they are only meant for the Christmas season--you can enjoy these brownie bites all year long! Up for a little mocha? These No Bake Peppermint Mocha Brownies are a perfect option as well.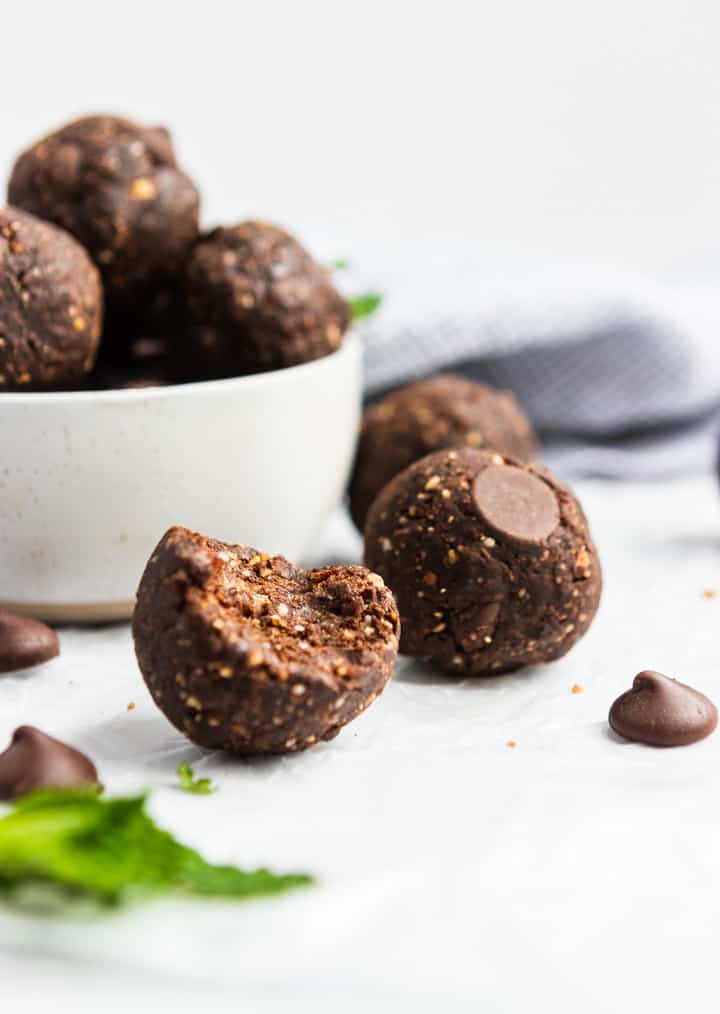 If you don't have a food processor, it's probably something you want to put on your wish list this season. I make so many recipes like these as the options are limitless. And it's a great tool for chopping, making sauces and so much more.
I love to snack on Lara Bar like bars and bites. Don't get me wrong, I love me some Lara Bars, but seriously, there is nothing like making your own.
Why? Well that is simple:
They are way cheaper to make on your own.
They are so so so easy to make.
They taste way better (sorry, not sorry).
The flavor options are literally ENDLESS.
Seriously, you really will be so happy when you pop one of these in your mouth, and it will just be the beginning! You will be back to try all the other flavor options in no time!
I see these bites in an ice cream recipe when the weather warms up a bit. Mint chocolate chip has always been a favorite of mine. So stay tuned for more to treat yourself with!
What you need to make these no bake brownie bites:
cashews: I prefer cashews in this no bake brownie recipe. I have also made these pecans and loved them. I know that pecans and even cashews can be kind of pricey, so almonds are another option for a bit more cost effective version.
medjool dates: Make sure they are pitted. If you use another kind of date, you may need more as medjool dates are quite large. If your dates are a bit dry, you can soak them in warm water for about 15 minutes
cocoa powder: I use unsweetened. I imagine sweetened cocoa powder would be ok, but it may make the brownie bites super sweet.
peppermint extract: you could use a couple drops of peppermint oil or some fresh mint leaves. Peppermint extract seems to be the most readily available to I went with it.
chocolate chips: I used dark chocolate morsels but you can use mini chocolate chips, milk chocolate chips or even chunks!
coconut oil: measure the coconut oil after it is melted. You can slowly add it in versus tossing it all in at once if desired. If you don't like coconut, use refined coconut oil
sea salt: just a touch!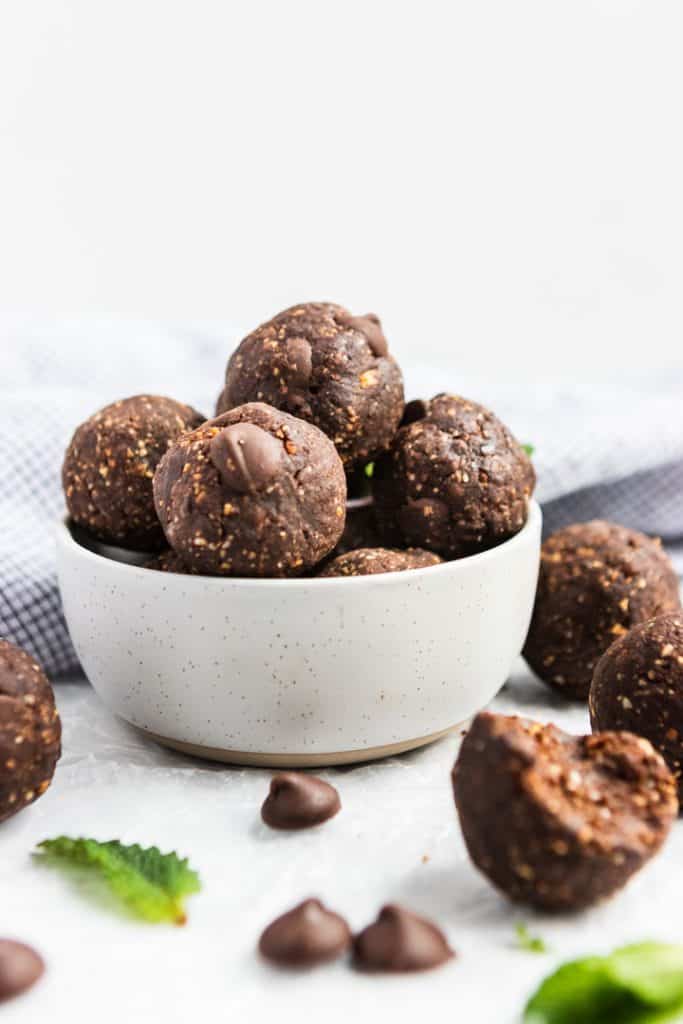 Check out these other no bake snacks and bites:
DID YOU MAKE ONE OF MY RECIPES? LEAVE A COMMENT AND LET ME KNOW! I ALSO LOVE TO SEE YOUR LEMONS + ZEST RECIPES ON SOCIAL MEDIA–TAG ME @LEMONSANDZEST ON INSTAGRAM OR FACEBOOK!
Instructions
In a food processor, process cashews until very fine texture.

Add in all other ingredients, but reserve about 2 T of the chocolate chips for later.

Process until a dough begins to form. If it seems dry, add in about 1-2 teaspoon water.

Stir in remaining chocolate chips.

Roll into bite sized balls.

Chill until ready to eat!
Notes
Allow these to sit out for about 10 minutes before eating or they may be a bit hard.