This post may contain affiliate links.
These No Bake Blueberry Protein Bars are your favorite blueberry muffin in the form of a protein bar! Dried blueberries, a hint of cinnamon and all the goodness in these bars! This no bake recipe will be a great snack when you are on the go!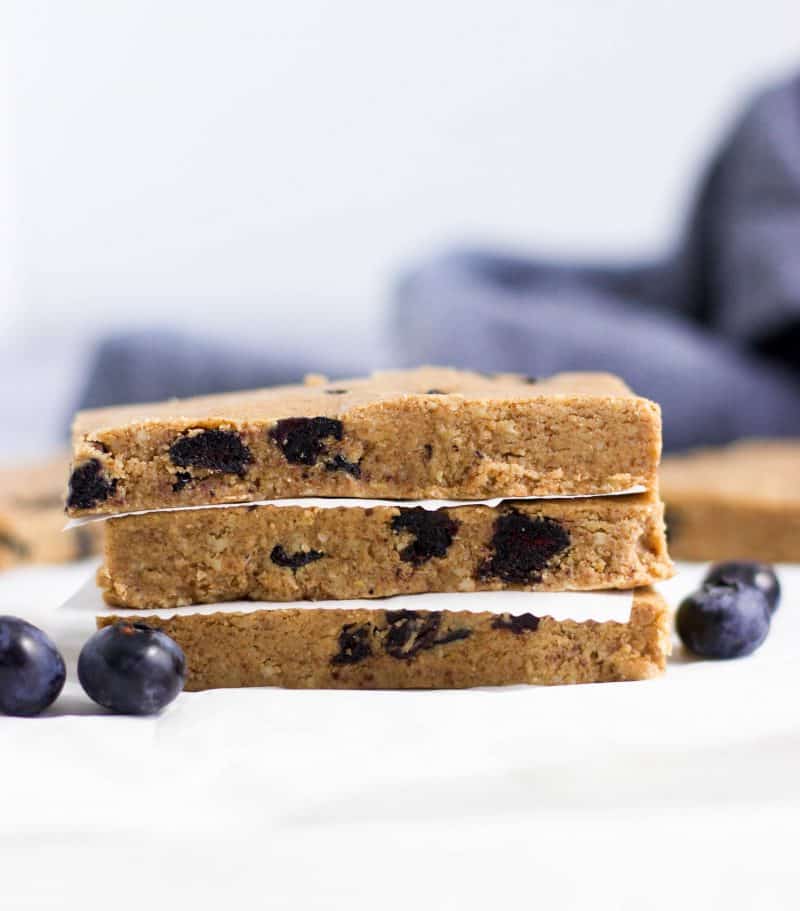 Food Freedom can be scary
There is actually a lot of fear and anxiety that goes along with letting go of all of the dieting and food rules so many of us religiously live by. The biggest issue seems to be a fear of what really will happen on the flip side.
Our safety net has been our food rules and long list of no-nos. Our self esteem and pride goes along with making the "good" and "healthiest" choices when it comes to food.
And the fear of letting go comes along with just that: if I let go of the rules, will I just let myself go? Will I end up in a spiral of ice cream, donuts, cake and cookies and never look at a piece of lettuce again?
Well, I am living proof that it is NOTHING like that friends. Nothing.
Almost a year ago, I threw all the rules out the window. And I can assure you this was no easy task by any means. The fear of losing control and just going nuts on everything "unhealthy" kept me from jumping in for a long time, but when I did, it was not nearly what I had anticipated.
I can have anything I want.
I started out with the mindset of "I can have anything I want." And I honored that. It was hard at first because of the foods I never allowed myself but it became so absolutely satisfying. Before this jump, every food choice was about making the healthiest possible choice in that moment.
So let's say I wanted ice cream, instead of just eating the damn ice cream, I opted for banana "ice cream" aka, frozen bananas processed into a smooth ice cream like treat. Did it satisfy me? Maybe, but I still wanted the real deal, that didn't go away. And a lot of times, these kinds of restrictive behaviors only led me to eating the banana ice cream and then "giving in" to the temptation of the real ice cream and then feeling guilty for not having what I thought was willpower, but now I know that was not the case at all.
When I shifted, I had to start really listening to my body cues versus what my mind told me was what I "wanted" to eat. So then when I craved ice cream, I had the exact ice cream I wanted. I enjoyed it and was completely satisfied.
Instead of what used to happen when ice cream was "bad" I was happy with a scoop or two versus slamming down the entire pint because it was do or die and I needed to get it out of my system so I could get back on track. (Just writing this makes me realize how warped this way of thinking is and yet it is so normal and very real for so many of us).
Ok, so back to the beginning. Did intuitive eating mean that I would never eat another food again with any nutrients?
Nope. Not at all.
Satisfying your cravings brings about a whole new world.
When you satisfy your cravings, you realize that the craving for things like fruits and veggies still happens. Or your body tells you, ok, enough sweet, I need something savory please. It tells you all of these things. The problem? We have been conditioned for so long not to listen--to be stronger, to have the willpower, etc.
But it does not have to be that way.
The funny thing also is that the things you have cut off for so many years may actually not bring you as much satisfaction as you thought they would. The other day I bought my childhood favorite: Pop Tarts. I was so pumped to eat the icing covered treat and go back to my 10 year old self. The verdict? They really didn't do it for me like I had imagined.
Will you lose control and let yourself go if you throw out the food rules? Hardly. What you will find is a whole new world to taste, to enjoy and you will have so much more variety in what you do eat that there will be so much satisfaction with what you eat. And the result will be so much less obsession around food because you have discarded all the bits and pieces of "taboo" around it.
So what are you waiting for? Today is your day. Throw away the diet, the calorie counting, the detoxes and cleanses--all of it. You really have nothing to lose!
---
Ok, Blueberry Protein Bars. These are unreal.
Ok friends, you know how excited I was to share my Copycat Perfect Bars and after making them numerous times, I decided to play around with new flavors. Two of them have won in our household so I am first bringing you these No Bake Blueberry Muffin Protein Bars.
Since Perfect Bars don't come in this flavor I decided it technically was not a copycat recipe and thus just protein bars in the end. But that's okay, they are still amazing.
I packed these bars in Anthony's lunch recently to test them out. Later that day, he texted me to ask, "What did you pack in my lunch today?" Oh shoot I thought, he is gonna tell me to never make them again.
To my surprise he gave many compliments to them. If I have said it once, I have said it a thousand times, if Anthony approves, it is a REALLY good one. My picky husband is quite the critic.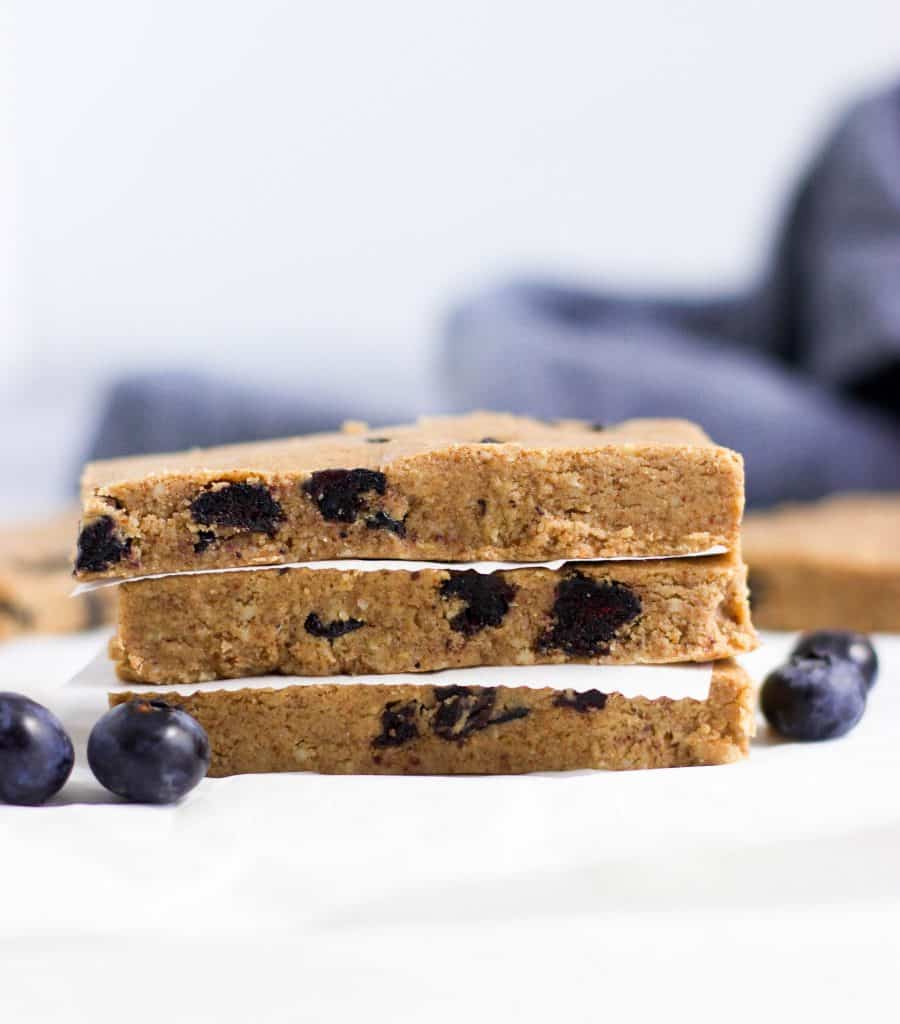 These blueberry protein bars are similar to the other bars however they use either cashew or almond butter (I really cannot decide which I prefer.). I also split the amount of almond and oat flour right down the middle this time. It seemed to really balance the flavor. However, almond flour can be pricey so if you are looking to make these more budget friendly, opt for more oat flour.
These blueberry protein bars literally taste like a blueberry muffin. Cinnamon, dried blueberries, a hint of maple and vanilla--well you get it. They are amazing. And a great snack to help fuel your day when the afternoon hunger strikes. I have grabbed one along with a banana for a quick on the go breakfast as well. Makes for a great start to my day every time!
As for protein powders, I get asked about which ones to use for these quite often. Amanda at RunToTheFinish has some great tips on selecting the right protein powder for your goals. Check that out!
WHAT EXACTLY ARE PERFECT BARS?
This recipe is certainly not an exact replica of an actual Perfect Bar, but it is so similar and has plenty of protein and goodness, I find it to be a great homemade alternative. Perfect Bars are protein bars you can find in the refrigerated section of many groceries and they include a combinations of nut butters, egg powder, milk powder, and other ingredients like seeds, nuts and more.
They also boast a long list of "whole food powders" which tend to come from fruits and veggies. They typically cost about $2-$3 per bar which can be pricey but they deliver a delicious bar to fuel you up so when in a pinch, they re great.
ARE PERFECT BARS VEGAN?
Not all of them are. They have a couple versions that are vegan, but the peanut butter dark chocolate chip is not. Why aren't they vegan? A lot of them include egg powder and milk powder. This recipe can easily be made vegan–you just have to add a plant based protein powder and keep the milk dairy free. You should be all set then!
IS THIS BLUEBERRY PROTEIN BAR GLUTEN FREE?
It is! While I don't have any issue eating gluten personally, this recipe just happens to include flours that are gluten free. You just have to double check that your oat flour states that it is indeed gluten free.
A FEW THINGS TO KNOW BEFORE MAKING THESE BLUEBERRY PROTEIN BARS:
First, I used almond flour in addition to oat flour because I thought all oat flour may be a bit much and I LOVE the flavor of almond flour. The almond flour was perfect (notice the overuse of this word…). Almond flour is a bit pricey so only needing a little will go a long way since I am sure you will be making these weekly from here on out. Or at least I have been!
Another thing to note is that when I say press, I mean PRESS these babies into the pan. If you want a really sturdy, dense bar, then you gotta put all your weight into it, sit on it, whatever you have to do, bring the power. The blueberry protein bars will be too flimsy if you don't so when you think you have pressed hard enough, keep going.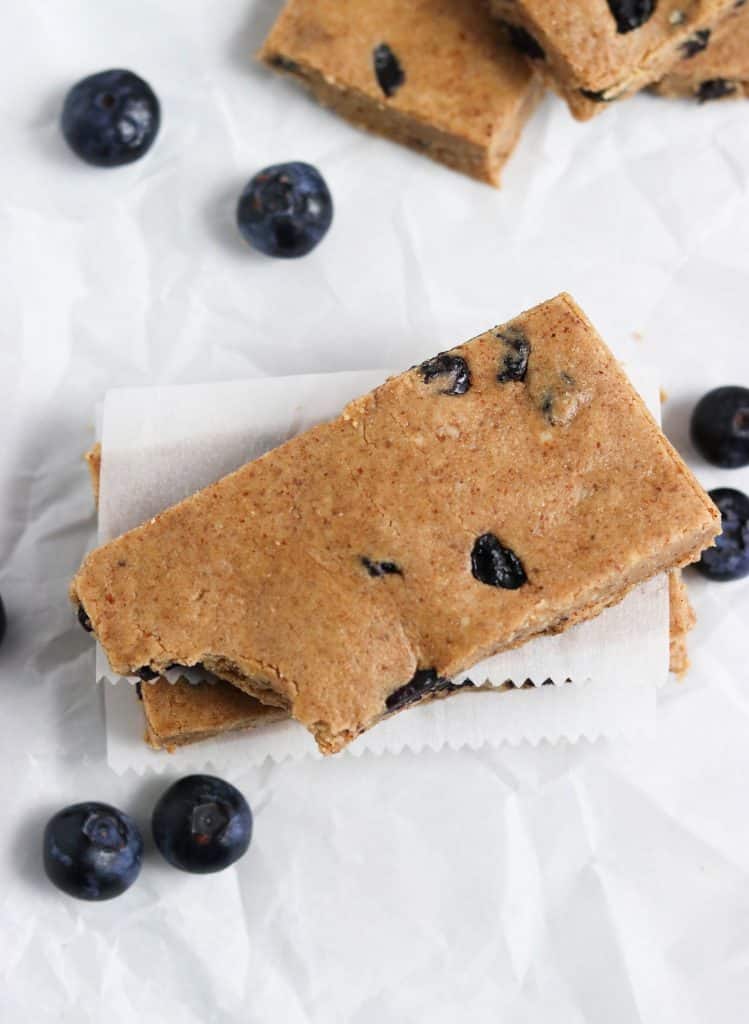 If you love energy bars and bites, then I have got soooo many goodies for you. These Blueberry Protein Bars are just the beginning my friends!
Check these other recipes out:
Search "Energy Bites" for many many more!
DID YOU MAKE ONE OF MY RECIPES? LEAVE A COMMENT AND LET ME KNOW! I ALSO LOVE TO SEE YOUR LEMONS + ZEST RECIPES ON SOCIAL MEDIA–TAG ME @LEMONSANDZEST ON INSTAGRAM OR FACEBOOK!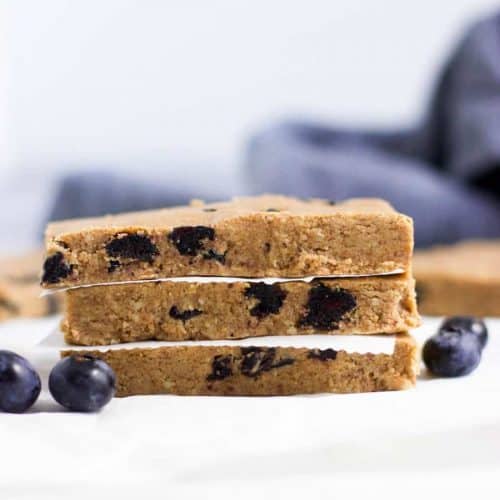 Instructions
Combine all ingredients in a medium sized bowl.

Stir to combine, and then get in with your hands and knead until a dough is formed.

Press mixture VERY FIRMLY into a parchment lined pan or dish (about 6x8--pyrex has one that size. If you don't have one, use an 8x8 pan but don't press all the way to one end.)

Remove from freezer and cut into bars. Store in the refrigerator.