This post may contain affiliate links.
I came across this recipe that I had created a year ago and realized I never published it. And I think it's perfect timing now that the holidays are here and we are all in the cookie spirit. These are much more like a larabar but when you press them into cookies I swear it changes everything! I love little treats like this that taste like a treat but are there to keep you revved up for the day and not around to give you a huge rush and then you find yourself crashing not long after. Hearty oats, cashews, no refined sugars and even cinnamon will help you keep up with the day but still enjoy a sweet treat. That's a win-win if you ask me!
Snickerdoodles are often an overlooked cookie or at least they are never my first choice. Typically all of the iced, powdered and peanut butter cup filled cookies get all the attention and then you have the cinnamon coated treats just sitting there waiting for their turn at the end, hoping they won't get stale before they are eaten. Don't let this be the case for these!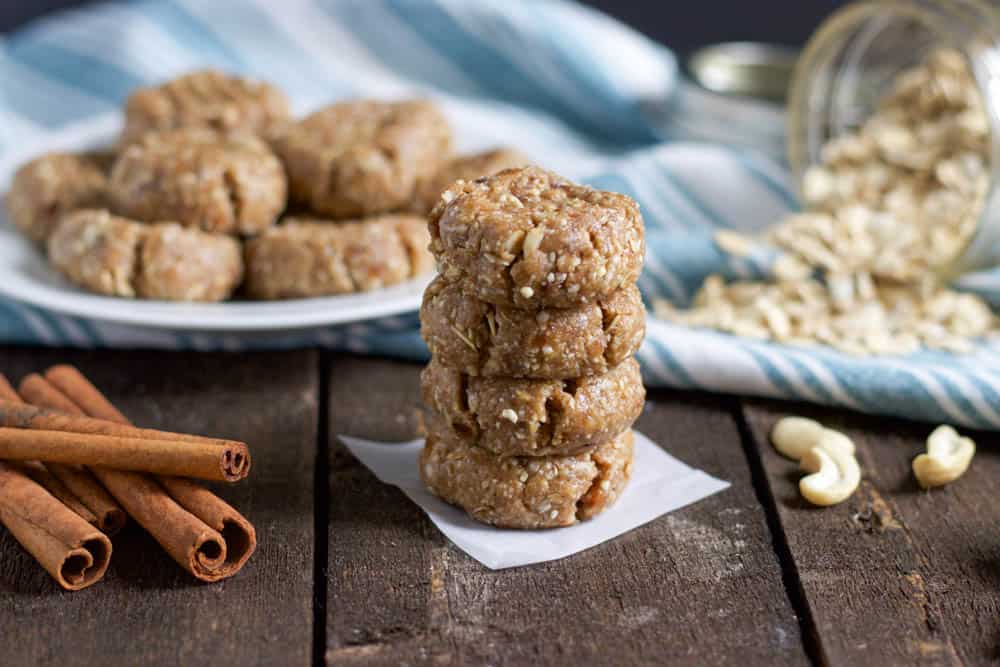 And another thing; if you choose the refined sugar and flour version of this cookie, please, please, PLEASE don't beat yourself up! The worst thing you can do this season is beat yourself up for each and every indulgence. That just backfires in the end. Guilt and food, food and guilt---they don't go together even though we constantly put them right up next to each other. If you choose to have the cookie, then dammit, enjoy it! And if you end up eating three of them, make sure that you allowed yourself to enjoy each and every bite. If the minute the cookie touches your lips all you are thinking of is what you will have to do to make up for it, how many miles you will have to run at the gym, how "bad" you are, how you have zero self control---STOP. None of that. If that's what goes on when you eat your treat, then you really aren't indulging. You really aren't treating yourself. You have no mindfulness or presence to what you are supposed to be enjoying. So if you have your cake and eat it too, then have your cake and eat it too---without all of the commentary! For some this may be so easy and for others not at all. So if this is one of your challenges, then remind yourself that if all you do is feel guilty while you are eating something, then you really never got any pleasure from it in the first place. So choose to savor and choose to enjoy! No matter what it is!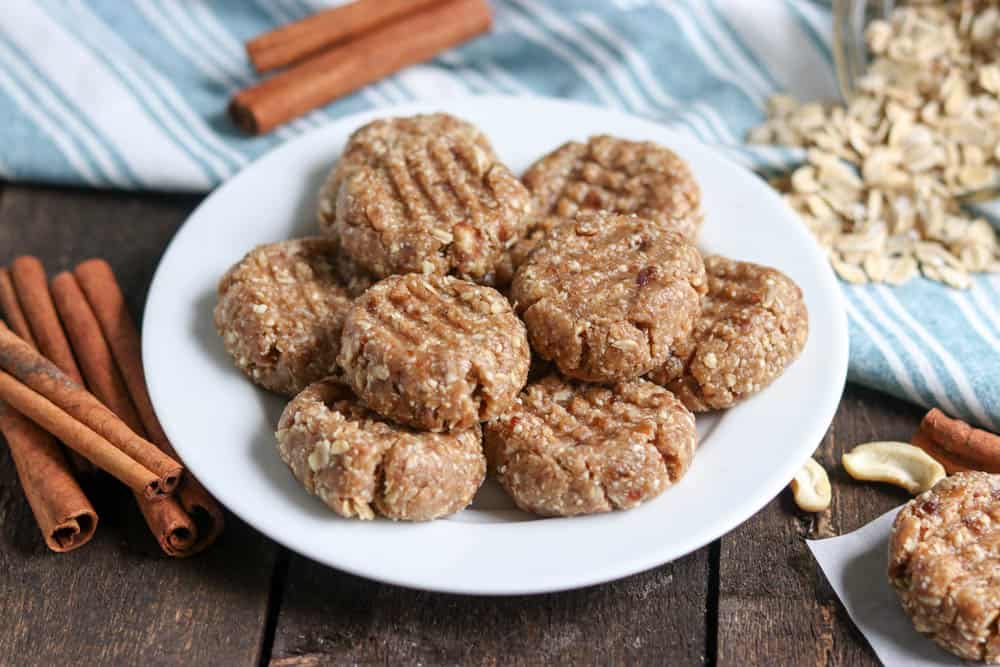 Instructions
In a food processor, process oats and cashews until very fine.

Add all other ingredients and process until a dough forms.

If it seems too wet, add several tablespoons of oats to soak up the oil.

Roll into balls and line on parchment paper.

Flatten with a fork (dipped in cinnamon if desired).

Chill for about 10-15 minutes before serving.

Store in the refrigerator for up to one week.
Notes
You can chill the dough for about 15-30 minutes before rolling them into balls if they aren't rolling well.