This one's for you, Cathy!
My mom always told me ask and you shall receive. I am pretty sure that is supposed to be in connection with prayer, but I think it definitely works in other areas as well. One of my lovely readers, Cathy, recently requested a Cherry Almond Overnight Oats recipe, and how could I deny such a wish? I mean, I love cherries and I am wild about almonds, add it on top of my absolute favorite breakfast and you've got yourself a deal! Did I mention I take recipe requests?? 😉
So here you are, my dear, a delicious and simple recipe for Cherry Almond Overnight Oats. It could also be called Cherry Vanilla Almond, but Cherry Almond will do just fine. I have been following Melissa at My Whole Food Life for several years now. She uses ground vanilla beans in a lot of her recipes but they are super hard to find. I came across some on Amazon and have been adding them to some of my recipes recently. Real vanilla bean is absolutely like no other. It is quite sad that vanilla beans are black and yet everything that is vanilla flavored out there seems to be white or an ivory color. A bit deceiving I believe! Then again, if you get real vanilla bean ice cream, the little black specks are visible and they make it all so much more delicious.
I added some coconut to this recipe as I have been putting it into my oats almost daily, but don't worry if you aren't a fan, you can skip them. Cherries aren't in season right now but I had frozen cherries in the freezer and they worked great. As always, you can make these gluten free and dairy free if you choose. Eat them hot or straight from the fridge on the go in the morning. Anytime breakfast is ready before you even wake up in the morning is a big win for me!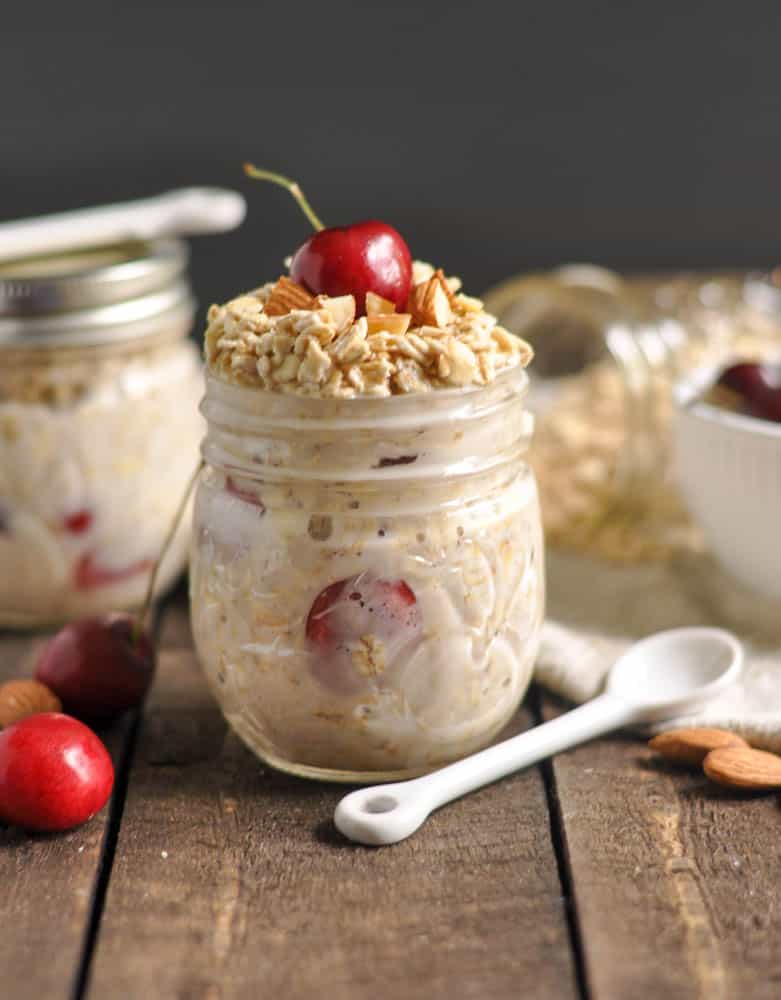 Ingredients
1/2

cup

rolled oats

regular or gluten free

1/2

cup

milk of choice

5-7

frozen cherries

unsweetened

2

tsp

almond butter

2

tsp

shredded coconut

optional

1

tsp

vanilla extract

plus 1/8 tsp ground vanilla bean if desired or available

1-2

tsp

pure maple syrup or honey

2

tsp

flax seeds

1-2

tsp

sliced almonds

Dash of sea salt
Instructions
Combine all ingredients into a jar or container that can be sealed.

Stir well to combine.

Seal and store in the refrigerator for at least 4 hours before serving.

Enjoy hot or cold and on the go!