These Peach Overnight Oats are a simple make ahead breakfast that will be waiting for you in the morning. Easy as pie–but actually easier! Fresh juicy peaches, a hint of cinnamon and more in this easy healthy make ahead oatmeal!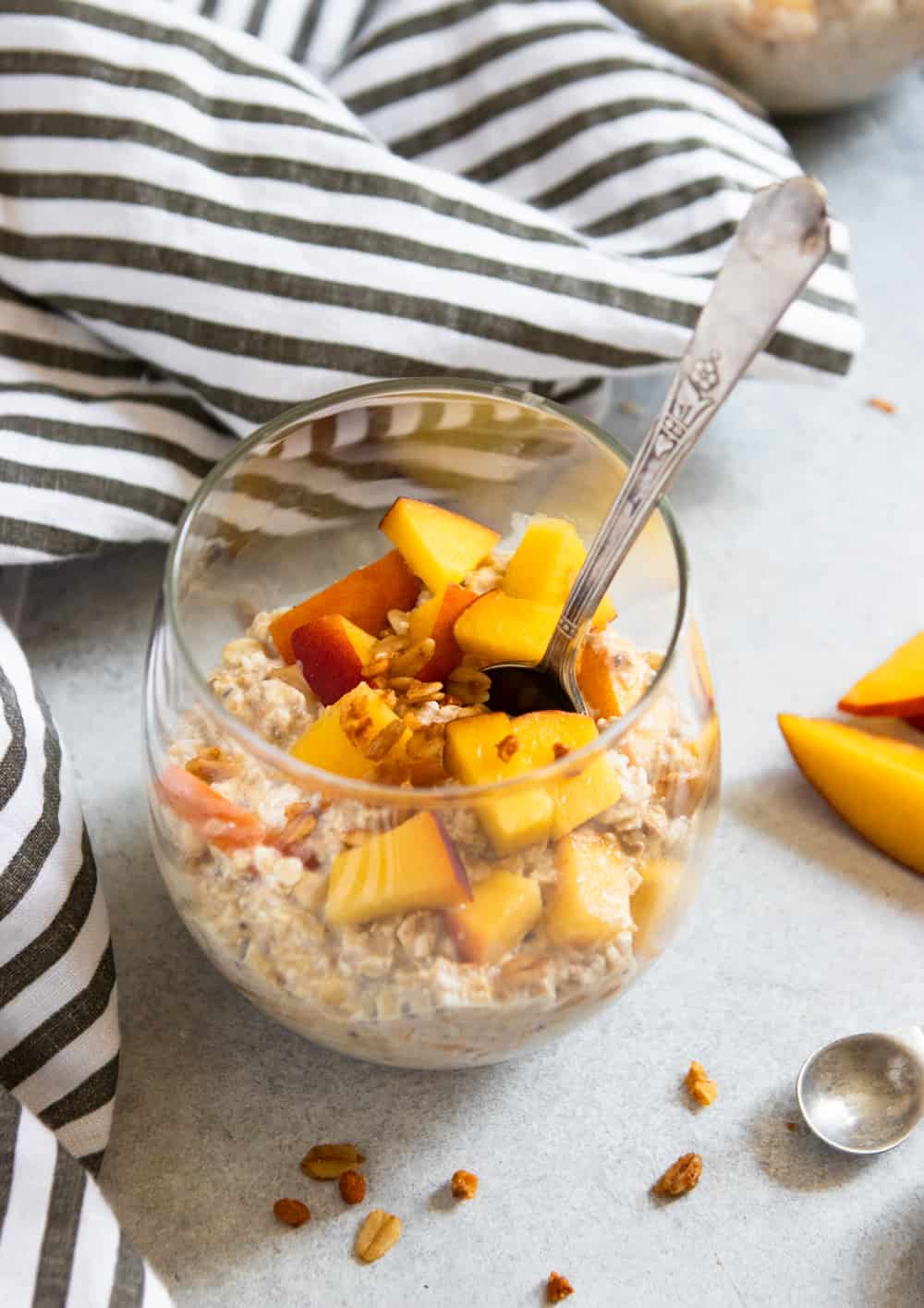 Just when I thought there were no other flavors for overnight oats, THIS happened.
I was sitting at work the other day and learned about the Peach Truck. Apparently there is this couple from Georgia who brings fresh Georgia peaches on the road and sells them for a very fair price. Fresh, juicy, Georgia peaches.
So of course that's when I realized I had no overnight oats recipes with peaches. How could this be?! Well, fret no more, we now have Peach Pie Overnight Oats and trust me they deliver quite the tasty breakfast.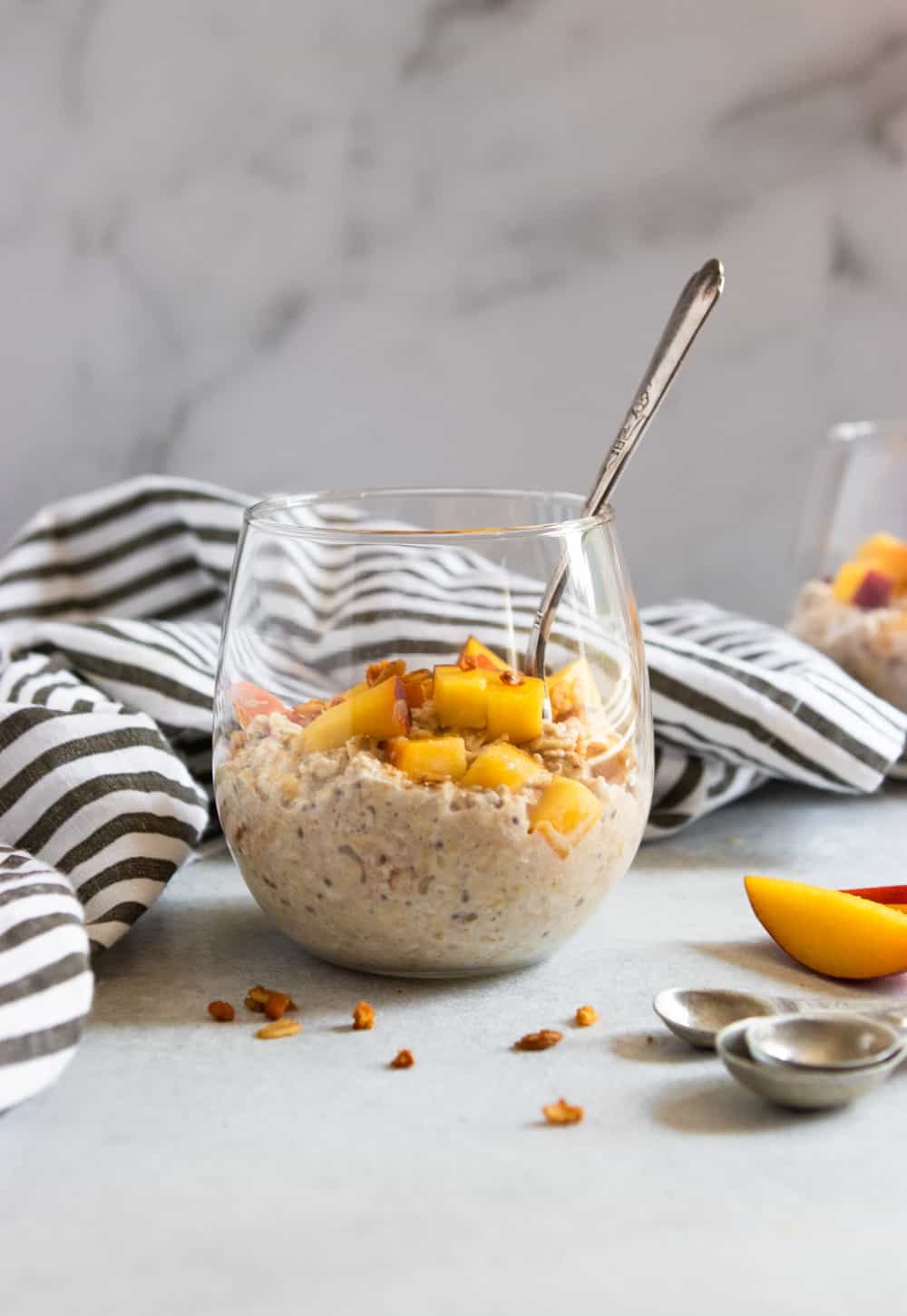 I tried adding a bit of Greek yogurt to this recipe and liked the creaminess that it brought to the oats. I used a Honey Greek Yogurt and then cut down on the amount of sweetener that I usually use. You could really use any yogurt, regular or dairy free and get the same texture so give it a shot!
The touch of cinnamon is what really pulls the peach pie flavor together. Eat these warm or straight from the fridge! Make them with regular or gluten free oats, either will work just fine! Other than that, go to bed and wake up to breakfast!
Notes about these Peach Pie Overnight Oats:
I find that peaches ripen SO fast. During the summer, I keep a bunch of sliced frozen peaches in the freezer so that I have them on hand for when I really need some peach pie overnight oats! And if all else fails, canned peaches could work as well.
Chia seeds are optional. They add more fiber and protein into these peach overnight oats. Don't feel like you have to go out and buy something new to make this recipe. You will be just fine without!
Can you make these peach overnight oats vegan? You sure can! Use a dairy free milk and you are certainly all set to enjoy these as a plant based breakfast.
HERE ARE SOME COMMON QUESTIONS ABOUT OVERNIGHT OATS:
HOW LONG DO OVERNIGHT OATS LAST?
I typically make 3 or so days worth at a time. 3-5 days is the range that they will last and certain ingredients in different flavors impact this. Banana Bread overnight oats are typically not good after 2 or 3 days due to the mashed banana but these protein overnight oats should be ok a few days later if you just add the banana before serving.
WHAT KIND OF OATS DO YOU USE IN OVERNIGHT OATS?
I prefer rolled oats in mine. I find that they soak up the milk perfectly and are nice and soft after sitting overnight. Others suggest steel cut oats for their overnight oats recipe but that is NOT for me. They are to hard and chewy for me. I have found that steel cut oats are best for me I the Instant Pot. (Check out these Banana Bread Instant Pot Steel Cut Oats!)
DO YOU HAVE TO MAKE OVERNIGHT OATS IN A JAR?
When the overnight oats trend hit, it was all the rage to scoop your breakfast out of a ball jar. Heck, I still do. But don't go out and buy cute little jars just yet. If you have a bowl that you can seal, then you are in perfect shape.
Don't feel like you have to buy anything extra to make your oatmeal in, bowls can be great as well. I have seen lots of people use the end of a peanut butter jar!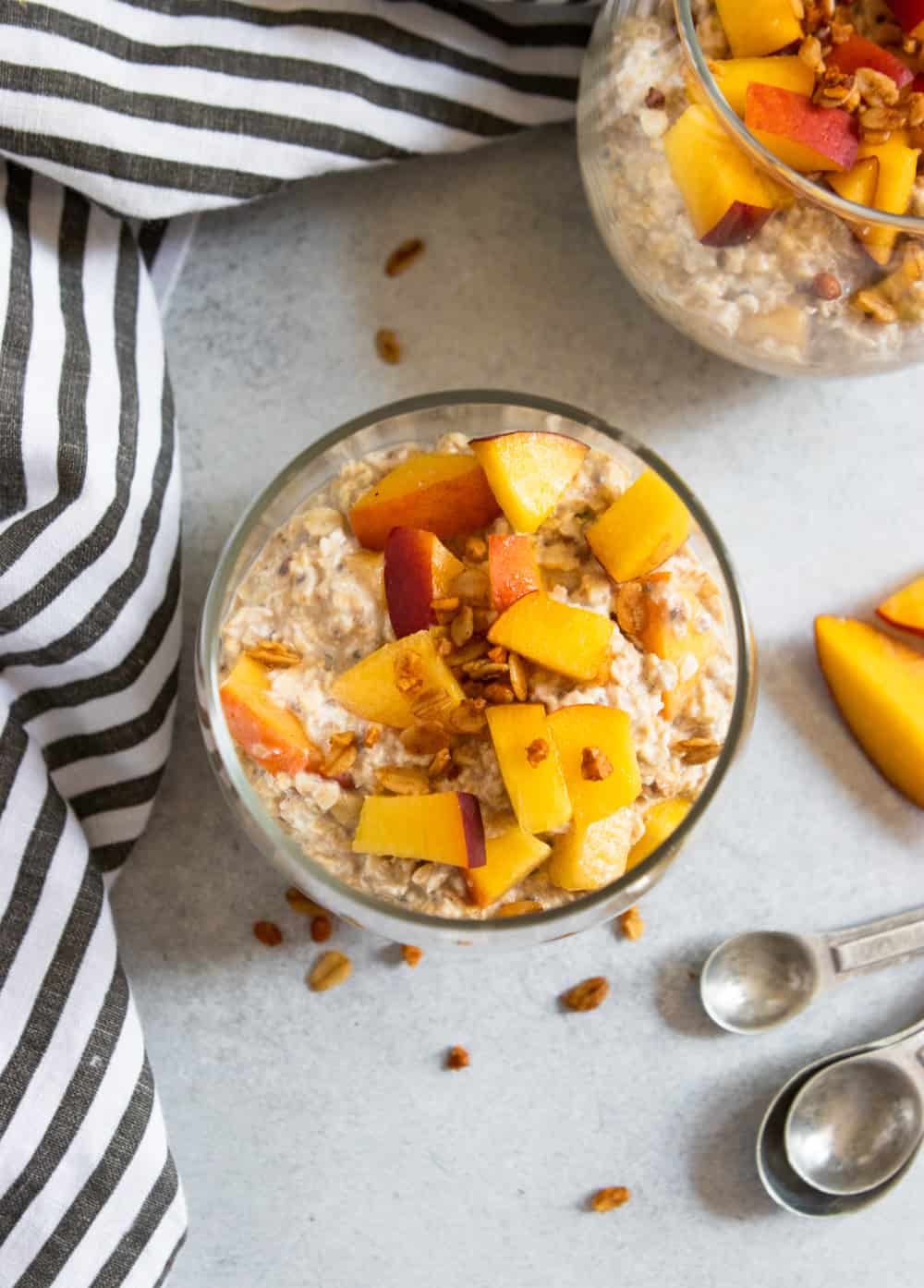 CAN YOU WARM OVERNIGHT OATS?
Yes, yes, yes! I have had readers comment or reach out saying they don't want to eat cold oats. No one says you have to–promise! Pop them in the microwave in the morning and you are all set! Love them chilled? Great, you just get to eat them about a minute sooner!
Are you as much of an Overnight Oats fan as I am??? I have a slight obsession–you will learn this soon enough. But there are a few of my faves that I highly recommend if you are really getting into them:
This is just the tip of the iceberg but some of the super popular versions around here so I hope you love them as well!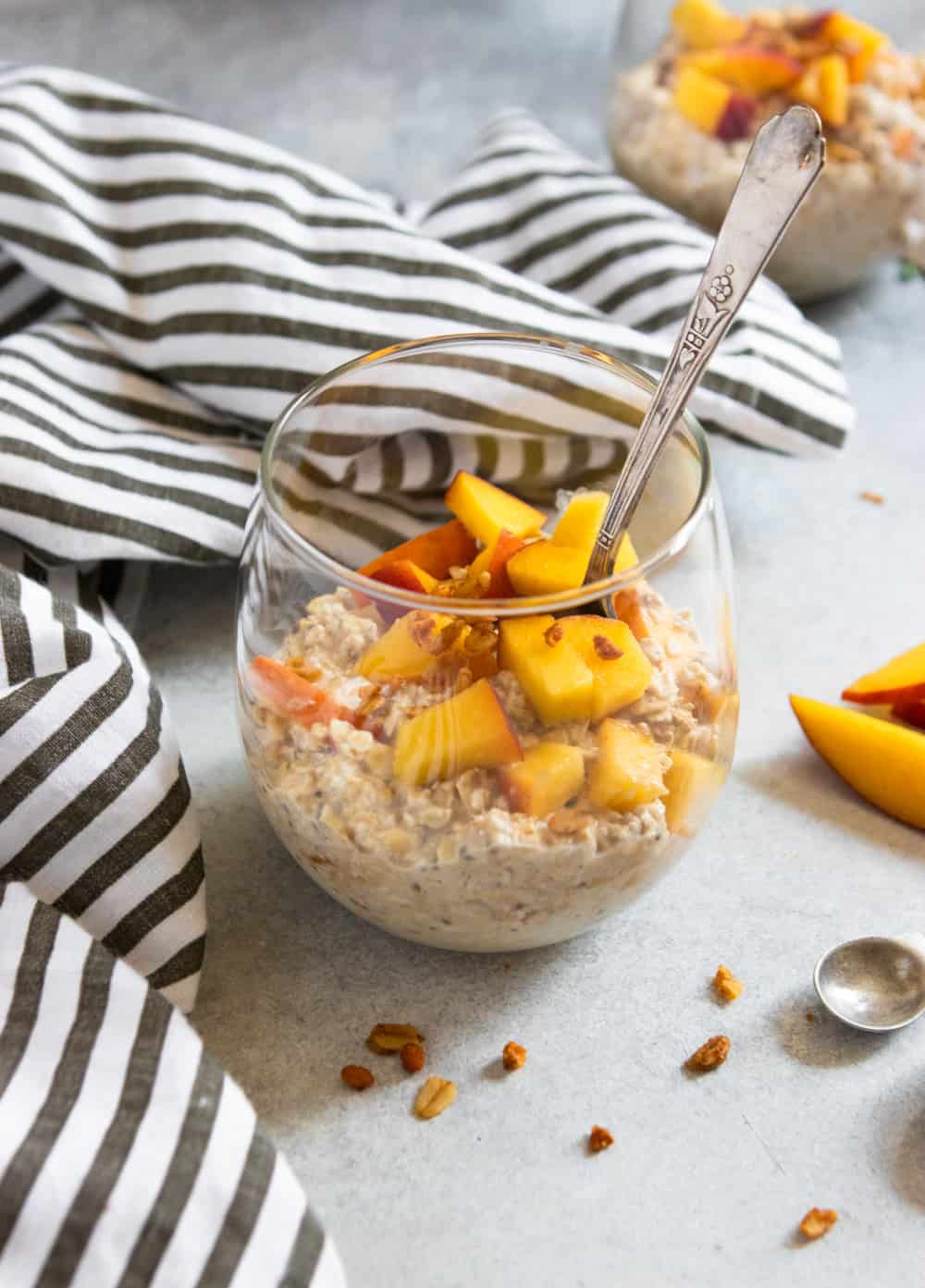 DID YOU MAKE ONE OF MY RECIPES? LEAVE A COMMENT AND LET ME KNOW! I ALSO LOVE TO SEE YOUR LEMONS + ZEST RECIPES ON SOCIAL MEDIA–TAG ME @LEMONSANDZEST ON INSTAGRAM OR FACEBOOK!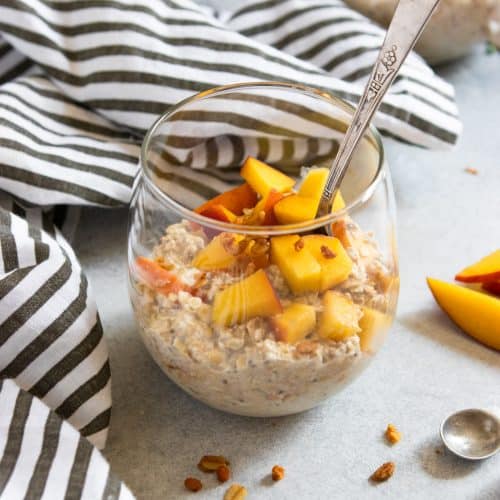 Peach Pie Overnight Oats
These Peach Overnight Oats are a simple make ahead breakfast that will be waiting for you in the morning. Easy as pie–but actually easier! Fresh juicy peaches, a hint of cinnamon and more in this easy healthy make ahead oatmeal!
Print
Pin
Rate
Ingredients
1/2

c

rolled oats

regular or gluten free

2-3

T

vanilla or peach yogurt

1/3

c

unsweetened almond milk

or milk of choice

1/3

c

diced peaches

fresh or frozen

1

tsp

chia seeds (optional if not on hand)

1/2

tsp

vanilla extract

1/2

tsp

cinnamon

1-2

tsp

maple syrup or honey

dash of sea salt
Instructions
Combine all ingredients into a jar or bowl that can be sealed.

Stir well to combine.

Seal and refrigerate overnight or for at least 4 hours.

Enjoy in the morning warm or chilled.
Notes
If oats seem a bit dry in the morning add a tablespoon or two of milk and stir in.
Feel free to make this more parfait like by adding the peaches separately as you pile it into a jar!