Two of your favorites: apple pie and cheesecake come together in this simple no bake recipe. This No Bake Caramel Apple Cheesecake starts with a graham cracker crust, topped with an easy no bake cheesecake and topped with fried caramel apples. It's a new classic!
You know those desserts that make every single occasion all the brighter? The timelessness of an apple pie–whether its a summer evening or a cozy holiday evening around the fire–it's always a good idea. And cheesecake? Well, cheesecake is ALWAYS a good idea.
While we are upon the holiday season, lots of pumpkin pies, pecan pies and the like are swarming the internet. Sure, I love those as well. And I have my own little Pumpkin Pie Crumble if you would prefer.
But I think you may be very excited to start a new tradition with this No Bake Caramel Apple Cheesecake.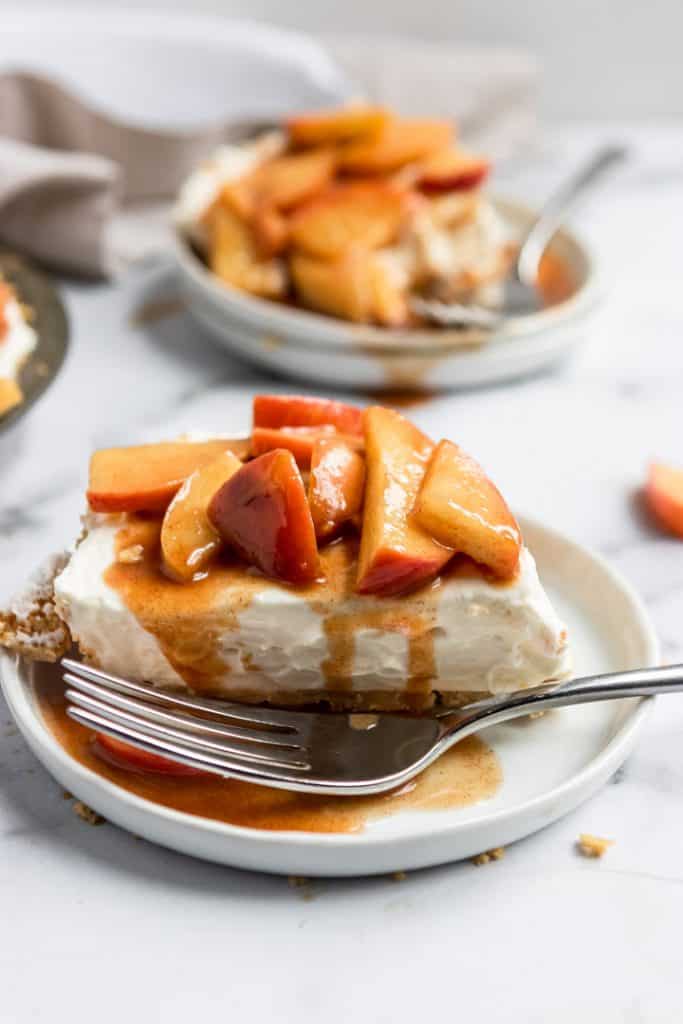 What is so amazing about this No Bake Caramel Apple Cheesecake, you ask?
It's no bake. That's right. A no bake cheesecake topped with apples that are fried stove top and then chilled.
It's so simple to whip up. When they say easy as pie, it's typically not true. However this recipe is 100% EASY as pie!
It is a combo of two dessert classics. What could be better??? Part cheesecake and part apple pie. That's my kind of dream dessert!
This cheesecake was actually a near disaster the day I went to take the photos. Having a toddler and a food blog at the same time has it's moments and basically everything exploded in my face that day.
At one point, Sam was whipping his yogurt all through the room while he sat in his high chair. Another point he had climbed up on the counter and had his hands in the whipped cream portion of the pie.
From there it was just a domino effect of disasters, but in the end, I got the pics and no one got hurt.
Unfortunately, due to the short window of time I had, I was not able to chill the apples quite long enough so the extra caramel melted right into the apples versus hanging out and oozing on top.
But I think you can still get the idea regardless. I was doing my very best that day, and in the end I got cheese cake for lunch. The light at the end of the tunnel for sure!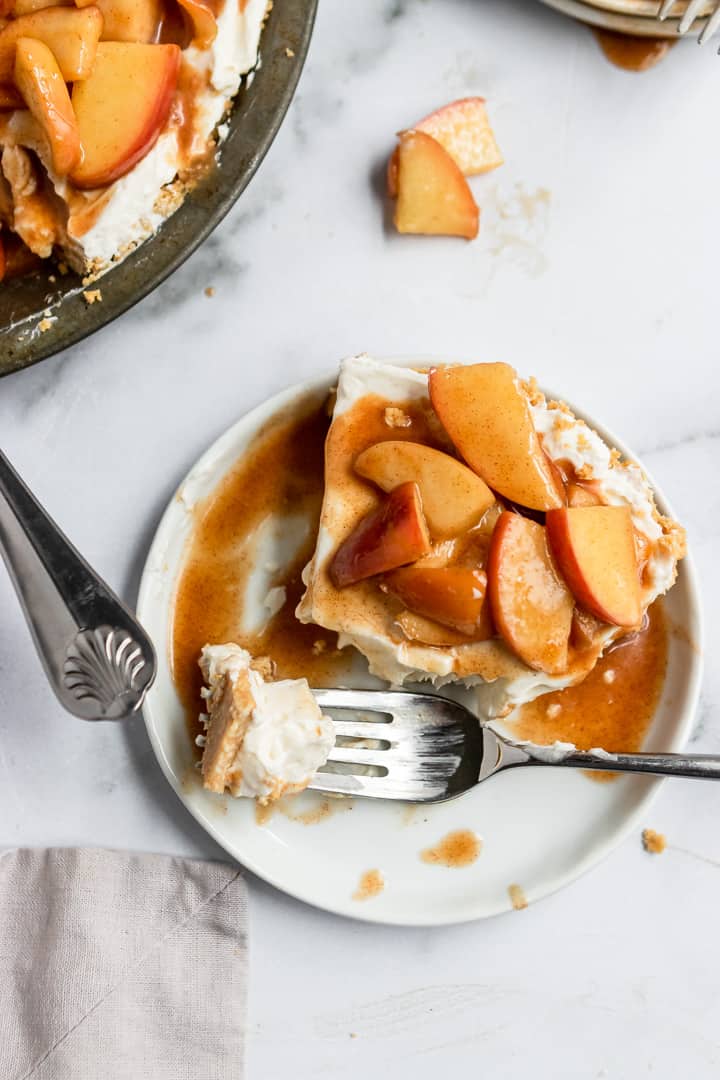 So what is the difference between baked and no bake cheesecakes?
A baked cheesecake is much more dense and includes eggs. It has much less air incorporated into the mixture to allow for the higher density.
A no bake cheesecake, on the other hand, is much more light and airy. It does not include eggs and is a combination of whipping cream, cream cheese, sugar and sometimes even evaporated milk.
A baked cheesecake holds its form or shape much better while a no bake cheesecake can be more creamy and pudding like. Both are amazing regardless. This No Bake Caramel Apple Cheesecake is that rich and creamy, light and airy version of cheesecake.
Here is what you will need to make this cheesecake:
graham crackers: I am going to say this once and only once: DO NOT feel guilty if you use a pre-made graham cracker crust. Do not. This makes this recipe all the more easy to put together. Heck, I did it as well one round because I was in the business of saving time!
butter: the key to a perfect graham cracker crust. Nothing beats it!
sugar: just a touch in the crust is all you really need.
cream cheese: I use a full fat block. I have not made this cheesecake with reduced fat or fat free cheesecake.
sour cream: same thing here–I use the full fat. It is nice and thick, which is what you want to help hold the cheesecake together.
heavy whipping cream: another key ingredient to make a no bake cheesecake stand as tall as it can. Whipping it to get it nice and stiff is what you want to do!
confectioners sugar: this helps add a bit more structure and sweetness to a no bake cheesecake. It contains corn starch which is what will help with structure.
vanilla: a little in the crust, a lot in the cheesecake and a little in the apples. Most graham cracker crusts don't include vanilla but I like adding just a hint to mine.
apples: I use Fuji. Those are my go to apple. And I prefer the skin on. Takes a lot of time off of putting the recipe together and I am a big fan of apple skins.
brown sugar: I used light brown sugar but I believe you could use dark as well with no issues.
water: just a touch for frying the apples.
caramel: I use Torani Caramel Sauce as it is my very favorite!
corn starch: this will get the apples nice and thick instead of runny. You can use arrowroot powder instead if desired.
cinnamon: I wasn't sure whether to add the cinnamon with the caramel. But I am so glad I did, just a touch of cinnamon compliments the caramel so well.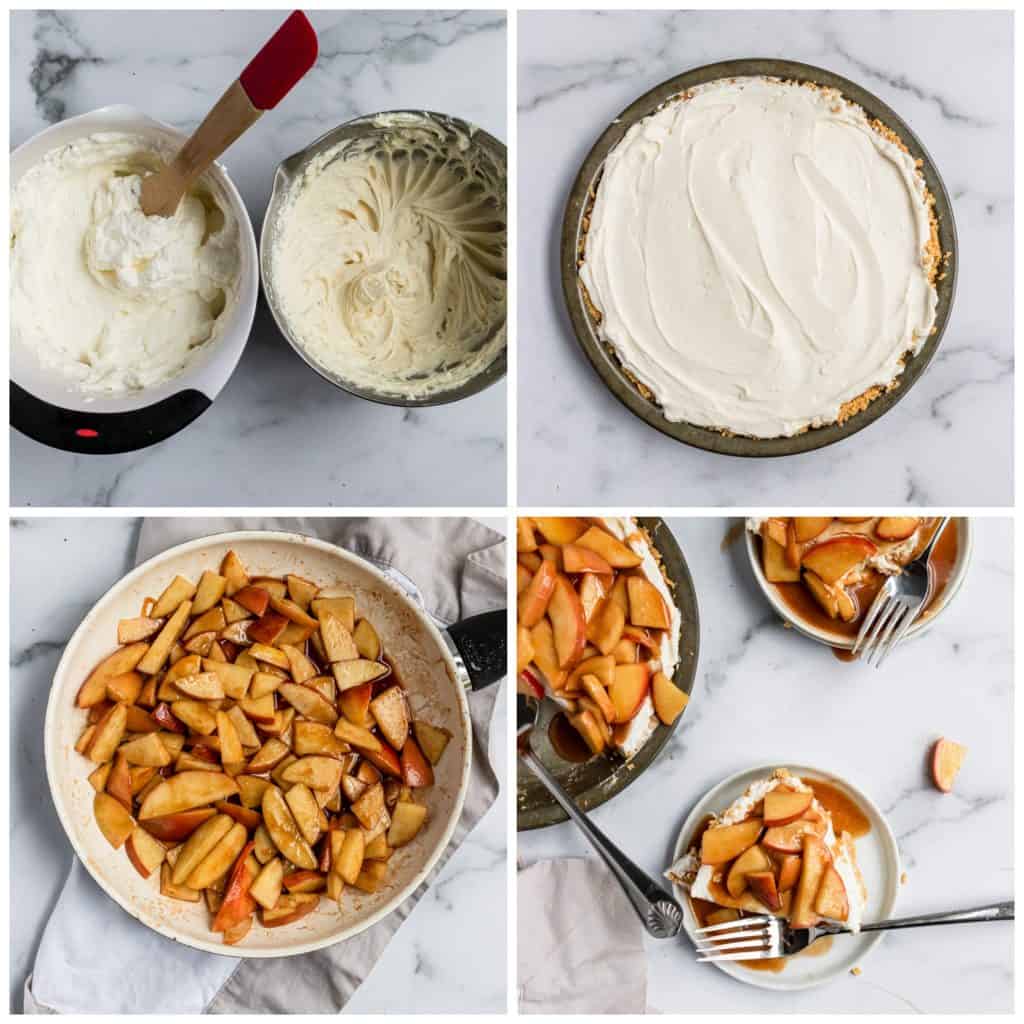 Tips and Notes for making this No Bake Caramel Apple Cheesecake:
Please, please PLEASE, take the time to allow this to set and chill before adding the apples on top of the cheesecake. If you do not, the cheesecake may melt and even look curdled. It's so not worth rushing with this one.
Can you freeze the cheesecake to help it set faster? I would say it's not ideal. Maybe for an hour tops but it is not the best way to speed up the setting of the cheesecake. It is not going to be a super firm cheesecake regardless, but it will set nice enough to really hold up the apple.
This can be a bit of a messy dessert. You can always pour the apples over as a topping versus scooping it onto the entire cheesecake.
You can most certainly use a ready graham cracker pie crust to save a bit of time on this recipe. I should warn you though, the day I photographed this cheesecake, I tried that shortcut and it blew up in my face. I dropped the crust and it shattered. The good news? I learned how to fix it. Crumble the whole thing back up and then add some melted butter. It will mold right back together! Lesson learned at least!
Not up for caramel apple? No worries! You can just skip the caramel and make it more like a traditional apple pie flavor. That will still be amazing.
Check out these other amazing desserts!
DID YOU MAKE ONE OF MY RECIPES? LEAVE A COMMENT AND LET ME KNOW! I ALSO LOVE TO SEE YOUR LEMONS + ZEST RECIPES ON SOCIAL MEDIA–TAG ME @LEMONSANDZEST ON INSTAGRAM OR FACEBOOK!
No Bake Caramel Apple Cheesecake
Two of your favorites: apple pie and cheesecake come together in this simple no bake recipe. This Caramel Apple Cheesecake starts with a graham cracker crust, topped with an easy no bake cheesecake and topped with fried caramel apples. It's a new classic!
Print
Pin
Rate
Total Time:
4
hours
30
minutes
Ingredients
For the Graham Cracker Crust
1 1/2

c

graham crackers (finely ground)

1/3

c

sugar

6

T

butter, melted

1/2

tsp

vanilla

pinch of sea salt
For the Cheesecake
1

8 oz. block cream cheese, softened

1

c

heavy whipping cream

1/2

c

sugar

1/3

c

confectioners sugar

1/3

c

sour cream

2

tsp

vanilla extract
For the Apple Topping
4

small/medium apples, cored and sliced thin

(skin removed if desired)

2

T

butter

1

tsp

vanilla

1/4

c

brown sugar

1

tsp

cinnamon

1

tsp

corn starch

1/4

c

water

1/3

c

caramel (plus extra for topping)
Instructions
For the Graham Cracker Crust
In a small bowl, combine melted butter, graham crackers (for best results pulse them in a food processor until fine), vanilla and sugar to fully combine. Press firmly (I mean FIRMLY) into the bottom of an 8 or 9 inch pie pan. Press down using a measuring cup to really get it in. Allow to set in the freezer for about 2 hours or until ready to add filling if not enough time.
For the Cheesecake
In a medium bowl, using a standing or hand mixer, beat heavy whipping cream on medium until stiff peaks form. This will take about 4-5 minutes. In separate bowl, beat cream cheese and sugar until creamy. Add in vanilla, sour cream and powdered sugar and mix to incorporate. Fold the whipped heavy cream into the cream cheese mixture to fully incorporate.

Pour mixture into the pie crust and spread evenly. Chill for at least two hours to allow to set.
For the Apples
In a skillet, melt butter over medium heat. Add in apples and cook, stirring regularly until softened (about 5-6 minutes). Dissolve the corn starch into the water and add to the apples along with brown sugar, cinnamon and vanilla. Stir to combine and allow sauce to thicken for 2-3 minutes. Remove apples from heat, stir in caramel sauce and stir. Transfer to another bowl and chill until cooled.

Once cheesecake has set for at least 2 hours, pour chilled apple mixture on top and drizzle with extra caramel if desired. ** This can be a bit of a messy dessert. If you want to wait to put the caramel apples over each piece as you slice the pie, that is also a great option. Serve and enjoy!