The first day of summer calls for no bake treats and these No Bake Cookies and Cream Cheesecake Cups are packed with your favorite cookies and fresh berries–and ready in minutes!
The first day of summer came with lots of rain today but for some reason, I wasn't bummed out. It was verrrrry much needed rain with all of the crazy heat we have had already. So a little cooling rain was very welcome today no doubt. Sam and I had some time swinging on the porch swing watching the rain fall and that felt like a pretty good way to kick off summer.
And while we did not have these No Bake Cookies and Cream Cheesecake Cups today–only because they were long gone by Father's Day–we still feel pretty satisfied with our summer kickoff.
Sometimes when the seasons change, I take very little note of the shift. Other times I feel very deeply the metaphor of seasons to life itself. Summer is here, a season of sunshine and laughter, splashing in the pool, ice cream cones, and so much more. And this summer, there is a piece of me aching, aching to go back, to all of these things in my childhood.
There is one thing that will never change: things change
Last week I wrote about my grandpa and the giggles we have every year over his birthday call. I called last week on his birthday and as always joked about flag day.
I told him that Sam had dressed appropriately for his birthday since he was wearing red, white and blue. He wore a blue and white striped outfit with red stains from eating strawberries, which Grandpa of course got a kick out of. We finished up our conversation and I told him I loved him.
The next morning I got a call from my sister saying Grandpa had a stroke.
But how? We just talked last night?
And that's when I wanted to go back–back to summers in the pool, vacations on the beach, laughing at Grandpa laying out in the sun with a towel over his mostly bald head. I wanted to go back to his silly pokes with the funny sounds he made. All I wanted was to sit at the dinner table while my grandma laughed uncontrollably at whatever us cousins were joking about. I wanted my childhood, I wanted to remember, to have it all again.
And so this shift to summer is my reminder that seasons change, life shifts, nothing stays the same. As I sat with Sam on the porch swing today watching the rain, I was reminded that making these memories makes me the luckiest person in the world.
Things will never be the same.
No, things will not stay just as they are, but these simple times I will hold in my heart. Just as I do the times we spent with my grandma and grandpa growing up. And those memories will be forever.
Grandpa is doing well, but he has a road to recovery. He was moved to rehab today so things are moving up. He is one tough cookie so he will continue to power on. And as for us, we will continue to be all the more grateful for all of the time we get to be with him, and make even more memories together.
---
No Bake Cookies and Cream Cheesecake Cups–a little smile after today's post
More often than I can count, I come here to talk about food and then spill out a piece of my soul. I like to consider my blog a food blog with a side of life. Tonight was a dose of the life stuff and now we get to move on to the sweet treat I teased you with. Thanks for allowing me to share my thoughts with you as well!
My mother in law retired the weekend of Father's Day, so clearly a delicious treat was needed to celebrate. After I made this 5 Minute Blueberry Cheesecake Dip a few weeks ago, all the no bake cheesecake recipe ideas have been brewing in my head. And they settled first and foremost here, on these parfait like No Bake Cookies and Cream Cheesecake Cups.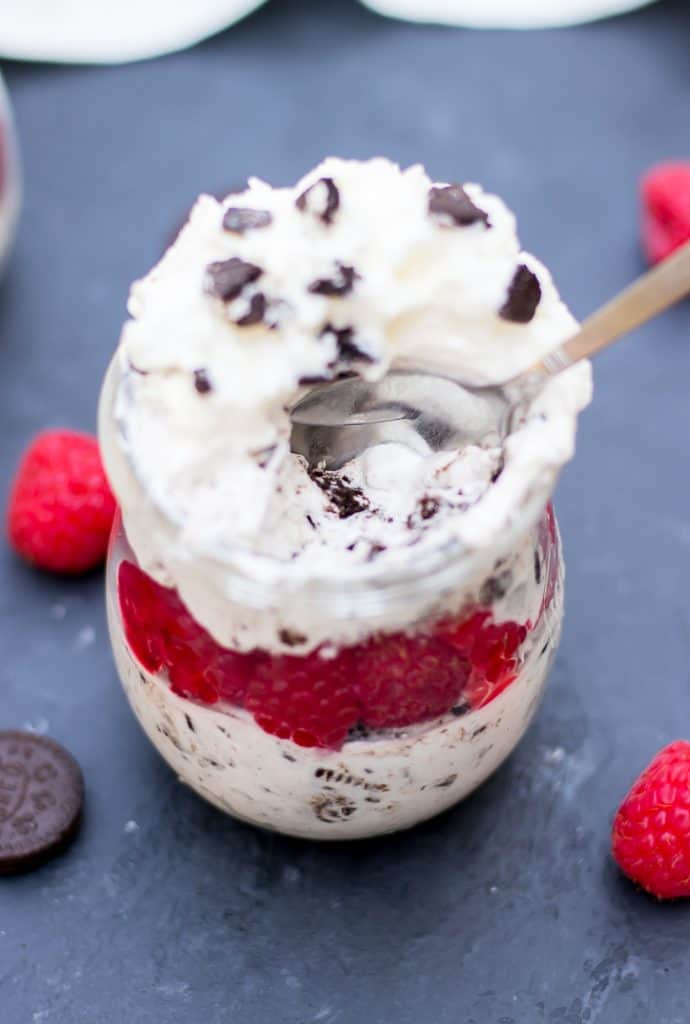 When it comes to treats, I promise that if you add an Oreo (or two), the flavor instantly gets 100 times better. Cookies and Cream is my favorite ice cream flavor. When it comes to Flurries– why would you get anything but Oreo, that's just silly! Cookies and cream everything my friends!
These No Bake Cookies and Cream Cheesecake Cups are ready in no time!
And what if I were to tell you that you could have these pretty little numbers all set and ready to go in about ten minutes or so? Would you believe me? You should cause it's summer and we aren't baking anything, AND we aren't spending too much time in the kitchen!
Let me break this one down for you: whip some cream cheese and a few other simple ingredients together, crush up some Oreos, fold them in and layer the cheesecake with berries and you are set! Oh wait, don't forget the whipped cream!!! Now you are really ready for these No Bake Cookies and Cream Cheesecake Cups!
Any dessert dish will do or you could layer it in a larger bowl and spoon it out as needed–whatever will work great! So again, not a lot of time in the kitchen, no extra heat, and all the goodness of a delicious treat–yep, summer is here!
What you need to make these No Bake Cookies and Cream Cheesecake Cups:
Cream Cheese: make sure you let it sit out to soften. This will make this recipe a heck of a lot easier.
Cool Whip: You could also make some whipped cream using heavy cream. Since this is a summer recipe, I went with whatever took the least amount of time. Cool whip it is!
Powdered Sugar
Oreos: There are so many options these days in the Oreo department. I love the traditional chocolate for these but have also loved this recipe with Golden Oreos, my second favorite flavor.
Vanilla
Raspberries or fresh berries: Berries are completely optional but I loved the addition of raspberries.
DID YOU MAKE ONE OF MY RECIPES? LEAVE A COMMENT AND LET ME KNOW! I ALSO LOVE TO SEE YOUR LEMONS + ZEST RECIPES ON SOCIAL MEDIA–TAG ME @LEMONSANDZEST ON INSTAGRAM OR FACEBOOK!
Ingredients
1

8 oz

block of cream cheese, softened

2

c

Cool Whip or whipped topping

2/3

c

powdered sugar

1

tsp

vanilla

1 - 1 1/2

c

crushed Oreos (I used the mini thins, my favorite)

1

6 oz.

container raspberries

whipped cream for topping
Instructions
Using a hand or standing mixer, whip cream cheese, Cool Whip and powdered sugar until thick and fluffy. Add in vanilla and mix to combine.


Fold in crushed Oreos.


Spoon half of the mixture evenly into 4 dessert dishes. Cover with raspberries. Spoon the rest on top of the berries. Chill until ready to serve. (Suggested chill time is at least 30 minutes)


Top with whipped cream and more crushed Oreos before serving. Enjoy!