This simple 5 Minute Blueberry Cheesecake Dip is light and fluffy and whips up in no time–but it may not last that long either! Perfect fun dessert for the whole crowd.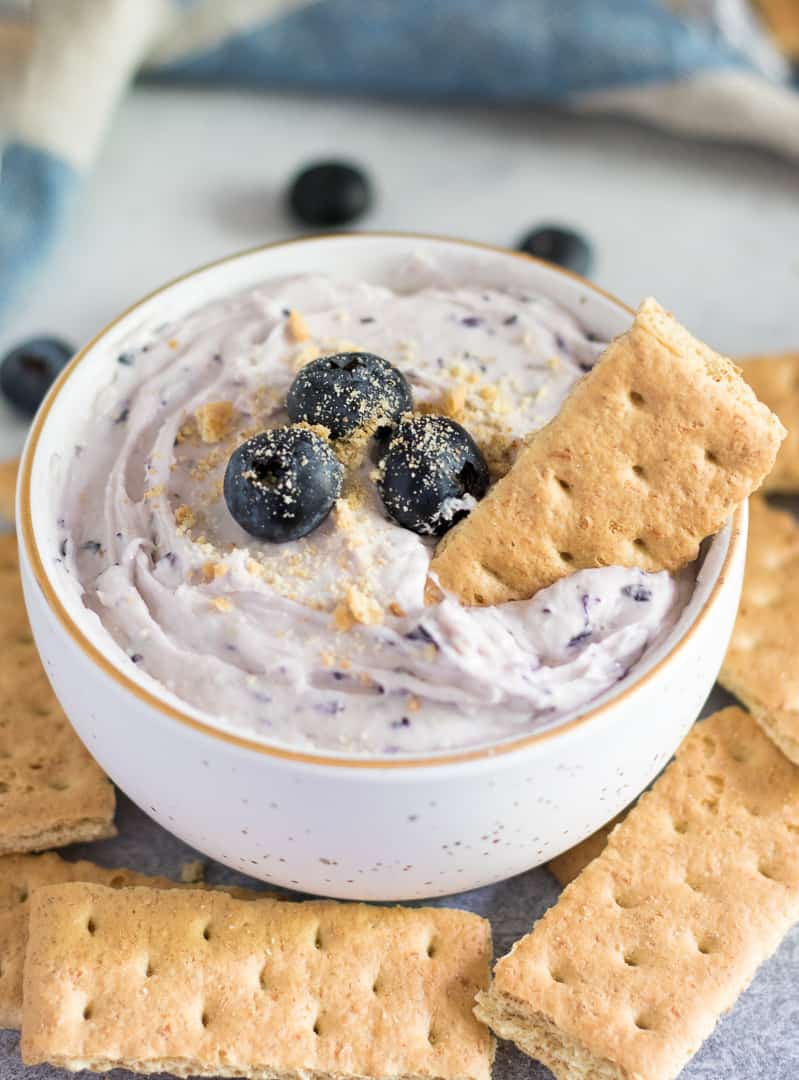 Cheesecake as a dip: yes, please
Oh hey! Happy Thursday! I am just dropping in with not a whole lot to say (surprised? Me, too.) but still wanted to bring you something quick and fresh to try in the kitchen this week.
If you are thinking, hey, you dropped the first two parts of the adoption story so where's the rest? I promise it's coming! It's taking a bit more time than anticipated so that's why I am just going to bring you the recipe to this cheesecake dip and go work on that so I can at least get you the rest in the next couple weeks!
Hoping you had a great holiday weekend and while it seems we are all well rested, this week still seems to be exhausting. Sometimes we feel like a short week is gonna fly and then it does the opposite.
But if you are feeling the slowness of this week, then please join me in whipping up some of this Blueberry Cheesecake Dip–at least it will be ready in no time, if you feel me.
But it's okay cause you will need minimal effort to make this sweet, fluffy cheesecake dip. It will be ready for strawberries, graham crackers, bagels, anything in a few minutes and then you can relax.
Don't make the same mistake I did on this Blueberry Cheesecake Dip!
So I made a big error when I made this the first time. Like an amateur mistake but at least I learned. I put it in the blender–DON'T DO IT, and don't ask what I was thinking. You will get cheesecake soup.
Stick with a mixer, you will thank me later because I already made the mistake for you. Something to note–there are a lot of dairy free cream cheeses out there these days so if you need a dairy free version, I know they are out there!
So grab some blueberries, powdered sugar, cream cheese and lemon juice and you are already halfway there! And then get ready to DIP!
How do I serve this Blueberry cheesecake Dip?
With any and all of your favorite dipping goodies: graham crackers, pretzels, fruit, and you could even use a sweeter cracker to spread it on.
You could grab a store made Angel Food cake and spread some of this dip on a piece and then top with some fresh blueberries and whipped cream.
Use it to make a no bake blueberry cheesecake parfait: layer fresh blueberries, this blueberry cheesecake dip, and chunks of lady fingers or cake and top it with whipped cream.
I don't think there is a single bagel on the planet that wouldn't love to have this dip spread all over it. Agree?
What other creative ways can you think of to serve this Blueberry Cheesecake Dip? Let me know!
Pro Tips and Notes for making this Blueberry Cheesecake Dip:
As I mentioned earlier, use a mixer and NOT a blender. The texture will be on point if you do so.
Let the cream cheese sit out and soften a bit for easier handling when mixing.
Not feeling blueberries? Feel free to change up the fruit if desired. I am certain there are plenty of options that would be just as tasty!
Don't fret over fresh or frozen fruit for this recipe. I have tried it with both and find that either option is still very delicious.
Add the zest from the lemon when juicing it and you have a lemon blueberry cheesecake dip!
Looking for some simple no bake treats? Try these!
DID YOU MAKE ONE OF MY RECIPES? LEAVE A COMMENT AND LET ME KNOW! I ALSO LOVE TO SEE YOUR LEMONS + ZEST RECIPES ON SOCIAL MEDIA–TAG ME @LEMONSANDZEST ON INSTAGRAM OR FACEBOOK!
Ingredients
1

8 oz.

package cream cheese (dairy free if necessary)

1/2

c

powdered sugar

1

c

blueberries (thawed if frozen), pulsed a few times in a food processor for best results

1

tsp

lemon juice

1/2

tsp

vanilla
Instructions
Using a hand mixer or standing mixer, mix powdered sugar and cream cheese until whipped and fluffy.


Add in blueberries, lemon juice and vanilla and beat until blended. (If tossing blueberries in whole, the dip will be chunkier).


Chill until ready to eat or dive in immediately!