Want homemade bagels that are so simple? This easy cinnamon raisin bagel recipe requires no boiling and no yeast–ready in less than an hour and so soft and chewy. Cinnamon Raisin is a classic flavor everyone loves!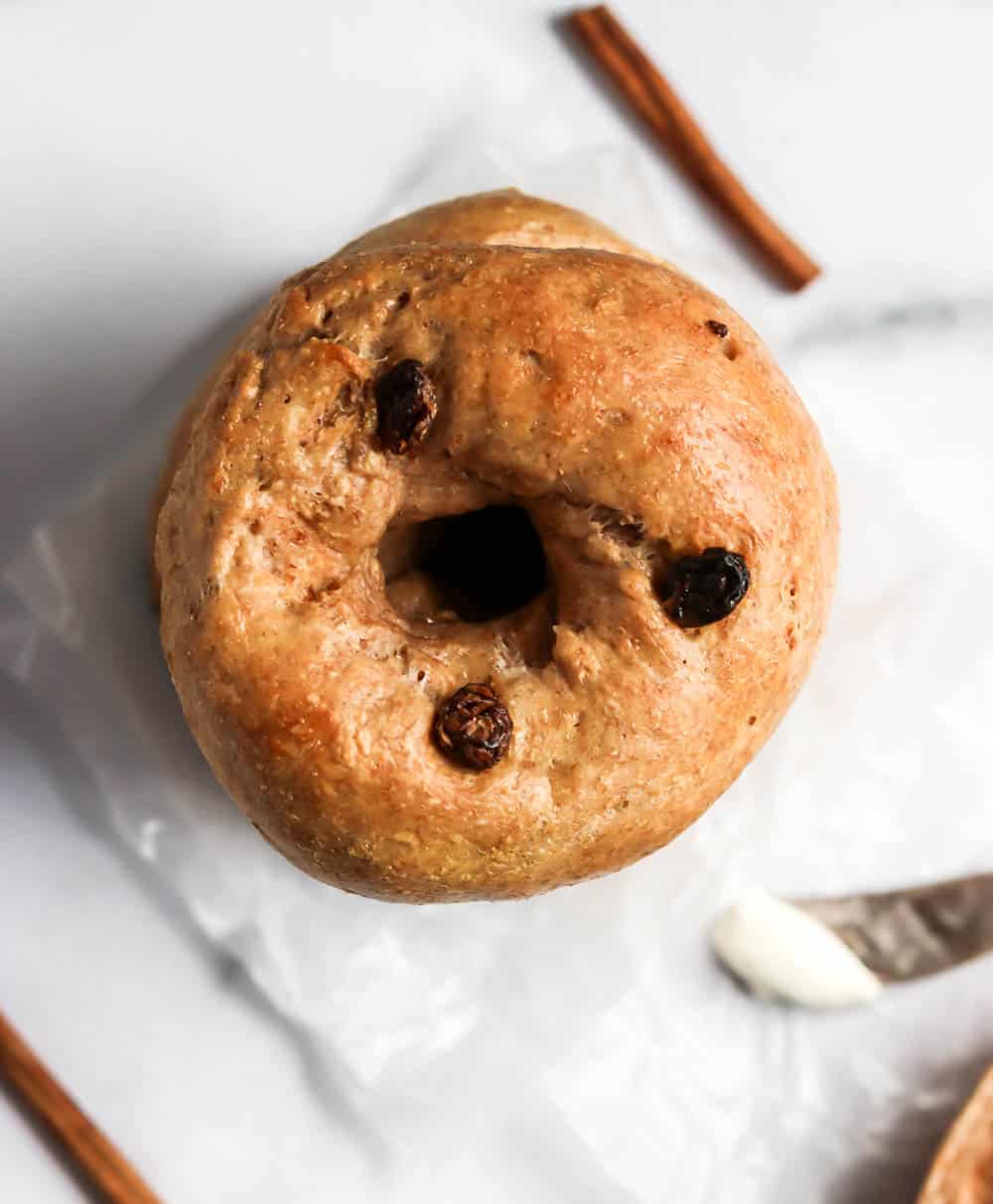 Bagels are our friends.
Can I tell you a secret?
Carbs are NOT THE ENEMY!!! Whew, it feels so god to get that out! Every day, I hear someone preaching about how awful carbs are or that they are quitting carbs, etc., etc., ETC. Well friends, I am NOT a quitter so you won't see me following suit by any means.
But it's true. In today's world, bread, pasta, bagels, pretzels, crackers–all the things we love made from flour have this reputation of being "bad." And there are so many pasta companies making pasta out of anything but flour. (Don't worry, I totally understand and acknowledge that some people cannot tolerate wheat and gluten so the numerous options they have now are amazing compared to years ago.)
For those of us who can enjoy wheat and gluten, there is still this underlying message out there that tells us gluten equals BAD and to stay away from it.
Gluten is not my enemy
I bought into that message for quite some time. You would not catch me putting anything with white flour in my mouth. First our pasta switched from regular to whole wheat. Then, I decided that brown rice pasta has to be the 'better kind of carbs' because they don't have gluten.
Oh wait, chickpea pasta?? With tons of protein?? Count me in!! And it never stops.
For the record, I am not a nutrition expert so where I got my information that brown rice pasta or chickpea flour was holier than any regular noodle was from the food police–aka whoever was spewing out the latest article with the list of "no no's." Whether they were experts didn't matter, I was then obeying it as though it was gospel.
Ugh. But when does it stop?
Heck, tomorrow it's gonna be asparagus pasta for all we know.
I just want eat a bagel. Or a piece of toast. Or a bowl of pasta. And I want to eat the kind I crave–and I don't want any food police around! That's right, I eat carbs and I like it! And I don't count them. If I am craving bread, I eat it.
Today, I am craving a bagel– a nice big Cinnamon Raisin Bagel.
I have one of these chewy, cinnamon-y, raisin filled beauties left–and I am NOT sharing. Sorry?? Oh wait, I'm not. Don't worry, you can have your own in no time with this easy cinnamon raisin bagel recipe. I mean E.Z.
Do you have to boil these cinnamon raisin bagels?
I thought the answer was yes, but it turns out you don't have to!
If you would have told me a few weeks ago that I could make a homemade bagel that was so stupid easy, I would not have believed you. Today though I am here to tell you they really do exist. We are talking soft and chewy, perfect little bagels that are actually somewhat fun to make, or maybe it's just fun that they are so simple.
No yeast, no boiling, but still all the goodness. Too good to be true? I promise they are for real!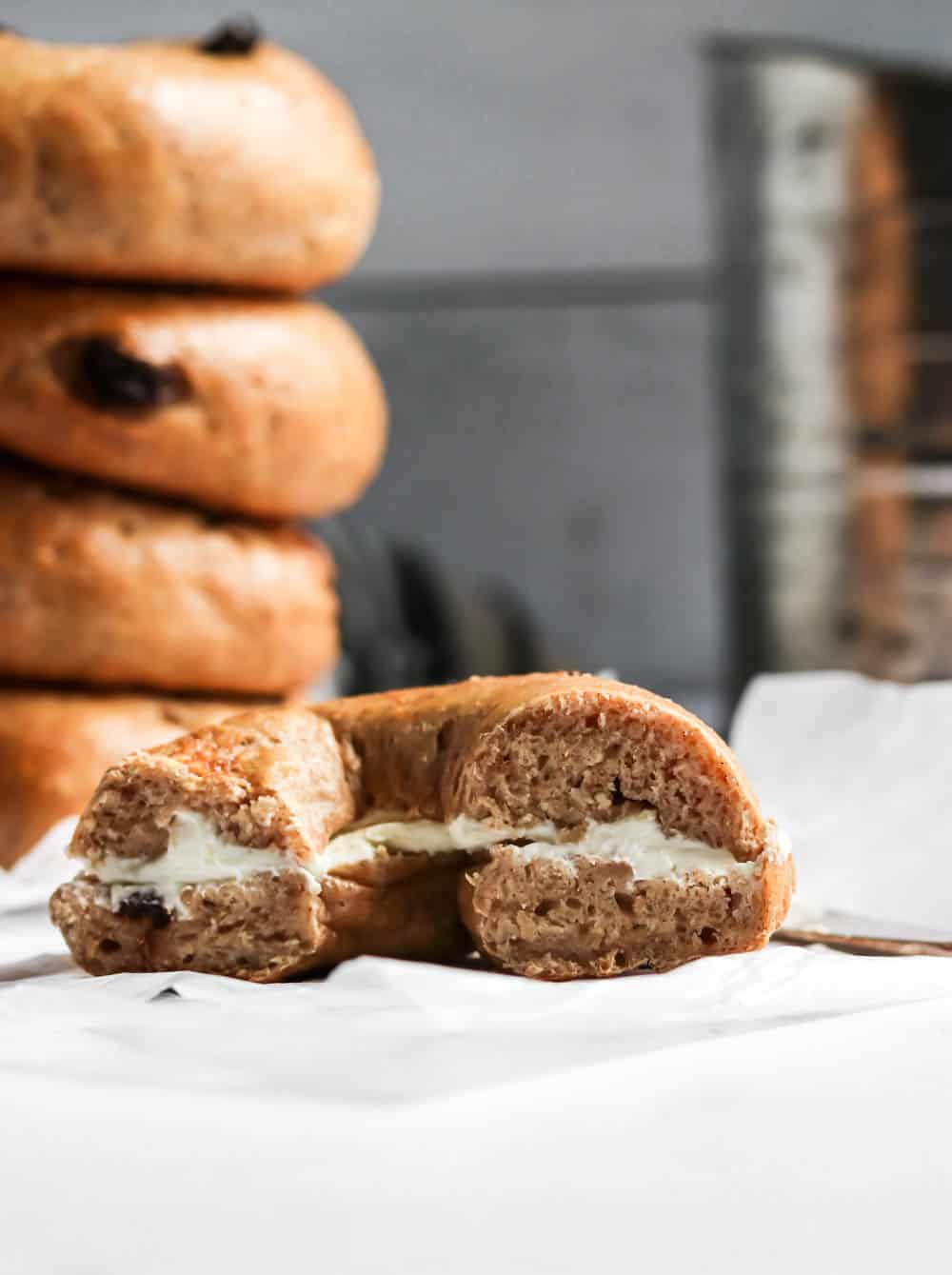 If you are reading this freshly published, know that I am also planning to add a tutorial with images but I wanted to share this cinnamon raisin bagel recipe so bad that I am publishing this one before I have had a chance to do so. Let's just blame that one on the toddler, shall we?
The secret to these Cinnamon Raisin Bagels is…
So here is the secret: if you combine flour, Greek Yogurt and some baking powder, you have basically got all you need to make a nice baked bagel. Well, an egg as well, but those are at least the basics.
I don't know the science behind it, but I have tasted many of these bagels so I know it works. Most of the recipes I saw when scrolling through Pinterest had some combination of these key ingredients and then many of them added Everything But the Bagel seasoning and called it a day.
As amazing as those sound, Sam could eat several Cinnamon Raisin Bagels a day if I let the little guy, so I decided that was the perfect place to start. While he doesn't give thumbs up just yet, him face planting into one of these is thumbs up enough for me! Agree?
There is not a whole lot you really even need to know about these to be honest. I was just always so scared of bagels, but mainly the boiling part. When I made these I thought ok, I am sure I could do the real deal down the road. So we shall consider this cinnamon raisin bagel recipe the gateway to making them the traditional way. Deal? Deal!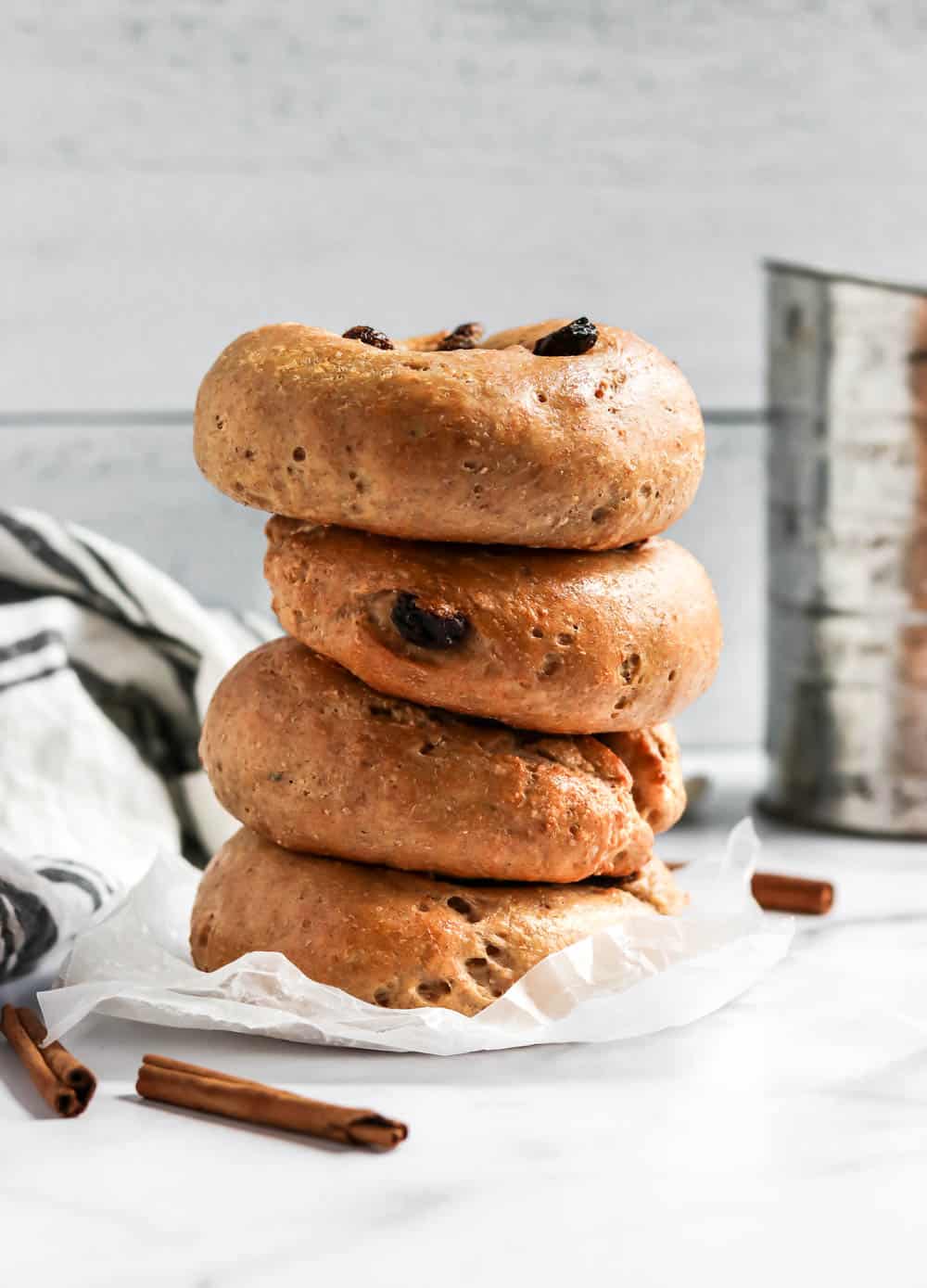 What you need to know before making this cinnamon raisin bagel recipe:
Flour: I used a combination of whole wheat and all purpose flour. I thought I might as well put a bit of whole grain into these for Sam, and he loved them. You could use all white flour if you like instead.
Do not over bake these bagels! They are much better being pulled out early. If you over bake them, they will become dry and much too chewy. If you pull them out when they are a light golden brown then you should be good to go!
The fun of this bagel recipe is feeling like you are a kid again because you get to play with play-do. When you roll them out, remember they WILL expand so make the middle hole a little larger than you think it may need to be. Also, try to really connect and incorporate the two pieces you connect or they will bake up to look more like a 'C' than an 'O.' They will taste the same though!
I only added a Tablespoon of sugar. They are not overly sweet and I liked them that way. Add a bit more if you prefer a little more sweetness to your bagels. I have made these with 2 tablespoons of sugar as well and that makes a bit of a difference in sweetness without being too much.
When using the egg wash, make sure to cover the entire bagel, including the middle and the bottom edges. The egg wash is what makes the outside of the bagel nice and chewy. You don't want to miss that!
Not feeling raisins? No worries! You can add other dried fruit if you like as well. Or omit them if you don't like them.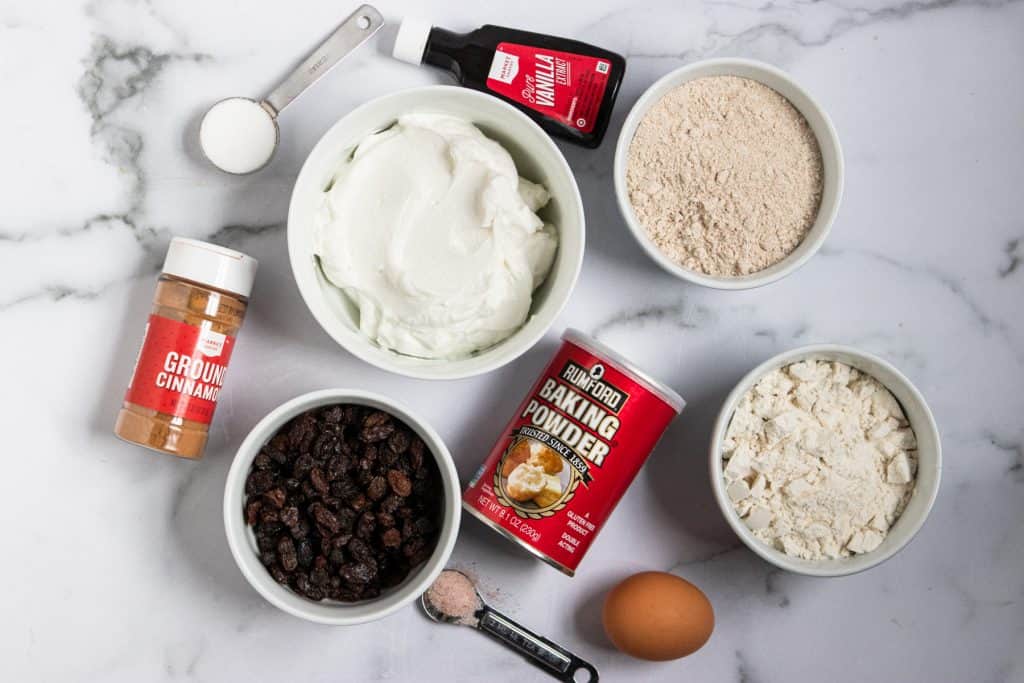 How to serve these Cinnamon Raisin Bagels:
If you are talking toppings then by all means you can never go wrong with cream cheese or butter. A bagel with either of these never disappoints!
I love these with peanut butter and banana!
Have you ever had a pb and j on cinnamon raisin bread or a bagel? Do it NOW!
I have a friend who uses bagels in her French Toast recipes BE THAT FRIEND! Cinnamon raisin bagel French Toast would be heaven.
Cream cheese with a drizzle of honeuy would be amazing too.
What else? How else will you enjoy these bagels?
Steps in Photos to make these Greek Yogurt Bagels:


I know a whisk is shown in the second image, but pro-tip–hands work very well here! It will allow you to really integrate all of the flour into the yogurt. Wash them, of course!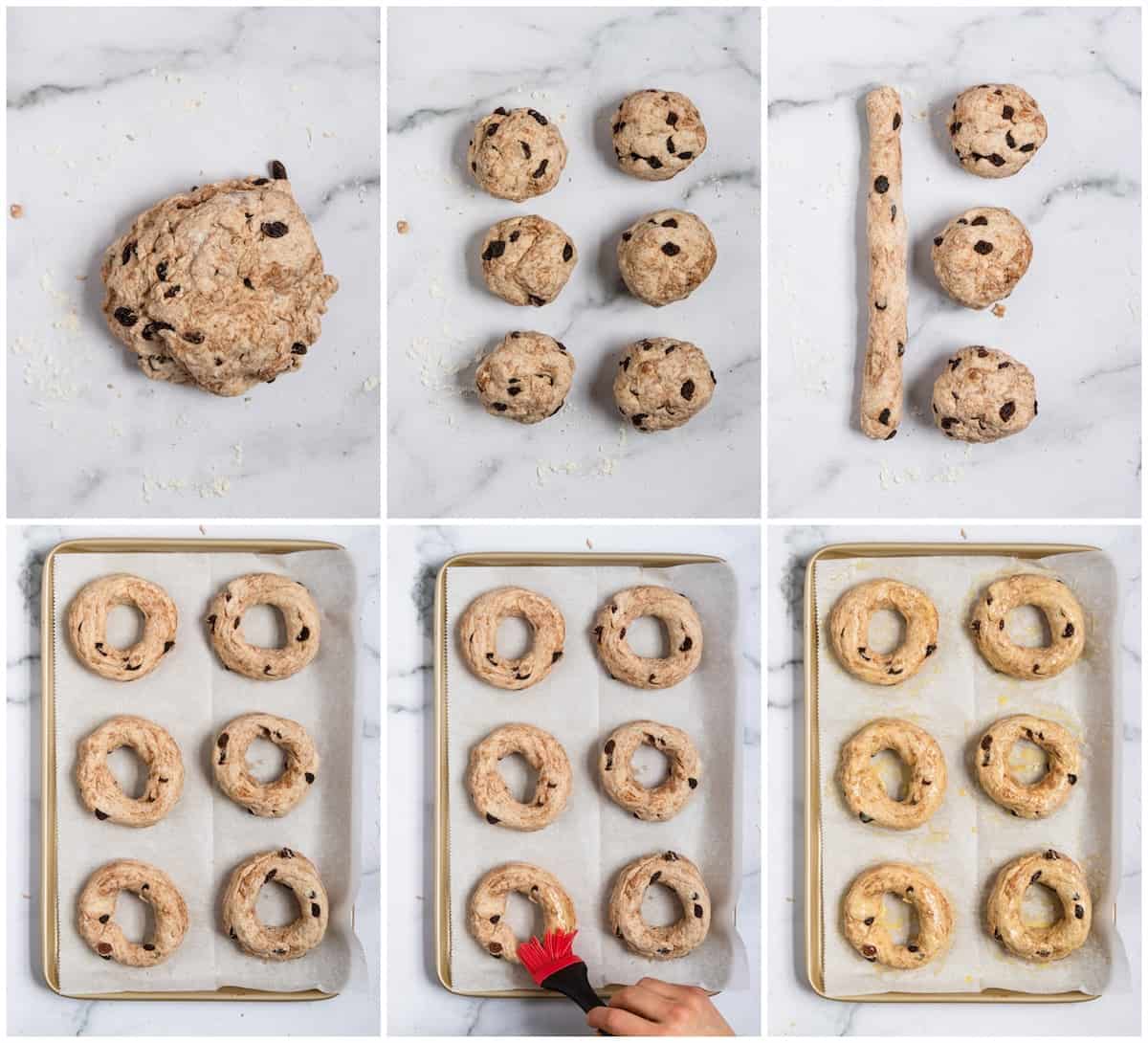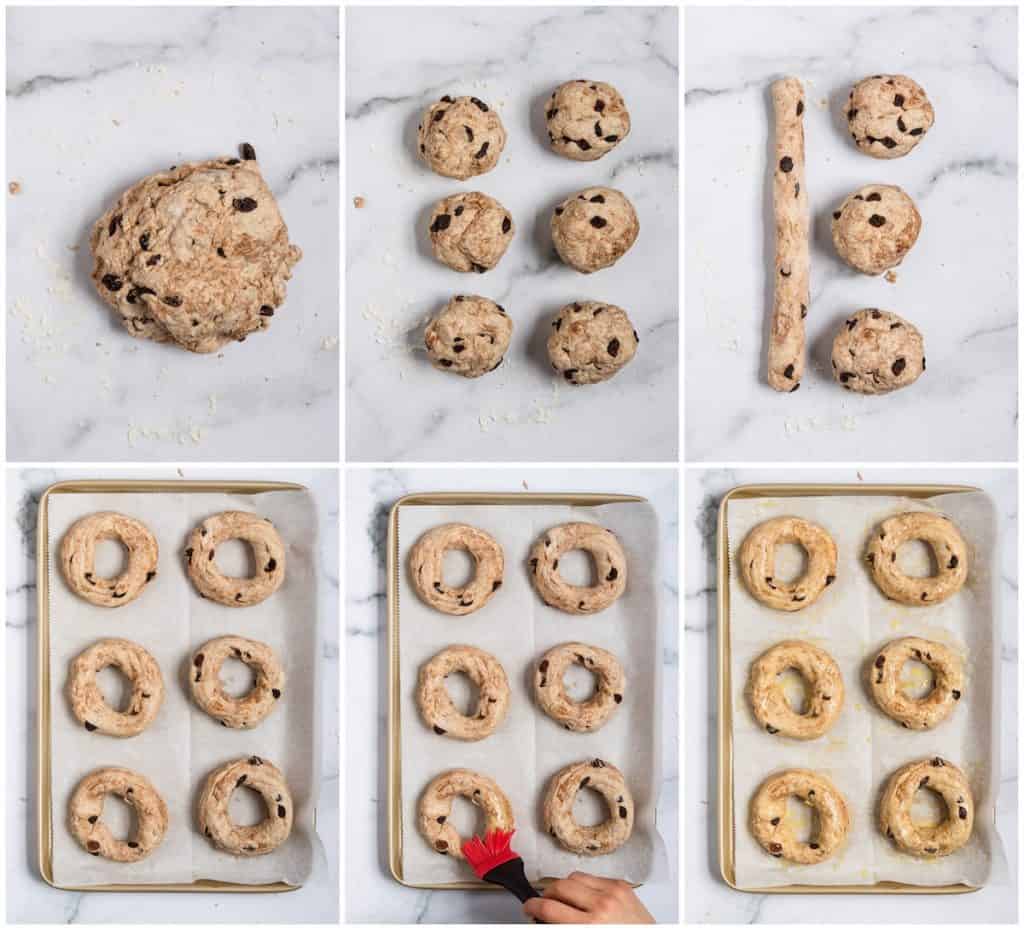 ---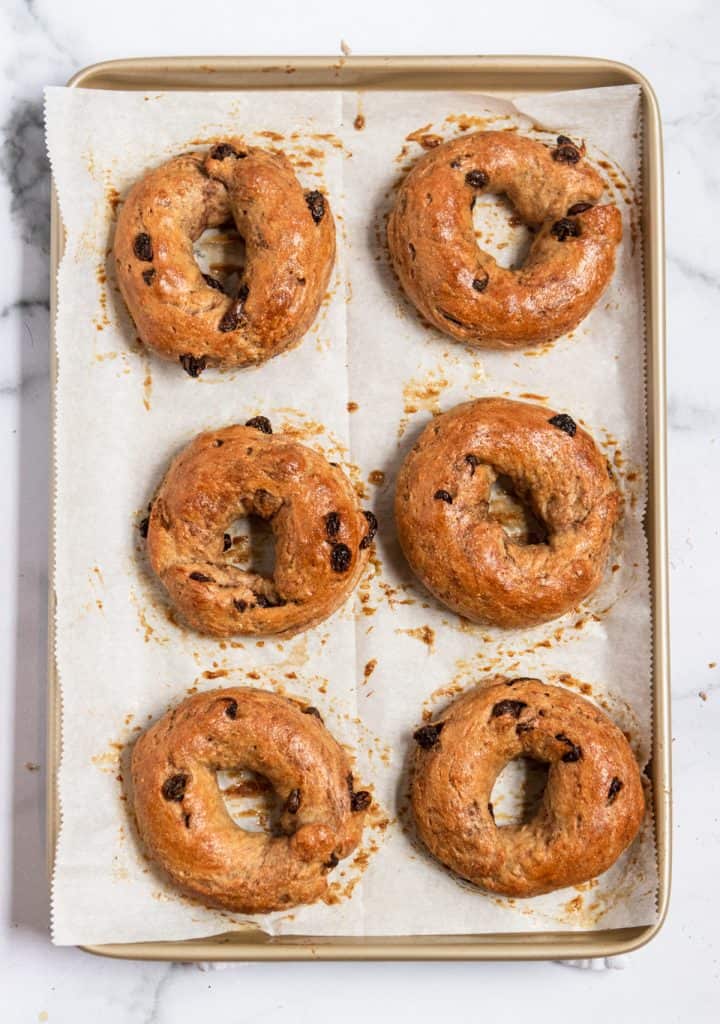 All right then, go get to making those bagels! And enjoy each and every last bite!
Check out these other delicious recipes:
DID YOU MAKE ONE OF MY RECIPES? LEAVE A COMMENT AND LET ME KNOW! I ALSO LOVE TO SEE YOUR LEMONS + ZEST RECIPES ON SOCIAL MEDIA–TAG ME @LEMONSANDZEST ON INSTAGRAM OR FACEBOOK!
Easy Cinnamon Raisin Bagel Recipe
Want homemade bagels that are so simple? This easy cinnamon raisin bagel recipe requires no boiling and no yeast–ready in less than an hour and so soft and chewy. Cinnamon Raisin is a classic flavor everyone loves!
Print
Pin
Rate
Ingredients
1

c

all purpose flour

1

c

whole wheat flour

1 3/4

c

plain Greek Yogurt (I used full fat)

4

tsp

baking powder

2

tsp

cinnamon

1

tsp

vanilla

1

T

sugar

1/2

tsp

sea salt

1/2

c

raisins

1

egg
Instructions
Combine flours, baking powder, sugar, and sea salt. Use a whisk or fork to mix.

Add in Greek Yogurt, cinnamon and vanilla and mix well to combine using a fork. Mixture will be somewhat crumbly or clumpy. Fold in the raisins and then pull the mixture together into one ball and transfer it to a lightly floured surface. (if it seems a bit dry, add a tsp of water)

Knead the dough about 10-15 times and then divide it into 6-8 even pieces. (you can cut into it or just pull it apart, both work fine!)

Roll each piece into a thin (about 1 inch or just less in diameter) long rope and then make a circle and join the ends trying to press them together. Place on a parchment lined baking sheet. Repeat with the rest of the bagels.

Whisk the egg for the egg wash in a small bowl. Brush the egg wash all over each bagel, getting every part of the bagel that is showing, including the middle of the bagel.

Bake for about 20-24 minutes or until browned as desired not the outside. Allow to cool before serving, or heck, eat them warm–yum! (you do NOT want to overcook these, so grab them the sooner than later.)

Store for several days in an airtight container or freeze.
Nutrition
Calories:
262
kcal
|
Carbohydrates:
52
g
|
Protein:
12
g
|
Fat:
2
g
|
Saturated Fat:
1
g
|
Cholesterol:
30
mg
|
Sodium:
234
mg
|
Potassium:
623
mg
|
Fiber:
4
g
|
Sugar:
4
g
|
Vitamin A:
40
IU
|
Vitamin C:
1
mg
|
Calcium:
206
mg
|
Iron:
3
mg