This is not your average banana bread, and you will be so happy it isn't! Rich white chocolate chips and almonds compliment the bananas in this moist bread–why didn't this happen sooner?! White Chocolate Banana Bread is going to be your new favorite!
This past week we said goodbye (for now) to my sweet, sweet Grampa.
It's so crazy to think that the next time we go to my Grandparent's house that he won't be there. It will feel so strange not hearing him greet me with, "Hey, Lorie-girl!" So very much we will miss, but it definitely helps knowing he is in a better place, pain free and that we will meet again.
We hear the saying "you don't know what you've got til it's gone," and I am so glad that is not true in this case. I knew how special he was, and I knew how lucky I was to have him.
First and foremost, I am sooooo lucky to have known all of my grandparents, and I had Grampa in my life for almost 37 years, and my Grandma is still here with us, so I am very blessed. And I have known, for a long time how special they are, and how very special Grampa always was–to everyone.
I can never remember Grampa saying a harsh word to anyone–unless you count the times I should have been wearing earmuffs when watching him and my dad play racquet ball together.
He put the 'gentle' in gentleman and he was always doing everything he could to take care of everyone else before himself. We spent so much time with him and my grandma growing up and I have so many sweet memories of him. My cousins and I would always giggle at him on vacation when he laid out in the sun with a towel on his head so his bald spot didn't get burned.
There were hundreds of car rides we took with him and found his stash of breath mints or vitamic C drops only to completely take them over.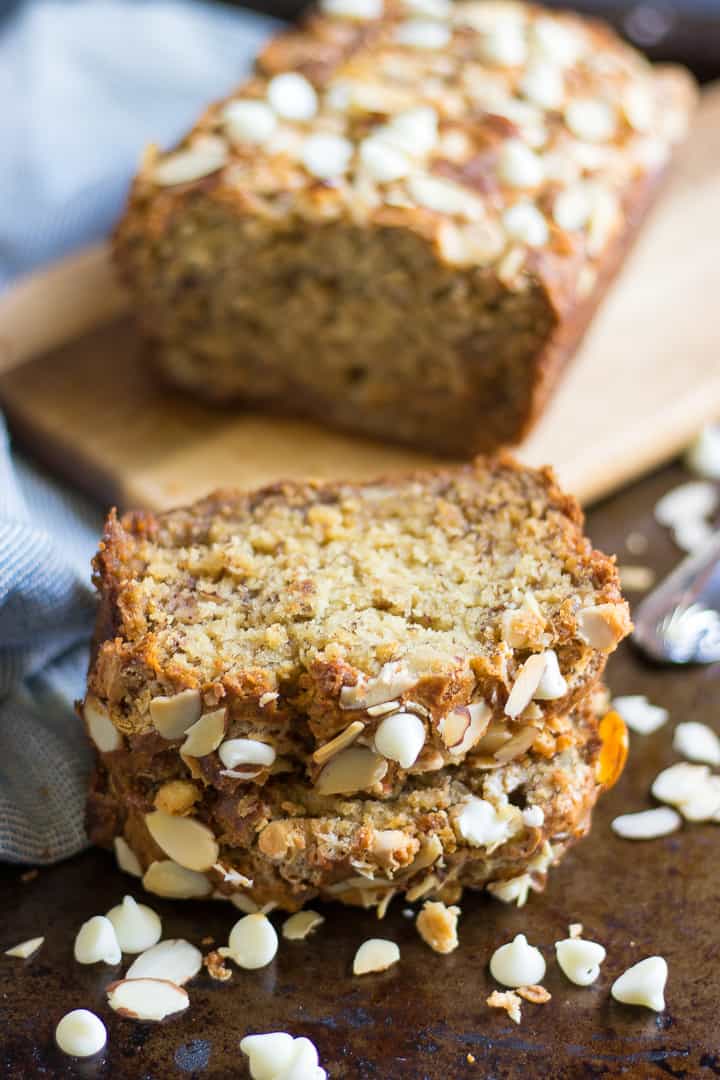 Always there. Every time.
I am not sure how much sleep he lost during all of our cousin overnights and our giggles keeping him up all night, but he never acted bothered one bit. He came to every dance recital (and they were looooooong) and every special event in my entire life–Grandma and Grampa were always there.
My cousins and I would have days with Grandma where we would go shopping and do lunch and then after all the shopping Grampa would meet us for dinner and get to listen to every bit of our day. Sometimes we even made him sit through fashion shows to show off our goodies.
We did a lot of bowling with Grandma and Grampa, and in fact, we still go as a family every New Year's Day.  Watching Grampa's bowling technique was pretty funny, but then when he would knock all the pins down, the laughter stopped–well until one of us tried to mimic his famous technique. Sigh. Just the best.
One of the most special things of all was that Grampa was our "chauffeur" on our wedding day. Yep, after the wedding, no limo for us, we had a personal chauffeur and his name was Grampa, well for the ride we called him "Fraaaaaaahhhnk."
Seeing as my grandparents were married 66 years, this was a huge gift to have them there passing somewhat of a torch onto us, the newlyweds. Grampa's town car was driving in style that day, and it's one of my favorite memories of him.
On the day Grampa was admitted to hospice care, I found myself aching for all of the memories. I wanted to remember everything I could. I wanted to be in the moments as a child, giggling with him, on vacation, in the back of his car, anywhere, with him. And I found myself in the kitchen, digging up those memories.
When Banana Bread Becomes a Way to feel and remember.
Every year, on Grampa's birthday, Grandma makes a homemade from scratch banana cake. We are talking banana cake, with banana icing and even slices of banana in the middle layer of icing. It is the very best cake and we all look forward to June 14th every year for more than just to wish Grampa a happy birthday–we want the cake!
So that day, I wanted to smell something banana, baking in the oven. And that would be how I would go back and be able to feel connected to Grampa even when I wasn't at his bedside.
This White Chocolate Banana Bread is for you, Grampa.
So this recipe, this perfect baked loaf of banana goodness, is my love song in a way to Grampa. It is what can connect me, to the memories, to the good times and to all the love.
I was able to breathe in the aroma of the bread baking and with a few tears, remember. All of the good times–so very many of them. Food and memories go hand in hand, and this White Chocolate Almond Banana Bread, though it will not ever be Grandma's banana cake, is my tribute to my sweet, sweet Grampa. And I am sure he would be very pleased with it.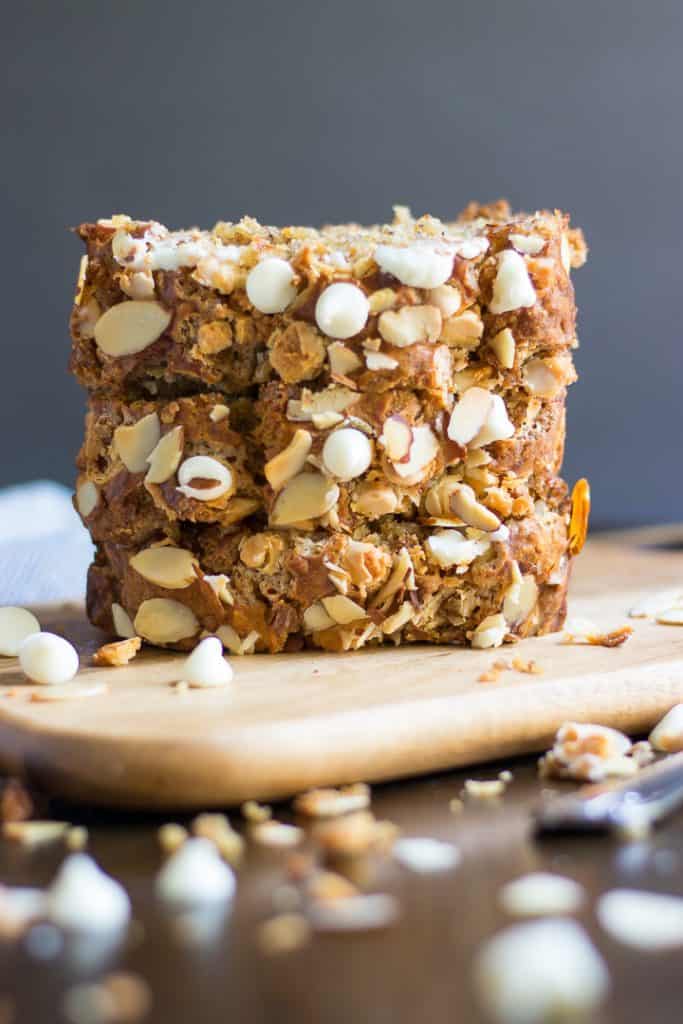 What you need to know about this White Chocolate Banana Bread:
Sooo, let's talk a little bit about this banana bread. I had never had banana bread with white chocolate chips, and bite after bite, I was thinking, "What took this so long to happen?!"
Some of the chips melt completely into the bread on the inside and then the chips on top toast up a bit and have the most amazing flavor–kind of like if you love the brown of a toasted marshmallow. And the almonds on top get nice and toasty as well.
I had never made banana bread without cinnamon so I wasn't sure I would like it without it, but didn't think I wanted cinnamon in combination with the white chocolate chips. Glad I left it out. You don't miss it at all.
As for flour, I used unbleached all purpose–use a gluten free all purpose if you need to skip the gluten. As for the white chocolate chips on top–if you don't want them to get browned, wait until about halfway through baking and then add them on top. That should do the trick and they will still be melted.
If you make this White Chocolate Almond Banana Bread anytime soon, I highly advise doubling the batch. This loaf didn't last but a few days in our house. Anthony came home from work on day 2 asking how much was left and it was pretty measly. It's. That. Good–promise!
Love you so much, Grampa. xoxo
---
Check out some of my other favorite banana bread recipes:
DID YOU MAKE ONE OF MY RECIPES? LEAVE A COMMENT AND LET ME KNOW! I ALSO LOVE TO SEE YOUR LEMONS + ZEST RECIPES ON SOCIAL MEDIA–TAG ME @LEMONSANDZEST ON INSTAGRAM OR FACEBOOK!
Ingredients
3

very ripe bananas

1

large egg (room temp is best)

1 1/2

c

flour

5

T

butter, melted and then cooled

1/3

c

brown sugar

1

tsp

baking soda

1/2

tsp

baking powder

1

tsp

vanilla extract

1

c

white chocolate chips

1/2

c

sliced almonds
Instructions
Preheat oven to 350°F.


In a medium bowl, mash bananas well. Add in egg and whisk together. Mix in butter, vanilla and brown sugar until smooth.


In a separate bowl, whisk together flour, baking soda and baking powder. Pour the dry ingredients into the wet and stir.


Fold in 2/3 c chocolate chips and half of the almonds.


Pour batter into a well greased bread pan and top with remaining chocolate chips and almonds.


Bake for 40-50 minutes or until a toothpick comes out clean.