Chewy, fudgy brownies with a rich, dulce de leche cheesecake swirl is the perfect brownie treat for any occasion. These cheesecake brownies are simple to make and will be everyone's favorite new dessert!
I am a big fan of brownies, HUGE.
And I am an even bigger fan of combining brownies with another favorite: cheesecake. Swirl some cheesecake into my brownies and your wish is seriously my command.
My personal favorite for a long times was these Kahlua Cream Cheese Brownies, but they are now officially my number two. And I LOVE my Kahlua, so this is big.
Dulce De Leche Brownies
Fudgy chocolate goodness with dulce de leche cream cheesy swirls are the latest from the lemons + zest kitchen, and in the testing of these, there was very little sharing.
That's how you know it's a real winner.
It just so happens to be a week from Valentine's Day, but these cheesecake brownies could very easily be perfect for many other occasions including:
birthdays–make sure to add a scoop of vanilla ice cream
snow days–made for baking, right?
galentine's day–your girlfriends will thank you big time
bake sales–these won't even last the first five minutes
work parties
just because–who says you need a special occasion to make brownies anyways?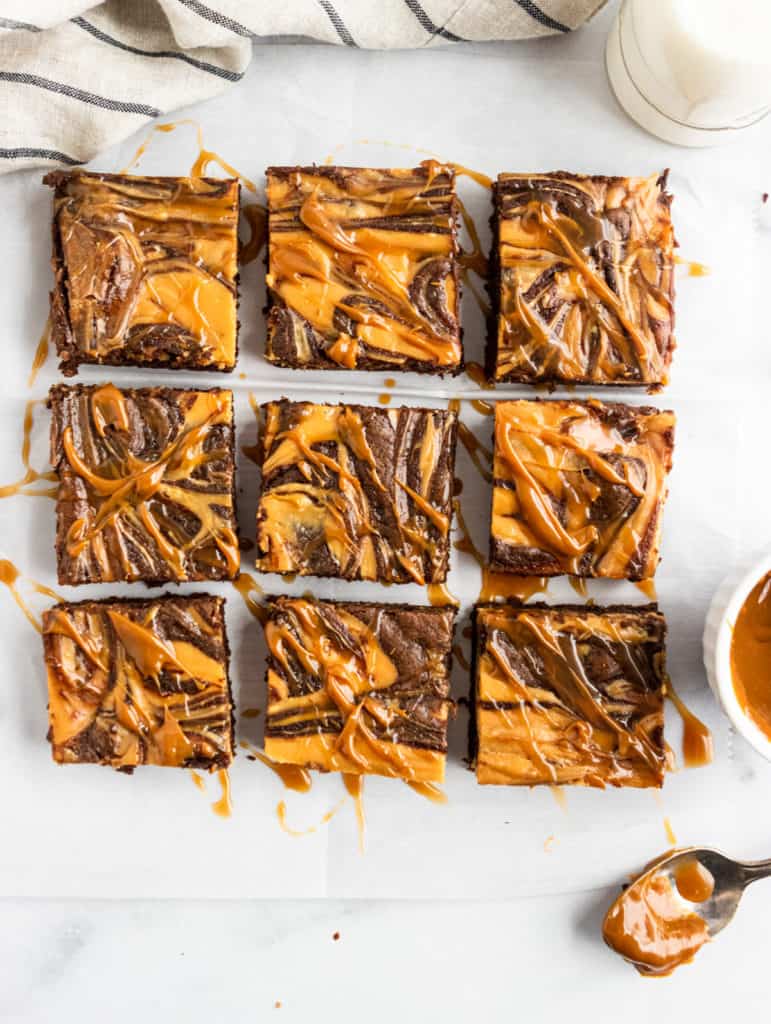 While these cheesecake brownies look fancy, they are actually super simple to make.
I am one to opt for the brownie mix, but the more I make them from scratch, the more I realize, the real deal are not nearly as difficult as I used to think.
And more often than not, I am just taking a brownie package and doctoring it up to make it better. So why not make them all my own when I can.
So here is all you will need to do to make these brownies:
Melt some butter, stir up all the brownie ingredients and pour into your pan. I know you can handle that.
Then use a mixer to whip up the cream cheese, sugar and egg. Swirl in the dulce de leche. Still with me? Of course you are, that was barely anything!
Pour the cheesecake on top of the brownie and spread. Then Add some reserved brownie batter on top and make all of the fun swirls. Bake it up and you are ready for all the chocolate and "sweet milk" goodness!
What exactly is Dulce De Leche?
Dulce de leche translates to "sweet milk." This sweet confection is made by slowly heating sweetened condensed milk to make a rich, thick caramel like sauce. And if you have ever had it, it is UNBELIEVABLE.
How is it different from caramel?
The big difference between caramel and dulce de leche is that caramel is made from heating sugar and dulce de leche is heated sweetened milk. Caramel sauce can be made by adding butter which in turn is much more similar to dulce de leche.
Dulce de leche is thick and caramel like, so naturally many think they are the same thing.
Can I just use caramel instead?
If you used caramel, then technically these would not be dulce de leche cheesecake brownies anymore. Buuuuut, caramel cheesecake brownies clearly would not be so bad if you ask me. I have not made these with caramel at this time, but I don't think there will be any issue subbing it 1:1.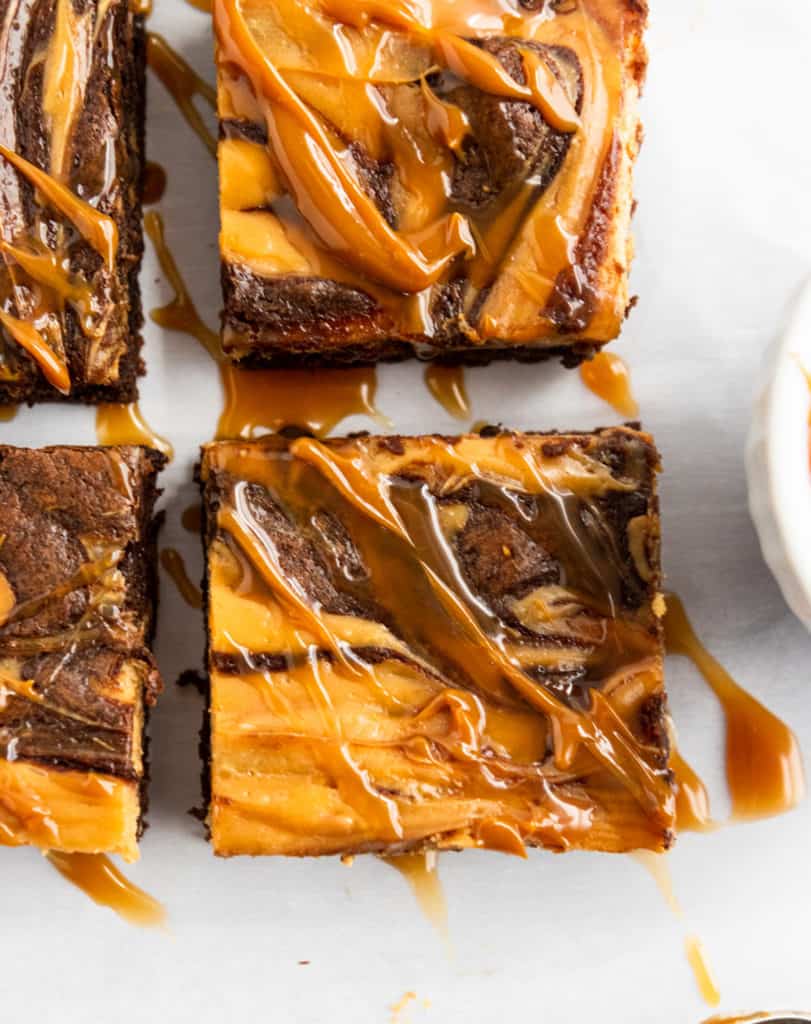 What You Need To Make these Dulce De Leche Cheesecake Brownies:
For the brownie layer:
butter: unsalted and melted. The best way to start off a good, fudgy brownie.
sugar: I only used white sugar in this recipe. There are some brownie recipes that use a combo of white and brown sugar–brown sugar can up the chewiness and moisture, but I had no lack of either in these so white sugar it is!
eggs: large eggs. It's always a good idea to allow the eggs to come to room temperature if possible.
cocoa powder: unsweetened cocoa powder.
flour: you don't need a lot of flour for brownies, I used all purpose flour. I have not tested these with another flour at this time.
baking powder: always make sure your baking powder is fresh. You are much more likely to have baking successes.
salt: I always use sea salt, it's my personal preference.
vanilla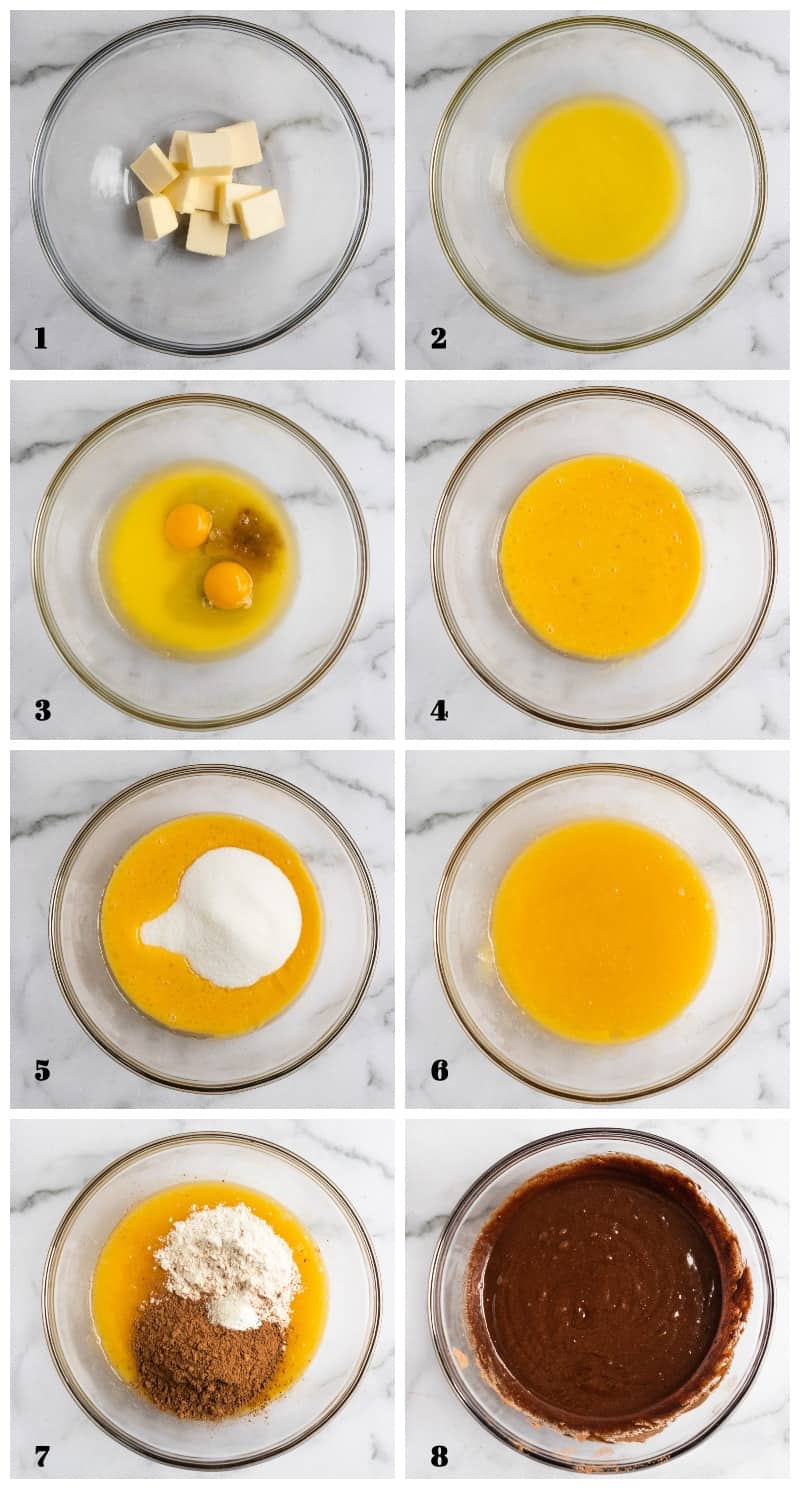 For the dulce de leche cheesecake:
cream cheese: one block, softened.
egg: once again, large egg.
sugar: you don't need a lot, the dulce de leche will do the rest to sweeten this right up!
vanilla
dulce de leche: my goal is to make my own and then link it here. Let's see how long that takes… ha. For now, it's just store bought!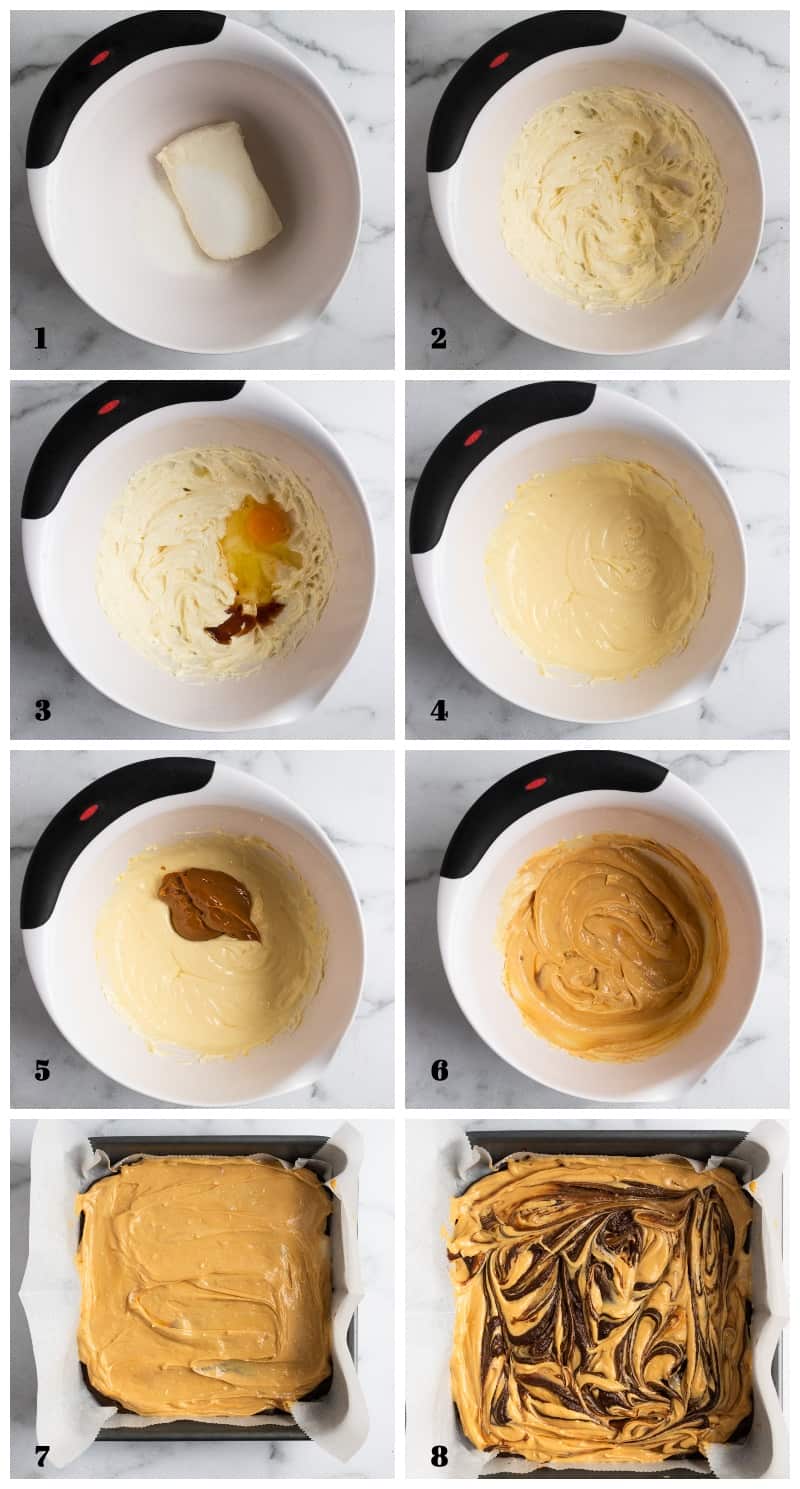 Looks like you are all set! I hope you enjoy these dulce de leche brownies just as much as we do!
Can't wait to hear about it–leave me a comment if you made them and let me know how it went. Thanks so much!
Check out these other baked good recipes:
DID YOU MAKE ONE OF MY RECIPES? LEAVE A COMMENT AND LET ME KNOW! I ALSO LOVE TO SEE YOUR LEMONS + ZEST RECIPES ON SOCIAL MEDIA–TAG ME @LEMONSANDZEST ON INSTAGRAM OR FACEBOOK!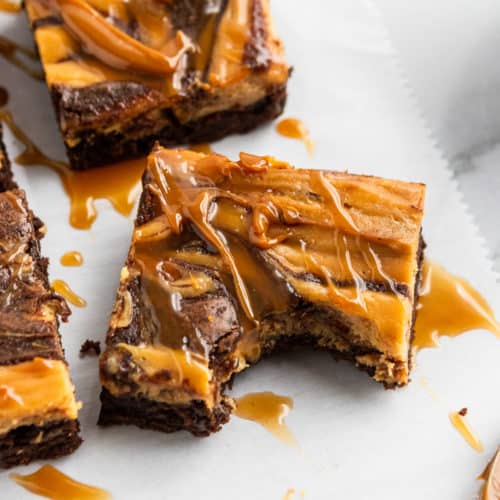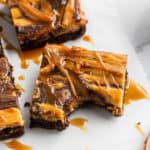 Print Recipe
Dulce de Leche Cheesecake Brownies
Chewy, fudgy brownies with a rich, dulce de leche cheesecake swirl is the perfect brownie treat for any occasion. These cheesecake brownies are simple to make and will be everyone's favorite new dessert!
Ingredients
For the Brownie Layer:
1/2

c

butter, melted and cooled

2

eggs

1 1/4

c

sugar

2/3

c

cocoa powder, unsweetened

1/2

c

flour

2

tsp

vanilla

1/2

tsp

baking powder

1/2

tsp

sea salt
For the Dulce De Leche Cheesecake:
1

block cream cheese (8 oz.), softened

1

egg

1/4

c

sugar

1

tsp

vanilla

1/3

c

dulce de leche
Instructions
In a medium bowl, whisk together egg, vanilla and melted butter. Add in sugar and stir to combine.

Add flour, cocoa powder, salt and baking powder and stir to combine and incorporate completely. Mixture will be smooth but may have some very small lumps.

Scoop out 1/3 cup of the brownie batter and set aside. Pour the rest of the brownie batter into a well greased, or parchment lined 9x9in pan and spread evenly (8x8in. will work as well, and set aside.

In a separate bowl, using an electric mixer, beat cream cheese and sugar until smooth and creamy. Add in egg and vanilla and beat until fully incorporated. Add dulce de leche and stir in slowly. I like to do it this way to allow some caramel like streaks to still be visible. You can fully incorporate it if you would like.

Pour the cheesecake mixture on top of the brownie batter and spread evenly. Take the reserved brownie batter and drop in dollops across the cheesecake. Take a knife or long toothpick and swirl the two together.

Bake for about 22-25 minutes or until a toothpick comes up mostly clean (you don't want a brownie over baked, so I don't like mine coming up completely dry.)

Serve with extra dulce de leche drizzle and a big scoop of ice cream!