This post may contain affiliate links.
Everyone has a story to tell--no matter where you come from, no matter who you are, we all have a story. And up until this very moment, your story has made you exactly who you are today. Whether in the face of adversity, fear, through successes and joys, all of this, make up what you have become. And your story is not normal, mundane or just average. Your story is extraordinary as it is what has made you, YOU.
I have become extremely obsessed with podcasts over the past several months. There are so many fascinating stories out there and so very many of them are wrapped up into these beautiful interviews and conversations we call podcasts. Did I mention they are also free?
I am not surprised at all that the podcasts I find myself most wrapped up in involve the stories of those who came out on top of some of the most extreme life challenges. Whether it be addiction, failure, discrimination, abuse, self hate--you name it, the story of the one who overcomes fills me with inspiration, hope and the "I can do anything" mindset.
What I have learned from some of the stories I have been listening to is that some of the most successful people out there, some of the people we look up to as mentors, stars and somewhat "untouchables"--these people, so many of them, at one point or another almost lost it all, or in fact did lose it all, failed miserably, started with absolutely nothing in their pockets, were in spots that were so low, rock bottom looked high. These people, the stories we hear, are raw and honest and without any glamour.
Gary Erickson, founder of Clif Bars almost lost his entire legacy over one naive deal. Jane Wurwand, founder of Dermalogica came to America with nothing in her pocket and worked 7 days a week, 16 hours a day to build her successful company. Jasmin Singer ate in the bathroom during school since she was bullied so much and after a life of self hate and an awful relationship with food, worked hard to overcome this vice---and so on and so on. ( If you can't tell, NPR's How I Built This is one of my favorites along with anything involving Rich Roll. Check them out!)
What is the one thing that pulls us, or at least me, to such stories? It's the raw humanity, the "hey, they are just like me" feeling. The connection we feel to others' stories often has to do with the realness and the opposite of their fairy tale like sequence. Sometimes, when we see the person that has it all, we imagine they have no idea what it's like to struggle, to fight, to work hard. But then when we hear the stories of fellow humans who we actually know 'have it all' so to say, it is humbling to know that they too were not just handed their fortune.
And so it all ties back to our very own stories. Sure, maybe we aren't being interviewed in the newest New York City restaurant, and perhaps we aren't telling our stories at all. But our stories can show the same adversity, the same drive, the same pick ourselves up after falling flat on our faces sort of tale. We can inspire others with our stories of strength and courage. We can show others that giving up was never an option. Our stories are worthy.
And currently, my story continues to be written. And I will not give up. And soon, I will share more of this story with you. Until then, keep writing yours!
---
Apple season is the BEST season! For some that is also because it is pumpkin season, and I get that as well. For me, an apple a day continues to be my own life truth. I love a good juicy, organic Fuji apple. I slice it up thin and dip it in peanut butter or almond butter. LOVE.
I also find that anything that combines apples and cinnamon is also my favorite. Another great way to get my apple in everyday.
This Baked Oatmeal + Apple Crumble is a bit of a marriage between a crumble and oatmeal bars. It's not quite formed enough to eat it with your hands, but it's not quite messy enough to be a crumble. So it's a little bit of both!
This could possibly even pass as a breakfast treat as it is sweetened with maple and is full of fresh apples, hearty oats and flax. Sounds like a keeper to me! Add a dollop of real vanilla ice cream or maybe some coconut whipped cream and you are set!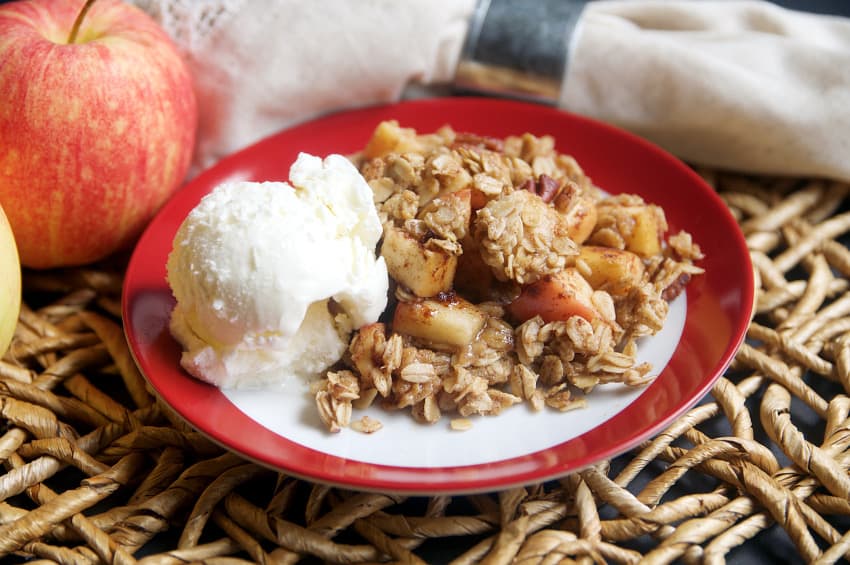 Ingredients
For Oat Bar and Crumble Topping
For Apple topping
3

medium apples

I use Fuji or Gala

2

teaspoon

pure maple syrup

Juice of ½ lemon

1

teaspoon

arrowroot

or corn starch

Dash of sea salt
Instructions
Preheat oven to 350°F.

In a large mixing bowl, combine all dry ingredients for the oat and crumble and whisk to combine.

Add in all wet ingredients and stir to evenly coat liquid throughout.

Set aside ⅔ c of the oat mixture.

In an 8x8 baking pan, lined with parchment, coat lightly with coconut oil.

Press oat mixture firmly and evenly into the pan, and set aside.

Dice apples and in a small bowl, combine all ingredients for apple layer and stir well to coat.

Pour the mixture over the oat bottom layer and spread evenly.

Add the ⅔ c that was set aside by crumbling over top of the apples.

Bake for about 25-45 minutes or until the topping is a golden brown and the apples begin to boil.

Allow to cool for 10-15 minutes before serving.
Notes
*if making gluten free, skip the wheat flour and use all oat flour