This Simple Apple Sage Stuffing recipe is sure to make this holiday season all the more delicious. Simple to whip up and full of fresh herbs and flavor. It's the perfect compliment to any turkey or Thanksgiving dinner!
Thanksgiving is coming, and there is one food I can't wait for the most: stuffing!!! I. LOVE. STUFFING!
It is my favorite part of the Thanksgiving meal and I could very well cover half of my plate with it. The hard part is that it does fill you up so much, I mean, the name of it says it all, but it is worth it. Every single bite.
Confession: this is the very first time I have ever made stuffing from scratch. I think I made stove top a couple times when we were first married, but there was never any need to make it on my own because between my Grandma's and my mother in law's stuffing, I have been spoiled.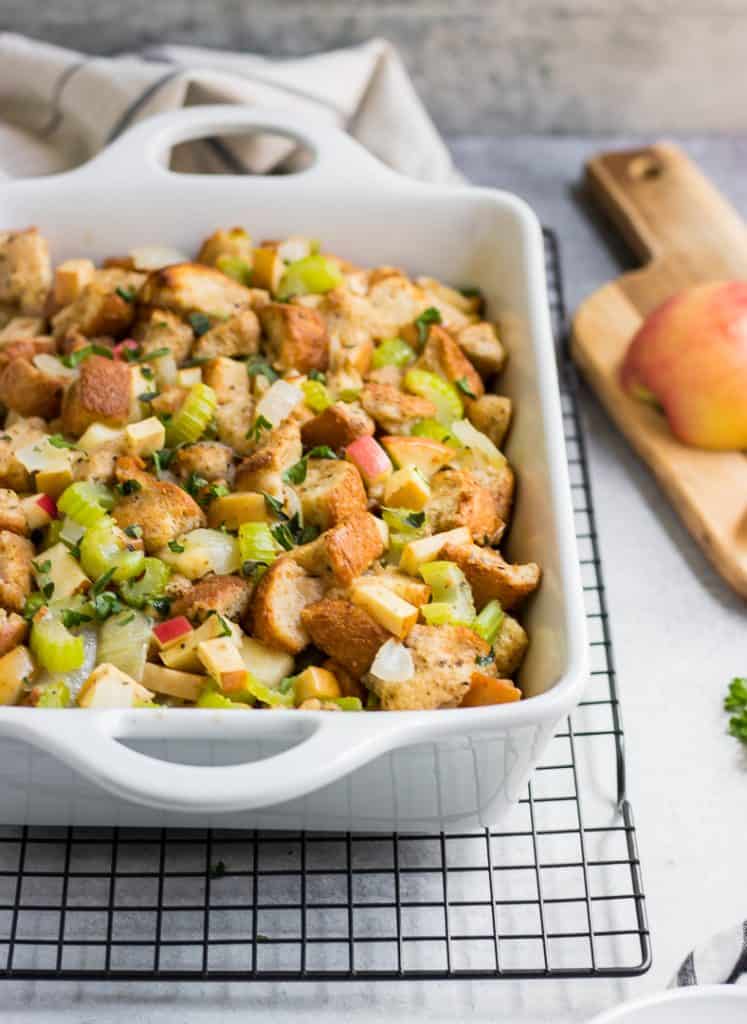 I thought it was kind of odd that I didn't have a stuffing recipe on the blog considering my love for it. To be honest, I think it's because I am a classic girl when it comes to the bread-y goodness. You really can't go wrong with a good traditional bread stuffing with tender crunchy celery, herbs, and a nice crusty top. However, sometimes a fun spin on tradition turns out to be a great idea.
Since I feel like we only have stuffing on Thanksgiving and Christmas, an opportunity to have some outside of the holidays sounded pretty amazing to me. Thus, this Simple Apple Sage Stuffing was born.
One of the things I love to do around here is take traditional favorites and give them a slight tweak to make them an entirely new dish with a whole new flavor. The apples in this stuffing do just that. They surprisingly don't make the recipe all that sweet, which is actually what I was worried about. But they do give the stuffing a subtle new flavor--and the tiniest dash of nutmeg helps with that too.
Thanksgiving really is one of my favorite holidays. No presents, no gimmicks, no Santa Claus--just family and loved ones... and food.
Food unites us, it brings us together. We share stories , laughter and memories year after year at the table. The years go by, things change, some holidays we find ourselves missing someone who is no longer with us, others are full of smiles and joy. It's a holiday of 'together' and that's really the only thing required for this holiday.
I mean, sure things like turkey and cranberry sauce, and more importantly pumpkin pie, are parts of this holiday but without the unity, without the coming together as family, as friends, etc. then the holiday loses its warmth and spirit.
My grandma's stuffing is by far the very best stuffing to ever exist--don't fight me on that one, I promise I will always win. I look forward each year to that and her famous pumpkin pies. I kid you not, I could just have those two things on turkey day and be 100% satisfied. It's all about the extra love and TLC she adds to all of it, I am certain. No one does it quite like grandma, right?
What about you? What is your favorite holiday dish? Whose cooking do you look forward to the most?
I can't promise you this Apple Sage Stuffing is just like Grandma's but I can 100% guarantee she would approve, and Grandma's seal of approval is not easy to come by!
Looking for some other delicious holiday recipes this season? Try a few of these:
Butternut Squash Casserole
Roasted Sweet Potato Cranberry Quinoa
Simple Apple Sage Stuffing
The holidays are not complete without the stuffing! This Simple apple Sage Stuffing is easy to toss together and has a fun twist with the added apples. Make it your new family tradition!
Print
Pin
Rate
Ingredients
1

loaf thick sliced bread (approx. 20 oz)

(day old, cubed)

1

large apple, small diced

4

celery stalks, chopped

1

medium

onion, diced

1

T

fresh chopped sage (or 1 teaspoon dried sage)

1

T

freshly chopped thyme (or 1 teaspoon dried thyme)

2

c

chicken broth

2

large eggs

6

T

butter

4 to sauté, 2 for topping

Pinch

of nutmeg

cracked pepper

sea salt
Instructions
Begin with bread sliced into one inch pices that have set out overnght. If you do not have time for this, heat oven to 325°F and place cubed bread on baking sheet and bake for about 30 minutes or until dried out.


Preheat oven after bread is removed to 375°F.


Place bread into a large bowl.


In a skillet, heat 4 T butter to melt. Add in celery and onion and cook until softened (about 5-7 minutes). Add in fresh herbs and cook for another 1-2 minutes.


Transfer celery and onion mixture to the bread bowl and fold into bread. Add in diced apple as well.


In a small bowl, whisk together eggs, chicken broth, nutmeg and salt and pepper to your liking. Pour mixture into bread and stir to coat evenly.


Pour into a greased casserole dish and pour remaining butter (melted) over top.


Cover with foil and bake for about 20-25 minutes. Remove foil and bake for about 10 minutes or until desired crispiness on top.


Remove from oven and allow to cool for 5-10 minutes. Add freshly chopped herbs to garnish and serve!

Nutrition
Calories:
302
kcal
|
Carbohydrates:
39
g
|
Protein:
9
g
|
Fat:
12
g
|
Saturated Fat:
6
g
|
Cholesterol:
64
mg
|
Sodium:
672
mg
|
Potassium:
239
mg
|
Fiber:
4
g
|
Sugar:
7
g
|
Vitamin A:
347
IU
|
Vitamin C:
6
mg
|
Calcium:
113
mg
|
Iron:
3
mg