Roasted Parmesan Green Beans are a simple side to toss together and get a delicious vegetable on the table. Fresh garlic, a dash of sea salt, and plenty of parmesan make these a perfect addition to any dinner or meal!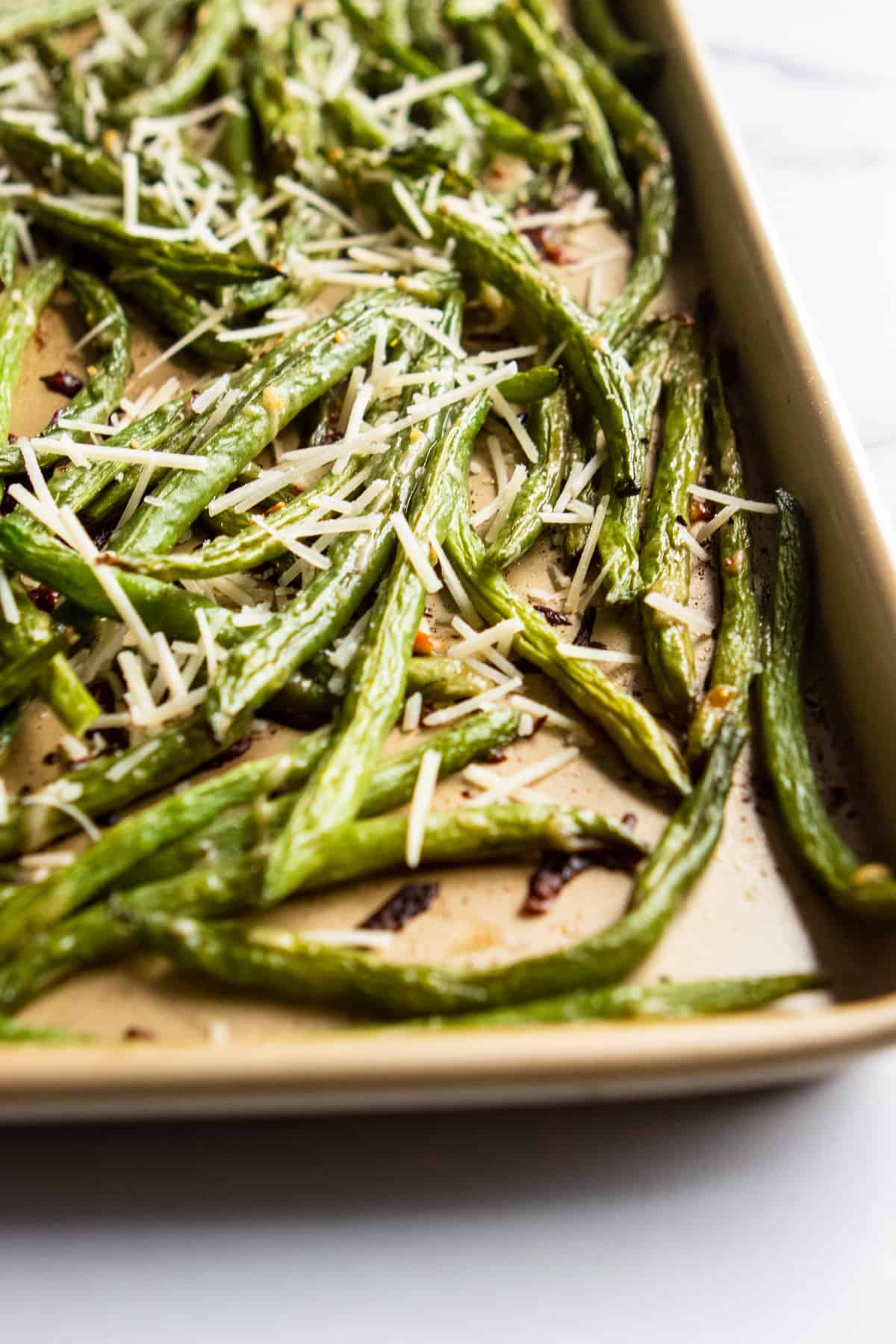 In my house growing up, you did not really ever eat a vegetable without a generous dusting of Parmesan. EVER.
Green beans, peas, broccoli, salads, you name it, the parmesan was there.
Mr. Lemons + Zest did not understand this when we first started dating, but now he knows. And I am sorry, veggies just shouldn't be without their parmesan, ok?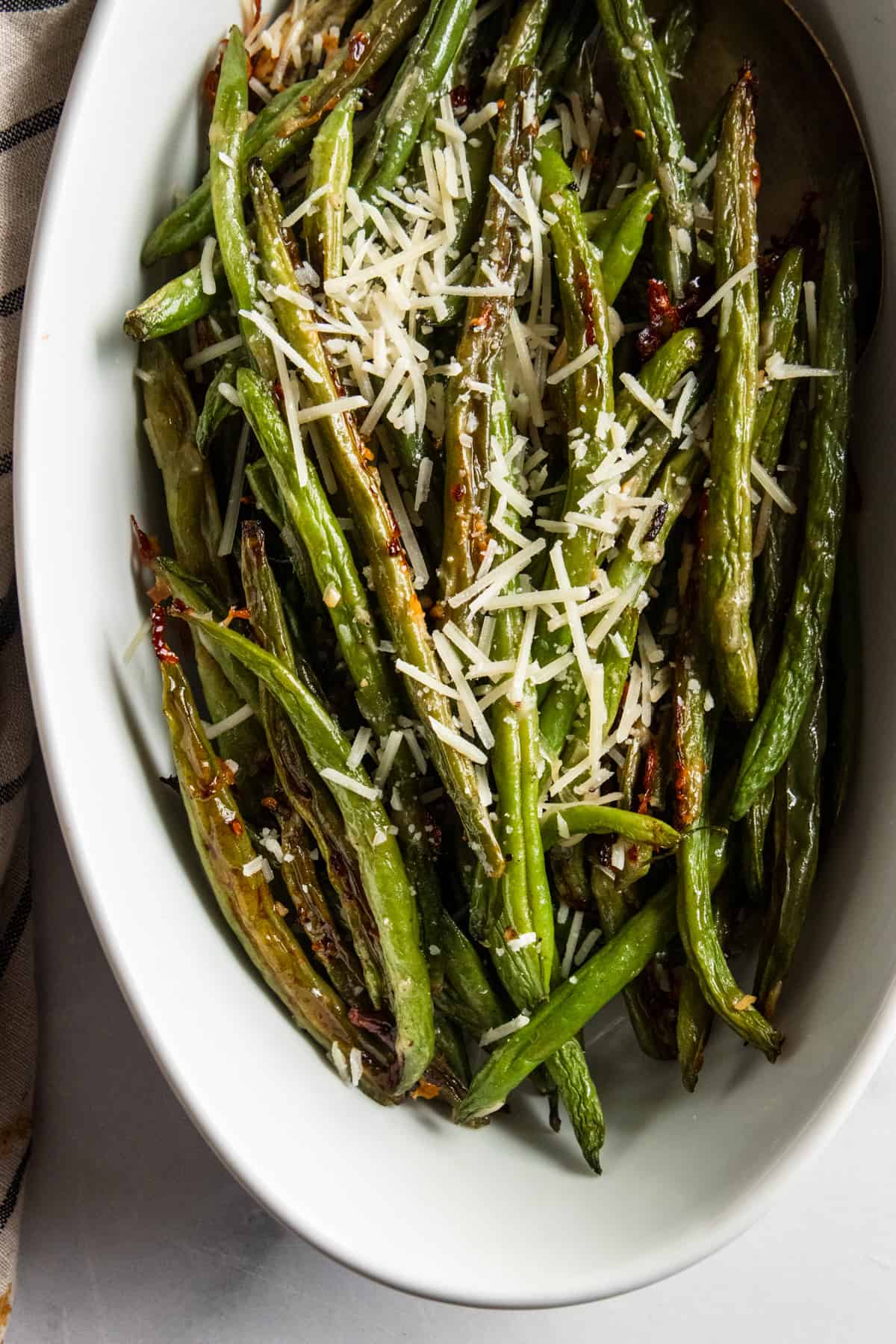 My go to side dish Recipe
There isn't really anything flashy or anything about this Roasted Parmesan Green Bean Recipe. But since it is my go to recipe, I assumed it was time to share it here.
There are so many ways you can prepare green beans and my top two favorites are roasting and sautéing. Even though roasted green beans don't look the prettiest with all their wrinkles and browned coloring, I find the flavor and texture unbeatable.
Plus, when it comes to these roasted green beans, there's parmesan!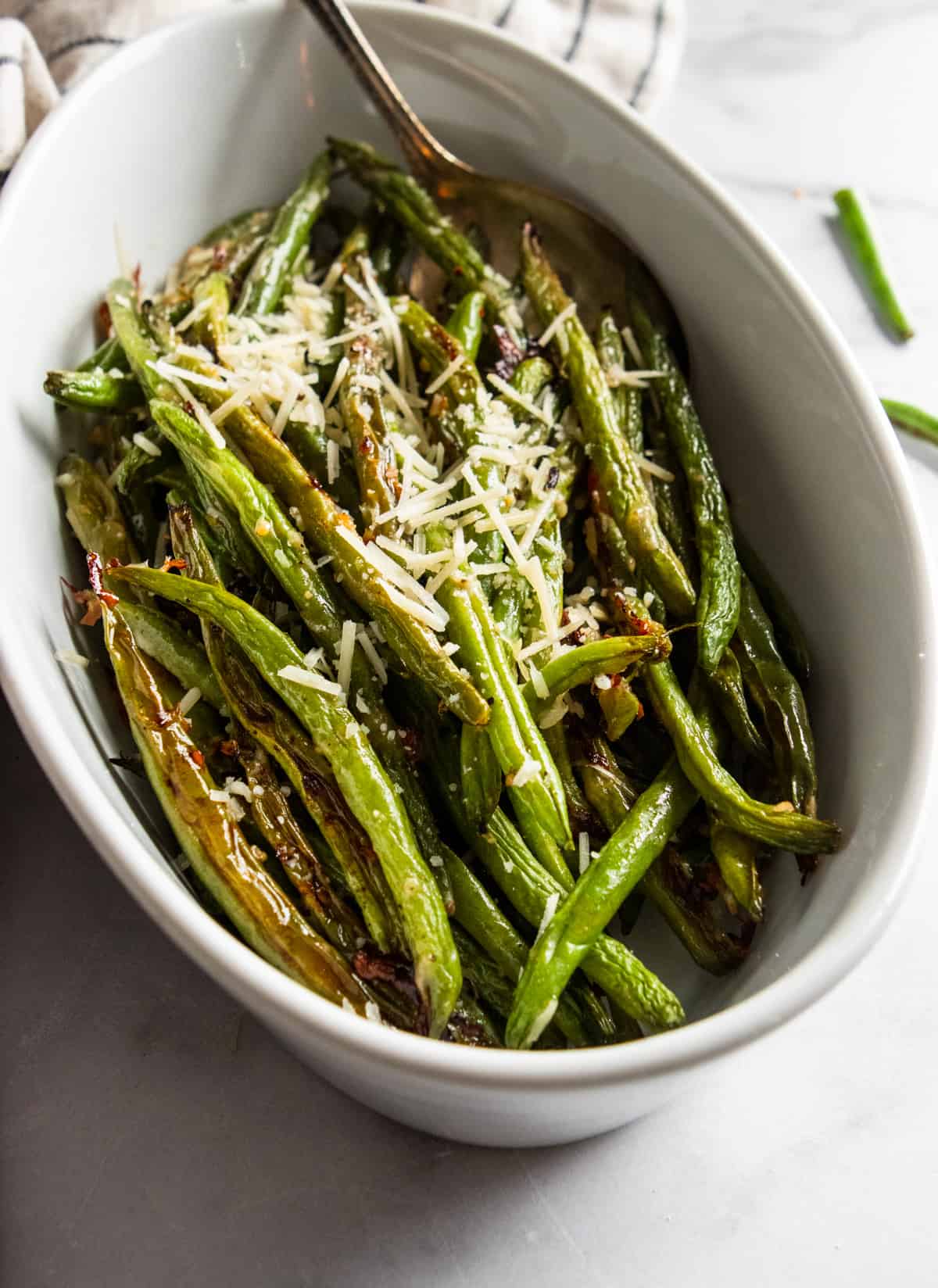 How to wash and prep green beans for roasting:
I always feel like I make a big deal of prepping green beans, but they aren't as bad as I make them out to be. Rinse them in cold water briefly and then snap off the stems from the ends.
You can break them in half if you prefer smaller green beans but I typically leave them whole because I am not in the mood to do anything more than necessary. Yep, that is how I roll in the kitchen!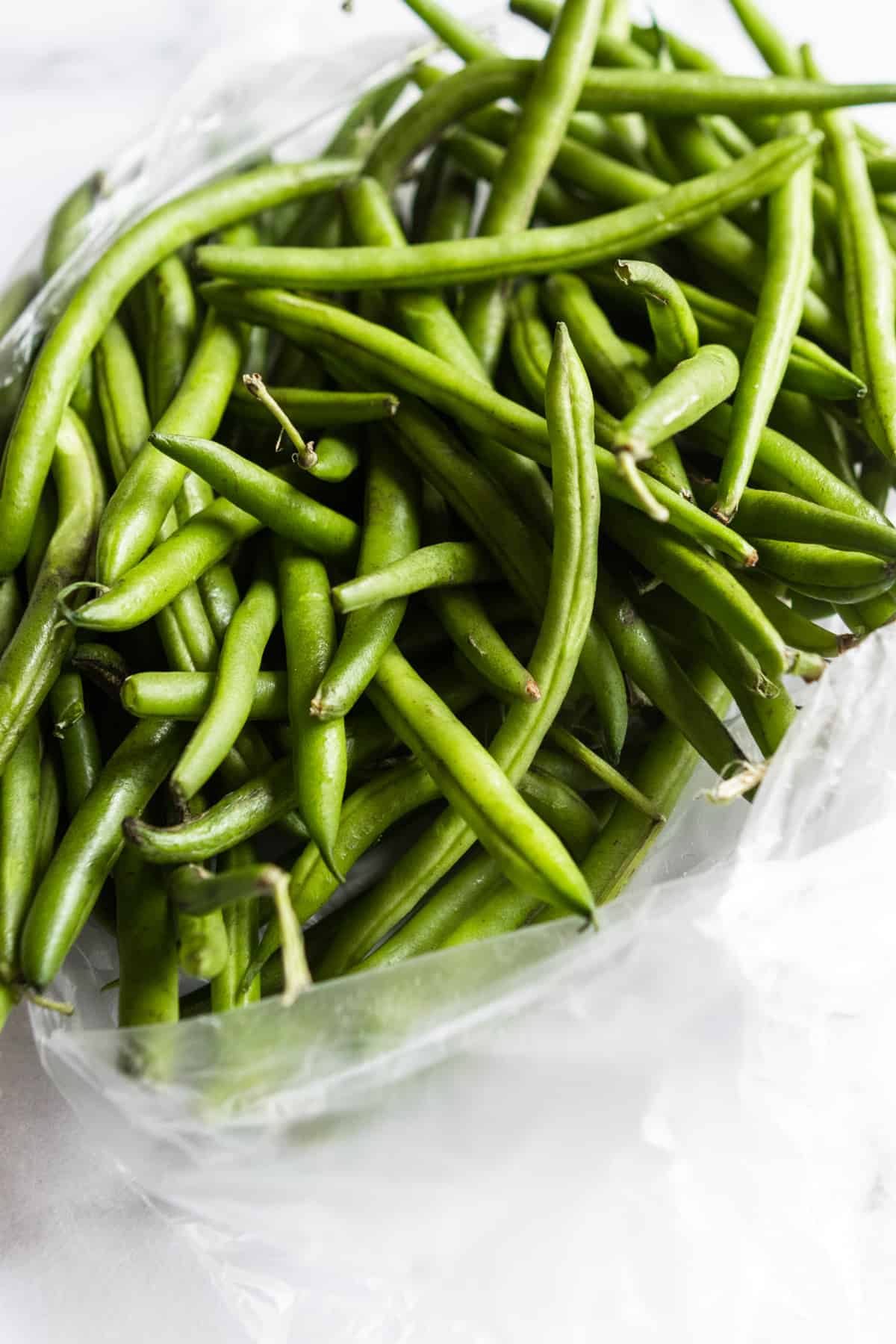 How long do you cook roasted green beans?
I cook mine at 400°F and find that about 20 minutes (maybe a few minutes more) is just the right amount of time. They get lightly browned and softened, but not too mushy. No one wants mushy green beans!
What you will need to make this recipe:
green beans: rinsed and trimmed--but I know you can buy them in a package for a bit more pre-washed and ready to go if you are in a pinch and want to save a few minutes of prep work!
olive oil: I prefer extra virgin and I always start with a tablespoon and often add a touch more if I feel like the beans are not evenly coated.
garlic: depending on my mood, I will go with 2 or 3 cloves. Sometimes I want them really strong and other times I don't want to reek of garlic for a week!
parmesan: I try to use shredded when roasting green beans. You can buy it prepared that way, or do it yourself with a fresh block. Nothing beats fresh though, right?
crushed red pepper: if the toddler is eating these with us, I leave the spiciness out. I know it's just a touch, but I don't want to go down that road!
salt and pepper: these can really vary by taste. I put general amounts but please adjust to your desired amount!
lemon juice: I added this as optional, but the extra zing you get from just a touch is really nice.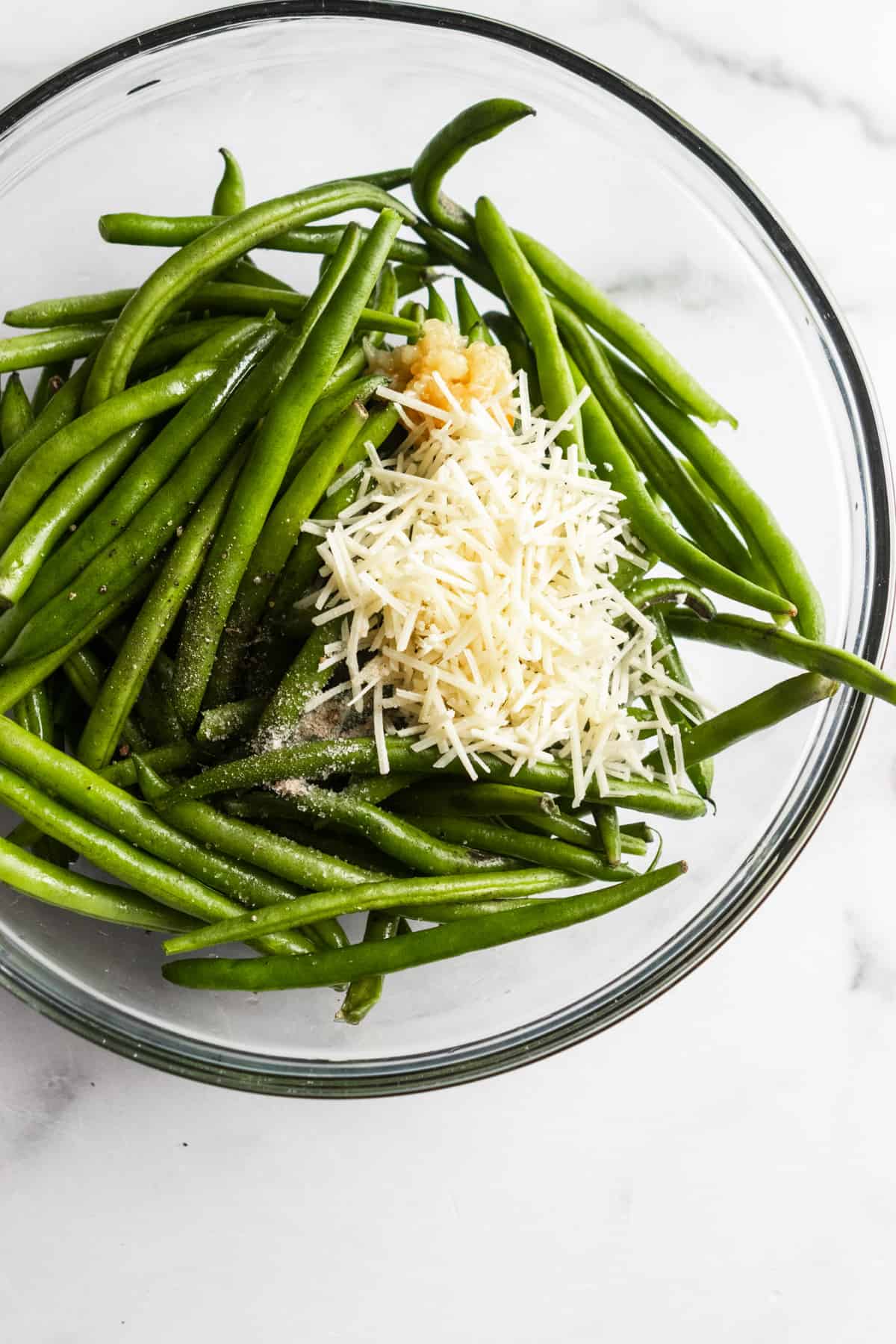 Possible Substitutions for these parmesan green beans:
Ok, so you are not a big parmesan fan. While I can say I don't get it, don't worry, you still have options. Romano and Asiago would be my go to cheeses if I didn't have any parmesan sitting around.
If you don't have fresh garlic, toss these with garlic powder instead. About ½ -1 teaspoon should do the trick depending on how much you prefer.
Ghee would be my first option for a substitute for olive oil. It's a good option for cooking at 400°F. Other oil options could be Canola oil, grape-seed oil or even vegetable oil. The different oils will certainly alter the flavor but if it's all you have on hand, you still have options at least!
What to serve with this simple vegetable dish:
I could eat these parmesan green beans by the bowlful for sure, but I am certain you will want them to be part of a nice dinner. Check out some great recipes to pair with these green beans: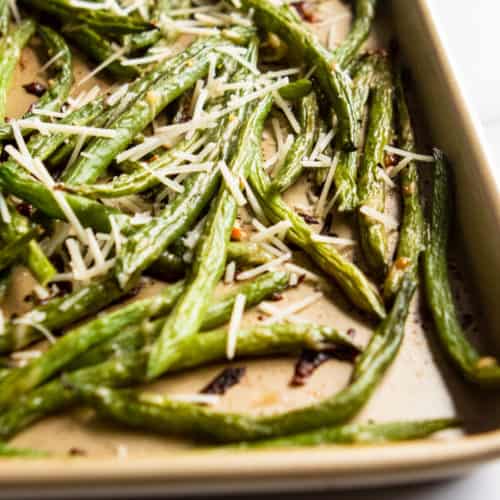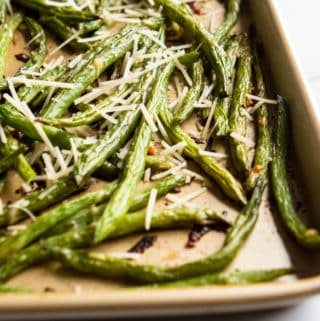 Roasted Parmesan Green Beans
Roasted Parmesan Green Beans are a simple side to toss together and get a delicious vegetable on the table. Fresh garlic, a dash of sea salt, and plenty of parmesan make these a perfect addition to any dinner or meal!
Print
Pin
Rate
Ingredients
1

lb

fresh green beans, rinsed and trimmed

1

T

olive oil

⅓

c

parmesan, shredded

½

teaspoon

cracked pepper

¼

teaspoon

crushed red pepper (optional)

¼

sea salt (more to taste)

optional squeeze of lemon juice
Instructions
In a medium bowl, or right on a baking sheet, toss together all ingredients to evenly coat green beans. Spread evenly on a baking sheet and bake for about 20 minutes, shifting the green beans around halfway through.

Remove green beans from oven, sprinkle with extra parmesan if desired and enjoy!
Notes
There is no rule that says you can't add extra parmesan--definitely ok!
Nutrition
Calories:
102
kcal
|
Carbohydrates:
9
g
|
Protein:
5
g
|
Fat:
6
g
|
Saturated Fat:
2
g
|
Cholesterol:
6
mg
|
Sodium:
141
mg
|
Potassium:
239
mg
|
Fiber:
3
g
|
Sugar:
4
g
|
Vitamin A:
848
IU
|
Vitamin C:
14
mg
|
Calcium:
143
mg
|
Iron:
1
mg