Last Thanksgiving was the very best Thanksgiving of my entire life. That morning, my husband and I saw those two little pink lines that we had been hoping and praying for a year after we had lost our first baby. It only seemed fitting that on a holiday that celebrates gratitude, we would have the ultimate gift to be forever grateful for on this very day.
I celebrated Thanksgiving that day on a level I had never before experienced. This was a sign, I thought. A Thanksgiving baby, could it get any better than this? All day long I carried my happy little secret and was beaming inside and out. We had lost our sweet Josie a little less than a year prior and month after month after month, I thought for sure it wasn't going to happen again. And then, when I was so close to giving up hope, those perfect pink lines appeared.
At first, I didn't believe it. I made Anthony run back up to Walgreens to grab another handful of tests to make sure this wasn't a fluke. Five tests later, it was for sure. I was pregnant. We were going to have a baby. The pain and tragedy of losing our first suddenly felt like a lifetime away and I was sure dreams came true and our prayers were answered.
Celebrating the holiday season while being pregnant is monumental. The holidays are surrounded by the gift of a baby and here you are with that same miraculous gift growing inside. The anticipation of your baby goes hand in hand with the anticipation of the birth of the child 2,000 years ago. What a gift. What an honor.
Our church has a giving tree that is full of local charities is need during the holidays. Each little ornament on the tree represents some item or donation needed for the homeless, those in crisis centers, halfway houses, and more. Two such charities the church sponsors take care of pregnant women and babies. Anthony and I wanted to give to those mothers who may not have the same support and help that we have. So we gathered a handful of the ornaments that included bottles, diapers, toys, clothing, bathing sets and everything that new moms need. And what joy to know that we were expecting and that soon we would also be buying these same items for our own little angel.
Weaving up and down the baby aisles at Target was more fun than I anticipated. I couldn't stop. I had to get one of everything. I wanted these babies to be showered with gifts and have all of the basic necessities that each child needs and deserves. I thought of the mothers who may have been scared or alone at this time. How awful to have such a beautiful experience with no one to help, no one to turn to. And so I did my best to give and share with them, hoping to ease the struggle.
Only a handful of days after Christmas, we lost our perfect gift. Once again, my world was shattered.
Not a day has gone by that I haven't thought of what should have been. I should be holding him now. He should be here making us laugh and making us smile. We should be carting him from house to house this Thanksgiving and sharing the precious gift we received. Thanksgiving this year should be so full of gratitude and yet, as it nears, a small voice inside asks, How can I be grateful?
Trust me, it's not that I don't have things to be thankful for because I do. I have a roof over my head, a loving husband, a good job, the best pup in the world, an amazing family and the best friends a girl could ask for. I have hot running water, good healthy food on my table, an able body, a warm bed to sleep in and the list goes on and on and on. But the pain and the hurt of these losses have been so tremendous that I just don't know how I can go through the day this year on Thanksgiving without tears in my eyes and pain in my heart. In fact, I have considered the idea of simply hiding away from the world until the day passes so I don't have to think of where we were then and where we are now. It's not likely to happen though thanks to Anthony's love of turkey so I guess you don't have to worry about me.
Tonight, as I stepped into church, there were the Giving Trees. They stood tall and full of all sorts of colorful paper ornaments waiting to be picked by a giving soul. Without a second thought, I checked the color of paper for the pregnancy center and the women's center and I scooped up a handful of ornaments with gifts for the babies. And as I walked to my seat, I cried. In fact, I sobbed. I didn't really hear or notice much of anything going on around me the entire service until the priest said at one point "When we go through obstacles, we can just give up. But we have a choice also to pick back up and to push trough the pain and to keep moving. And it's by grace that we push through these painful times…" It's not what he said word for word, but you get the point. All I could think was how many more times will I have to pick back up? How much more can I take?
My grandma always says crying gets the poisons out so after I left tonight, I felt a bit better. I thought about walking down the baby aisles at Target and how tough it will be this year. But I will not let those babies go without their gifts. Though they may not be my own blessings, they are someone else's blessing who deserves the world and more.
This Thursday will be tough, I can promise you that. I have so many things to be grateful for and have so many blessings in my life, there is no doubt. But for these empty arms, how can I be grateful? Right now, today, I really don't know. Someday I hope that I will see the blessings in the pain and suffering. Someday I hope to realize my own strength and ability to pick myself back up and move beyond the pain with dignity. One day this agony will be lifted and I will see clearly why these tragedies happened. For now, how can I be grateful? I can be grateful for the time, even if it was very short lived, that I was blessed enough to have two angels growing inside of me, that I am their mother and that someday, not here on this earth, I will get to hold them and be with them for the rest of eternity.
---
I have a feeling that my lack of interest in Thanksgiving this year has also played a part in my last few Thanksgiving recipe flops. I had high hopes for several of these recipes but they did not meet my expectations and so I have to move on from the idea of helping you fill your spread this holiday.
Instead, I will continue to shower you with simple, healthy recipes as always!
I am not a huge fan of creamy soups, but I wanted to try to make one that I would like. Potato soup sounded good recently and so I grabbed some taters and leeks and got to business. The trick to this recipe is the Greek Yogurt. It really gives it a great creamy flavor with all sorts of goodness! I made this chunky by only blending half of the recipe. It may not look chunky in the picture, but the chunks are down below I promise! I added 2 T of cream for just a bit more creaminess. I think it was just enough without going overboard. Leave it out if you like as I think it's just fine without it was well. As for a dairy free version? A plain nondairy yogurt should work. Add your favorite toppings and enjoy this tangy, creamy bowl of coziness!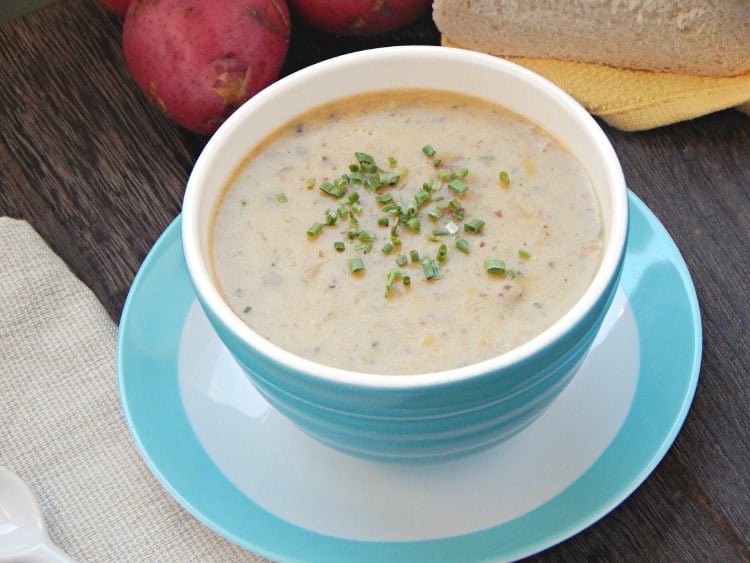 Ingredients
12-14

medium red potatoes

cut into bite-sized pieces

2

large leeks

greens removed, cut into small pieces

5

celery stalks

chopped

4-5

garlic cloves

minced

5

cups

or enough to cover all of the potatoes and vegetables

1/3

cup

fresh chives

1/2

cup

freshly chopped parsley or 2-3 T dried parsley

1

T

olive oil

1/2

plain greek yogurt

2

T

optional cream

Sea Salt to taste

1

tsp

cracked pepper

1/2

tsp

thyme

optional
Instructions
In a large pot, heat 1 T olive oil.

Add leeks and celery and stir fry until softened.

Add potatoes and pour broth over to cover.

Add garlic, chives, parsley and seasonings and heat at medium heat for about 30 minutes or until potatoes are very soft.

Slowly stir in yogurt and cream.

Take 1/2 of the soup and transfer into a blender and blend until smooth.

Add mixture back to the pot and stir to combine.

Allow to simmer until ready to serve.