Orange and creamy protein packed goodness in this simple Creamsicle Protein Smoothie recipe. Get the energy boost you need from this delicious treat!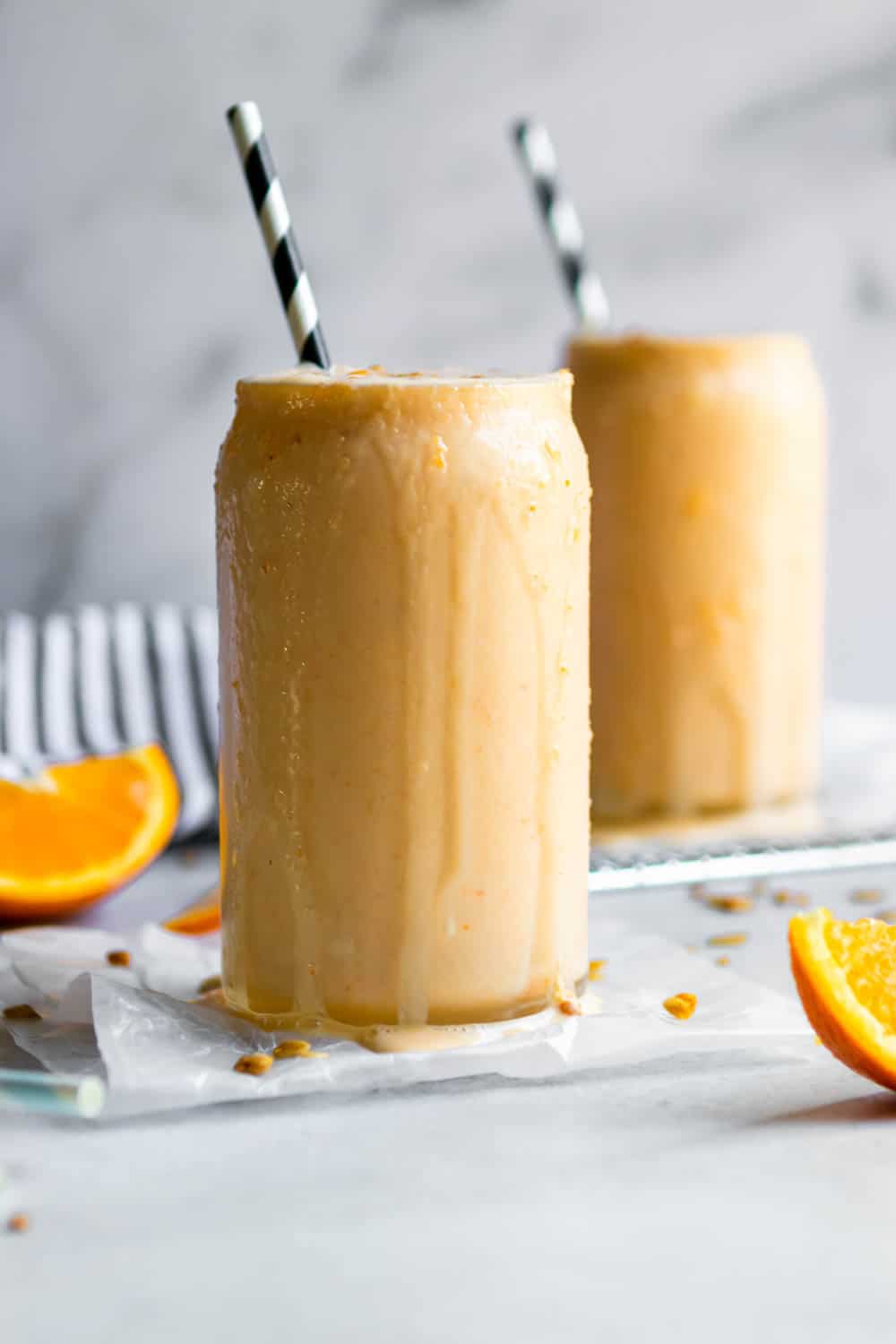 It seems as though your whole outlook on life can change when the sun comes out to welcome Spring. That first chance you get to go out for a walk in the sun without 8 layers on or roll down the windows in the car feel as though a fog or heaviness is being lifted. I try my best not to let it, but winter just really takes a toll on my mood. It takes a lot of effort to find a bit of happy in the day for me when it's cold and I feel shut in and away from the sunlight. But at the onset of the first indication that the snow is moving out until next year, things seem to just feel right with the world. Even though the problems of yesterday may still be hanging around, they don't have the same weight on my shoulders today. The sun is out, and all is ok, right?
What's one of the first words that comes to mind when you think of spring? For me, it is hope. Spring is about new life, new beginnings and hope for better things to come. We have made it through the cold, frigid months and no doubt good things are on their way. They have to be on their way. They must. Even though I am not sure I believe it in its entirety at this moment and even though I feel as though winter may jump back out of nowhere and swallow me back up again, I just can't give up on hope.
Here's the deal, we have two options and it's a bit of the glass half empty/half full sort of thing. We have struggles, we have pain, some more than others, but to each of us it is our own. We have a choice. We can choose hope or we can choose doubt. For some reason, when the clouds are lifted and the air is warm, hope just comes more naturally. It doesn't mean our lives will be perfect or that we will get everything that we want, but what is there to lose in hope? There is no doubt in hope. There is only that sense or feeling of expectation and anticipation for great things. Living in doubt only causes us more pain. It forces us to see the negative even in the things that go our way. The sun may shine but we still find the clouds.
Even in the sunshine of today, I found myself meddling a bit in doubt. I began to wallow and I soon very easily found the clouds. I began to feel sorry for myself because my glass seemed to be half empty. I noticed the void and all I could think about was what I was missing. It was then that I realized that I have a choice. I can choose hope or I can choose doubt. There is no hope in doubt and there is no doubt in hope. I have to choose one or the other. It is a choice, my choice and I can choose the sunshine or the clouds.
So I will move beyond the winter, I will move on to expectation and I will hope for my half full cup to soon overflow. What is lost by holding onto hope? So much less than clinging to doubt. And when I need to be reminded, I will tell myself, there is no doubt in hope. And then, I will take in the sunshine, and all will be ok.
---
What else does spring bring with it? Lots of inspiration for sure! I found myself thirsty and wanting something refreshing to quench my thirst. Quite honestly, I should probably call this a Dreamsicle instead of a Creamsicle Protein Smoothie. It is delicious and so simple!
I often like to use chia seeds, Greek yogurt or even nuts to add protein to smoothies.
Sometimes you need a little more--your favorite protein powder is your best bet. I advise you use a vanilla flavor as it seems to balance the flavor out nicely. Protein powder is by no means necessary for this Creamsicle Protein Smoothie. In fact, my pro-tip on this one is to actually get really crazy and add a big scoop of vanilla ice cream---didn't I say Dreamsicle??
I used a Sumo orange because they are my new favorite orange on the planet.
These oranges are a cross between a mandarin and a navel orange. They are large and juicy.  You could use a large navel orange if you like or even a few clementines or mandarins would work--I have added them as well. If you have time to sit out in the sun and sip on this Creamsicle Protein Smoothie, I promise it makes it 100 times tastier! (Don't hold me to the statistics though!)
DID YOU MAKE ONE OF MY RECIPES? LEAVE A COMMENT AND LET ME KNOW! I ALSO LOVE TO SEE YOUR LEMONS + ZEST RECIPES ON SOCIAL MEDIA–TAG ME @LEMONSANDZEST ON INSTAGRAM OR FACEBOOK!
Instructions
Combine all ingredients in a high powered blender and blend until smooth.

Serve immediately or chill for later.