Hello, 2016!
Are you a New Year's resolutioner? Do you start the beginning of the year with a complete overhaul of your life and then several days or weeks later find that you are back to everything you threw out at the end of last year?
I have never really been big on resolutions for this reason, they just don't ever seem to make it past January. Why? Not so sure, but I imagine a big part of it has to do with extreme measures. For some reason, little changes or baby steps do not fit the bill when it comes to resolutions. For instance, we decide we want to lose weight so we jump into a rigorous exercise routine and cut out all junk from our diets. After a few days of soreness, crankiness and being flat out famished all of the time, we throw in the towel and decide it's just not worth the effort. Or maybe we decide that we want to start volunteering so we sign up for this and that only to find out we don't have nearly enough time to do it all so why try. Then there is the, "I am only having one drink a week," and then the girls wanting to do happy hour and a wedding in the same week blow that completely.
The issue with so many resolutions is that they tend to be an all or nothing. They expect perfection. And they can take a lot of work. We throw ourselves in at full force and then slowly crumble as time passes and real life happens.
So then do we just say forget it all together? No, hardly at all. Instead, we start page one of 365 on a different note.
First, start out with a little bit of reflection. Consider some of the following questions. What makes you truly happy? What makes your life it's best? What impact do you want to make? What changes are you capable of to make this your best, happiest life? What do you want to create?
Make a list of about ten goals or intentions based on your reflection from these questions. Look them over. Are these really what you want or what you think others want for you? Are they challenging enough but not completely unattainable? Look them over again. Determine the top 3-5  goals or intentions you want for yourself. For each of these goals, determine the purpose or why you want this. Then list 3-5 things you need to do now to start making these happen. If you start to get excited about what you are writing then you are certainly on the right track.
Okay, so here is where the reality check comes in. I was at a workout class on New Year's Day that made me think about this an entirely new way. And it made a whole lot of sense. As we rode our bikes in the spinning class, Susie Crossland-Dwyer, owner of studio s in Cincinnati, talked about one of the reasons so many resolutions or goals fail is because we don't think enough about the possible obstacles we may face. Sure, when we start out we know it won't be easy, but do we really consider all of the challenges and obstacles we will face? Then when they hit us head on, we are nowhere near ready for the fight.
Go back to your sheet of paper and look at each of your intentions. Brainstorm a few obstacles or challenges that may come your way. Become aware of what you may be faced with so that you will have more strength when it comes to the encounter. If you can see them before they come, then you will be much better at fighting the good fight to push on toward your goals.
And then here is the final piece to starting the new, fresh year with a list of intentions you want to set out on to make this your best year. It's actually pretty simple. Be kind to yourself. Be okay with the fact that things won't be perfect, you won't be perfect. Allow yourself some wiggle room if you experience set backs instead of quitting altogether. Know that even if you choose the doughnut instead of the oatmeal one morning for breakfast, you are not a failure. Perfection is not the goal. And if it is on your list, cross it off! Know that the next step you take can always be a step back in the direction you are aiming for, even if you take a little detour along the way. The line from where we are and where we are heading never seems to be a straight line anyway!
So, here's to new beginnings, fresh starts and a year full of blank pages ready to be filled. Get out there and make things happen!
---
There is a distinct difference between the days that I get a good, healthy breakfast in and the days that I do not. I am certainly not the person you want to be hanging out with on those days I don't start my day the way I wanted.
I don't ever like to fuss much in the kitchen around breakfast. I want it quick and I want it easy. I have found that time and time again in my overnight oats recipes. I make several at the beginning of the week and then grab one each morning on the go. Easy as pie.
Since we are getting back into our routines and trying to make healthy choices, I have been drumming up a lot of new overnight oats recipes including these Chocolate Pistachio Overnight Oats. Did someone say chocolate for breakfast? You know I am there!
Mason jars always work great for these oats however any kind of container with a lid will work. You can always make these vegan friendly, gluten free and dairy free. It's hard to find anyone who won't enjoy these!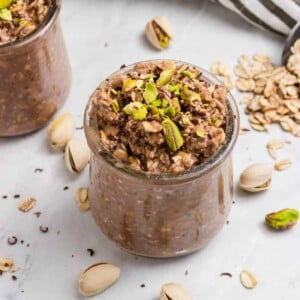 Ingredients
½

cup

rolled oats

regular or gluten free

½

cup

milk of choice

1 ½

teaspoon

cacao powder

½

teaspoon

vanilla extract

1

teaspoon

flax or chia seeds

1

T

shelled pistachios

chopped if desired

1-2

teaspoon

pure maple syrup or raw honey

Dash of sea salt
Instructions
Combine all ingredients into a container that can be sealed.

Stir well to combine.

Chill overnight.

Eat hot or cold and with a sprinkle of extra pistachios if desired!