Snacks have saved me the last two weeks. Convenient, simple, and filling is what I have needed. And this snack is exactly what I enjoyed--and I single handedly ate the whole batch aside from a few bites I rationed for Anthony, ha--oh wait, not joking.
I have always been a big trail mix person. Throw a bunch of nuts, seeds and perhaps some chocolate and you are set. But what if you took your typical trail mix up a notch? Ever tried roasting it? If not, you are so in for a treat!
I am a sucker for roasted nuts. Totally my fall and holiday favorite. I make my Maple Vanilla Spiced Pecans more times than I can count anymore. Buuu-ut, when I made these recently, I almost forgot about the spiced pecans. Reminder, I said almost.
The idea behind this trail mix is that it is still a simple mixture of your favorite nuts and goodies, but there is just one extra step, the roasting. And that makes all the difference. A touch of sweet, and a touch of salty brings it all together. Sweet and salty is my favorite combination. Pecans, almonds, golden raisins, flaked coconut, and pepitas (pumpkin seeds). Such a well rounded mix in my opinion. Although, it would still be lovely with some chocolate chips as well. Just make sure to toss those in after everything has cooled!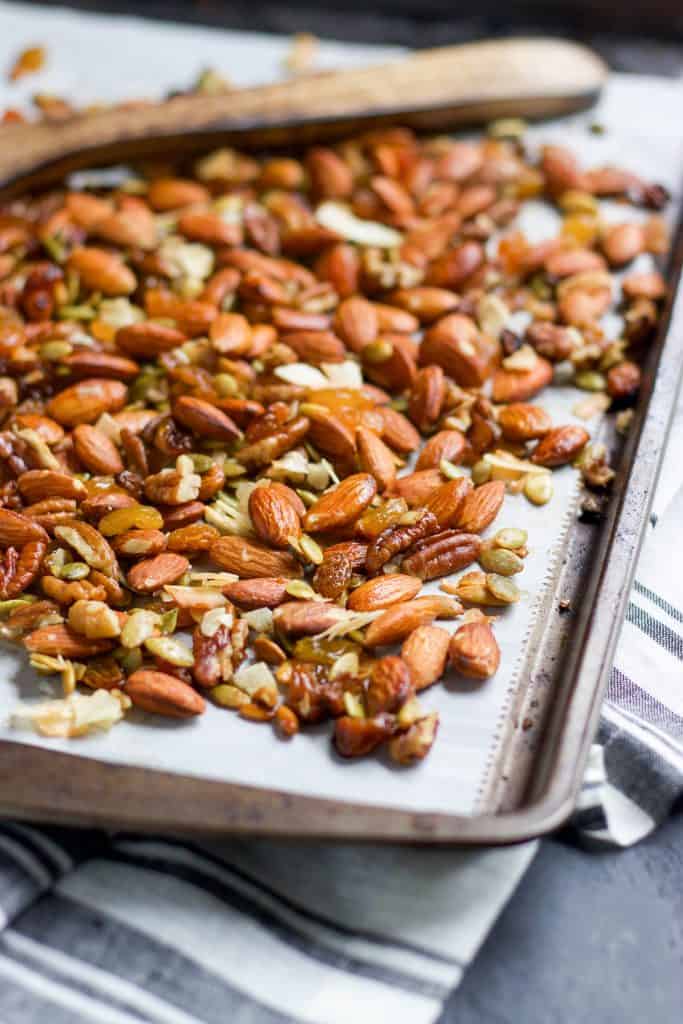 Feel free to use your favorite combo of nuts and seeds. Just don't skip the roasting! I wanted to add some cashews as well but was fresh out on the day I was working on this recipe. To be fair, I didn't even miss them, and cashews are typically my thing. I didn't just eat this by the handful, I also added it to salads, topped yogurt with a scoop, and then ate the rest by the handful, and another...and another. And when we got home from the hospital with Sam, I was stoked to see that I had some left since I had forgotten to take them with us.
Happy snacking!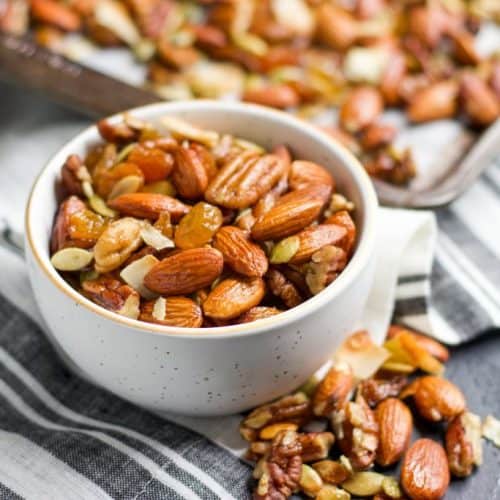 Ingredients
1 ½

c

raw almonds

1

c

pecans

halves or pieces will work

½

c

pepitas

pumpkin seeds

½

c

golden raisins

½

c

coconut flakes

2

T

coconut oil

melted

2

T

pure maple syrup or honey

¼

tsp

sea salt

1

tsp

vanilla extract
Instructions
Preheat oven to 350°F.

Mix all ingredients together in a medium bowl.

Spread evenly on a parchment lined baking sheet.

Bake for about 15 minutes.

Allow to cool for 5-10 minutes and enjoy. Store at room temperature in an air tight container.