While last week was technically the beginning of fall, today is the first day I feel that fall is really in the air. And I will certainly take it!
Today's recipe started out as Slow Cooker Pumpkin Spice Pecans but when you dig into the pantry and realize you didn't buy as many pecans as you thought last week, the recipe becomes a mixture of nuts and I am okay with the end result for sure. But I won't lie, I picked out all of the pecans for myself. They are my absolute favorite.
I am usually that person that argues the fact that people call things "pumpkin spice" even though technically there is not any pumpkin in the actual recipe. Today, I named a recipe with just that and there is absolutely no pumpkin in these mixed nuts, unless you count the two in the picture?
One of the things I have noticed in the past years as I started this venture of eating real food is how in tune my body has become with eating seasonally. It's as though it knows that the minute late September hits, I need all of the roasted butternut squash and root veggies I can get. This never seemed to be the case when I was eating only to try to stay thin or to eat by the calorie. Perhaps it's just that I am getting older, but eating real food does seem to have an impact on my cravings and as the seasons change, so do my cravings.
These slow cooker nuts are absolutely unreal and practically no work. You can really select any nuts that you like and make whatever combination you prefer. I will probably always go with pecans because they are my favorite nut. Stir these every thirty minutes for 2-3 hours and then cool them down, if you can wait that long. The house will smell amazing and your fall treat will make an easy snack that everyone will love. Happy fall!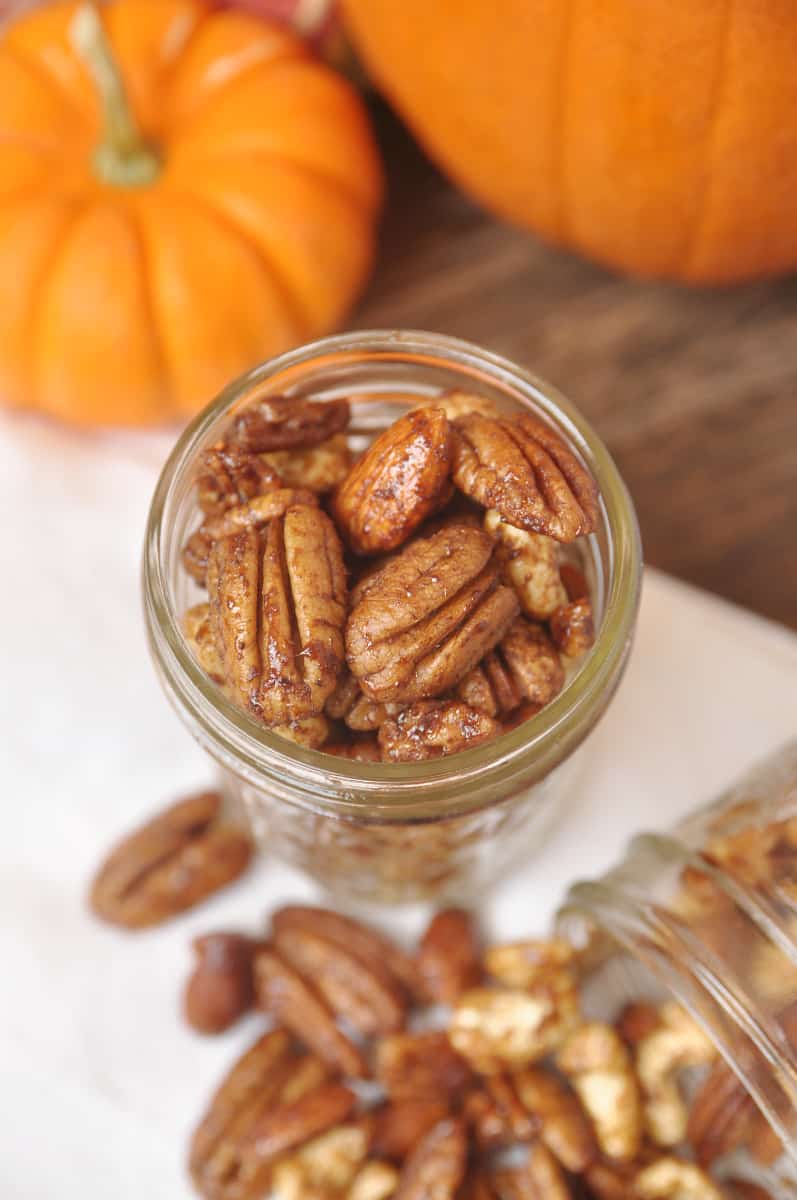 Try these Stove-top Maple Cinnamon Candied Mixed Nuts or my favorite Maple Vanilla Spiced Pecans Recipe as well!
Ingredients
2

c

raw pecans

1

c

raw almonds

1

c

raw cashews

¼

c

pure maple syrup

½

T

coconut oil

melted

1

T

cinnamon

1 ½

tsp

pumpkin pie spice

¼

tsp

sea salt

1

tsp

vanilla extract
Instructions
Combine all ingredients in a slow cooker and stir well so that all nuts are coated.

Set Slow cooker to low and allow to cook for 2-3 hours stirring every 20-30 minutes.

Remove nuts from crock pot and lay on parchment paper and allow to cool.

Store in an air tight container for up to one week.
Notes
Any combination of nuts can be used for this recipe!