These Simple Maple Glazed Roasted Carrots are the perfect side dish to add to any dinner–from special holidays to weeknight meals. Fresh thyme, sage and rosemary round out the sweetness from the maple for a delicious dish!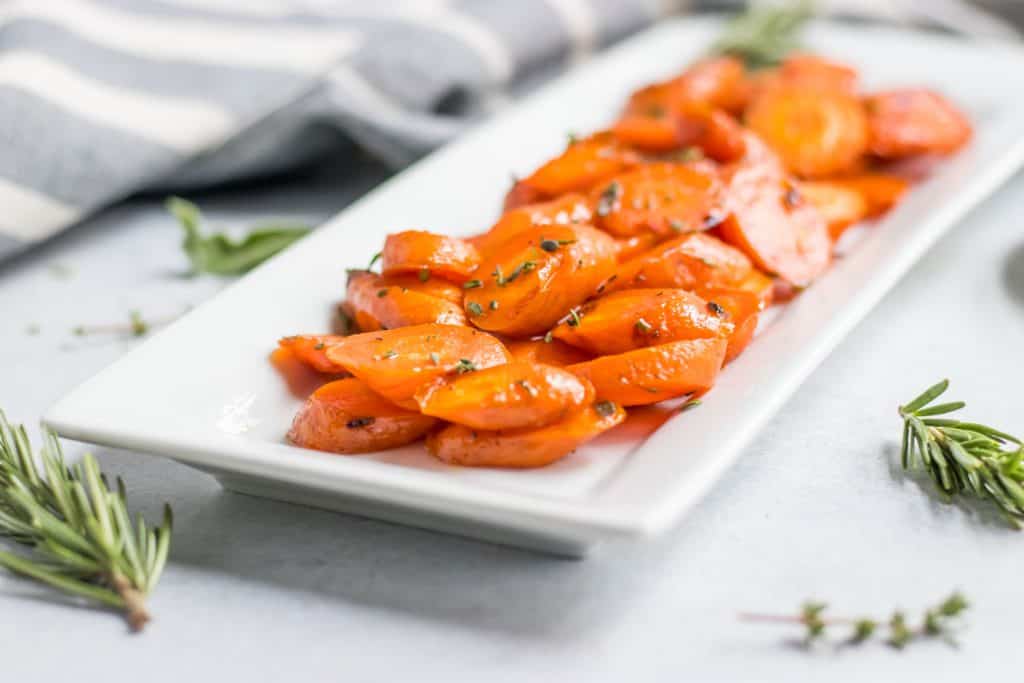 Maple Glazed Roasted Carrots–bring the veggies to the table!
It ain't easy being a veggie during the holiday season–you are far from the main event. You are not sexy by any means and to be honest, for some, you just have to much color compared to all the beige foods we consume.
Buu–uuut, tha's not reason to leave them all out together!
There is a place for veggies–rich, buttery and full of flavor, not just during the holiday season, all year long. And if you are like me, you prefer veggies to fruit 90% of the time so there's no complaints from a big spoonful of something green, orange or another brightly colored plant.
Wanna know something funny? Once I was babysitting my younger sister. She was having one of those, "you can't leave the dinner table until you finish your vegetables" sort of moments.
I got the bright idea, after coaxing her in every way I could think of, to ask her if she would eat the peas if I put rainbow sprinkles on them. She said yes. (Don't ask, I am still not sure why she agreed to this day.)
Sure enough, she finished every last one!
Moral of the story? I guess sprinkles make everything better?? Ha, no, but still true. The moral of the story is that adding things like herbs, a little cheese, or butter, and more can really take your veggies to the next level.
Just because you add a bit of fresh cheese to your veggies does not mean they are tainted and void of all nutrients. It just means that now they are a whole lot tastier and delicious and enjoyable and…ok, you get the point.
Butter is where it's at in these Maple Glazed Roasted Carrots
Typically I am not a huge fan of roasted carrots. However, I learned recently that this is actually not true at all. I am just not a fan of roasted carrots with a tiny bit of olive oil and a dash of salt and pepper. That is not what I love.
However, when I added a touch of butter and maple, and then tossed on some fresh herbs, I suddenly became roasted carrots biggest fan. So there you have it–veggies don't have to be boring and they don't have to be flavorless. Maybe I once tried to eat my veggies "steamed" so as to get as much nutrients out of them, but chomping on a somewhat stiff carrot just to get more vitamins takes all the joy out of eating them.
Re-think your veggies, carrots included
So here is my tip for you: re-think your veggies. Are they boring? Are they flavorless? Could they benefit from a touch of cheese or some other goodness? Then add it! Bring them to the next level!
And I have just the right place to start: these Simple Maple Herb Roasted Carrots. The perfect combination of sweet and savory. The easiest side dish that is ready in just about 20 minutes. Chop, toss and roast. Repeat if desired.
Add them to your holiday dinner spread, or have them as part of a weeknight dinner–either way, they are going to compliment your favorite meals! And that is what you want form your veggies!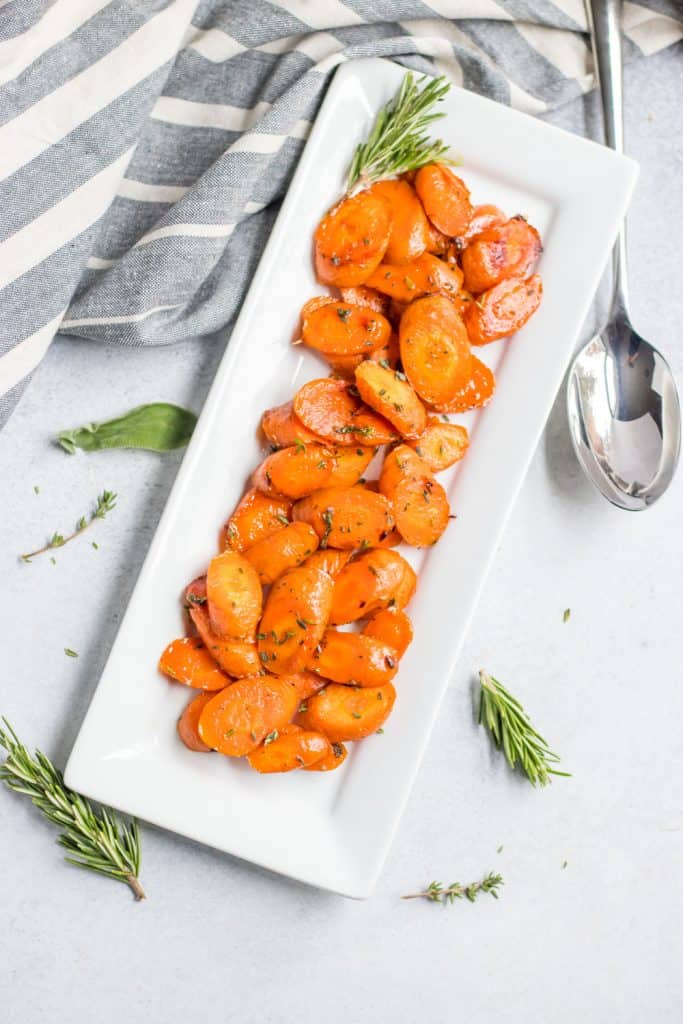 What to serve with your Maple Herb Roasted Carrots:
Can you make this recipe vegan?
While I am a huge fan of butter, I know that sometimes dairy free needs to be the way to go. You could sub olive oil or a vegan butter substitute and then you are all set with a vegan version of these maple roasted carrots. If you have a butter substitute that you love, please let me know!
Check out these other simple side dish recipes:
DID YOU MAKE ONE OF MY RECIPES? LEAVE A COMMENT AND LET ME KNOW! I ALSO LOVE TO SEE YOUR LEMONS + ZEST RECIPES ON SOCIAL MEDIA–TAG ME @LEMONSANDZEST ON INSTAGRAM OR FACEBOOK!
Simple Maple Herb Roasted Carrots
These Simple Maple Herb Roasted Carrots are the perfect side dish to add to any dinner–from special holidays to weeknight meals. Fresh thyme, sage and rosemary round out the sweetness from the maple for a delicious dish! #sidedish #roastedvegetables #holidayside #roastedcarrots #carrots #veggies
Print
Pin
Rate
Ingredients
2

lb

carrots

2

T

butter, melted

2

T

maple syrup

1

tsp

fresh rosemary, chopped

1

tsp

thyme leaves

1

tsp

sage, chopped

sea salt and pepper to taste
Instructions
Slice carrots about 1/4-1/2 in. thick on the diagonal.

Whisk together melted butter, maple and fresh herbs. Add sea salt and pepper as desired. Toss carrots in mixture to coat evenly.

Line a baking pan with parchment and spread carrots evenly.

Bake for about 20-25 minutes or until softened to your liking.

Cool for several minutes and then serve!
Nutrition
Calories:
171
kcal
|
Carbohydrates:
29
g
|
Protein:
2
g
|
Fat:
6
g
|
Saturated Fat:
4
g
|
Cholesterol:
15
mg
|
Sodium:
207
mg
|
Potassium:
748
mg
|
Fiber:
6
g
|
Sugar:
17
g
|
Vitamin A:
38087
IU
|
Vitamin C:
14
mg
|
Calcium:
89
mg
|
Iron:
1
mg