These Birthday Cake Cookies are better than your average sugar cookie because they bring the party with every colorful bite. Birthdays don't have to be just about the cake--why not do cookies? Birthday Cake cookies are most certainly the new way to celebrate!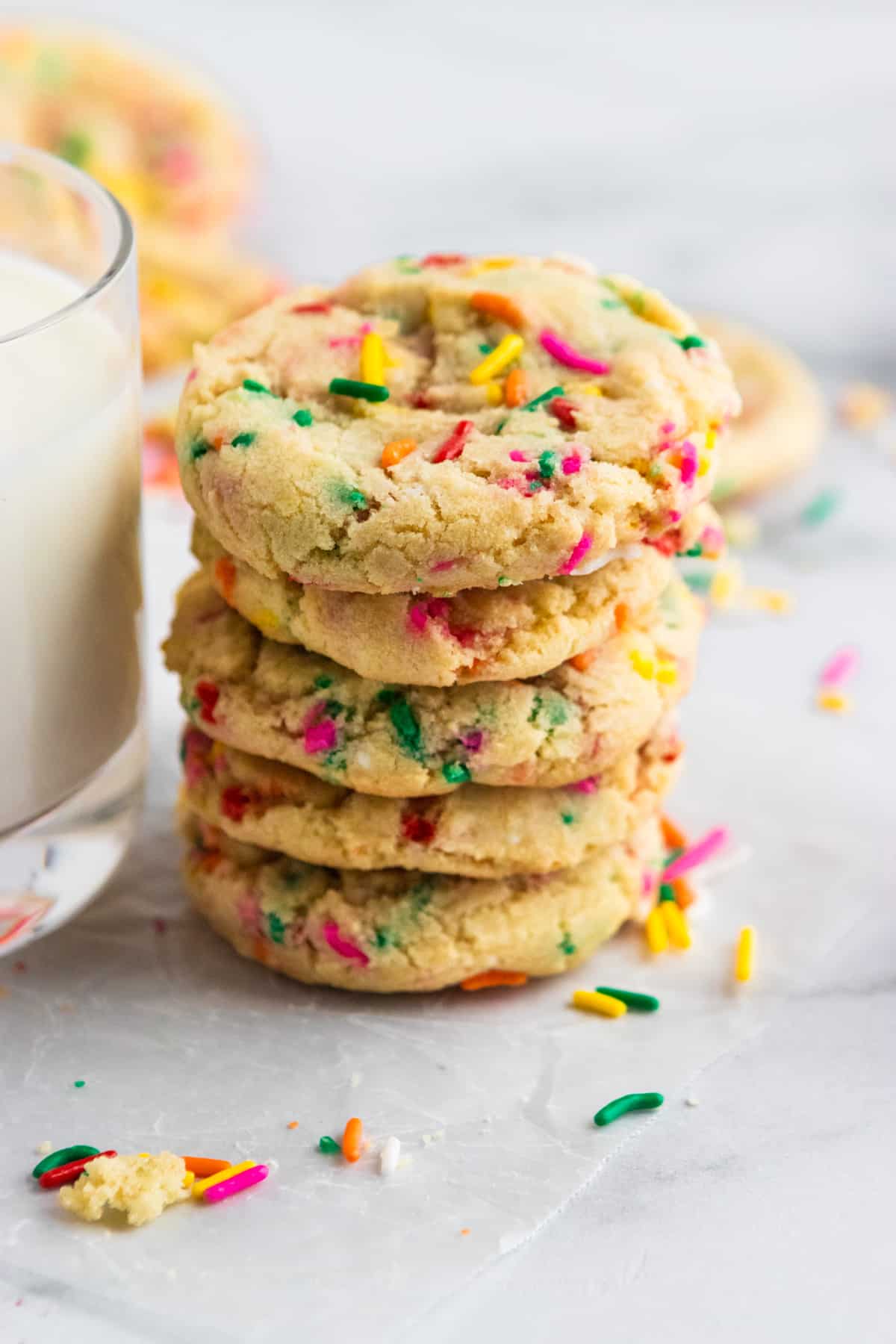 It's a proven fact that if you add sprinkles to any treat, it is automatically 100 times more delicious. Not to mention fun to eat too.
I have a thing for rainbow sprinkles, but honestly who doesn't? So adding them to one of my favorites, sugar cookies brought these babies to a whole new level.
My Lemon Sugar Cookies have been a long standing favorite in our household, but now that these funfetti filled Birthday Cake Cookies are a thing, it looks like it may be a while before I get a request for the lemon.
And so so much more. Really, there aren't many occasions I can think of that wouldn't be better with these sprinkle filled cookies.
What you need to make this recipe:
flour: too much, too little--both can have an impact. If you want to measure out your flour by weight for these birthday cake cookies, you will need 217 g.
vanilla: good vanilla is what makes a delicious sugar cookie in my opinion. I try to stay away from imitation vanilla and go for extract especially for sugar cookies.
How to make these Birthday Cake Cookies:
Cream the butter and sugars. Creaming the butter and sugars seems like such a simple task, but it is so important to do it right. Beat the butter and sugar until light and fluffy and fully incorporated. This will take about 2-4 minutes. Don't skimp on this step! (steps 1 and 2)
Photo 2 shows creamed butter and sugar if you need a good visual.
Add the egg and butter and only beat to incorporate fully. Don't overbeat here. (steps 3 and 4)
In a separate bowl whisk the flour, salt, baking powder and baking soda. This is important to do versus just tossing all of the flour and dry ingredients in separately as you want all of the leavening agents equally dispersed. (step 5)
Slowly add in the dry ingredients to the wet ingredients and beat. This should be a small amount at a time, not more than one cup. Take it slow--you don't want flour blowing up in your face, right? Step 6 shows fully incorporated flour into the dough.
Fold in the sprinkles. Do this gently to keep sprinkles from breaking up as they can be delicate. After mixed, chill for about 30 minutes. (steps 7 and 8)
Should I chill this sugar cookie dough before baking?
I find sugar cookies come out best when the dough is chilled. Even if all you have is 15 minutes, do it! I suggest chilling the dough at least 30 minutes and ideally an hour. Chilling allows the fats to harden and in turn, the cookies cook at a slower rate and don't spread out too much or become too thin.
Pro-Tips and Notes:
I mentioned this above, but I also always say it at least twice in a cookie post: MAKE SURE YOUR BAKING SODA AND BAKING POWDER ARE FRESH. This is a huge reason for issues with cookies. We have three year old baking soda we forgot about and toss it in thinking it will all be ok. Not so much, my friends. Keep both of these fresh.
Make sure to cream the butter and sugars well. This is a necessary step to make amazing cookies. Cream for about 2-4 minutes ideally.
I love making these with special sprinkles based on occasion. You can adjust the color of the sprinkles for whatever you may be celebrating: red and green for Christmas, red/pink/purple for Valentine's Day, your favorite team colors and more.
My cookies are very thin, what should I do?
This is typically one of several things:
The dough is too warm. Pop it in the fridge for a bit and allow it to chill and give it another shot.
There is not enough flour. Flour can be tricky. Just a touch too much or too little can really have an impact on baking cookies. Try adding a tablespoon or two of flour to see if that helps. (This is what happened when I was testing the recipe on the first batch.)
Leavening agents are expired: check your baking powder and baking soda. Make sure they are fresh and up to date. If they are fresh but were not sealed tight that can cause issues as well.
Possible Variations:
Ice cream sandwiches: spoon some vanilla ice cream in between two of these funfetti cookies and then roll the outer ice cream edge in even more sprinkles, because sprinkles are everything and there is never ever too much.
Dip half of each cookie into white chocolate or drizzle some extra white chocolate over top of each cookie.
Crumble up the cookies and sprinkle on top of an actual birthday cake.
Spread buttercream frosting in between two of the cookies for another type of birthday cake cookie fun.
Any other ideas?? I want to hear them!
I hope you enjoy these cookies as much as we have!
Birthday Cake Cookies--Something worth celebrating!
Just because these cookies have the word "birthday" included in the name does NOT mean you have to wait for the next birthday to enjoy them. There are plenty other occasions to enjoy these sugar cookies:
just because
snow day baking
graduation celebration
school's out!
a thinking of you gift
celebrating a big milestone
holiday cookie exchange
CHECK OUT THESE OTHER DELICIOUS BAKED GOODS:
HUNGRY FOR MORE? Subscribe to my newsletter and follow me on Facebook, Instagram and Pinterest for all the latest!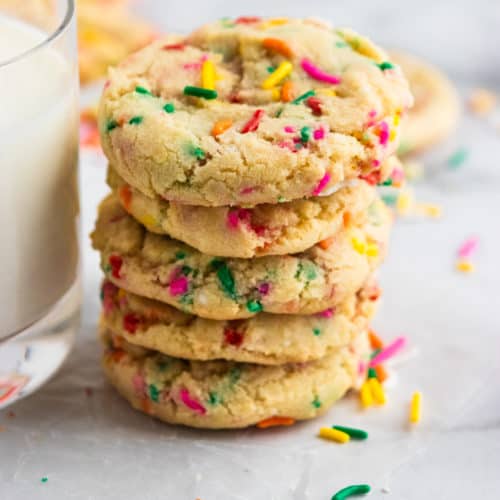 Birthday Cake Cookies
Nothing says Happy Birthday like made from scratch birthday sugar cookies with lots and lots of sprinkles! This simple funfetti cookie recipe is fun for all occasions, not just your birthday! Birthday Cake cookies are most certainly the new way to celebrate!
Print
Pin
Rate
Instructions
In a small bowl, combine flour, salt, baking powder and baking soda. Whisk to combine and set aside.

In a separate medium bowl, cream together butter, sugar and brown sugar until light and fluffy. This should take about 2-4 minutes. Add in egg and vanilla and beat to incorporate fully.

Slowly add in the dry ingredients into the wet ingredients and beat just to incorporate (do not over mix!) Gently fold in sprinkles. Chill for at least 1 hour for best results. Roll the dough into balls before chilling to make it easy to pop them on the pan.

While cookie dough is chilling, preheat oven to 350°F.

Place cookie dough balls/scoops two inches apart on parchment lined cookie sheet. Bake 9-11 minutes, cookies will be puffed up and may not look 100% done, but pull them just before you think they are done. Allow to cool completely and enjoy. Store in an airtight container for about 3-5 days.
Notes
After feedback about cookies coming out too thin, I have adjusted the recipe to include slightly more flour and leavening agents. 
Nutrition
Calories:
114
kcal
|
Carbohydrates:
18
g
|
Protein:
1
g
|
Fat:
4
g
|
Saturated Fat:
3
g
|
Trans Fat:
1
g
|
Cholesterol:
17
mg
|
Sodium:
75
mg
|
Potassium:
30
mg
|
Fiber:
1
g
|
Sugar:
12
g
|
Vitamin A:
128
IU
|
Calcium:
11
mg
|
Iron:
1
mg