This post may contain affiliate links.
Save some cash and make your favorite sprinkle filled protein bar at home. This Homemade Perfect Bar recipe is the flavor of your dreams: birthday cake! This recipe is dairy and egg free but still full of flavor and protein. You will end up liking the homemade version better than store bought! 

You can make your own perfect bars!
Love Perfect Bars but want a more cost effective way to have them? This homemade Perfect Bar recipe is exactly what you need then!
I will never ever ever taste a better copycat perfect bar than these Peanut Butter Dark Chocolate Chip Perfect Bars. The only reason for that is: peanut butter. But when a delicious limited edition flavor comes out, you know you are going to need a way to make them after they are gone for good.
While I call these a Copycat Perfect Bar recipe, there are a few differences. Perfect Bars contain egg, egg powder that is. Funny I don't happen to just have egg powder hanging around in the kitchen, ha!
I think they are just fine without the egg powder to be honest. Plus, I thought that it would be better for my vegan friends because they could enjoy a Perfect Bar-like treat as well!
This Homemade Perfect Bar is worth celebrating!
WHAT ARE PERFECT BARS?
This recipe is certainly not an exact replica of an actual Perfect Bar, but it is so similar and has plenty of protein and goodness, I find it to be a great homemade alternative. Perfect Bars are protein bars you can find in the refrigerated section of many groceries and they include a combinations of nut butters, egg powder, milk powder, and other ingredients like seeds, nuts and more.
ARE PERFECT BARS VEGAN?
Not all of them are. They have a couple versions that are vegan. Why aren't they vegan? A lot of them include egg powder and milk powder. This recipe can easily be made vegan–you just have to add a plant based protein powder and keep the milk dairy free. You should be all set then!
IS THIS COPYCAT PERFECT BAR GLUTEN FREE?
It is! While I don't have any issue eating gluten personally, this recipe just happens to include flours that are gluten free. You just have to double check that your oat flour states that it is indeed gluten free.
A FEW THINGS TO KNOW BEFORE MAKING This HOMEMADE PERFECT BAR recipe:
First, I used almond flour in addition to oat flour because I thought all oat flour may be a bit much and I LOVE the flavor of almond flour. The almond flour was perfect (notice the overuse of this word…). Almond flour is a bit pricey so only needing a little will go a long way since I am sure you will be making these weekly from here on out. Or at least I have been!
The actual Birthday Cake Perfect Bars include a combination of cashew butter and almond butter. This can be a bit pricey to buy both so you can opt for one or the other if desired. You could also combine some cashews and almonds in the food processor and make your own almond cashew butter!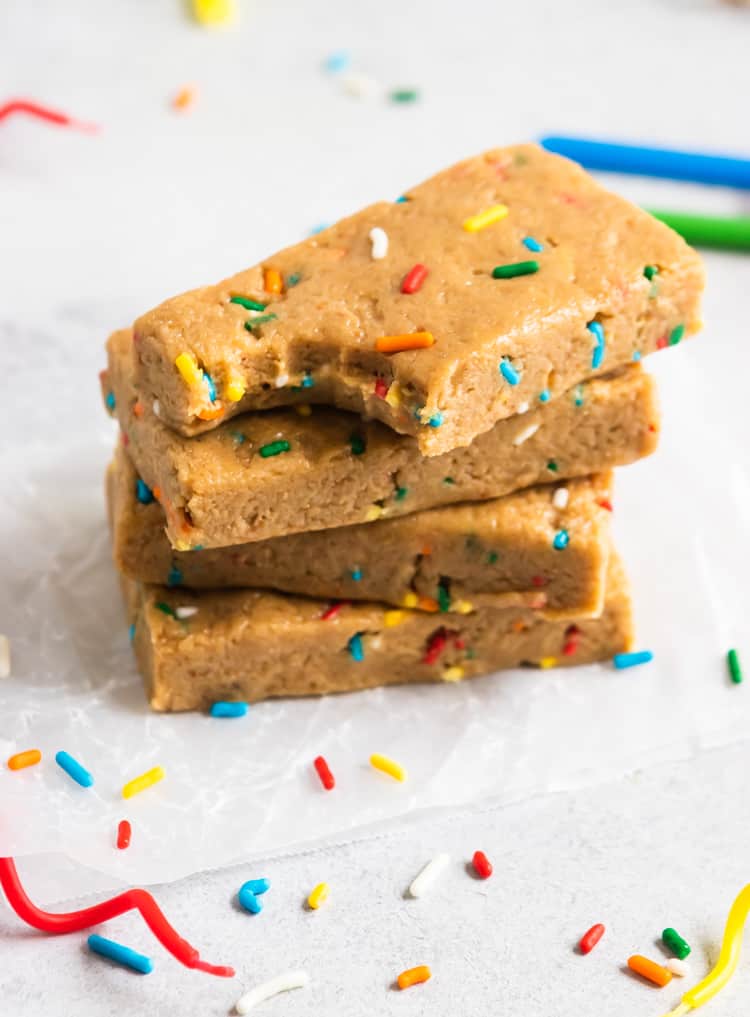 The biggest impact on the flavor of these bars will be your protein powder. If your protein powder tastes like grass, then these perfect bars are going to taste like grass. Sad, but true. I would opt for a vanilla versus a flavorless, unless you use a collagen peptide powder. Collagen seems to be the only powder that is really and truly flavorless. I could get behind using one of these for sure.
Another thing to note is that when I say press, I mean PRESS these babies into the pan. If you want a really sturdy, dense bar, then you gotta put all your weight into it, sit on it, whatever you have to do, bring the power. The bars will be too flimsy if you don't so when you think you have pressed hard enough, keep going.
I know sprinkles my seem counter productive in an energy bar, but I highly advise making this perfect bar recipe with them. Even if you just sprinkle in a few (see what I did there?!), it's better than skipping them completely.
Check some of these no bake recipes out:
Search "Energy Bites" for many many more!
DID YOU MAKE ONE OF MY RECIPES? LEAVE A COMMENT AND LET ME KNOW! I ALSO LOVE TO SEE YOUR LEMONS + ZEST RECIPES ON SOCIAL MEDIA–TAG ME @LEMONSANDZEST ON INSTAGRAM OR FACEBOOK!
Homemade Birthday Cake "Perfect" Bars
If you loved the Birthday Cake Perfect Bars, then you will love this homemade version. So simple and packed with all the funfetti goodness!
Print
Rate
Instructions
Combine all ingredients except for sprinkles and milk in a medium sized bowl.

Stir to combine, and then get in with your hands and knead until a dough is formed. Slowly add in milk until a nice thick, but not too wet consistency. Fold in 2 T of the rainbow sprinkles.

Press mixture VERY FIRMLY into a parchment lined pan or dish (about 6x8--pyrex has one that size. If you don't have one, use an 8x8 pan but don't press all the way to one end.)

Press the rest of the sprinkles into the bars. Freeze for about 30 minutes to set.

Remove from freezer and cut into bars. Store in the refrigerator.
Notes
Change up the sprinkles colors for more fun variations!
Nutrition
Calories:
346
kcal
|
Carbohydrates:
32
g
|
Protein:
12
g
|
Fat:
21
g
|
Saturated Fat:
3
g
|
Cholesterol:
10
mg
|
Sodium:
21
mg
|
Potassium:
249
mg
|
Fiber:
3
g
|
Sugar:
17
g
|
Vitamin A:
12
IU
|
Calcium:
121
mg
|
Iron:
2
mg