This post may contain affiliate links.
Simple and delicious, this Maple Vanilla Cashew Butter Recipe requires only a handful of ingredients. Grab the food processor and add some patience--you are almost there! So much more affordable than store bought!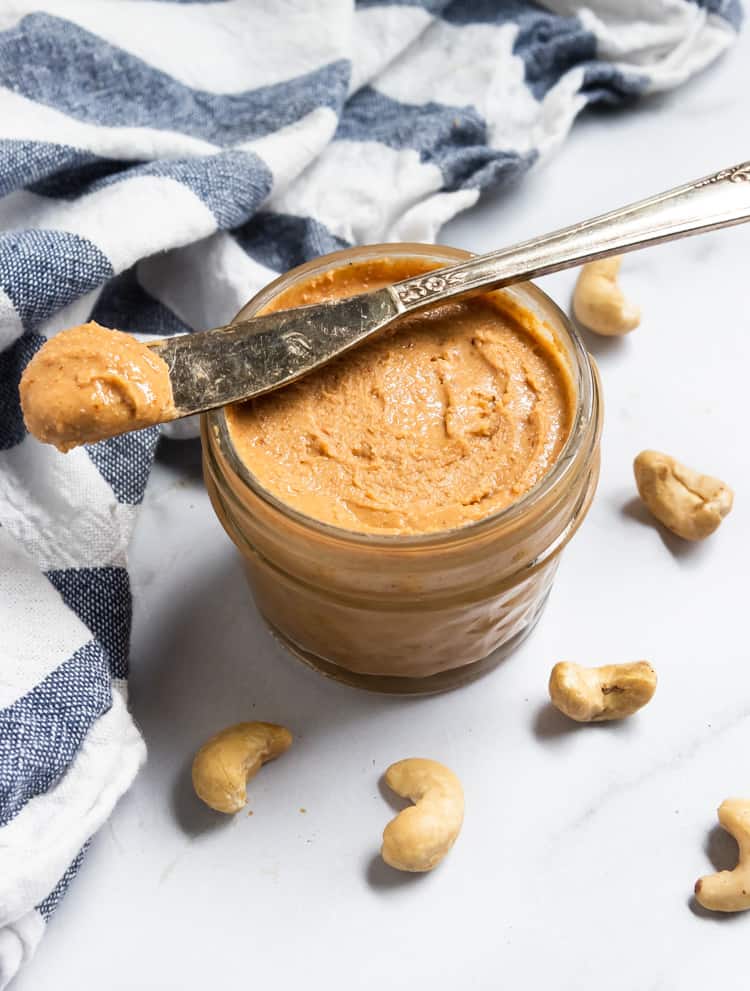 Save some cash, make your own cashew butter!
When it comes to nut butters, cashew butter is my number two to peanut butter. The only problem with cashew butter is that it is always outrageously priced. I was at the store recently and a jar was priced at about $8.00! That just doesn't seem right to me.
Sure I know that cashews are generally a bit more expensive but when I know I can easily make the same exact thing in a jar at the store for about half the cost it just doesn't make any sense at all. I know, I know, we are often paying for the convenience but what we think is an "inconvenience" is really not quite as awful as we think.
When I made this cashew butter, I was basically cleaning my kitchen at the exact same time. I emptied the dishwasher, wiped down the fridge and the counters, put away groceries, organized all of the mail and a few other things that needed to be done. Several times I checked on the cashews or the butter depending on what part I was working on.
So simple and so creamy, smooth and delicious! They say the best that comes to those who wait, but those who get stuff done while they wait are the ones who are really doing it right!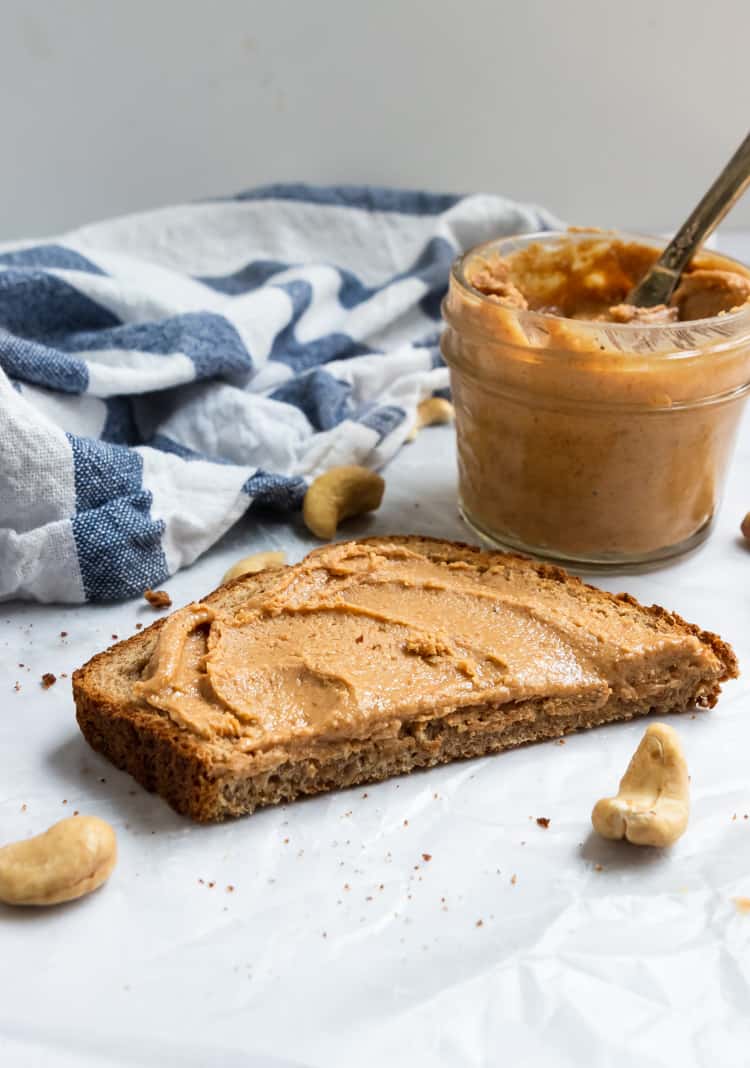 My food processor is my favorite
I have a Vitamix and I love it but to tell you the truth, I have never made nut butters in it. Sounds crazy, but it's true.
My food processor does an amazing job even if it means spending a little extra time on some things. So if you have a high power blender, I know that these blenders can make nut butters quickly. I am not versed in using a blender for this cashew butter but will give it a go sometime. Let me know if you try it with something else and have luck.
I have learned my lesson with nut butters the hard way. Apparently you should NOT add the liquid such as maple syrup or even vanilla to the nut butter at the end. This turns your butter into a clumpy paste--a delicious clumpy paste, of course.
So if you want some sort of flavor to the butter, it is best to roast it into the nut. If you think it will save you time by skipping the roasting and just tossing the maple in at the end, consider yourself warned! It will not save you time and it will only waste your cashews.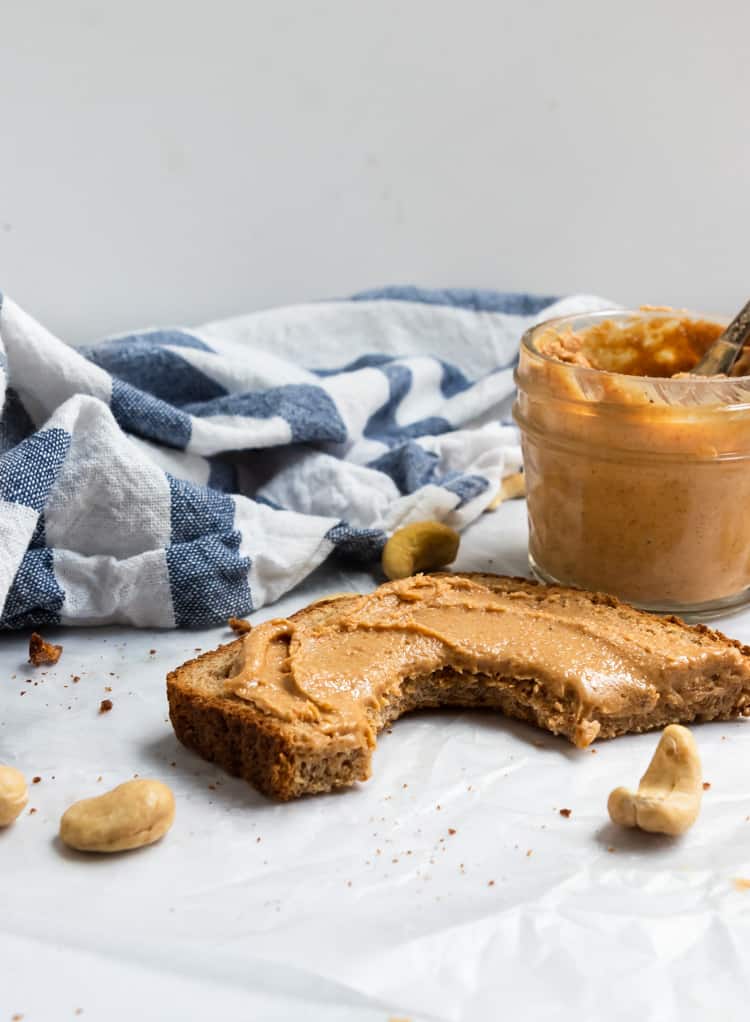 Just be patient and you will soon be eating silky, rich and creamy cashew butter that is unlike any you haves tasted before! (unless you were one of my taste testers!) And stay tuned, because there just might be a treat you can make with this maple cashew butter coming your way! Enjoy!
My Favorite ways to serve this Maple Vanilla Cashew Butter Recipe:
Straight from the spoon is 100% always an option. Or if you are like me, straight from the food processor! But if you are looking for some inspiration, there are some ways I love to serve this cashew butter!
On toast. Bonus if you decided to add sliced bananas. One of my all time favorite breakfasts right there!
I have several Overnight Oats recipes that call for cashew butter. My favorite oats recipe to add it to is this Zucchini Bread Overnight Oats recipe. Hits the spot! These Blueberry Muffin Overnight Oats are amazing as well with this cashew butter recipe. You could also just add a spoonful into your favorite bowl of warm oats.
Who wants a cashew butter cookie?? I do! I made these Maple Cashew Butter Cookies just for another amazing way to enjoy this cashew butter.
Have you ever had a breakfast quesadilla? You could make this Almond Butter Banana Breakfast Quesadilla with this Maple Vanilla Cashew Butter instead of the almond butter. Both are amazing, trust me!
Add a spoonful to your favorite smoothie, I have had it in this PB Mocha Smoothie--amaaaaaazing!
Should you refrigerate this Maple Vanilla Cashew Butter recipe?
To refrigerate or not to refrigerate, isn't that always the question?? We never chilled ours growing up and I remember babysitting for a neighbor and was floored when I found their peanut butter in the fridge.
As far as store bought, you can typically go either way, but with homemade, your best bet is to refrigerate. This will keep it fresher longer. Seal it nice and tight and you should be good for about a month.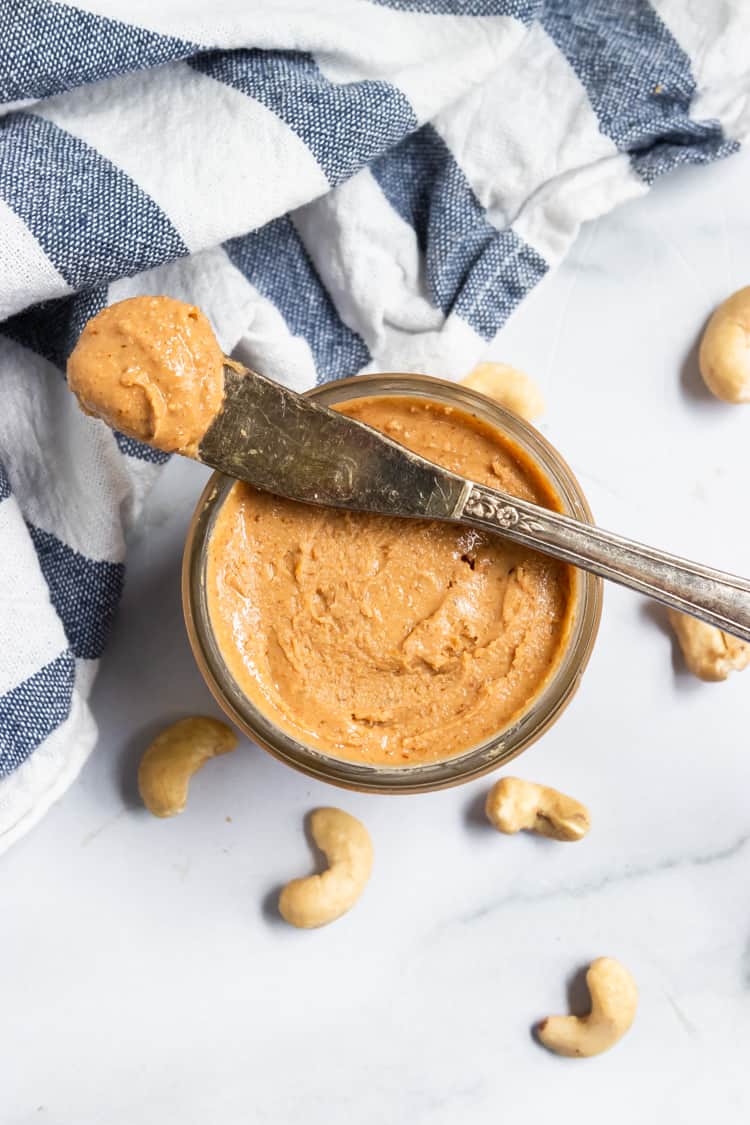 Looking for something else to go with your Maple Vanilla Cashew Butter? Try these simple chia jam recipes:
Blueberry Lemon Chia Jam

Cranberry Orange Chia Jam
DID YOU MAKE ONE OF MY RECIPES? LEAVE A COMMENT AND LET ME KNOW! I ALSO LOVE TO SEE YOUR LEMONS + ZEST RECIPES ON SOCIAL MEDIA–TAG ME @LEMONSANDZEST ON INSTAGRAM OR FACEBOOK!
Instructions
Preheat oven to 350° F.

In a mixing bowl, stir all ingredients together and make sure cashews are evenly coated.

Spread cashews evenly over pan lined with parchment paper.

Cook for about 15 minutes or until cashews become a golden brown.

Remove from oven and then let cashews cool slightly.

Place cooled cashews into food processor. Process for several minutes at a time and use spoon or spatula to scrape down from the sides when necessary. This does take time. The process requires allowing the natural oils of the nuts to slowly release. As this happens, the clumpy dry consistency will slowly become more and more creamy and eventually will become a smooth butter. Just remember it takes time!

Store in the fridge in an airtight container.