This Chocolate Granola Recipe with Pistachios and Sea Salt is a simple way to add crunch to your day. Add this to yogurt, milk, or straight from the jar is great too! The best sweet and salty snack!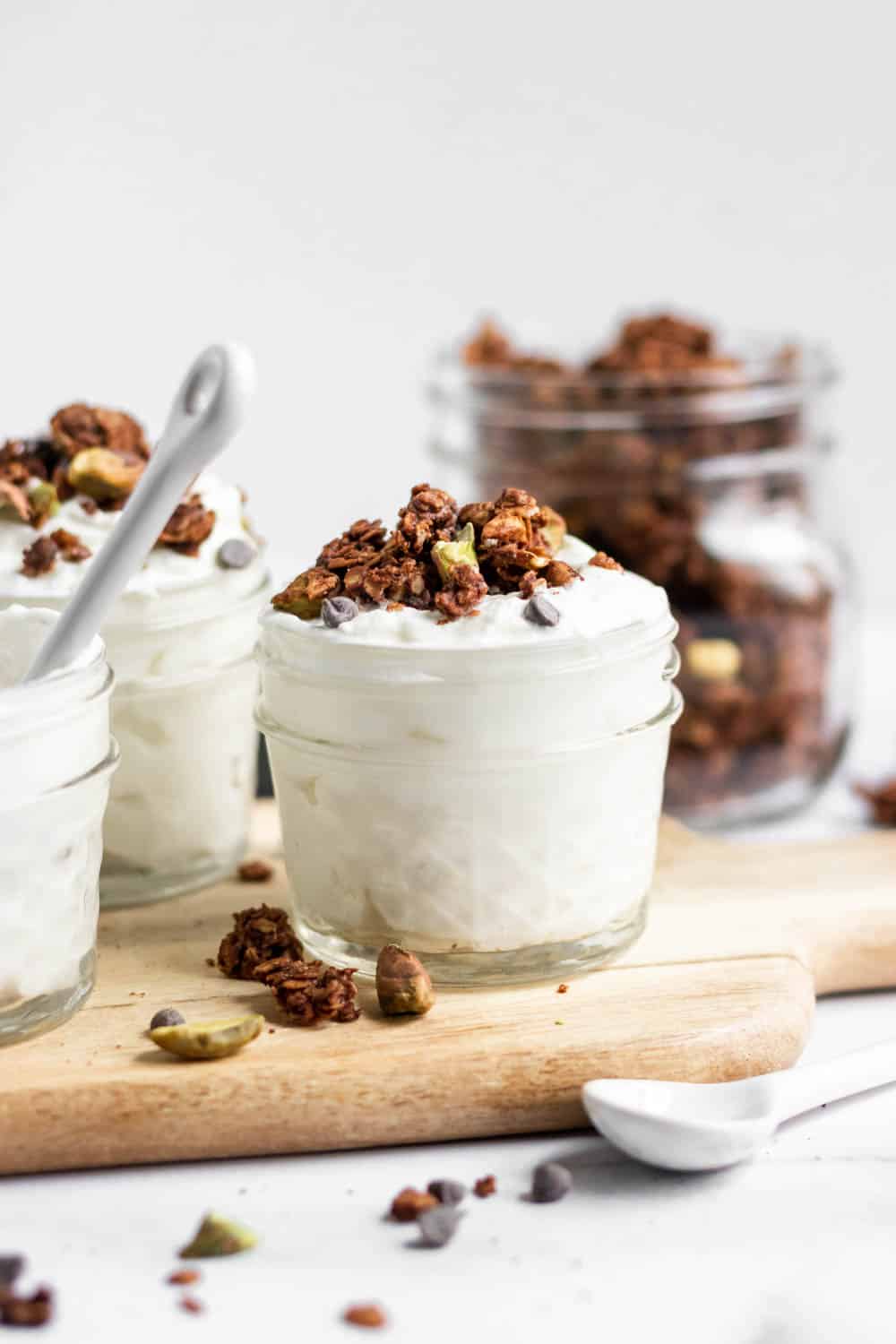 This year marks our 4th Mother's Day since we lost our first baby.
I would like to say it gets easier, but that is not at all the case. Mother's Day and the whole week leading up to it is unbelievably tough and this year is already proving to be just as bad if not worse.
I know we are in the process of adoption so we should be in a space of hope and excitement, and trust me, we are. But it's as though this week everywhere I turn, there is a pregnant belly, a woman pushing a stroller along, or someone sharing exciting news of expecting. To be honest, this is pretty much exactly the way it is every week, but with Mother's Day lingering, it just seems far more intense and exaggerated.
My hope is that this is the last Mother's Day we live in agony.
And that is probably what will get me through this one. And of course I have an amazing mother so let's not forget that is who I will celebrate as well, but this holiday is just the one that stings the most. I look at the happy expectant mothers and think, why do they get that and we don't? Or I have friends that have gotten pregnant so easily and the tinge of jealousy makes it challenging to listen to their excitement as we have had to fight so hard for this.
I have lived through each of the last several Mother's Days and survived, and I will live through this one too. And I pray so hard for all those round bellies and those newly pregnant so they never have to feel what we feel. And someday, SOMEDAY our Mother's Day will be only filled with tears of happiness and joy. I can only hope that our someday is closer than ever at this point.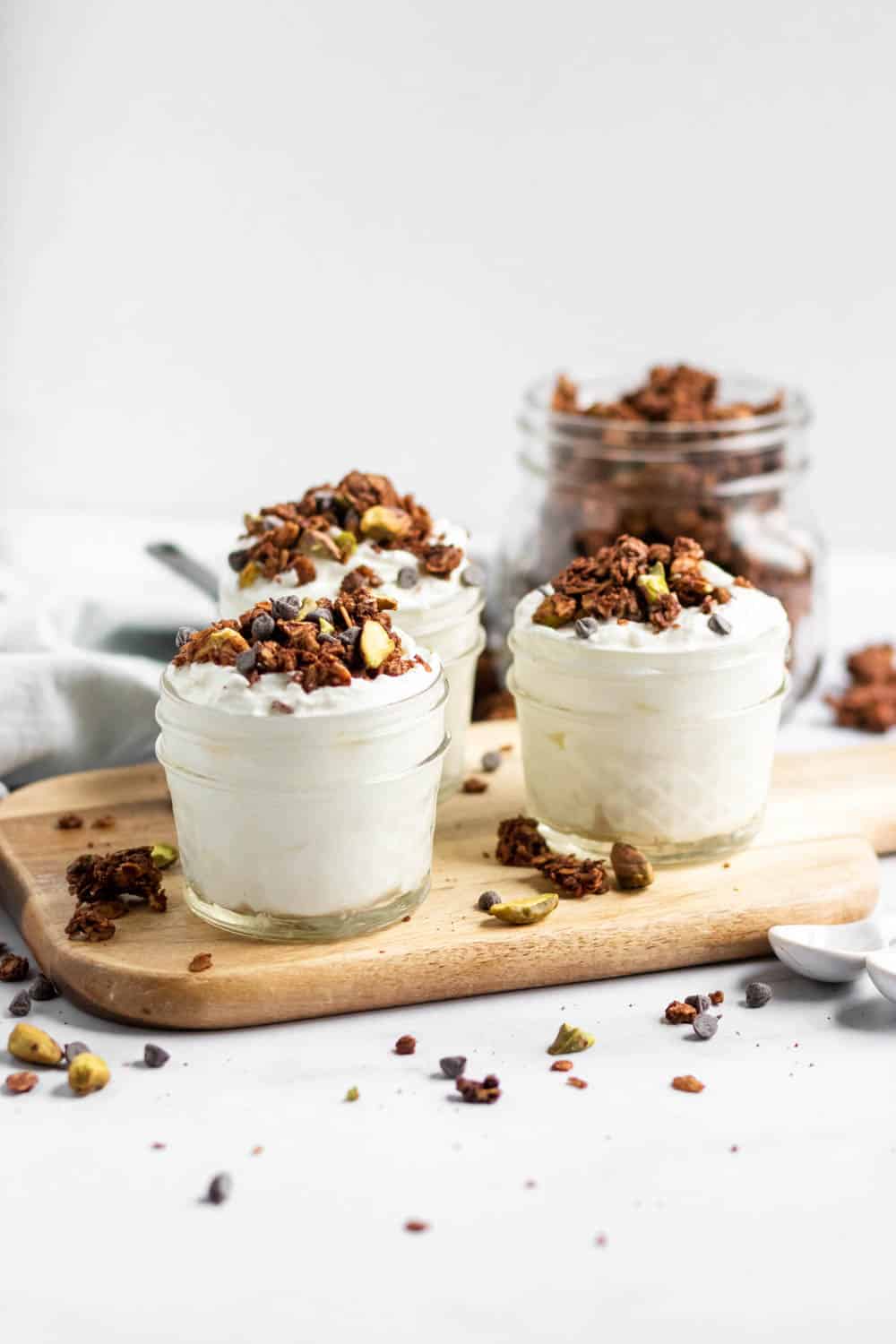 Every now and then you come across a food you haven't had in a while and you can't remember why it has been so long. Pistachios are those for me.
They were on sale recently and I wanted them for an avocado toast recipe. I had plenty leftover so this chocolate granola recipe came to be! Chocolate and pistachios are a perfect combo.
The beauty of this granola is that it came out in big chunky clusters.
That is my kind of granola! When the chunks are gone, it's sad granola to me. Two things I did with this recipe that I haven't done before added to the clustering. First, I used some quick oats as well as the rolled oats instead of only rolled oats. This made a big difference.
The first batch I made, they were clustered, but it wasn't until I made the second change that the big difference was noticed.
The egg white is where it's at, ladies and gentlemen.
I have heard many times to add it and did so for this one and that had the biggest clustering effect by far. The egg white is not necessary but if you like your granola like I do, then definitely don't skip it!
Granola in a cute mason jar with a bow makes for a great gift. Mother's Day gifting, perhaps? I think she will love it for sure!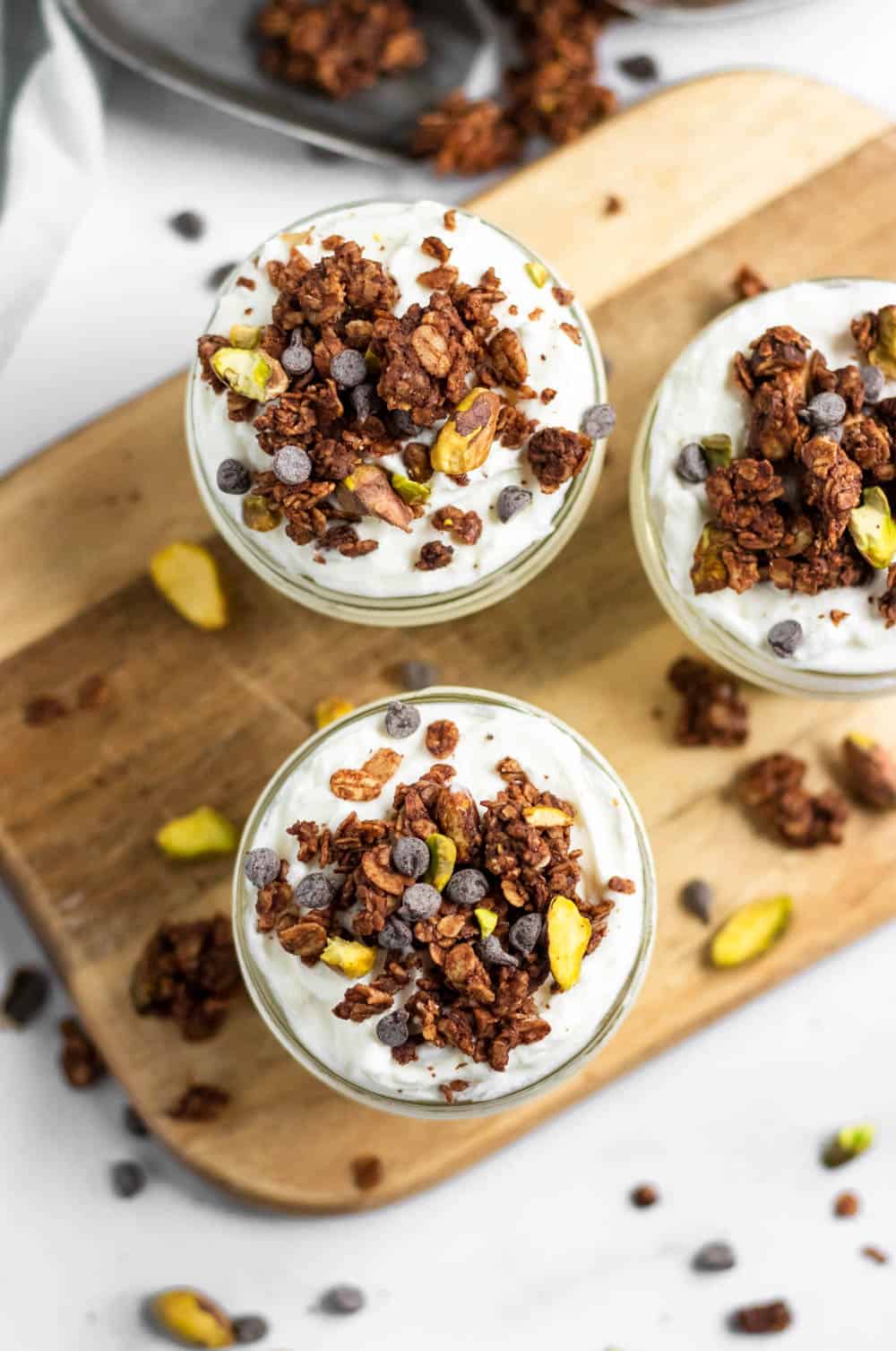 Try these other granola recipes:
Ingredients
1 1/3

c

quick oats

regular or gluten free

2/3

c

rolled oats

regular or gluten free

1/4

c

maple syrup or honey

1/4

c

coconut oil

melted (canola oil works great as well!)

3

heaping T cacao powder

1/2

c

shelled pistachios

raw

1

tsp

vanilla extract

1

T

chia seeds

1

T

flaxmeal

1/4

tsp

sea salt

2

T

mini chocolate chips

1

egg white

(optional)

2

T

brown sugar

(optional)
Instructions
Preheat oven to 350° F.

In a medium bowl, mix all ingredients except the pistachios and chocolate chips.

In a small bag, place about half or a bit more than half of the pistachios and using a large wooden spoon, pound the pistachios to break into small pieces.

Add the pistachios to the oat mixture and stir to combine.

Spread the mixture evenly on a parchment lined baking sheet.

Bake for about 20-25 minutes.

Allow to cool and then break into clusters and add in the rest of the pistachios and chocolate chips.

Store in an air tight container.