This post may contain affiliate links.
Thank you Modern Table for sponsoring this post. The mighty plant protein puts the nutritious in delicious -- check out Modern Table pasta today!
This Spicy Sun Dried Tomato Pasta served with Italian Sausage is a simple dinner recipe packed with protein and flavor! Use Sun-dried Tomatoes and spices to make to whip up a quick and flavorful sauce the whole family will love!
I have quite a few readers here that are pasta lovers but cannot do gluten--let me tell you I have something AMAZING for you today! And this isn't just for those who can't tolerate gluten--this pasta dish is for all my pasta lovers, young and old!
As an 'all foods fit' kind of girl, I get the opportunity to try a lot of new foods out there. Recently I was sent these lentil based Spirals from Modern Table and it's safe to say I am hooked! But guess who else is hooked? Anthony and Sam--and Anthony is a hard one to please, he's my biggest critic no doubt.
We are a big pasta family--we eat it several times a week at least. But what seems to always happen is I get into the same old, same old rut. I make the same thing over and over and OVER. And recently I was even met with a, "Spaghetti and meatballs, again???" Uh-oh. That's when you know you have overdone it, and I don't want that to happen.
So what's a girl to do?!
Well, she has gotta come up with something delicious, new and SIMPLE. If it isn't easy, it is not happening for me. Who's got the time for anything else?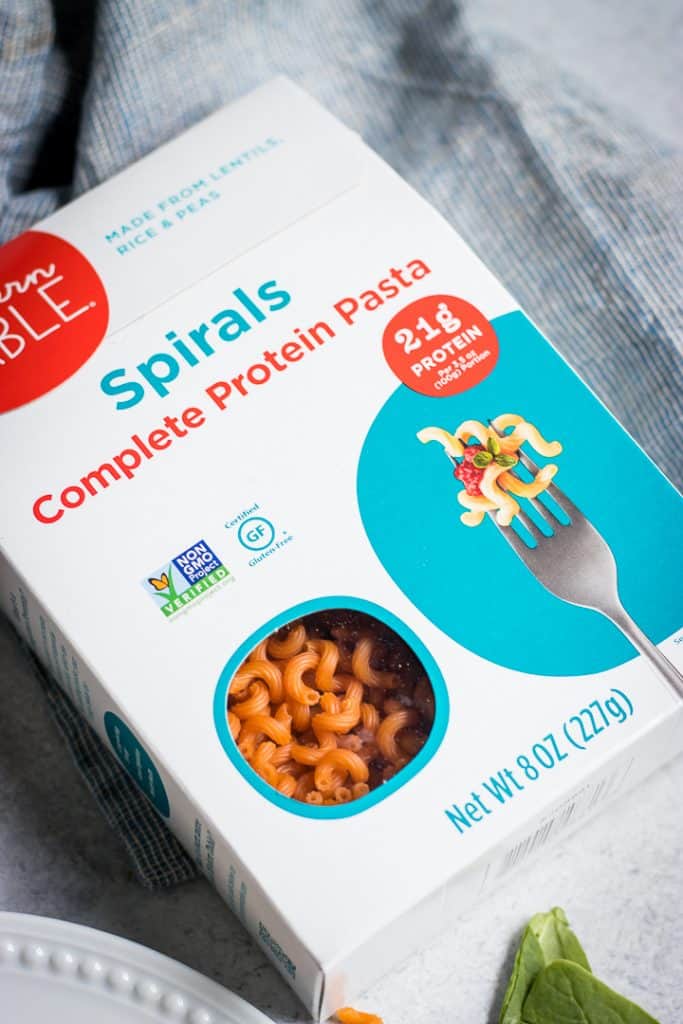 Have you ever had lentil pasta before? It's got a great texture and flavor, but the best part, is that it cooks up so quickly, depending on the shape. These spirals cook up in 5-6 minutes--you can't beat that! That makes this recipe a super quick as well as simple dish, great for the nights you just don't have a lot of time. And if you meal prep in the beginning of the week, you may have some sausages ready to go and cut down on even more time. Sounds like we are winning all around with this one!
The real power of Modern Table's pasta is in the protein. I am not an expert in nutrition, and don't regularly talk about it here, but the thing I do know is that protein is a good thing and it's one of the elements that fuels you and keeps you going as part of a meal. As far as Modern Table pastas go, All pastas are lentil-based and contain complete proteins - meaning they have the 9 essential amino acids our bodies need for strong energy, good digestion, and muscle health. And for my friends who can't have gluten as well as my plant based, with only three plant-based ingredients, the plain pastas are vegan, non-GMO, and gluten-free. Needless to say, it's perfect for everyone you may be feeding!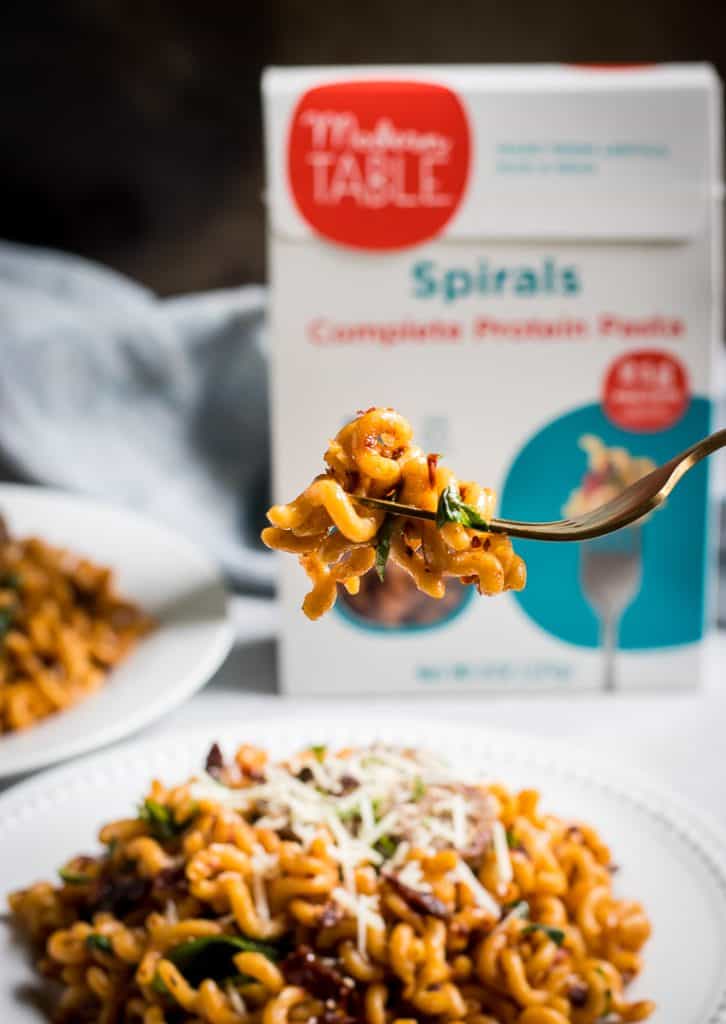 Ok, so let's talk all about the actual dish and what makes it so great.
Spicy Sun-Dried Tomato Pasta, doesn't sound like it but like I said: SIMPLE. All you need for the sauce is a jar of sun-dried tomatoes, a couple garlic cloves and some spices. Give it a whirl in the food processor or blender and then toss it in with the pasta. Think you can handle that? Oh I know you can. And if things go like they did in our house, your family will come back for seconds as well as hope for leftovers the next day.
Leftovers--yes, I just said leftovers. In the 10+ years Anthony and I have been together this is the first dish he has EVER eaten leftovers the next day. Literally I about lost it. Such a simple dish, but the flavors come together so perfectly.
Adjust the spice to your liking--try to start small and then add as you like. Also, you can use pre-cooked sausages if you want to save even more time. There are plenty of plant based sausages out there if you are looking to keep the recipe vegan as well. Well friends, have your pasta, and eat it too!
Want to save on Modern Table? Use Promo Code "25pastamonth" for 25% off here!
Ingredients
2

8 oz. containers Modern Table Spirals

1

8 oz.

jar sun dried tomatoes (in oil)

2

garlic cloves, peeled

2

large handfuls roughly chopped spinach

3-4

Italian sausages

1

tsp

oregano

1/2-1

tsp

red pepper

Dash of cayenne pepper

1/2

tsp

cracked pepper

Salt to taste

Parmesan (optional)
Instructions
Cook sausages as desired (grill or boil stove top). When fully cooked, slice into 1/2 inch pieces and set aside.


Boil water, then cook pasta as directed according to package.


As pasta cooks, combine sun-dried tomatoes (including oil), oregano, garlic, red pepper, black pepper, cayenne and sea salt in a food processor. Pulse for 5 seconds at a time until a thick sauce-like consistency. Adjust to your liking--if you prefer more chunks of tomatoes, do not break down as much.


After pasta is cooked, drain water, toss with spinach to wilt. Then add sun-dried tomato mixture and sausages and toss to coat evenly.


Serve immediately with freshly grated parmesan if desired.

I was selected for this opportunity as a member of CLEVER and the content and opinions expressed here are all my own.