This post may contain affiliate links.
This warm and cozy Spiced Pear Oatmeal is a simple way to get a hearty, healthy breakfast in. Baked pears with just the right touch of cinnamon, walnuts, a hint of maple and more make this a perfect recipe to start your day!

This Year Without You
A year ago today I was in the hospital. I was broken beyond belief. We were losing our second baby, Eli Michael. One year ago today. He wasn't here with us long, but the impact he had on our hearts will last the rest of my life.
I will be honest with you, I wanted nothing more this year than the holidays to just pass by quickly and be gone. I wanted to hide. And now that they are slowly winding down, a sense of relief and calm are slowly easing into my body.
This was the first year over the past 3 years that I was not pregnant during Christmas. The previous two Christmases were the peak of my existence. They were full of hope, excitement and wonder.
My future over these Christmases seemed so bright and I could easily see the lighted path that I was being led toward. And yet, just 5 days after Christmas, the light went black for a second time. And it hasn't been relit since.
My Season of hope is fading.
And the hope seems to fade some days. And the light seems to get farther and farther from my grasp. And somedays, I don't know if I can take it any longer. But somehow, someway, I have made it through this year.
If you have suffered any form of loss in your life, the holidays can be a torturous and agonizing time for you. The person you so desperately want to share this special time with you is no longer here and there is a heaviness you carry with you during the time that is full of happiness and cheer. Yet, you look around, and you just don't see it. All you can see is what is missing.
Every Christmas card I received in the mail this year with my friends' and family's photos were like daggers straight to my heart. Why wasn't it our turn? The beautiful faces smiling under the tree were a reminder that my Josie and Eli should be saying "cheese" at the bottom of the Christmas tree with me. Here. NOW.
But my lap is empty.
And my heart just can't take it some days. But again, I have made it to this point. I have lived on, another year, an entire year since we lost you, Eli.
Every month this year started just like the one before it. There was hope, there was faith. There was us on our knees, praying, asking, begging. And each and every month came to a close with pain and discouragement.
In trying to cope with the pain and push through it each month I have tried to think that maybe, just maybe, this year of infertility is God's way of shielding me perhaps from more pain.
Maybe for some reason, even though the doctors seem to think otherwise, there is something not ready in my body to carry a baby and that this time of agony is actually a form of protection from more loss, more pain and devastation.
Whatever the reason, I may never know. But what I do know is that I have lived and I have survived this year without my sweet perfect baby. Somehow I put one foot in front of the other and somehow, even through the numerous tears, I may have even gotten a bit stronger.
But today my heart is heavy.
This year without you, Eli, was not the year I had hoped for. This year was meant for 'firsts.'
This year I was to feel you kick and move, I was to hold you in my arms, I was to hear your voice, your cries, I was to be your mommy. And you were to be my everything. And you are. But this year without you was the hurt above all hurt I have experienced.
And each and every month that slipped by was just a reminder that you were not here. I will just never understand it.
_____________________________
The strength of your pain is a testament to the strength of your love.
If the holidays were painful for you, know that you are not alone. Your sadness is not unwarranted so let your tears be shed. Feel the rawness of the hurt in your heart.
The strength of your pain is testament to the strength of your love for the person you are missing. But then let your love and pain be manifested into the strength you need to move on to this next year. You will never have to live this year again and so maybe this next year will bring light and perhaps happiness and joy.
--I love you, Eli--
xoxo Mommy
---
Thank you so much for being here to listen. Thank you so much for letting me share. There are days that I just have to get things off of my chest before I can move on and being able to do it here is a blessing.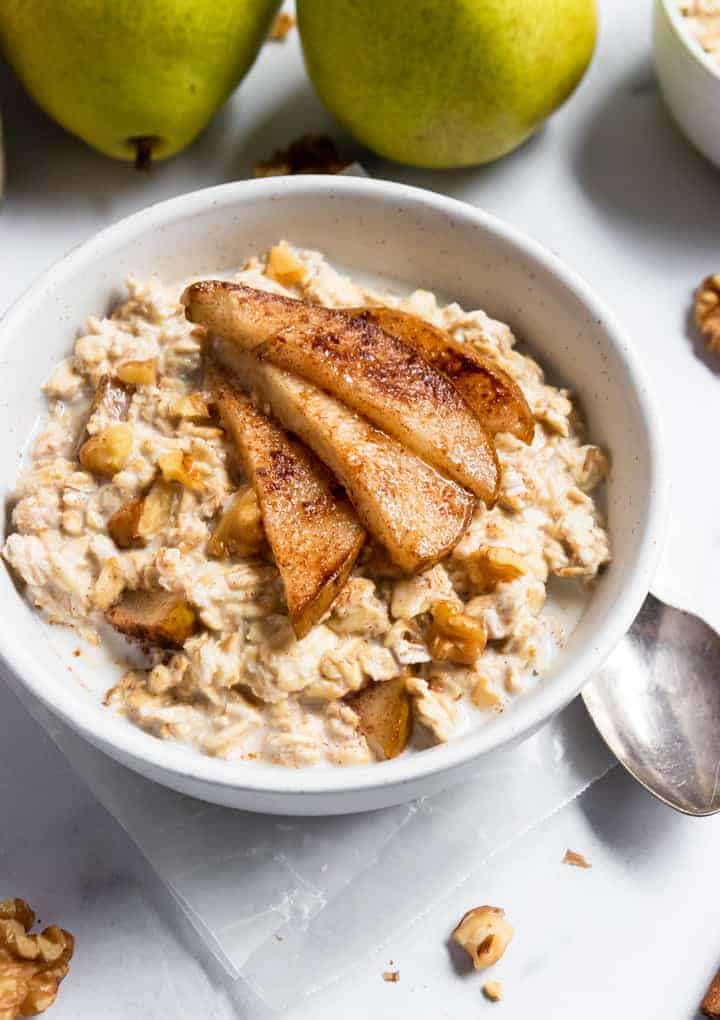 Some days I leave you with food for the soul and follow up with food for the body. Taking care of your whole self is a necessity!
This is one of my good old overnight oats recipes that I love so much. With the holidays, breakfast has been all over the place so I am ready to get back on track with a normal routine.
Also, my aunt Sharon sent me some of the most delicious pears for Christmas so of course I needed to add these as well! When school is back in session next week, these are so easy to make ahead and then you are set for the next day or even week. It's the best way to guarantee you will get a healthy breakfast in.
Some like them hot, some do not.
This Spiced Pear Oatmeal recipe can be eaten hot or cold as always! You can use the pears without baking them first, but I love the pears cooked prior. The flavor is amazing!
But if time is not your friend, just toss them in as is. And leave the skin on or peel it, another personal preference. All in all, shake up your oatmeal routine for a bit and you will be pleased!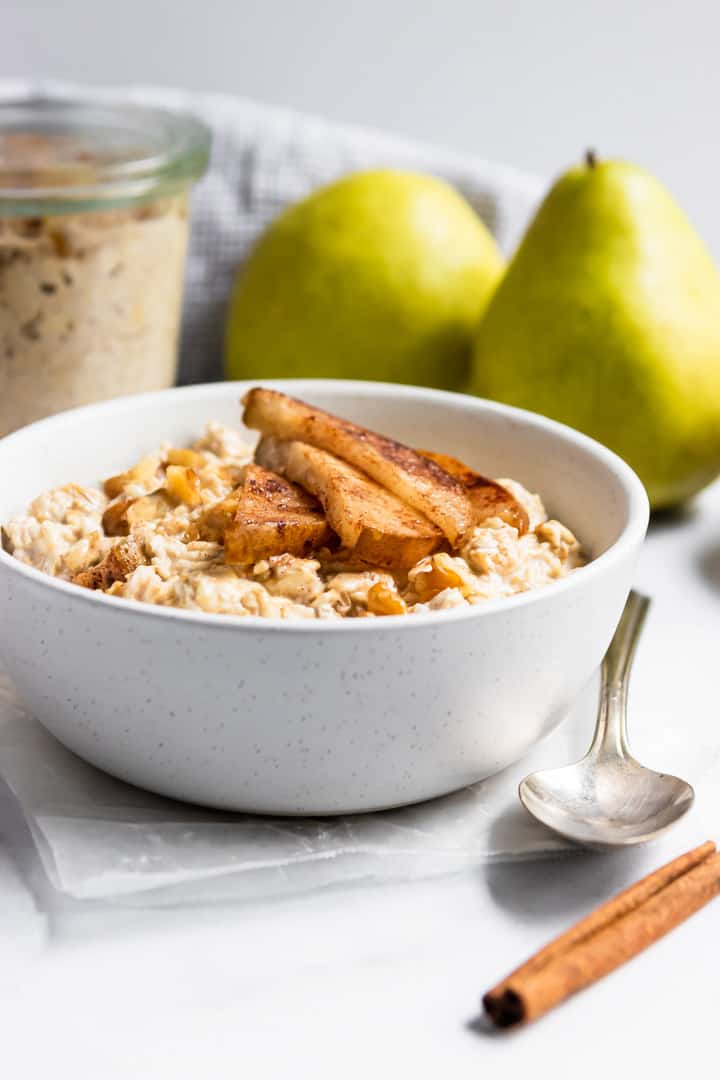 First time making overnight oats? Check out this post for all the answers to the FAQs you may have!
What you need to make these Spiced Pear Oatmeal:
rolled oats: regular or gluten free will work well.
milk of choice: I opt for whole or vanilla almond milk most of the time. We usually have both around the house.
pear: go with your favorite type! I switch it up regularly--Green Anjou, Bartlett, Bosc--seriously, you can't go wrong.
walnuts: typically I add them raw, but to up the game, toss them in the oven with the pears for a toasted flavor.
ground flax: completely optional, if you don't have flax, don't worry. The flavor will not be altered without it and that's what matters the most.
maple syrup: your favorite liquid sweetener can be used instead!
cinnamon:
Some things to note about this pear overnight oatmeal:
I bake the pears for about 5-7 minutes with a drizzle of cinnamon and maple. This is what I think MAKES this recipe. However, I know you may not always have the time to do so. You can just toss the pears in with the oats unbaked and the pear oatmeal will still be delish.
Flax is something I have added to a lot of my oats to increase the fiber and other good stuff of my breakfast. It is a completely optional ingredient and will not be a problem if you omit it.
There are some people who love using steel cut oats for their overnight oats. I am not a fan as they tend to be very chewy. You could still use them instead--but fair warning!!!
If you love these pear oats, my Apple Pie Overnight Oats are pretty similar as well!
I typically make several servings at a time to make the most of my time and resources. These will be fine in the fridge for 3-5 days.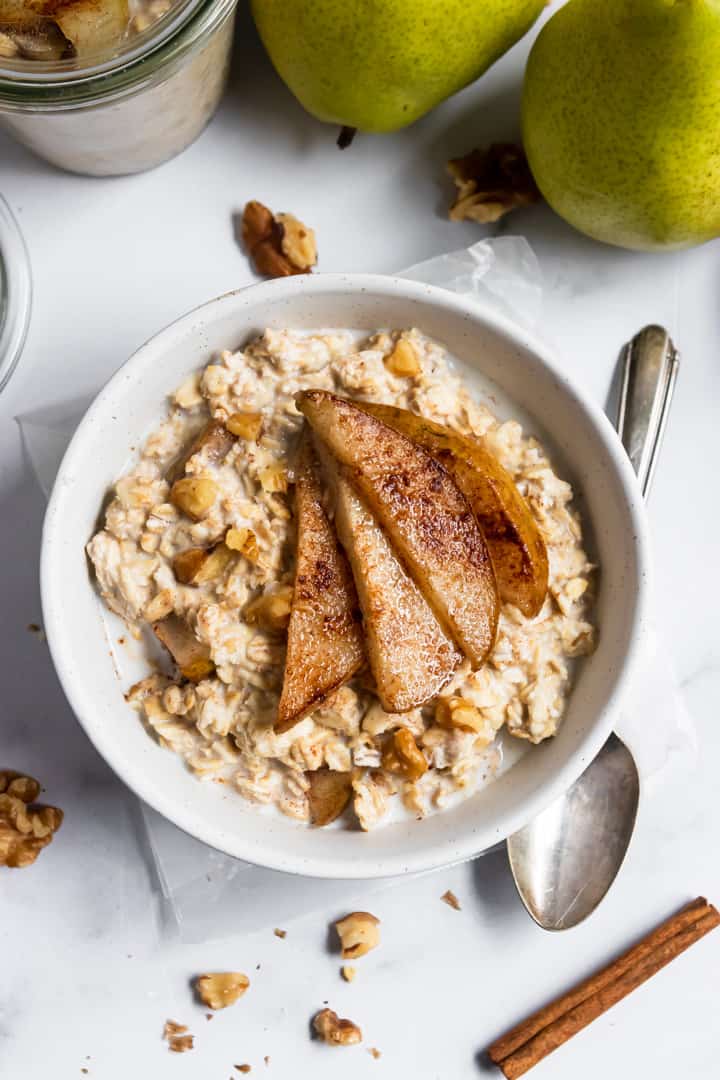 TRY MY OTHER FAVORITE OVERNIGHT OATS RECIPES:
DID YOU MAKE ONE OF MY RECIPES? LEAVE A COMMENT AND LET ME KNOW! I ALSO LOVE TO SEE YOUR LEMONS + ZEST RECIPES ON SOCIAL MEDIA–TAG ME @LEMONSANDZEST ON INSTAGRAM OR FACEBOOK!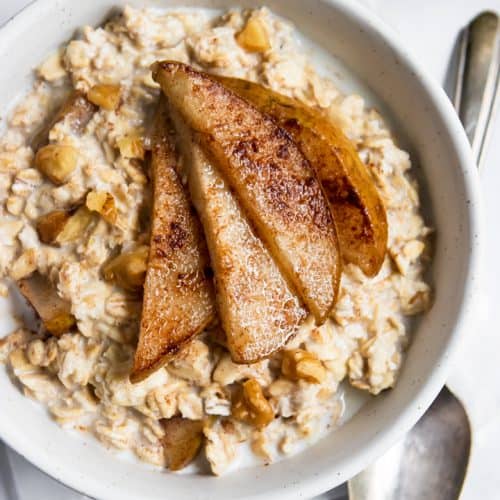 Spiced Pear and Walnut Overnight Oatmeal
This warm and cozy Spiced Pear Oatmeal is a simple way to get a hearty, healthy breakfast in. Baked pears with just the right touch of cinnamon, walnuts, a hint of maple and more make this a perfect recipe to start your day!
Print
Pin
Rate
Instructions
Drizzle a teaspoon of maple and about ¼ teaspoon cinnamon on diced pears and place on parchment lined pan. Bake at 375°F for about 5-7 minutes. (You can also skip this part and toss unbaked pears into oats immediately.)

Combine all ingredients into jar or dish that can be closed with a lid.

Stir well.

Refrigerate overnight.

Eat cold or heat up in the morning and enjoy!
Nutrition
Calories:
385
kcal
|
Carbohydrates:
58
g
|
Protein:
12
g
|
Fat:
13
g
|
Saturated Fat:
3
g
|
Cholesterol:
9
mg
|
Sodium:
61
mg
|
Potassium:
459
mg
|
Fiber:
8
g
|
Sugar:
24
g
|
Vitamin A:
120
IU
|
Vitamin C:
4
mg
|
Calcium:
178
mg
|
Iron:
2
mg