If I told you I loved every last bit of my body every day, I would be lying. This journey of body love, especially after years of hormones and fertility treatments, which have added weight without the benefit of what so many others see from such treatment, has been far from a straight line. It ebbs and flows, it spikes and then drops, twists and turns, you get it, right? But to be fair, my relationship with my body is in a better place than it has ever been so I will take it.
For some time after we decided to adopt, I went through quite a grieving process. I was resentful that my body couldn't do what so many others could. I was tired of hearing so many tell me it would happen, I would get pregnant right when we got on the adoption list. In fact, I am still tired of hearing this. (PSA, just don't say that, ok?) But fast forward to now, and I am actually in a very positive place with my body, and all thanks to this adoption.
Sounds crazy, I know, especially since it took me such a long time to get past. However, as I have been planning and prepping for our little guy, I have realized some of the gifts I will receive along with this journey. I have been thinking a LOT about what our first weeks with him will be like. Sure it will be full of absolutely no sleep, (or I guess I should say not so full of sleep), but while I won't be getting any sleep, I also won't be recovering. My body will be 100% fully ready to go so the aftermath of adjustment will be a bit easier for me so to say.
Also, as the time nears, my sleep patterns are pretty similar to the way they always are. It is still comfortable for me to sleep even 6 weeks before his arrival. That's pretty special. Other than some nights awake with anxiety, I still find myself able to get comfortable.
I guess what I am trying to say, is that I am trying to look at my body in this whole situation as more and more of a positive point. It is going to be fully able and ready when baby S arrives. And that is something I never thought of until recently, and I have this process, this journey to be thankful for--even after all of these years.
---
99% of the time you will find roasted sweet potatoes in our fridge. It's turning into the season of all things sweet potato so my Slow Cooker Sweet Potato Chili, Mexican Stuffed Sweet Potatoes, and Roasted Sweet Potato Enchiladas are about to become part of the weekly rotation. Oh, and don't forget about my Sweet Potato Pie Crumble for dessert! A lot of times I cut up 4 or 5 at the beginning of the week and then roast them to add to meals all week long. To think I never liked them growing up! They are a staple in our house always these days. So when I decided to throw them together into a breakfast hash one morning, and then add the hash to tacos---well you know where this is headed, right? Yea, my mind was blown.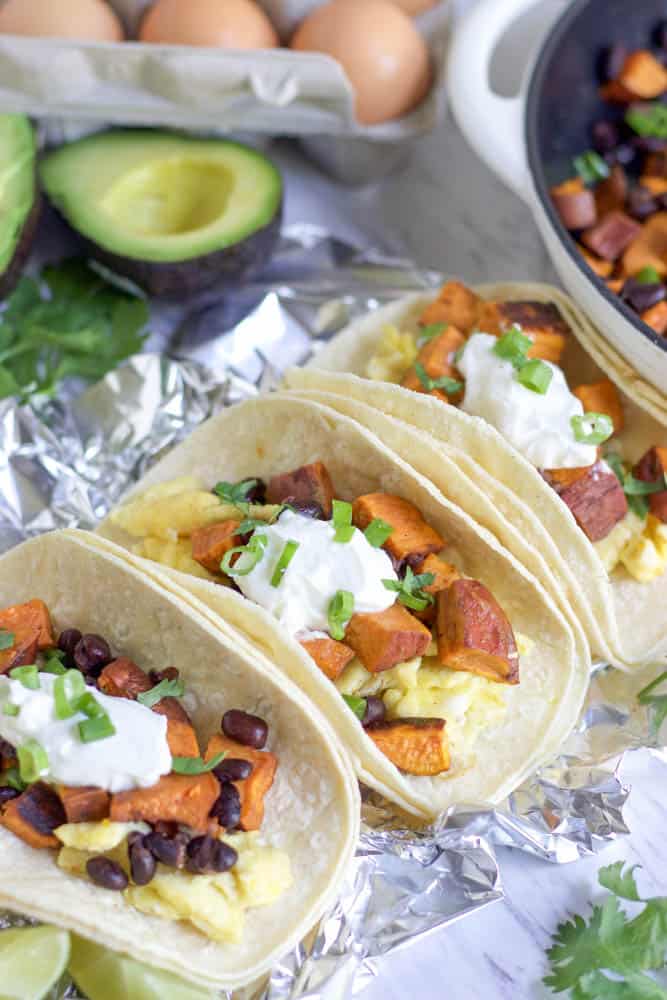 Why roast them first instead of cooking them fully in the hash? Well like I said, more often than not, I have roasted sweet potatoes ready to go so it makes it so much easier. Also,if you roast them and then add them to the skillet, there is a caramelizing effect that is so worth it. And if you already have pre-roasted taters on hand, time is not one bit of an issue.
I have never done a tofu scramble, but I have been seeing lots of them on social media lately and am very intrigued. If you really wanted to go egg free on this one, that would be a perfect sub if you already know the ins and outs of scrambled tofu. I am not skilled as of yet. A little bit of cumin, garlic, some black beans and then your favorite taco fixin's with freshly chopped cilantro. Breakfast of CHAMPS, I am telling you!
Ingredients
2

medium sweet potatoes

cubed

½

c

black beans

rinsed (pre-cooked)

4

large eggs

1

tsp

cumin

½

tsp

garlic powder

2

T

preferred cooking oil

Corn or flour tortillas

6-7(I used white corn)

Fresh cilantro

1

green onion

chopped, whites discarded

sea salt and pepper
Instructions
Preheat oven to 425°F.

Toss sweet potatoes with 1 T oil and season with a dash of sea salt. Line evenly on a parchment lined pan and roast for about 15 minutes.

Once roasted, heat drizzle of oil in a skillet over medium high heat. Add sweet potatoes and cook until soft inside and crispy outside.

Turn heat to low and add in black beans, cumin, garlic, green onion and sea salt and pepper to taste.

Prepare eggs by whisking well and then scrambling over medium high heat in another skillet.

Prepare tacos: Add ⅙ of the egg, spoonful of sweet potato hash and top with your favorites: greek yogurt, sour cream, cheese, etc. and add chopped cilantro.

Enjoy!
Notes
I spread avocado on the tortilla as well sometimes. Yum!