This Maple Cashew Freezer Fudge is a rich and creamy recipe that whips up in no time and is so rich and creamy. It's the perfect simple treat!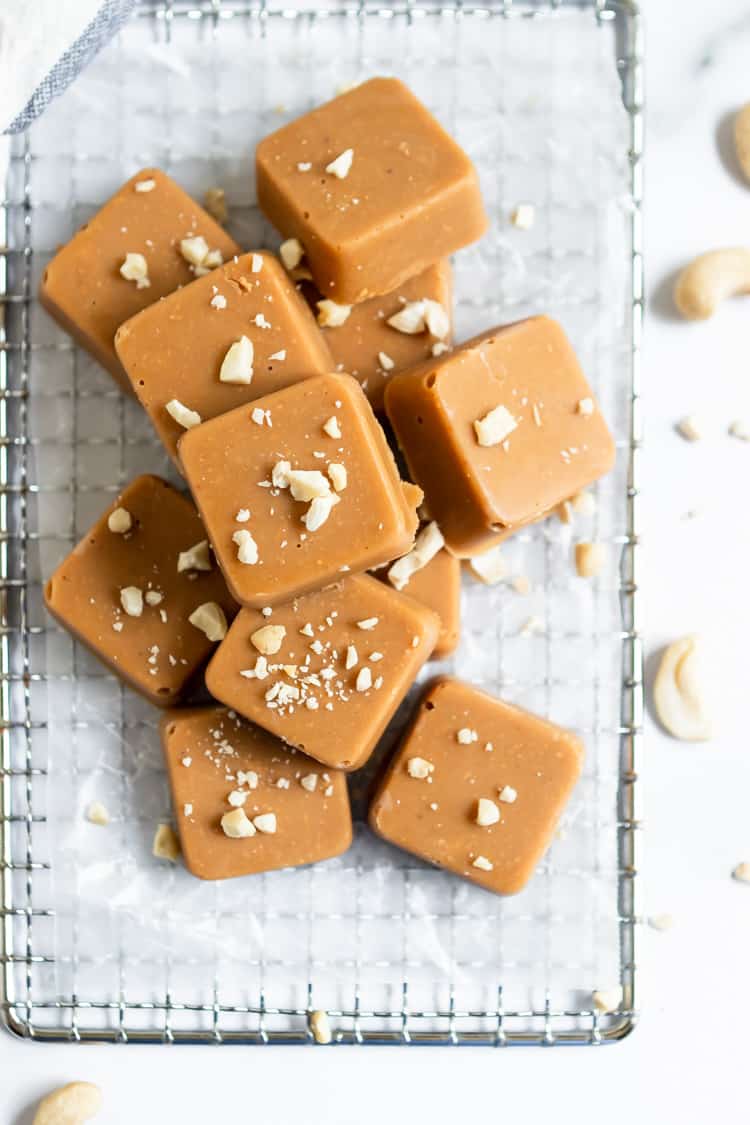 Remember when fat was the enemy?
Coconut oil most certainly seems to be the buzzword these days when it comes to health and wellness. Every health blog, magazine and TV show seem to boast the numerous benefits of this tropical fruit's oil. The list of benefits and uses of this oil goes on and on and on.
I don't know much about all of that, but I sure know that it is a perfect ingredient to make the quickest fudge around!
I don't think I actually even used coconut oil until just a few years ago. Now you can find it just about everywhere. Any and all groceries carry it so it's certainly not hard to find at all these days. I feel like for so long oils and high fat foods were looked at as evil ingredients--I grew up in the low fat craze.
Everything you saw down the grocery aisles was low fat or fat free. We tried to eat as little of it as possible. And now, years later, fat is no longer the bad guy. Thank goodness for that!
Like I said, coconut oil does this magical thing when you whip it up with a few other ingredients. It turns into a rich, melt in your mouth FUDGE!
Introducing Freezer Fudge!
This Maple Cashew Freezer Fudge is the simplest of treats!
This has to be the absolute easiest type of recipe there is out there, unless you count peeling a banana cooking. Since coconut oil hardens below room temperature, if you mix it with some nut butter and sweetener, and allow it to chill, you end up with rich, smooth and creamy fudge.
To be honest, the flavor options are endless. I have plenty of combos up my sleeve but this is where we are going to start. Maple Cashew Freezer Fudge--one of my favorite nuts plus my favorite sweetener. No hassle and no fuss but all the yum.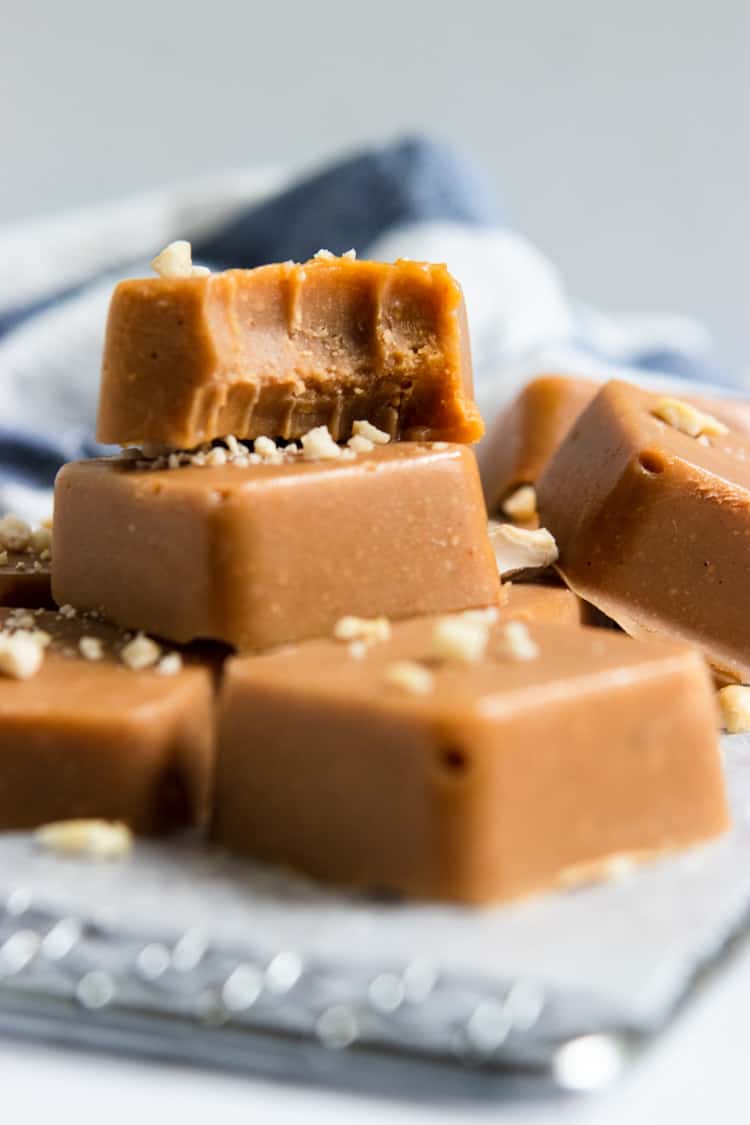 This Maple Cashew Freezer Fudge recipe really consist of nothing more than stirring some ingredients together, freezing to set and then digging in. I am always looking for a small bite sized treat after lunch or dinner and these have been doing the trick for sure.
If you have some leftover Maple Cashew Butter that you need to use up, you can easily use it for this recipe. You can store this in the freezer but it's really not necessary. The freezer just allows them to set. Feel free to toss them in the fridge if you like. Just watch out, these will melt in your mouth and surely becoming very addicting!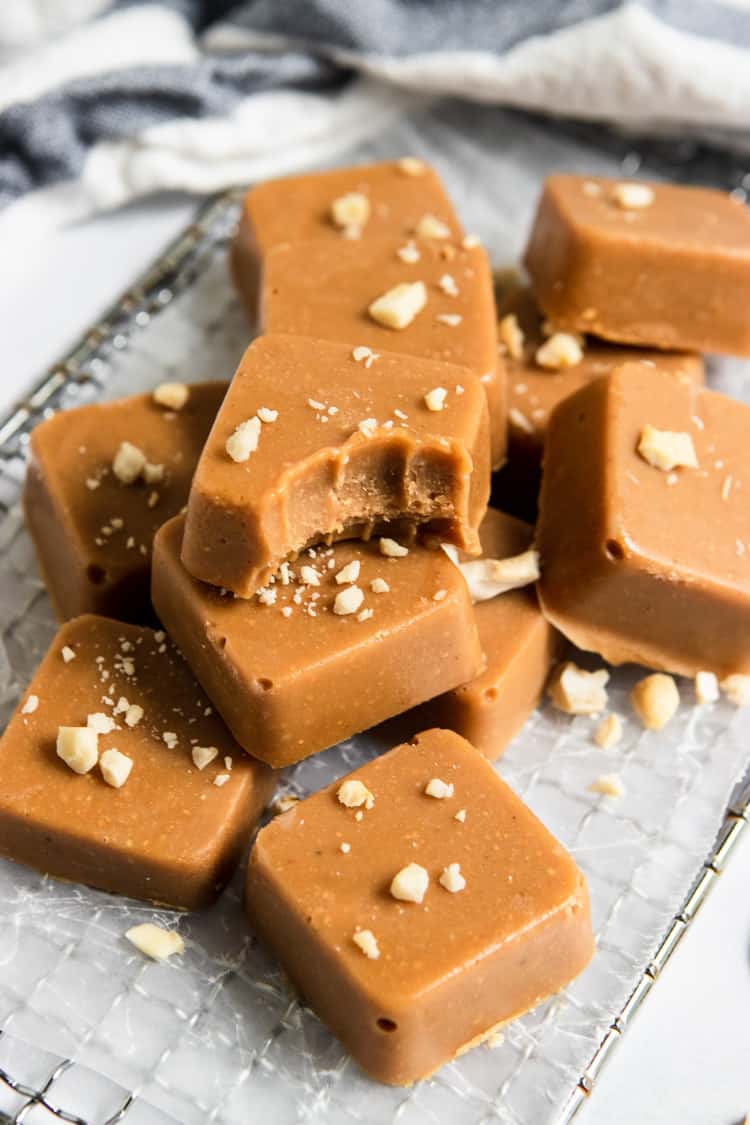 Try these other recipes:
DID YOU MAKE ONE OF MY RECIPES? LEAVE A COMMENT AND LET ME KNOW! I ALSO LOVE TO SEE YOUR LEMONS + ZEST RECIPES ON SOCIAL MEDIA–TAG ME @LEMONSANDZEST ON INSTAGRAM OR FACEBOOK!
Ingredients
1

cup

cashew butter

¼

cup

coconut oil

melted

2-3

T

maple syrup

1

tsp

vanilla extract

Dash of sea salt
Instructions
Whisk all ingredients together in mixing bowl until smooth.

Spoon into small silicone candy mold or into a small pan or dish that will allow for at least one inch thickness.

Freeze for about two to three hours.

Remove from silicone mold tray or cut into bite sized pieces.

Can be stored in the refrigerator or the freezer.
Notes
If you don't like the flavor of coconut, use refined coconut oil.
Note: I used the silicone tray found on my products page.